SPRING JAMBOREE: Basic's Adalena Clayton in groove after extra batting practice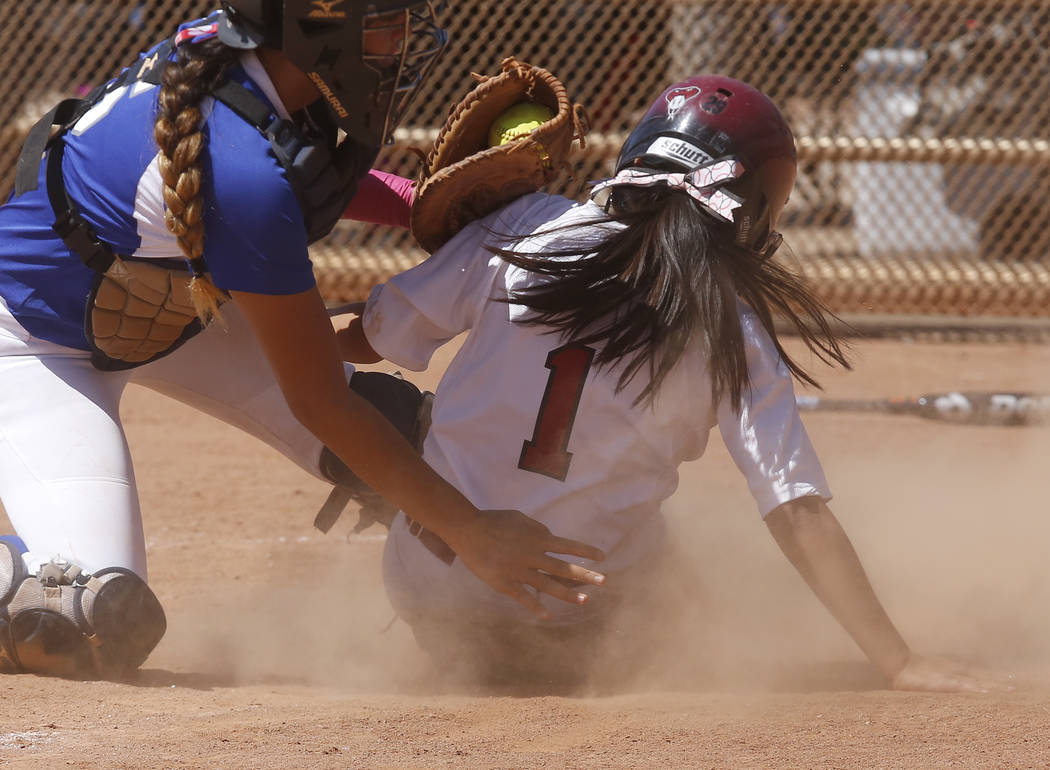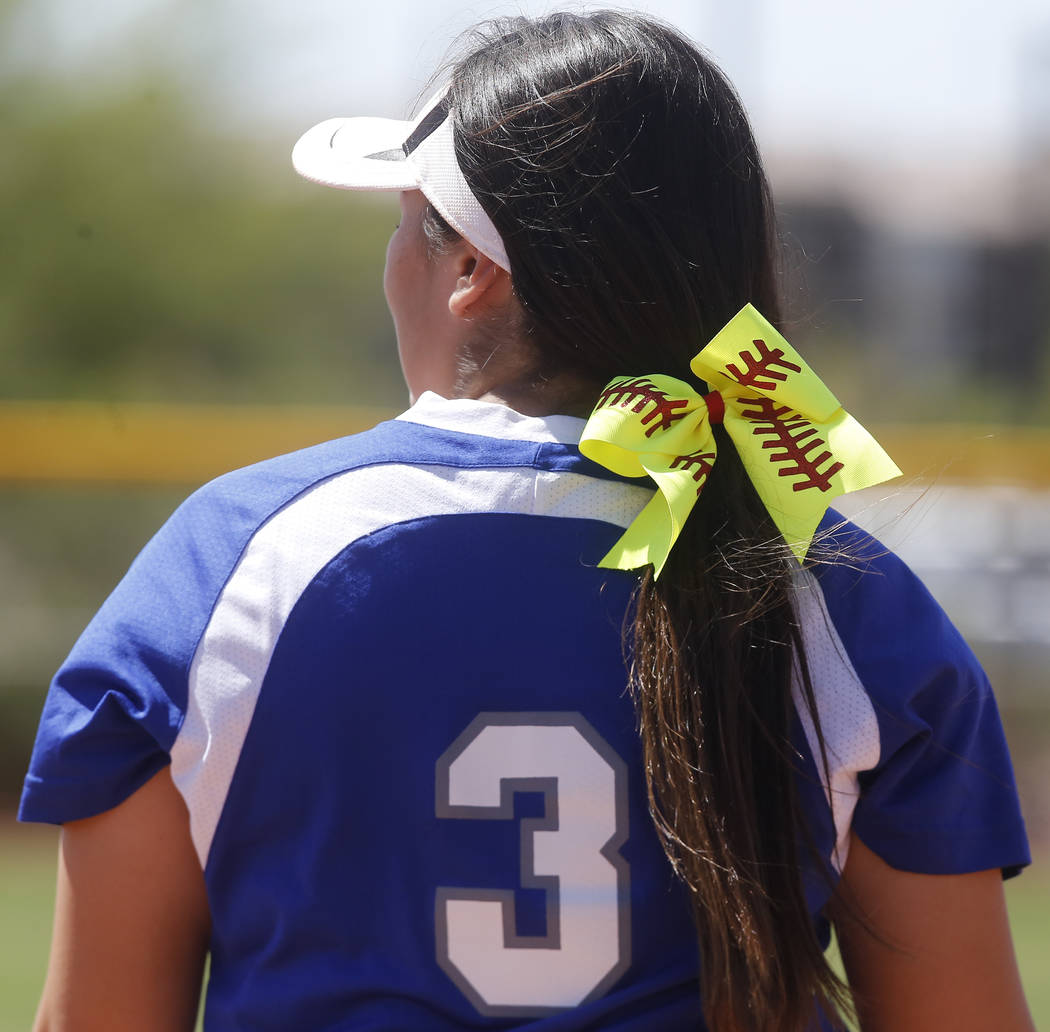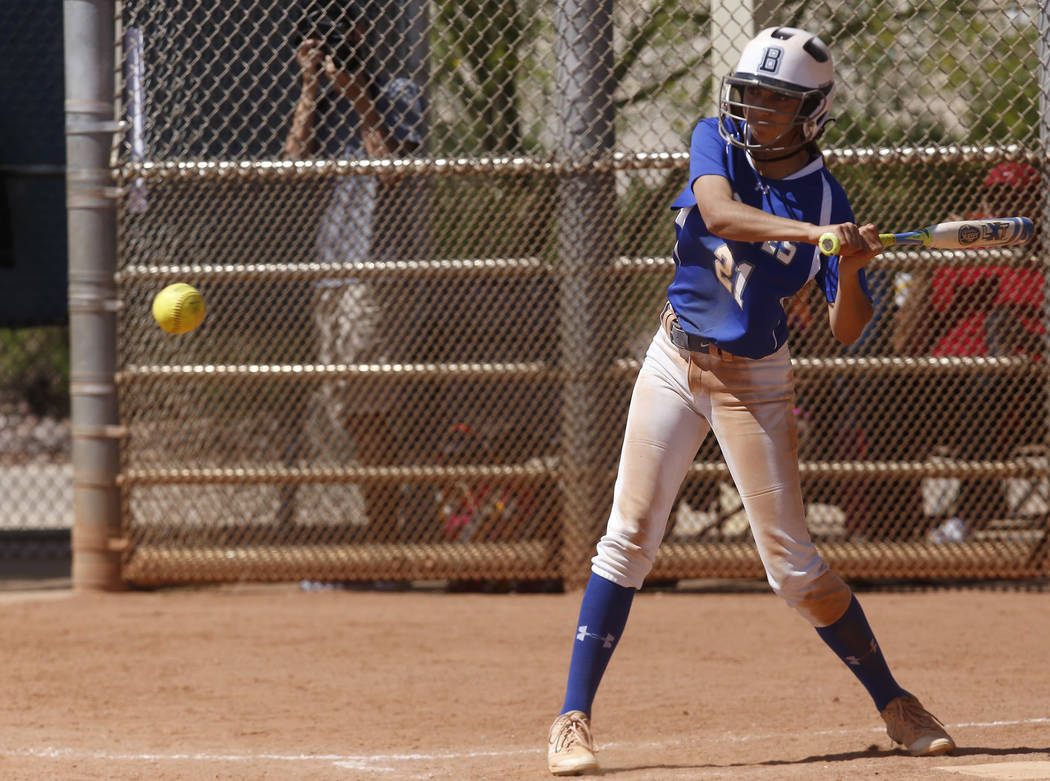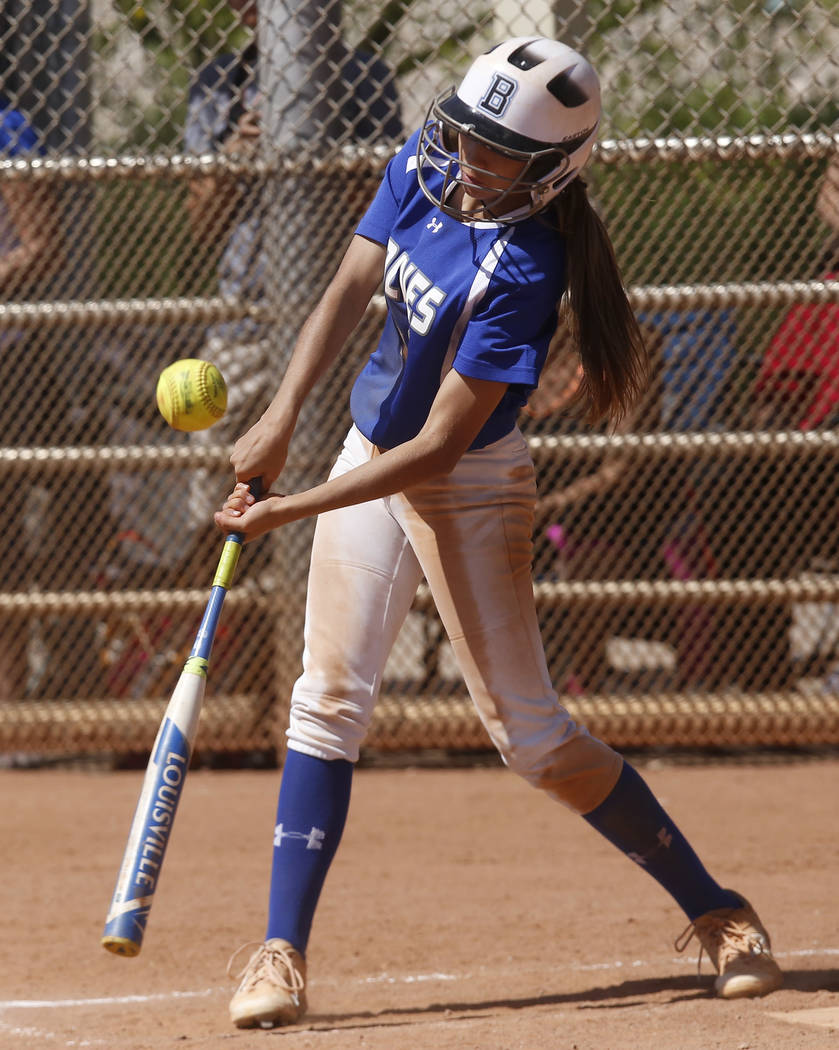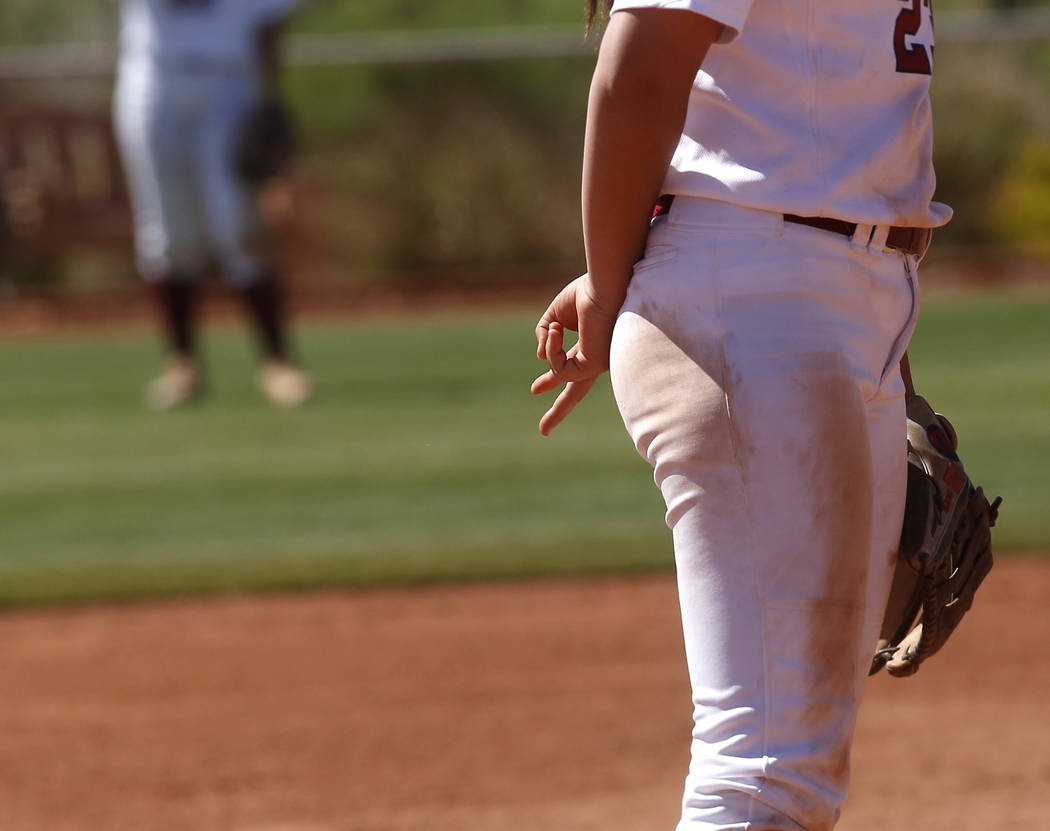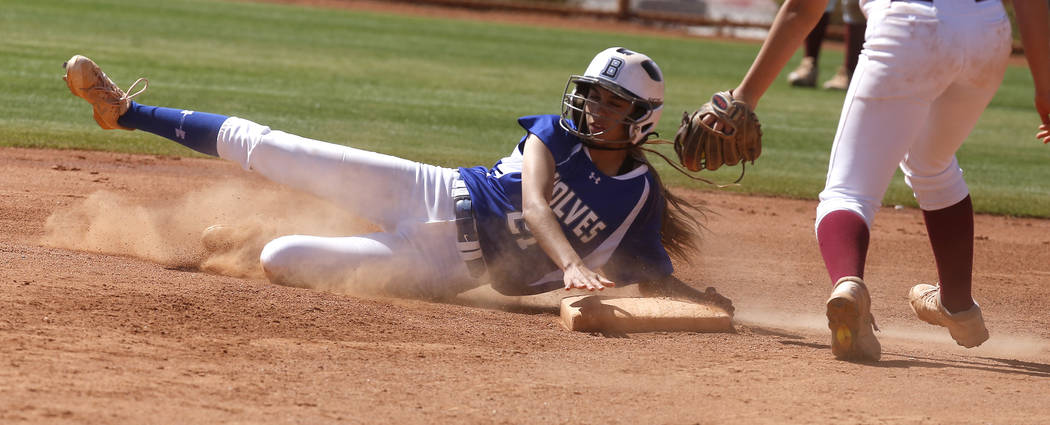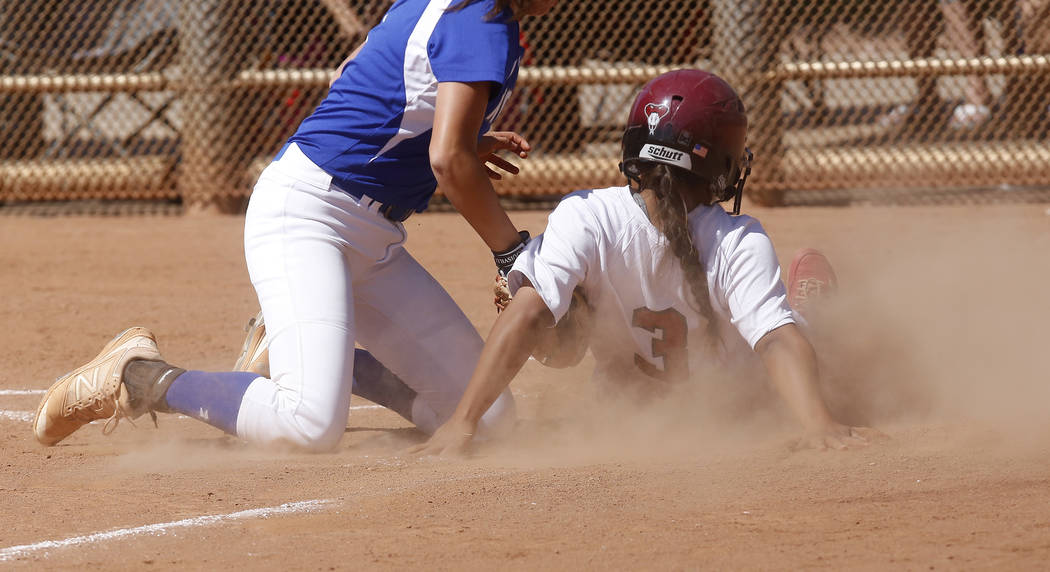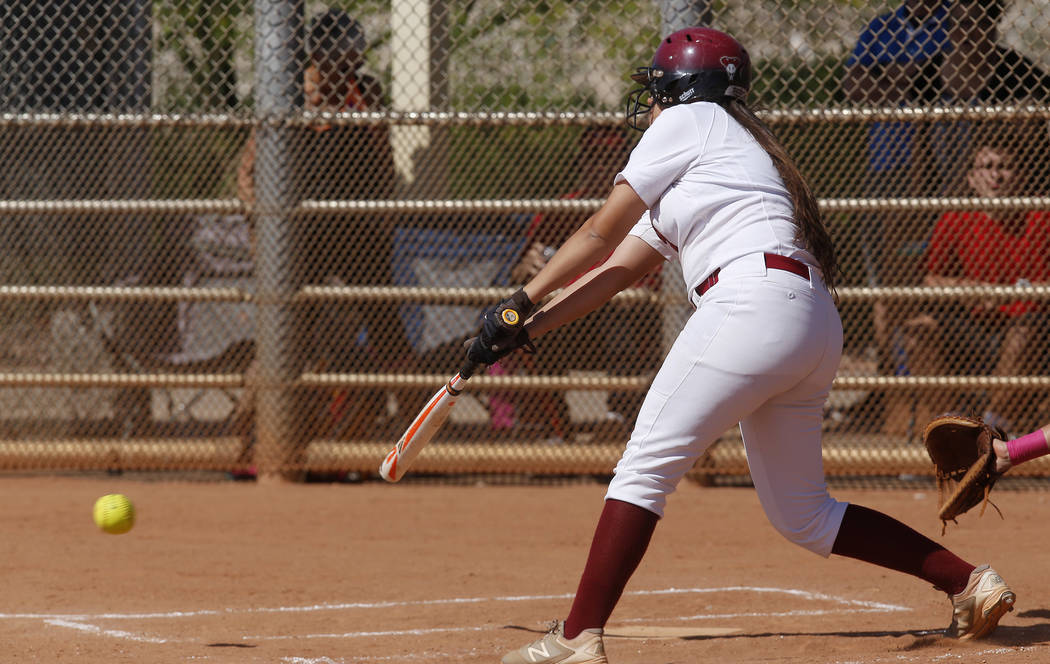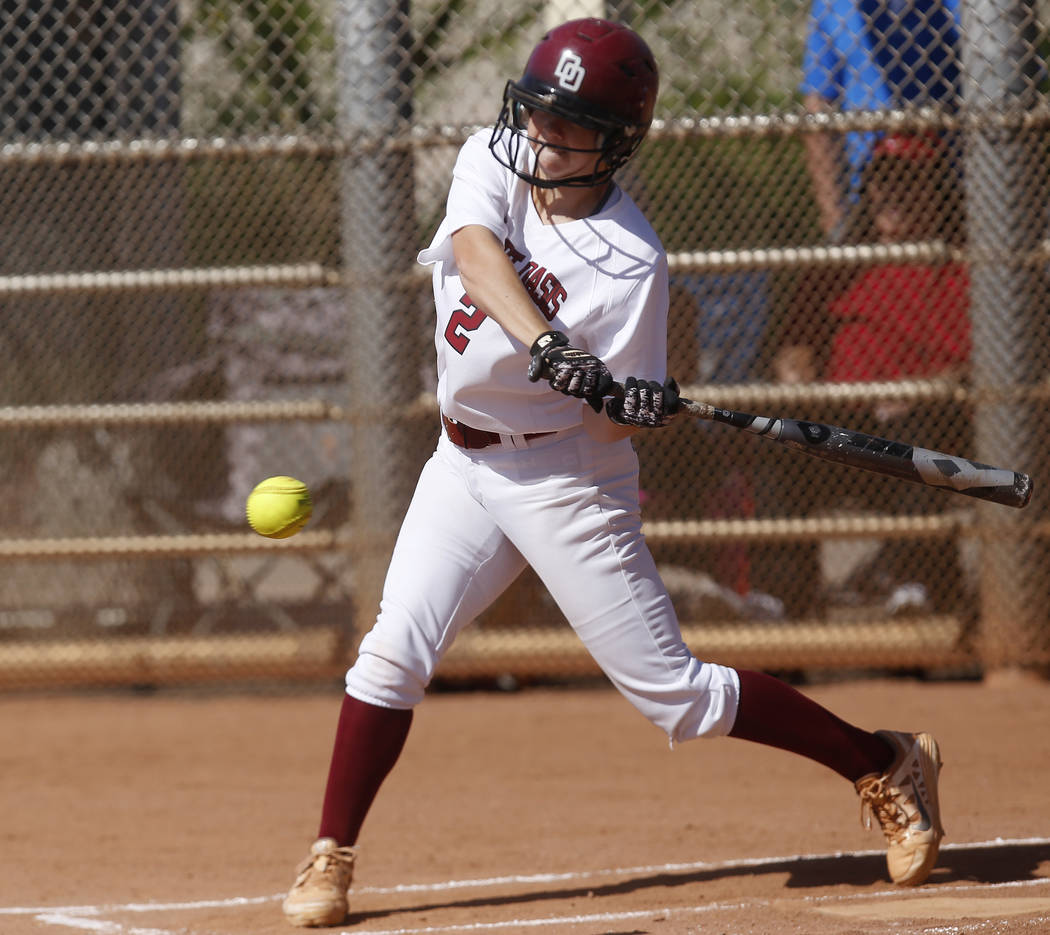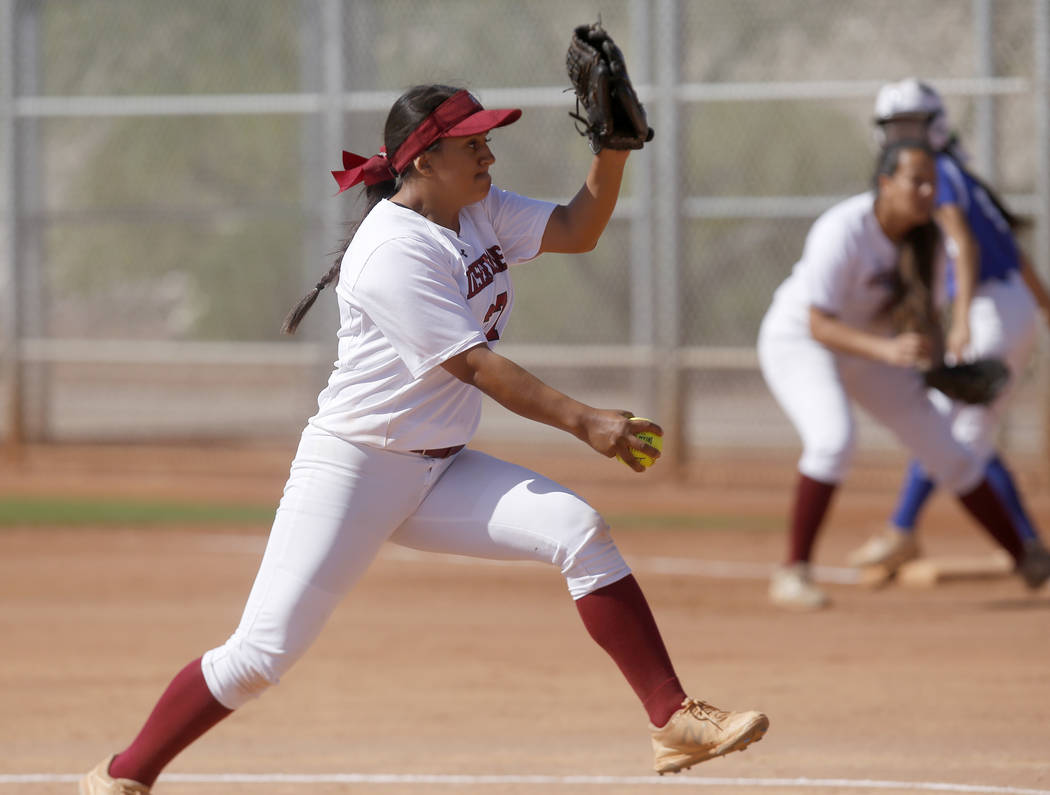 At the beginning of this week's spring break, Basic junior Adalena Clayton put in extra work in the cages. She was frustrated at her recent slump and focused on going back to basics – just putting the bat on the ball.
The extra effort was worth it Thursday. The first baseman went 3-for-4 with two RBIs in her softball team's 5-2 victory over Desert Oasis to start the Spring Jamboree at Majestic Park.
"Something changed definitely, because I've been in a slump lately," Clayton said. "I just felt confidence and saw the connection of me hitting the ball, and I went for it and I got hits."
Clayton took her first at-bat in the second inning with the game still scoreless. She admitted coming up with a runner on third was "a little nerve-wracking," but she did her job, knocking in the game's first run.
"She was huge today," Basic coach Lauren Taylor said. "She's one of those kids that tends to, if things don't go her way, get in her head a little bit, and I was proud to see she stayed up from the first inning to the seventh inning.
"That's what you get with a junior. She's a seasoned kid."
Basic (10-9) did a better job of capitalizing on mistakes — the teams combined for seven errors, which doesn't include the wind-blown hits that plagued every team in the tournament. The Wolves pounded 10 hits, all singles, and had multiple runners in five of seven innings.
Alyssa Ferguson was 3-for-4 with two runs for the Wolves, and Shelby Basso claimed the win after pitching four scoreless innings of relief and striking out four.
Elsy Guzman was 2-for-4 with an RBI to lead the Diamondbacks (15-5), and Izriah Hodson had an RBI triple. Guzman also pitched a complete game, allowing one earned run.
The Wolves lost their second game to Centennial 8-1, then defeated Green Valley 9-8. Their next game is 9 a.m. Friday against Mingus (Arizona).
Desert Oasis won its only other game, 12-4 against Central Union (California). The Diamondbacks will play Polytechnic (California) at 11 a.m. Friday.
Centennial 12, Central Union (Calif.) 0 — Amanda Sink threw a five-inning no-hitter to lead the Bulldogs to a win over Central Union.
Sink struck out 13 and issued no walks.
Jillian Bartley hit a home run, and Jaden Tate, Mackenzie Ball and Seanna Simpson each doubled to lead the Centennial offense.
Centennial 8, Basic 1 — Deanna Barrera struck out eight in a four-hitter as the Bulldogs topped the Wolves in six innings.
Barrera walked two.
Tate had a home run to lead the Centennial offense.
Basic 9, Green Valley 8 — With the time limit expired and the game tied, Izabelle Morales hit a walk-off double in the bottom of the fifth to give the Wolves the win over the Gators.
Green Valley scored three in the top half of the inning to tie the game but could not complete the comeback.
Basic got home runs from Lexie Edmunds and Sanoe Helenihi to lead the offensive output.
Cinthia Garcia hit a home run for the Gators, and teammate Gennie Simington hit a triple.
Desert Oasis 12, Central Union (Calif.) 4 — Meghan McInerney doubled twice as the Diamondbacks took down the Spartans.
Izriah Hodson tripled, and Jada Moreno doubled for the Diamondbacks.
Green Valley 17, Fernley 10 — Brooke Haney was 2-for-2 with two doubles as the Gators outslugged the Vaqueros.
Garcia was 2-for-3 with a double, and Olivia McClain homered for Green Valley.
Baylee Means and Jalen Jones each had a triple for the Gators.
Liberty 16, Mingus (Ariz.) 1 — Breanna Alvarez, Morgan LaNeve and Shelby Carvalho each had a double and two RBIs as the Patriots routed the Marauders in four innings.
Maris Olmos was 3-for-4 with an RBI for the Patriots, and Alvarez struck out seven in a three-hitter.
El Camino Real (Calif.) 7, Liberty 6 — Ashleigh Rodriguez hit a home run for the Patriots, but their comeback attempt against the Conquistadors came up short in a game called after five innings because of the tournament's time limit.
Cali Christopher and Jazmine Gonzalez each doubled for the Patriots, who trailed 7-1 after two innings.
Lucy Yang and Jordyn VanHook each had a double for El Camino Real.
Palo Verde 14, Village Christian (Calif.) 1 — Lauryn Barker hit two of the Panthers' six home runs in their four-inning rout of the Crusaders.
Makena Martin homered and doubled for Palo Verde, and Makall Whetten, Cara Beatty and Ally Snelling each added a home run.
Grace Chavez was 4-for-4 with two doubles for the Panthers, and teammate Mackenzie Ryan had a double.
Palo Verde 12, Sierra Vista 1 — Barker hit a home run and a double as the Panthers rolled over the Mountain Lions in five innings.
Beatty had a pair of doubles for Palo Verde, and Snelling doubled.
Hana Silverman had a double for Sierra Vista.
Sierra Vista 8, San Fernando (Calif.) — Mia Buranamontri's walk-off single in the bottom of the sixth lifted the Mountain Lions over the Tigers in a game that was called because of the tournament's time limit.
Kalei Watkins homered and pitched a complete game for the Mountain Lions, and Rosalia Nakayama hit a homer and had three RBIs. Teammate Ryan Watkins had a double.
Jessica Jimenez and Alyanna Martinez each homered for the Tigers.
Sierra Vista 9, Liberty 3 — Taylore Edwards doubled, knocked in two runs and scored twice as the Mountain Lions took down the Patriots.
Ryan Watkins doubled and scored twice for Sierra Vista.
Olmos tripled for the Patriots, and Christopher had a double.
Shadow Ridge 19, Calexico (Calif.) 0 — At Majestic Park, Mia Voges threw a three-hitter and hit a home run as the Mustangs beat the Bulldogs in three innings.
Alyssa Stanley and Shea Clements each added a home run for Shadow Ridge. Raelyn Kendall tripled for the Mustangs, who scored 13 runs in the third inning.
Shadow Ridge 10, Green Valley 2 — Stanley homered for the second straight game picked up the win in the circle as the Mustangs beat the Gators.
Stanley allowed six hits.
Alisha Schultz, Caitlyn Covington and Raelyn Kendall each had a double for Shadow Ridge.
Garcia was 2-for-3 with a double for Green Valley.
El Camino Real (Calif.) 8, Pahrump Valley 1 — Jordyn VanHook hit two doubles for the Conquistadors as they took down the Trojans in five innings.
Lucy Yang hit a triple for El Camino Real, which allowed just one Pahrump Valley hit.
Mingus (Ariz.) 5, Pahrump Valley 2 — Delaney Hartnett doubled in the Mauraders' victory over the Trojans.
Amaya Mendoza went the distance and allowed just three hits for Pahrump.
Box scores:
Centennial 12, Central Union (Calif.) 0
Desert Oasis 12, Central Union (Calif.) 4
El Camino Real (Calif.) 8, Pahrump Valley 1
El Camino Real (Calif.) 7, Liberty 6
Mingus (Ariz.) 5, Pahrump Valley 2
Palo Verde 14, Village Christian (Calif.) 1
Shadow Ridge 19, Calexico (Calif.) 0
Shadow Ridge 10, Green Valley 2
Sierra Vista 8, San Fernando 7