Sunrise Region: Basic tops Coronado twice to win first region title
Updated May 12, 2018 - 10:07 pm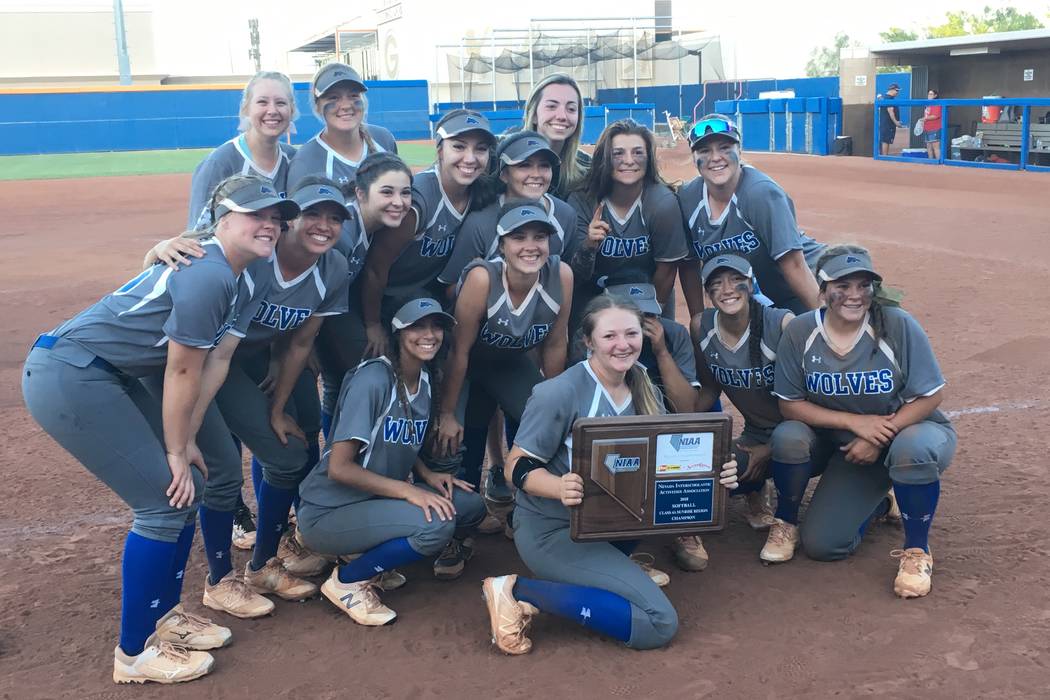 When Alyssa Ferguson was a freshman, Basic's softball team was nothing like it is now. The Wolves won six games, and Ferguson was one of four players in her class in coach Lauren Taylor's first year.
Looking back now, it's hard to imagine that group would become Sunrise Region champions as seniors.
Basic beat Coronado twice Saturday at Bishop Gorman, first 9-1 then 15-12, to unseat the defending region champions and claim the first region title in school history.
"We all clicked together and all played good together," Ferguson said. "(Taylor) started with just the four seniors and got us all here."
Ferguson scored three runs and had two RBIs in the second game, one where the Wolves allowed four runs in the first inning, responded with five in the bottom half and scored in every inning.
But the turning point in the day came in the first game, where Coronado ace Tatum Spangler left the game in the second inning with an apparent injury to her throwing arm. She lasted just 1⅔ innings and did not pitch the rest of the day. A star slugger as well, she was held hitless in the first game.
Shelby Basso allowed five hits and struck 12 to earn the victory for the Wolves.
But Spangler was a terror for the Wolves in the nightcap. Spangler reached base all five times she came to the plate via a double, a single, and three walks, two of which were intentional. She scored three times, and fellow power threat Ashley Ward did the same. Ward had two hits, including a three-run home run and was intentionally walked three times.
Cierra Sawyer benefited from the free passes, driving in five runs for the Cougars. Teammate Isabel Rodriguez homered.
But Basic's offense was too much, and the Wolves never trailed after the first inning. Basso had a double and knocked in four runs, Angela Santillanes scored twice, and Lauren Koshak had a double and an RBI for the Wolves. On top of that, Basic's Mikayla Berg was 4-for-5 with a triple, an RBI and four runs.
"(Berg) wanted it from every moment from the very first game of this year, her goal was she was going to be a champion," Taylor said.
Before Saturday, Basic had never been to a region title game. It's already been the most accomplished season in Wolves' history, but to her their coach say it, they're just getting started.
"It's been four very long years to get us here," Taylor said. "But we're all about making history, so let's go."
Contact Justin Emerson at jemerson@reviewjournal.com or (702) 387-2944. Follow @J15Emerson on Twitter.
Box scores: