Sunrise Region: Liberty's Soraya Seumalo shuts down Basic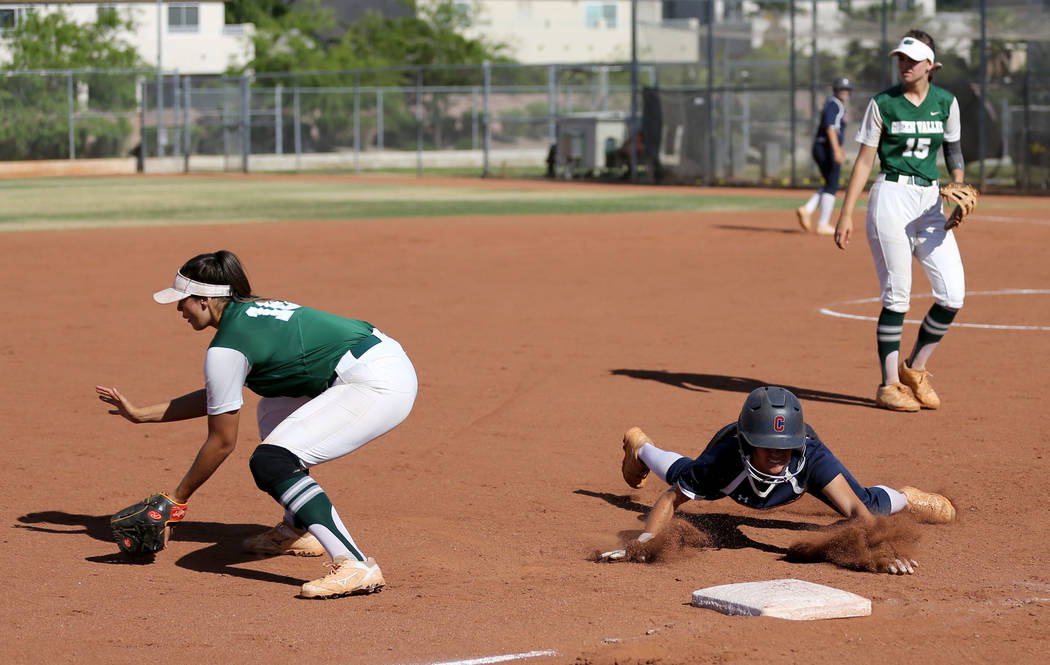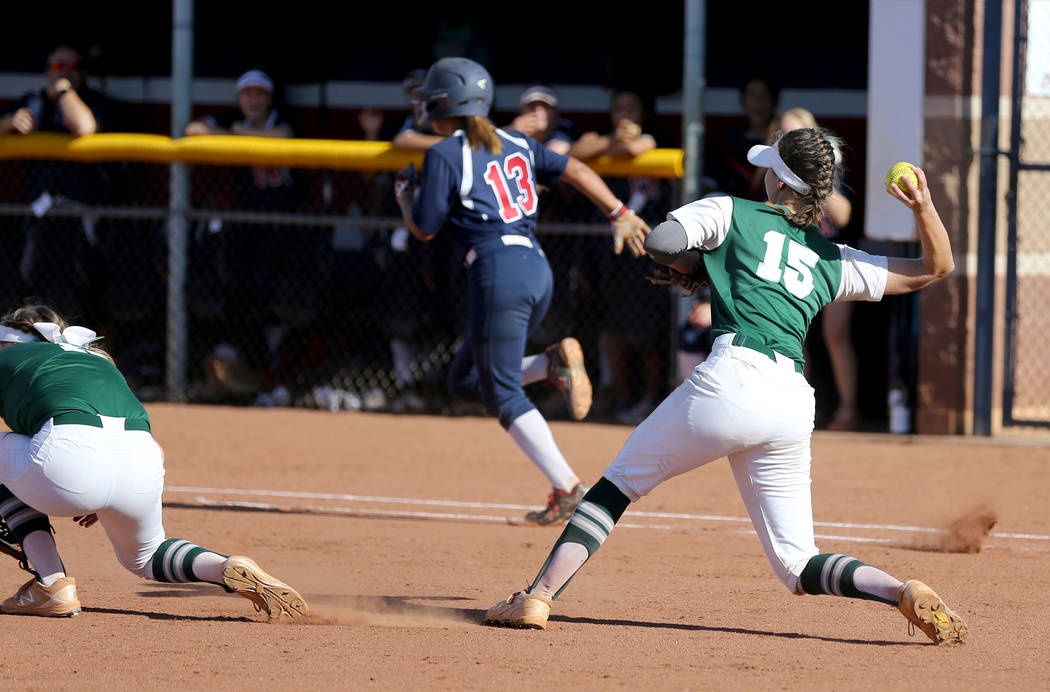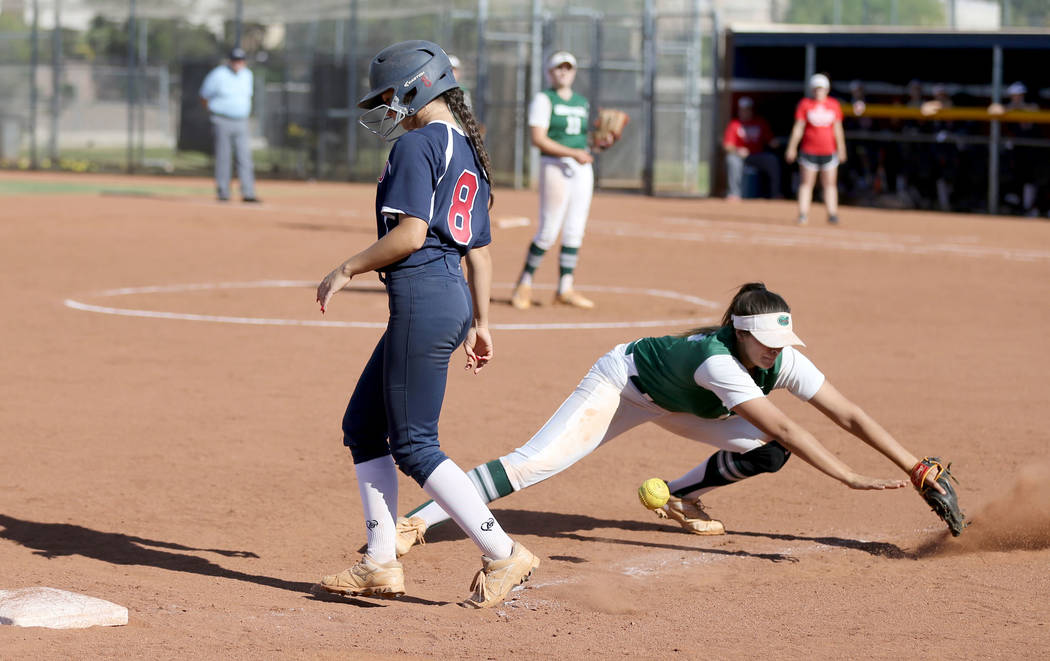 Liberty pitcher Soraya Seumalo smiled in between pitches, outs and innings on Wednesday afternoon.
She had a lot of fun shutting down Basic.
Seumalo threw a complete game and propelled the Patriots to a 5-1 road victory in second round of the double-elimination Sunrise Region softball tournament.
Liberty (22-7) will visit Coronado (25-8) in the winners' bracket final at 4 p.m. Thursday.
Basic (21-11) will host Foothill (17-17) in an elimination game at 4 p.m. Thursday.
Liberty lost to Basic twice — convincingly — during the regular season, making Wednesday afternoon all the more special given the circumstances.
"We reduced the errors, we had timely hits," Patriots coach Jim Portese said.
And they had Seumalo.
The senior pounded the strike zone early in counts and let the Patriots make plays behind her. She cruised through Basic's lineup, surrendering seven hits and one run while striking out four.
She had plenty of run support, too, as Liberty roughed up Basic star pitcher Shelby Basso in the middle innings. Sisters McKenzie and Morgan LaNeve both went 2-for-4 with two RBIs.
Shelby Carvalho went 1-for-4 with an RBI double.
"(We saw Basso) three times," Portese said. "She's one of the best … It was just a team effort. Give all the credit to my kids."
Portese said he was proud of Seumalo, who also pitched in a victory over Rancho on Tuesday. She committed in the offseason to improving her conditioning, and it showed.
"Today, I prepared myself better — mentally and physically," she said with a smile. "I love pitching, I love playing with this group of girls. It's my senior year, and I want to keep winning."
Coronado 15, Green Valley 0 — At Coronado, Tatum Spangler fired a four-inning, two-hit shutout with six strikeouts and went 2-for-3 with a double, two runs and two RBIs, leading the Cougars past the Gators (20-13).
Ashley Ward went 3-for-3 with a solo home run, two runs and two RBIs, and Isabel Rodriguez doubled, tripled, and drove in three runs for Coronado, which led 9-0 after three innings.
Madison Stephens supplied a triple, a run and an RBI for Coronado.
The Gators (20-13) will host Rancho (19-16) in an elimination game at 4 p.m. Thursday.
Rancho 12, Silverado 11 — At Rancho, Ayanna Potter was hit by a pitch with two outs in the bottom of the seventh inning to force in Kaitlyn Suarez with the winning run, as the Rams outlasted the Skyhawks in an elimination game.
Liliana Gutierrez supplied a double, a triple and three runs, and teammates Yvette Sanchez and Lorena De La Torre each had three hits and two RBIs for Rancho. Potter and Suarez each contributed three hits and a walk for the Rams. Winning pitcher MacKenzie Perry added a double, a triple, an RBI, and two runs.
Megan Johnson was 4-for-4 with a walk, two doubles, a triple, two RBIs, and three runs, and teammates Jessica Boothe and Megan Thomas each tallied three hits to lead Silverado (12-18).
Foothill 12, Eldorado 2 — At Foothill, Leah Becker went 3-for-4 with a home run, a triple, a double, two runs and three RBIs to lead the Falcons by the Sundevils in six innings in an elimination game.
Skyler Glaude went 2-for-3 with a double, two runs and two RBIs, and Kylie Becker was 2-for-4 with a double, two runs and two RBIs for Foothill.
Allie Fox tossed a six-hitter and struck out four for the Falcons.
Roshonda Stevens was 2-for-3 with a double and two RBI, and Mariana Maldonado was 2-for-3 with a double for Eldorado (12-20).
Box Scores: