SUNSET SOFTBALL: Offense keeps Bulldogs ahead of field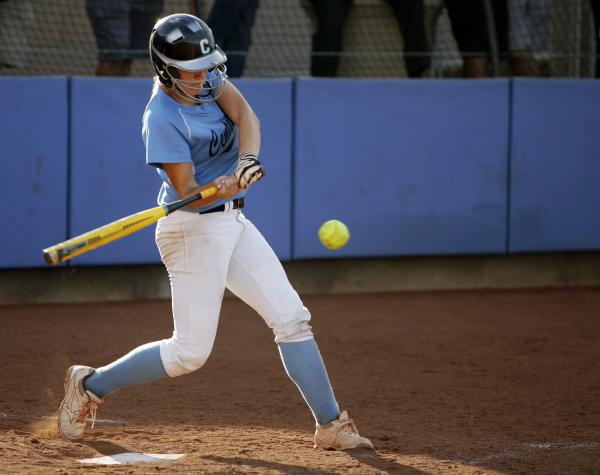 With Centennial's fourth batter of the game standing on second base, the scoreboard at Bishop Gorman's softball field mistakenly had the Bulldogs already credited with four runs.
The scoreboard was the only thing to stay a step ahead of Centennial's offense on Wednesday.
The Bulldogs first four batters all had hits and eventually scored as Centennial pounded Arbor View, 10-0 in six innings in the winners' bracket final of the Sunset Region Tournament at Gorman.
Centennial (32-6) will play in the region final at 3 p.m. Friday. Arbor View (20-14) meets either Palo Verde (24-6) or Gorman (21-12) at 5 p.m. Thursday with that winner advancing to the region final and needing to beat Centennial twice.
"Once the first batter gets a nice hit, it sets the tone for all of us," said Centennial shortstop Heather Bowen, who went 3-for-4 with two doubles, two runs and two RBIs. "We just all want to string it together as a team. We work so hard during practice, and we're pulling together at the right time."
Madison Henzlik started the barrage with a double to left-center. Mia Acuna followed with an infield single, and Bowen laced a double to left-center to plate Henzlik.
Savannah Horvath singled to left to drive home two more and moved to second on an error by the left fielder. A pair of wild pitches allowed Horvath to score and Centennial's offense to catch up to the scoreboard.
"We just came out with some great focus, some good intensity," Centennial coach Mike Livreri said. "We had great approaches at the plate, attacking when they needed to attack the ball. It's always big to get that boost in the first inning."
The Bulldogs pounded out 14 hits and scored in every inning but the fifth, ending the game via the mercy rule when Taylor Huntly blasted a two-run home run to center field with no outs in the sixth.
The offense was way more than enough for senior pitcher Kate Rauskin, who allowed only one hit — a double to left-center in the sixth inning by KeAnna Kamaka — and one walk, while striking out five.
"When Kate is pitching like that, it makes us all comfortable on defense," Bowen said. "She just did a great job."
Acuna was 4-for-4 for Centennial, which has won all three of its tournament games by the 10-run rule and has played only 17 innings.
"The rest is very welcoming," Livreri said. "The season has been a grind. We've played a ton of games.
"We welcome the break, and hopefully we come out here with the same intensity on Friday."
Bishop Gorman 13, Shadow Ridge 0 — Dayton Yingling and Samantha Stanfill combined on a no-hitter, and the Gaels used a nine-run first inning to rout the Mustangs (13-7) in five innings.
Gorman had just three hits, including two bunt singles, in the first, but took advantage of five errors and four walks to grab the big lead.
Shelby Estocado was 3-for-3 with three runs, and Ashley Witucki went 3-for-3 with two runs and two RBIs for Gorman, which will face Palo Verde at 3 p.m. Thursday.
Palo Verde 8, Cimarron-Memorial 4 — Melissa Lacro went 2-for-4 with a home run, a double and three RBIs, and the Panthers took a 6-0 lead after two innings before holding off the Spartans (18-14).
Breanna Beatty went 3-for-4 with three doubles and two runs, and Rachael Turner was 2-for-4 with an RBI for Palo Verde.
Sarina Crewswell went 2-for-3 and scored twice for Cimarron.