DIVISION I SWIMMING: Eldorado's Sirat swims in brother's memory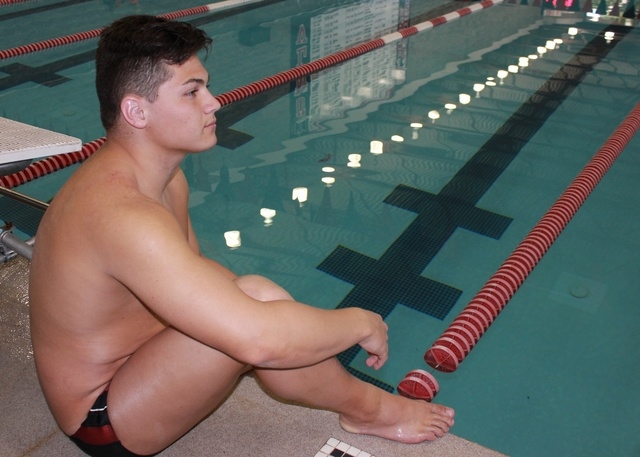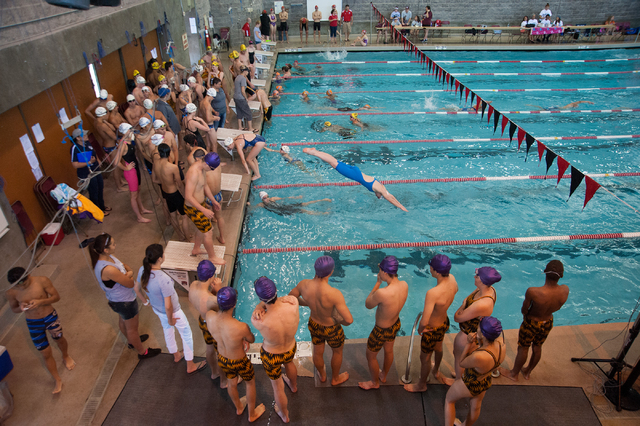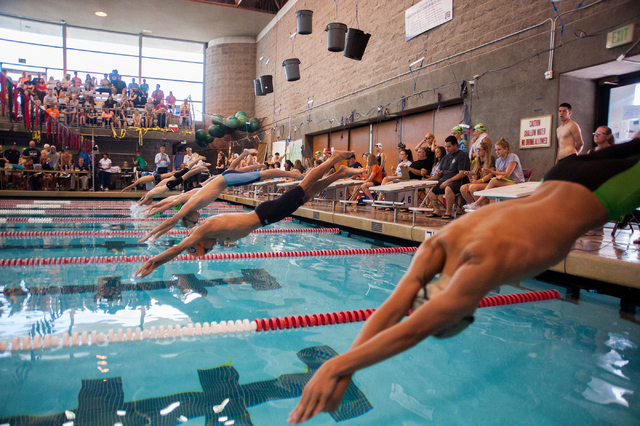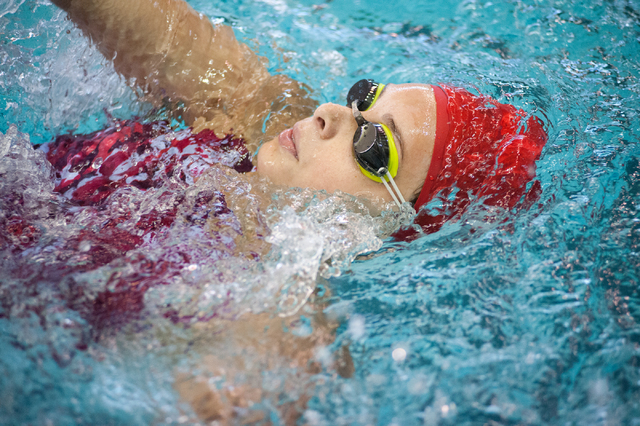 Eldorado High School's Troy Sirat didn't arrive at the Sunrise Region Championships at UNLV on Saturday to win titles in the two events he competed in. After what he's been through the past few years, winning has become trivial.
On March 25, 2011, his brother Jay Sirat was found asphyxiated in his family's garage, after a long battle with synthetic drugs.
Three years later, Sirat swam in honor of his brother's memory.
"Going through an event like that … it gave me a sense of what's important in life," Sirat said. "I find that swimming for fun and not necessarily swimming to beat another person is the best thing I can do."
The soft-spoken junior, who quit swimming offseason with a club after his brother died, finished eighth in the 50-yard freestyle with a time of 25.41 seconds, and 13th in the 100 breaststroke in 1:11.98. Both his times were well off the mark, but again, he was happy with simply swimming for his team and among regional peers who are familiar with his story.
"Coming here today, my goal was just to have fun," Sirat said. "That's what Jay did, he always had fun in swimming. He liked the competitive side, but he was here just to have fun and win if he could. And that's what I'm here to do."
His father, Robb, said the entire family tends to get caught off guard emotionally, but staying involved in the high school swimming events has been therapeutic and keeps his family connected to who Jay was.
"There are a lot more good times, than there are those times that knock our legs out from under us," Robb Sirat said. "Troy respectfully is proud to say that he is Jay's brother and that helps all of us realize that we should see the good in all of us."
Which explains why Sirat goes through the same pre-meet ritual that he feels brings his brother along for every race.
"Before I swim I pray a little bit, to be honest," said Sirat, while holding back his emotions. "I call on him – and his friend Andrew (Chin), who also died – because that's when I feel best, with my two brothers. I make them swim with me."
SUNSET REGION
Led by record-setting numbers, Bishop Gorman's girls' team captured the Sunset Division title, outdistancing second-place Palo Verde by 18 points, 493-475. Centennial took third with 296 points while Arbor View came in fourth place with 164.
Bishop Gorman's Amy Lubawy was part of four new records set. The University of Tennessee-bound senior broke her 2011 Sunset-mark of 24.17 in the 50 freestyle, besting it with a 23.06. Six events later Lubawy set another record in the 100 freestyle with a 50.46, beating last year's mark (51.86) set by teammate Marley Maluafiti.
Gorman's 200 freestyle relay team — Lubawy, Maluafiti, Maria Geraghty and Anne Boodt — broke a record (1:37.79) set by the 2012 Gorman team with a 1:37.49, while the Gaels' 200 medley relay team — Geraghty, Maluafiti, Catie Miller and Rachel Boodt — topped last year's record (1:47.88) set by Gorman with a 1:47.81. In the final girls' event of the day, Gorman's 400 freestyle relay team — Lubawy, Miller, Rachel Boodt and Anne Boodt — shaved nearly two seconds off last year's mark (3:36.10) set by the Gaels, with a 3:34.20.
Palo Verde's Izzy Goldsmith also set a new meet record (1:02.53) in the 100 breaststroke.
Palo Verde took the boys title by an overwhelming margin over Gorman, 474-251. Legacy placed third with 244 points and Arbor View finished fourth with 193 points.
Legacy's Isaiah Magsino beat a four-year old meet record (51.87) in the 100 backstroke, with a time of 51.65, while Palo Verde's Logan Houck beat a 10-year-old mark (4:33.57) with a 4:31.46 in the 500 freestyle.
SUNRISE DIVISION
Coronado High School swept the boys and girls titles, beating second-place Green Valley in both. The Cougar boys won big, besting Green Valley, 510-427. Foothill came in third with 261 points while Valley finished fourth with 221 points.
Coronado's Jake Chir beat an 18-year old record (46.81) in the 100 freestyle with a time of 46.6. Chir also won the 200 freestyle in 1:41.03.
Coronado's 200 boys' freestyle relay team tied Boulder City's 10-year old mark with a time of 1:27.07.
Coronado's girls beat the Gators, 494-429, while Silverado took third with 280 points and Foothill came in fourth with 173 points.
Though the Cougars won the title, Green Valley swimmers won more events overall (10-8), led by freshman Abigail Richter, who set a new mark in the 200 individual medley, topping a two-year old record (2.05.66) with a 2:04.41. It was one of two medals Richter won at the meet, as she also raced to the 100 freestyle title in 52.15.
Rancho's Tonicia Thomas just clipped a two-year old record (56.93) in the 100 backstroke with a time of 56.91.
Results: