DIVISION I SWIMMING: Lubawy, Gorman girls win fifth-consecutive state title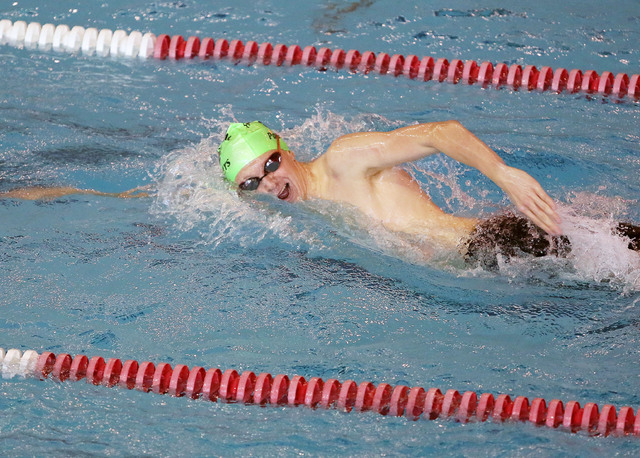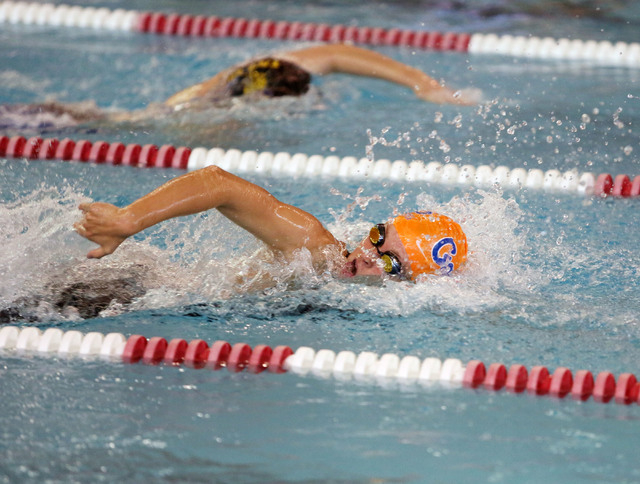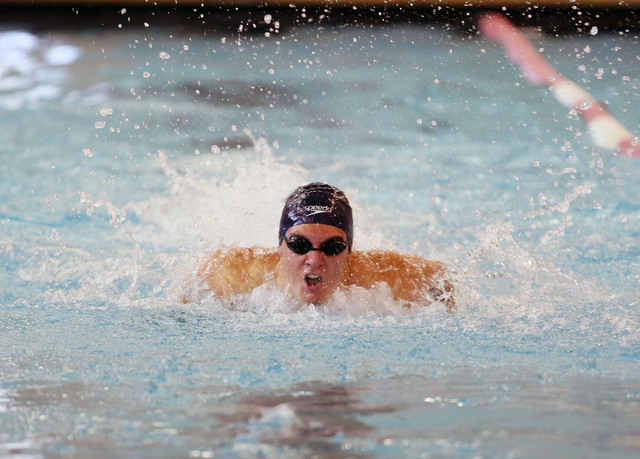 A few weeks ago, Bishop Gorman's girls swimming coach Ronald Aitken wasn't sure his squad was capable of winning a regional championship, let alone a state title.
But the Gaels did manage to win the Sunset Region by a slim margin last week, and Saturday they dominated the competition by racking up 130 points to defeat second-place Palo Verde by 39 points for their fifth consecutive state title with a victory at UNLV's Buchanan Natatorium.
Gorman walked away with wins in all three relays and three individual events, led by senior Amy Lubawy's state-record times in the 50-yard freestyle (22.98 seconds) and the 100 free (49.82). Teammates Marley Maluafiti and Catie Miller finished first and second, respectively, in the 100 butterfly.
Aitken said he never gets tired of winning championships.
"This one is probably as special as the first one," he said. "I don't think people thought we could go five."
Lubawy, who also helped Gorman win the 200 free relay in 1:37.35 and the 400 free relay in 3:33.50, said she was determined to break a stagnant personal stretch that started with a rotator cuff injury two years ago.
"It was really important for me to finish my (high school) career well, so I could have a better transition to next year," said the Tennessee-signee. But it was mainly for the team because I knew it was going to be close."
It was a strategic move by Aitken that ensured the final team score was not close.
"Our senior class was very good last year, and we came into this season knowing Palo Verde was going to be good," Aitken said. "So we went away from a traditional-type lineup and went to a lineup that was built for team scoring."
Despite the Gaels' six victories, other local schools did manage to steal the spotlight on two occasions. Rancho's Tonicia Thomas won the 100 back (56.32), and Palo Verde's Izzy Goldsmith (1:03.20) won the 100 breaststroke, while Northern schools Galena and Bishop Manogue also earned individual victories.
Galena finished the meet third with 64 points, Bishop Manogue was fourth with 51 points and Green Valley finished fifth with 49.
There was much more suspense in the boys meet, which came down to diving, the day's final event.
Palo Verde, which did not enter a diver, compiled 90 points and held off Green Valley, which finished two points back after struggling in the diving competition. Coronado (87), Reno (44) and Legacy (32) rounded out the top five.
The Panthers won the championship despite earning just one individual victory, a 4:31.91 performance in the 500 freestyle by Logan Houck.
Palo Verde coach Brent Gonzalez said he knew his squad had an outside chance of winning Saturday's championship.
"We expected it to be tight with Green Valley and Coronado," he said. "We knew we were going to have to step up and swim well to do it."
Depth proved to be the key, along with the Panthers' strong charge in the meet's late events.
"I think we just swam better when we needed to at the end of the meet," Gonzalez said.
Other individual winners were Coronado's Jake Chir in the 200 free (1:41.56), Green Valley's Michael Velazquez in the 200 individual medley (1:51.36) and the 100 breaststroke (57.50), Spring Valley's Jay Yang in the 100 butterfly (50.86) and Legacy's Isaiah Magsino in the 100 backstroke (50.84).
Coronado won the 200 medley relay (1:36.16), and Green Valley won both the 200 free relay (1:26.83) and the 400 free relay (3:15.81).