Thursday's high school scores, top performers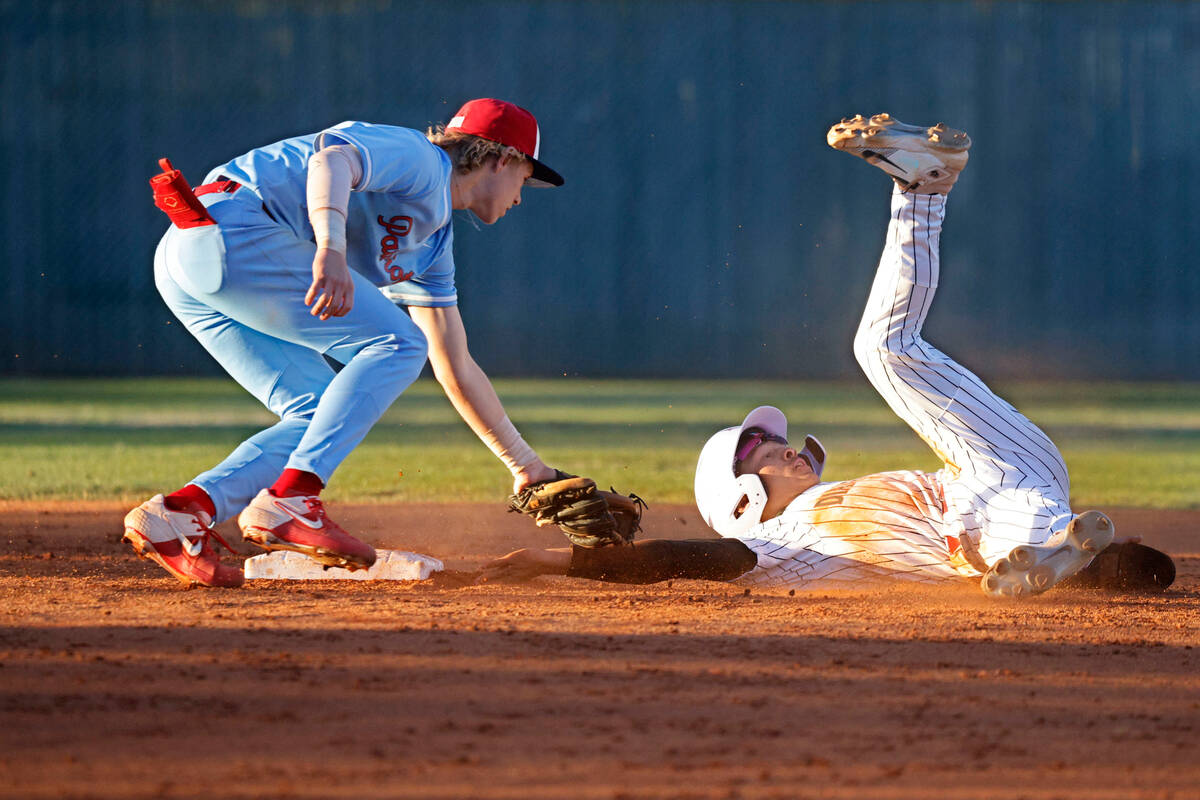 Thursday's top high school performances:
Baseball
Phillip Abbott, Cimarron-Memorial: The senior struck out 11 in five innings to lead the Spartans to a 5-0 victory over Bonanza.
Connor Law, SLAM Academy: The junior went 2-for-2 with a triple and an RBI to help the Bulls roll past Western 7-0.
Dallas Martinez, Las Vegas: The sophomore pitcher held Foothill to two hits over five innings in the Wildcats' 2-1 victory.
Brady Oliver, Centennial: The junior went 3-for-3 with a triple, two RBIs and two runs scored in the Bulldogs' 8-0 victory over Arbor View.
Eduardo Tarango, Green Valley: The senior went 3-for-4 with an RBI to help the Gators beat Durango 8-3.
Softball
Ruby Hood, Boulder City: The sophomore scattered four hits over seven innings to earn a 7-4 victory over Clark.
Alaysha Paniagua, Durango: The sophomore went 4-for-5 with a double and four RBIs to lead the Trailblazers past Las Vegas 13-7.
Marlene Saldate, Tech: The senior collected three hits and two RBIs to help the Roadrunners defeat Legacy 14-1.
Kendall Selitzky, Coronado: The junior went 4-for-4 with five RBIs and two runs scored to lead the Cougars to a 14-0 win over Rancho.
Raelynn Villanueva, Spring Valley: The sophomore went 3-for-4 with an RBI in the Grizzlies' 14-5 rout over Pahrump Valley.
Scores
Baseball
Centennial 8, Arbor View 0
Valley 7, Cheyenne 5
Cimarron-Memorial 5, Bonanza 0
Clark 5, Eldorado 1
Desert Oasis 7, Liberty 5
Faith Lutheran 3, Spring Valley 2
Bishop Gorman 11, Rancho 0
Green Valley 8, Durango 3
Las Vegas 2, Foothill 1
Tech 11, Desert Pines 0
SLAM Academy 7, Western 0
Valley 7, Cheyenne 5
Softball
Poly (Calif.) 6, Faith Lutheran 1
Faith Lutheran 11, Reno 0
Bonanza 17, Western 2
Valley 26, Canyon Springs 11
Boulder City 7, Clark 4
Durango 13, Las Vegas 7
Tech 14, Legacy 1
Mojave 16, Cheyenne 1
Spring Valley 14, Pahrump Valley 5
Coronado 14, Rancho 0
Virgin Valley 12, SLAM Academy 2
Coaches are encouraged to call in scores to the Review-Journal sports desk at 702-380-4587.