DIVISION I TRACK: Bonanza's Taylor holds off Dobson for fourth state title in 100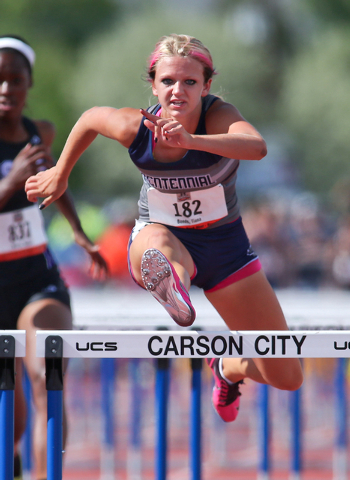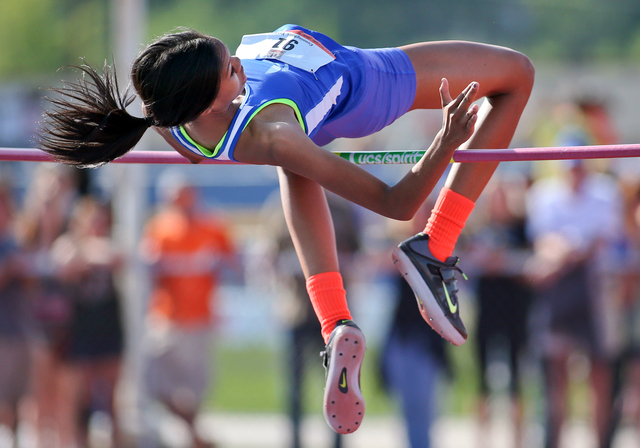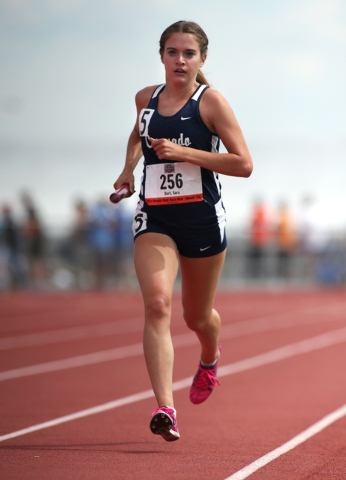 CARSON CITY — The rivalry simmered for more than three months and finally reached its conclusion Friday.
When it was all over, Jayveon Taylor of Bonanza found Arbor View's Ivy Dobson and slapped his hand in a sign of mutual respect.
"He's like my brother. I've been running with him for three years," Taylor said. "He's a good man, a good dude.
"I like competition. Without competition, I wouldn't be able to run the times that I run or anything, so I just take it how it comes."
Taylor had the final word in one of the most anticipated races of the day, holding off the hard-charging Dobson to win the boys 100-meter dash at the Division I state track and field meet at Carson High.
It was the fourth straight state title in the event for Taylor, who crossed the line in 10.51 seconds.
Dobson boldly declared at the start of the season that he would dethrone Taylor in the 100 and nearly followed through on his prediction.
Dobson was part of a nervy beginning as a handful of runners appeared to jump the gun and two were disqualified for a false start. Once the race began, the DePaul-bound standout started to gain ground after 50 meters, but Taylor proved too strong as Dobson finished in 10.63. Green Valley's Ian Mack, who started strong, took third in 10.77.
"Once I got to this point, three years and then lose to somebody I've beaten? That would be kind of silly," Taylor said. "I had to train hard and do what I've been doing to prepare for my race."
Centennial's Tiana Bonds set a state-meet record in the girls 100 hurdles with a time of 13.50 and also was second in the long jump. The Arizona signee was in front of the field by several steps after the first hurdle and went on to post the No. 3 legal mark in the U.S. this season, according to Dyestat.com.
"I knew it was state, and I knew I wanted to get the record. I was pretty pumped up for it," Bonds said. "This is one of the last times I'm running in high school, and I wanted to go out with a bang."
Sydney Badger won the girls 1,600 (4:55.99), Tyler Rowlette was first in the girls 400 (56.91) and second in the 200, and the team of Kenya Owens, Holli Dunn, Peyton Green and Rowlette won the girls 800 relay (1:40.66) to help the Bulldogs take a commanding lead in the team standings with 57 points.
Centennial didn't have a first-place finisher on the boys side but scored 41 points and trails leader McQueen by two points. Dajour Braxton was second in the 800, and Braxton and George Espino finished 2-3 in the 3,200 for the Bulldogs.
Centennial also was second to Canyon Springs in one of the fastest 400 relays in state history. Marques Williams held off Corey Berner of Centennial on the anchor leg as the Pioneers set a state-meet record at 41.46, while Centennial tied the previous mark of 41.53.
Demarcus Walker, who ran a leg on the 400 relay, was first in the 300 hurdles (37.94) as Canyon Springs earned 28 points and is in third place.
Liberty's Reno Tu'ufuli broke a 27-year-old meet record in the boys shot put (63 feet, 6¾ inches), and teammate Ashlie Blake broke the girls discus record that stood since 1999 with a toss of 158-5.
Silverado's Dominic Smallwood was unable to surpass the 50-foot barrier in the boys triple jump but still won his second straight state title with a mark of 48-1½. The Indiana-bound standout scratched on four of his attempts and was slowed by an ankle injury as he fell short of his 50-1 effort from last week's Sunrise Region meet.
"Just to follow it back, that's the biggest thing. I couldn't come here and not win it," Smallwood said. "I got to do it in front of the state record holder, Aarick Wilson, so it was fun to go for that record and have him being here."
Vashti Cunningham of Bishop Gorman won the girls high jump at 6-1, two inches shy of her record-setting mark at the Sunset Region meet, and was first in the girls long jump (18-10¼).
The meet concludes Saturday.