Roundup: Basic wins 4-team boys meet
April 12, 2018 - 10:21 pm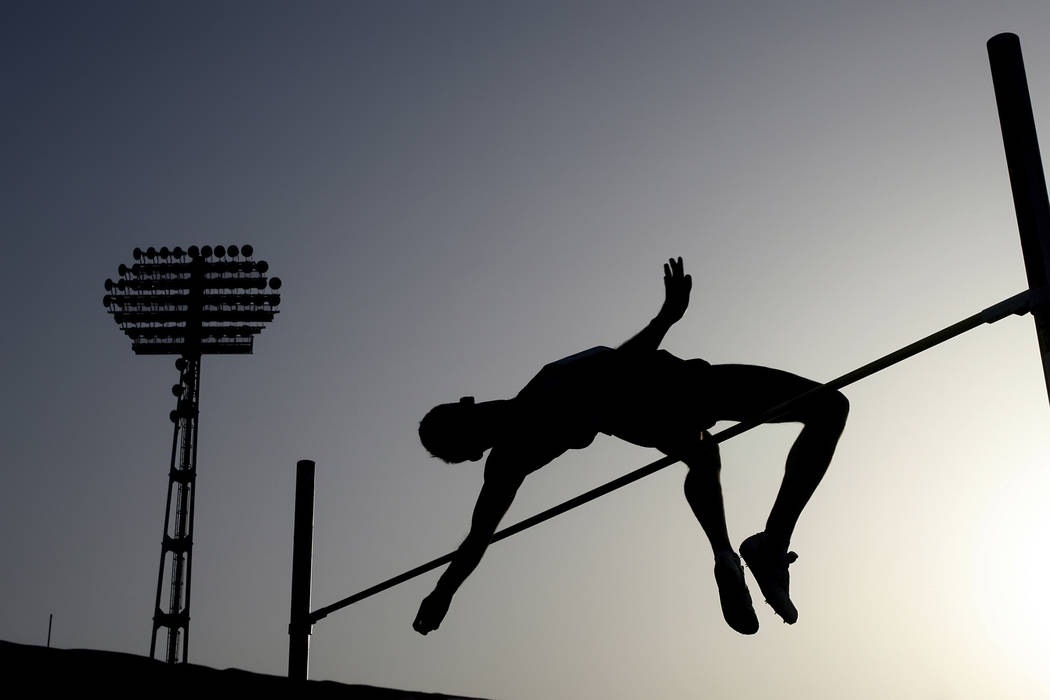 Basic's Blake Fenyves won the shot put, and Joren McKeever won the high jump Thursday to power the Wolves to a victory in a four-team home meet.
Fenyves' throw was 41 feet, 0½ inches, and McKeever's jump was (5-10). Basic also won the 3,200-meter relay.
Trent Digiulio finished second in the long jump, 110-meter hurdles and 300 hurdles for the Wolves.
Basic finished with 79 team points, ahead of Lincoln County (60), Foothill (57) and Laughlin (26).
Lincoln County's Noah Smith won the 100 in 10.98 seconds, and teammate Landen Smith was second. In the 200, Landen Smith won (22.99) and Noah Smith finished second. Noah Smith won the 110 hurdles (16.5), and Landen Smith won the 300 hurdles (45.09).
Benson Wadsworth won the triple jump and the long jump for the Lynx, with leaps of 39-7 and 18-10, respectively.
Las Vegas wins tri-meet
At Eldorado, Victory David and Adam Ackerman each won two events to lead Las Vegas High to victory in a three-team meet.
David won the 100 in 10.43 and the 200 in 22.96. Ackerman took the shot put (38-7) and discus (118-11) for the Wildcats, who scored 100 points. Eldorado (53) was second, and Rancho (25) was third.
Quran Muhammad won the 110 hurdles in 16.29 and finished second in the 300 hurdles for Las Vegas. Teammate Andrew Rivera won the 300 hurdles (44.84) and was second in the 110 hurdles.
Eldorado's Brandon Gibbs took first in the long jump (20-20) and triple jump (38-0¼).
Desert Pines rolls in home meet
At Desert Pines, Donovan Stewart and Darnell Washington each won a pair of individual events to lead the Jaguars in a dual meet with Del Sol.
Stewart won the 200 in 22.7 and the 400 in 54.9. Washington won the shot put with a throw of 49-6 and the discus with a throw of 124-4¼.
Desert Pines' Jovan Ibarra won the 1,600 run in 5:01.7, and placed second in the 800 run behind teammate Chozzen Howse (2:06.1).
Tylan McNeal won the long jump (17-10) and triple jump (38-5) for Del Sol.
Results: