Sever Stewart hurdles Faith Lutheran boys to Richard Lewis Invitational title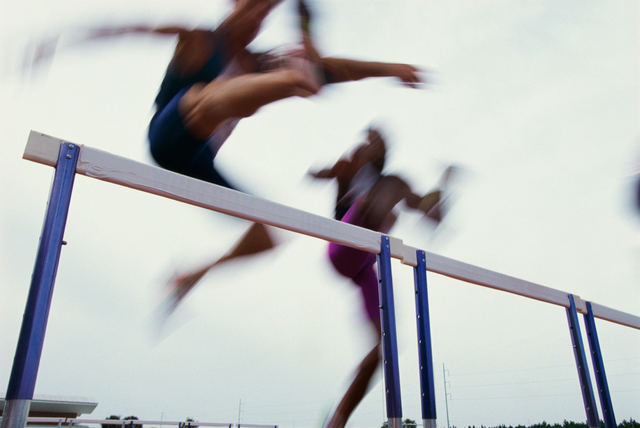 Sever Stewart swept the hurdle events Friday to lead Faith Lutheran's boys track team team to victory in the Richard Lewis Invitational in Overton.
Stewart won the 110-meter hurdles in 16.14 seconds and the 300 hurdles in 40.45. Teammate Koby Ghadery won the 1,600 in 4:34.12 and placed second in the 3,200.
Bonanza's Joey Fox won the 100 in 10.86 and the 200 in 22.16.
White Pine's Saxtyn Brewster also won two events, taking the long jump with an effort of 20 feet, 5¾ inches and the triple jump with a mark of 42-4¾.
Legacy's Jeriel Thomas was first in the 400 in 49.2 and took second in the 200.
Silverado's David Parker was first in shot put (43-8¼) and second in the discus.
Moapa Valley's Joshua Lee set a meet record in the pole vault, clearing 14-3¼ and breaking the mark of 14-1 set by Moapa Valley's Caleb Witsken in 2015.
Faith Lutheran finished with 126 points. Las Vegas was second with 81, followed by Silverado with 79, Green Valley with 75 and Legacy with 71.
In the girls meet, Mia Smith won the 1,600 and 3,200 to help Green Valley take the team title.
Smith was first in the 1,600 in 5:33.01 and followed it up with a victory in the 3,200 in 12:32.64.
White Pine's Lily Fullmer won the 100 hurdles in 16.22, tied for first with Lincoln County's Brooklyn Hafen in the high jump with an effort of 4-10 and was second in the triple jump.
Shadow Ridge's Dayvian Diaz won the 100 in 12.44 and was second in the 200.
Legacy's C'Aree Stevenson won the 200 in 25.73 and was second in the 100.
Bonanza's Zowie Manuma won the shot put with a mark of 34-6½ and took second in the discus.
Green Valley finished with 106 points. Faith Lutheran was second with 92½, and Shadow Ridge was third with 83. Silverado (63) and Moapa Valley (57) rounded out the top five.
Meet summaries: