Small schools: Mojave, Spring Mountain boys earn state championships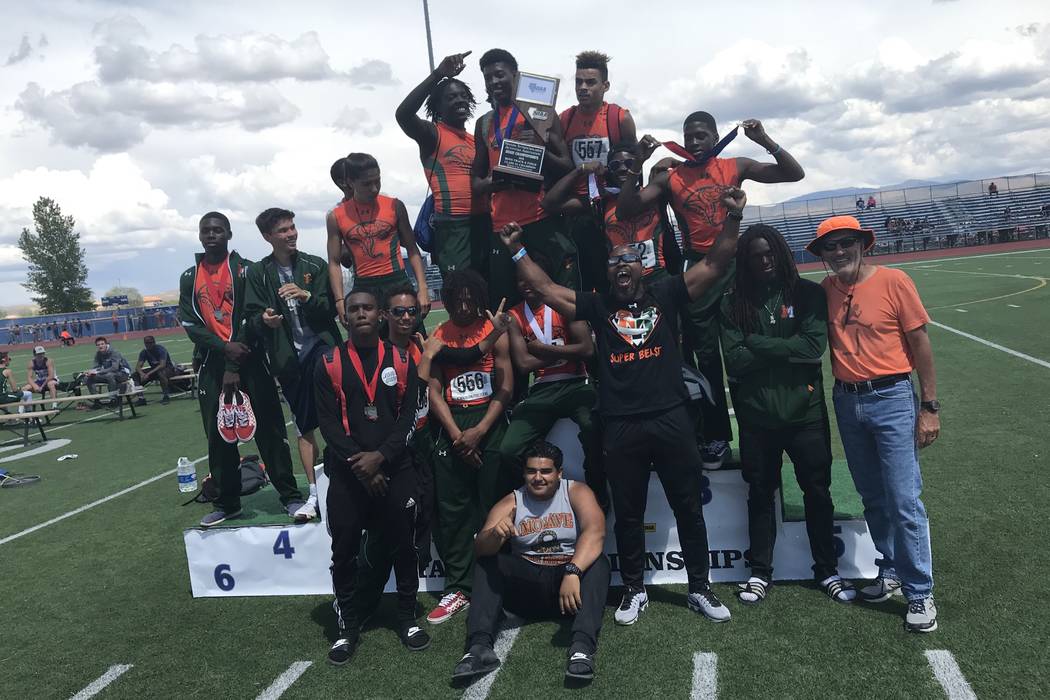 CARSON CITY — Mojave's boys track and field team lost the 2017 Class 3A state meet by six points last year, sans senior high-jumper John Harper, who was academically ineligible.
He heard all off-season that he'd have jumped, the Rattlers would have won. So he shored up his academics so he could participate this spring.
He jumped Saturday. And yes, Mojave won.
The Rattlers accumulated 110 points over the course of the two-day meet to win the state championship at Carson High School.Harper cleared 6 feet, 6 inches in the high jump to capture the individual state title, and proudly stood atop the podium with the team trophy.
"I came ready this year to take home the state title," Harper said. "We actually thought we weren't going to have (enough) people to get the job done. It worked out pretty good for us."
Desert Pines finished second with 100 points and Pahrump Valley finished third with 78½.
The Rattlers relied on their depth this weekend, and scored points in seven of the nine events on a Friday in which triple jumper Quincy Smith won with a distance of 46-3¼.
They picked up where they left off Saturday with points in six more events, and Harper clinched the victory with his performance in the afternoon.
"Last year we were hoping to win and it didn't work out in our favor, so really this has been a year long effort," Mojave coach Shenoa Davis said. "We're just really proud of how the boys stepped up."
Harper played wide receiver for Mojave's football team and forward on the basketball team. Neither team won a state championship.
But Harper has a state championship now as prepares for graduation. Two actually, if you count the individual medal and team trophy.
"It was a lot of fun," he said. "I thought I'd never experience a state championship."
Class 2A: Democracy Prep sophomore excels in new event
Democracy Prep sophomore Azalia Pitts had never triple jumped until the Class 2A Southern Region meet last week.
Apparently, she's a quick learner.
Pitts finished second in the triple jump for the Blue Knights with a distance of 30-11½, and helped their 400-meter relay team win the Class 2A state title in 52.24 seconds.
"It would have been nice to be in first," she said. "But I did the best that I could."
Pitts has been dealing with a nagging right hamstring injury, and said she wasn't at 100 percent during the weekend after taking several months off.
She also finished fourth in the 100 (13.72), and is motivated to come back better — and healthier — next season.
"Me personally, I work hard, I've been doing everything I need to do," Pitts said. "Next year, I'm coming for first."
Class 1A: Spring Mountain rises to the occasion to claim title
Spring Mountain boys track and field coach Mike Drost has the unique challenge of teaching the sport to a whole new crop of athletes.
Every single year. And this year's crop was the best in the state for the fourth consecutive year.
The Golden Eagles dominated the Class 1A state meet, and finished with a champion total of 209 points — 93 more than second-place Sierra Lutheran.
Spring Mountain boasted athletes in practically every event, and earned championships in the 400 relay, pole vault and high jump.
"We started at zero. These kids literally didn't even know how to run, jump, throw" Drost said. "We go through a long process. We work hard. We make them work hard. With all of us working hard, you see the end result. For them, this is something they'll remember for the rest of their lives."
Results: