Valley boys volleyball turns corner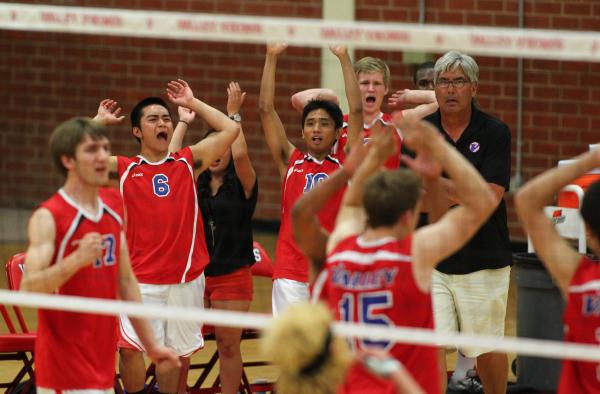 Sean Carter knows how outsiders viewed the Valley boys volleyball team.
As the senior setter puts it, the Vikings were talented but lacking in self-confidence. Even worse, they had a reputation for crumbling at the first sign of adversity.
"We've always wanted to change that stigma," Carter said. "This year, we've been pushing and trying to show these teams that we're not a team that just gives up if we're down."
After making steady improvement in recent years, Valley turned the corner this season. The Vikings dethroned eight-time defending Northeast League champion Las Vegas and are expected to contend for the Sunrise Region title when the postseason begins Tuesday at Green Valley.
"It's finally what we've wanted to accomplish as a program," junior outside hitter Matt Ballaro said. "We want to be known as one of the top volleyball schools in the city."
The Vikings have been slowly building to this point under ninth-year coach Matt Porter, reaching the playoffs in each of the past four seasons.
Valley tied for second in the Northeast with Rancho last season and managed to take a set from Las Vegas in the schools' second meeting. The Vikings even pushed Green Valley in the playoffs before losing, 3-1.
This season, Valley (25-7, 9-0 Northeast) knocked off defending Sunset Region champion Shadow Ridge in four sets in early March and has three victories over old nemesis Las Vegas.
Valley also owns a best-of-3 win over Foothill on the way to the Longhorn Invitational title and has lost only once to a team from Nevada, which was 3-0 to defending Class 4A state champion Coronado on March 21.
"It's kind of like a 'Jaws' scenario. You see the shark fin all the way in the distance and you're like, 'Oh, whatever, that's a small shark,' " junior opposite hitter Jack Heavey said. "Then we start getting wins against higher-quality teams and the top teams kind of realize, 'Hey, maybe that's a bigger shark than we thought.' "
The Vikings feature 10 juniors and two seniors, and Porter said their chemistry has been the key to the team's success.
Heavey and Ballaro, who is Porter's nephew, are the team's leading hitters. Senior outside hitter Lorenzo Capannolo also has been a major contributor.
Carter took over for departed all-league setter Peter Nunes and has excelled in his first season running an intricate offense in which many of the positions are interchangeable. Junior David Delaney, Carter's replacement at libero, is the team's top passer.
"In the past we had good athletes playing volleyball," Porter said. "We have volleyball players now. That's the biggest difference."
Valley, which has won 11 straight, has yet to win a playoff match under Porter and faces Basic
(10-7) in the first round. Should the Vikings advance as expected, a semifinal matchup against either Foothill, Las Vegas or Silverado looms.
"I think we're going to be in a better situation going into the playoffs," Ballaro said. "We're going to have a lot more confidence, and we're going to be hot going into the playoffs. I think we can make a run at state, and that's what our goal is."