4A state: Shadow Ridge captures elusive state title
November 11, 2017 - 10:02 pm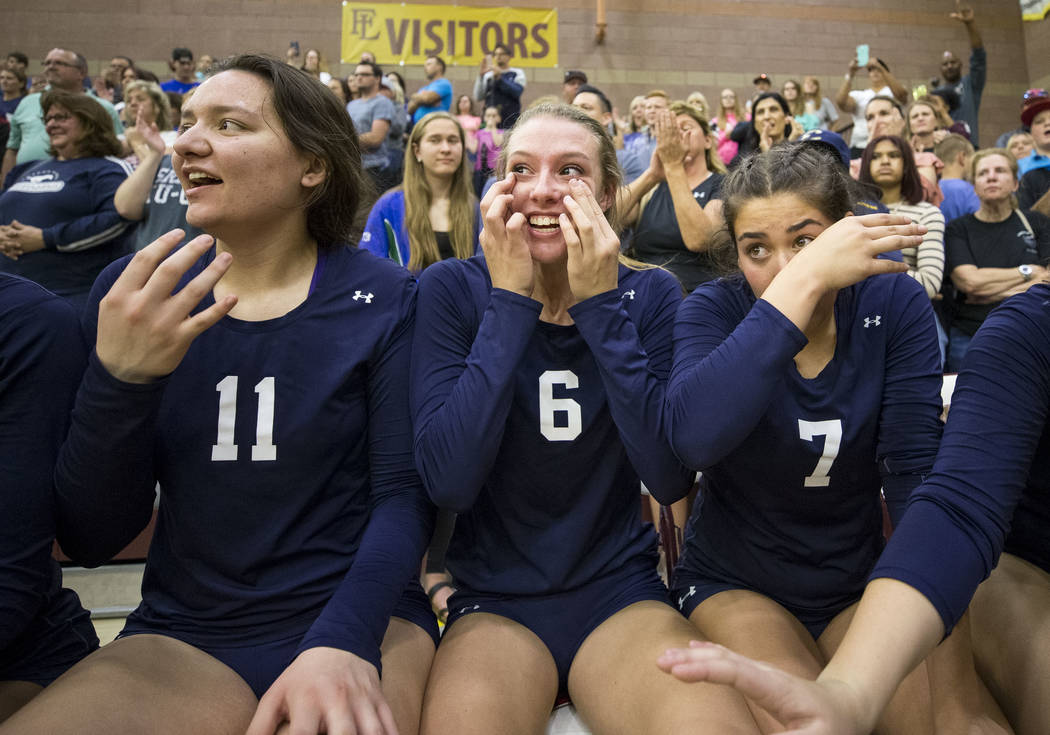 The best volleyball player in the state, Shadow Ridge's Whittnee Nihipali, won her final high school match Saturday at Faith Lutheran.
Senior teammate Kizzy Rodriguez lived with a coach this fall to "win a ring" while her mother, Carmen, moved across the country for work.
Junior Alysha Smith did what her two older sisters, Ashley and Arianna, couldn't do with the Mustangs.
Three visions. One Class 4A state title.
After making three state tournaments in four seasons, the Mustangs finally broke through for the program's first state title with a 26-24, 17-25, 25-12, 21-25, 15-9 victory over defending champion Bishop Gorman in front of a standing room-only crowd of over 1,600.
"It's a perfect send-off, " said Shadow Ridge coach Karissa Guthrie, in her 12th season. "Those girls need to soak everything in because they have continued this legacy of the program and stepped it up a notch. They did what teams before them haven't been able to do."
Nihipali, who has signed with Arizona, accounted for eight of the Mustangs' 15 points in the fifth set to help knock off the Gaels, who had beaten them three times this season.
After younger sister Natalie put down the go-ahead kill for a sideout, Whittnee Nihipali served three consecutive aces off her jump serve to build an 11-7 lead in the decisive set and swing all the momentum. Then Smith and Madyson Lousignont shut the door for match point, teaming on a block to cap a 31-11 season and send the Shadow Ridge faithful into a dog pile near midcourt.
"This is all that I wanted," Lousignont said. "If I didn't get it, I'd feel incomplete and have regrets."
Whittnee Nihipali, who finished with 19 kills, seven aces and 13 digs, called it the "cherry on top" of her individual accolade-filled career. After receiving one final medal from the Nevada Interscholastic Activities Association on Saturday to hang around her neck, she ran across the court to share a large embrace with Guthrie.
"All my dreams have pretty much come true for high school," Whittnee Nihipali said.
Rodriguez, who had 15 kills, three aces and nine digs, thanked her mother for letting her stay in Nevada and promised to share the state ring. She held back tears.
"It's been amazing playing with them," Rodriguez said. "This is a great group of girls. I'm sad that I won't be able to play with them again."
Smith quickly let her sister Ashley, a sophomore outside hitter for Kansas, know who reigns supreme among sisters before posing for pictures. She had three aces and 26 assists, including four in the fifth set.
"We worked really hard and never took our foot off the gas," Smith said. "We kept pushing and fought with everything we had."
Guthrie took her players aside after the match and said the seven soon-to-be graduated seniors "set the foundation" for the future and that she was very appreciative of their efforts this season.
"These girls deserve everything," Guthrie said. "The older girls have paved the way for the younger girls on our team. It was neat to see that experience shine through when it's supposed to."
Tommi Stockham, a Southern California commit, led Gorman (30-11) with 18 kills.
Kylie Gibson had 17 kills, Lilly Hoff dished out 53 assists and Alexandra Washington had seven kills and seven blocks for the Gaels, who also got six kills and three blocks from Reese Rossnagel.
Contact reporter Ashton Ferguson at aferguson@reviewjournal.com or 702-383-0430. Follow @af_ferguson on Twitter.
Box score:
Shadow Ridge 3, Bishop Gorman 2