4A VOLLEYBALL: Bishop Gorman captures first state title
November 12, 2016 - 7:31 pm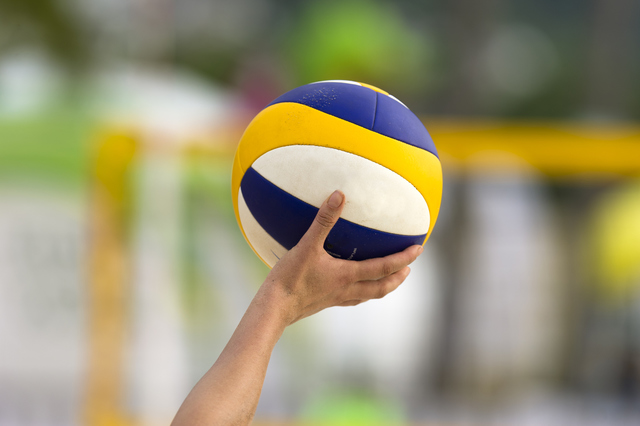 RENO — Bishop Gorman's first chance to clinch its first state volleyball championship slipped away, but as the Gaels switched ends of the court, their senior leader thought she saw just what she needed to see.
Reno had just won the third set of their state championship match, to stay alive and force a fourth set.
But Alysia Nielsen carefully watched her teammates as the teams switched sides, and immediately felt reassured.
"I think it was a little like we weren't sure how it was going to go, but I looked around at all my team and I could tell we wanted it more than we've ever wanted anything," Nielsen said. "We weren't really prepared to lose the third, but it helped us as a team to win the last game."
Gorman used a run of seven consecutive points to take control in the fourth set, to finish off a 25-14, 25-21. 23-25, 25-15 win over Reno in the 4A State Championship match at Damonte Ranch.
"Our school is known for championships, and to be able to bring a state championship for our team, I'm so proud and honored to be the first champions for volleyball," Nielsen said. "I knew this team had a great opportunity to go so far, and I knew it was my job to take responsibility for a team with such young girls."
After putting up minimal resistance, Reno (21-6) toughened in the second set, rallying from a 14-10 deficit to tie the score at 14, and from a 21-17 deficit to pull within 22-21. But Sydney Lobato caught the Huskies off guard with a set over the net for a 23-21 lead, and after a Reno error, Abbey Archambault punctuated things with an ace.
Reno jumped out to a 10-4 lead in the third set, capped by an ace by Kaitlynn Biassou and an attack error by Gorman. But the Gaels (29-10) pulled even at 19, the first of five ties, before Reno scored the last two points on a kill by Parker Buddy and a set into the net by Gorman freshman Tommi Stockham.
The Gaels started slow in the fourth set, but after trailing 6-4, scored seven consecutive points. Reno got as close as 14-10, but Gorman scored 8 of the next 10 points and finished things off with a kill by freshman Hanna Karl and the capper by Archambault.
"The girls were disappointed because they wanted to go in three, but Reno fought hard and we made a couple bonehead errors," Gorman coach Ed Van Meetren said. "They came out for the fourth game with a vengeance."
Stockham led the Gaels with 11 kills and two blocks. Karl had 10 kills and three blocks, Archambault had 10 kills and five blocks, and Kylie Gibson had nine kills and three blocks for the Gaels. Lobato added 25 assists, and Nielsen had 24 digs.
Van Meetren said that balanced attack on offense, and a defense that tallied 23 blocks was what won it for the Gaels.
"(Reno's) numbers come from three main hitters, so the rotations play in our favor," Van Meetren said.
Van Meetren caught a lump in his throat as he thought about previous Gorman teams that fell short of a state title.
"This team may not have as much talent, though that's hard to say, but they have great leadership and better team chemistry than any team I've ever had," he said. "It was a total team effort, and that makes me proud of how they've done."
Box score: