DIVISION I VOLLEYBALL: Coronado rallies to stun Bishop Gorman in semis
November 16, 2013 - 1:26 am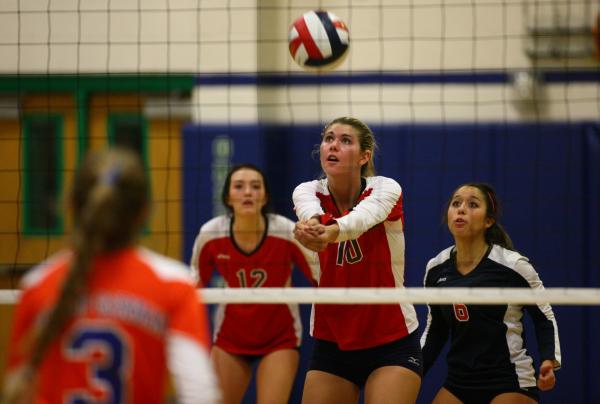 After two sets on Friday, Bishop Gorman's girls volleyball team had Coronado just about buried.
Just about, but not quite.
The Cougars got a second wind just in time, pulling off a dramatic rally to beat the Gaels 19-25, 23-25, 25-22, 25-23, 15-9 in the Division I state tournament semifinals at Green Valley.
The win lifted the Cougars into Saturday's championship match, where they will play Palo Verde at 4 p.m.
Brooke Garlick had 16 kills for Coronado, which was three points from elimination in the fourth set.
Cougars coach Matt Johnson said it was among the most impressive rallies he has ever witnessed.
"It's the best one I can remember," he said. "That's the first time we've played five games all year so that was definitely an experience for us."
Despite the close scores throughout the match, the Cougars made it surprisingly easy in the fifth set by jumping to a 7-1 lead. But momentum was on their side, and it showed itself when Carolyn Andrulis' big hit caromed off a defender's hand, bounced off her head and landed on the other side of the net for a point that put Coronado ahead, 9-3.
"Just before that, I told (Andrulis) to just swing away and see what happens," Johnson said. "She made me look like a genius."
The Cougars withstood Gorman's late rally and fans stormed the court after Nikki Jackson put the match away with a final kill.
The Gaels appeared dominant in the first set, leading throughout. They were forced to hold off a late 6-0 Coronado scoring spurt in the second set, but exited with a 2-0 match lead.
"After that second game, we just kept our heads up," Johnson said. "We knew we had to stick together, and if we didn't hang our heads we could pull out of that hole. After that game, I told the girls we had them right where we wanted them."
Coronado committed numerous errors midway through the third set, allowing Gorman to erase an early deficit to tie the score at 13. But several Cougars had timely kills down the stretch, and Brooke Garlick's last kill of the set sent the match into a fourth set.
With a 23-22 lead, the Gaels had Coronado on the ropes in the fourth set. But Cali Thompson tipped one over the net to tie it at 23, Jackson had a service ace, and Garlick had a big kill to even the match, 2-2.
The Cougars carried that momentum into the final set, and never faced another serious threat.
"Momentum is always really important in the fifth set," Johnson said. "To jump out and get a lead like that was huge."
Andrulis finished with 11 kills and 25 digs, Cali Thompson had 51 assists, 11 digs, and six aces; Alyce Bender had 23 digs, and Berkeley Oblad added 11 kills to help Coronado.
Francesca Manz led the Gaels with 20 kills and two aces, and teammate Gianna Ruggeroli had 16 kills.
■ Palo Verde 3, Bishop Manogue 1 — McCall Phillips had nine kills to help the Panthers defeat the Miners 25-19, 26-24, 15-25, 25-19 in the early semifinal.
After Palo verde cruised to an easy first-set win, Bishop Manogue began stealing momentum late in the second. The Panthers barely hung on, however, and took a 2-0 lead into the third set.
The Miners used a 13-4 run to win the first set, but Palo Verde recovered and used an 8-3 scoring spurt late in the fourth set to take control.
"We brought it together in that fourth game," said Palo Verde coach Greg Siqueiros. "We played with more intensity and confidence, and that made the difference."
Stephanie Herman helped the Panthers with 30 assists, and teammate Faryn Duncan added 23 digs.
Kelsie Hill led Bishop Manogue with 10 kills, two aces and a block.