Roundup: Boulder City comes back to beat Moapa Valley in 5 sets
September 17, 2018 - 10:11 pm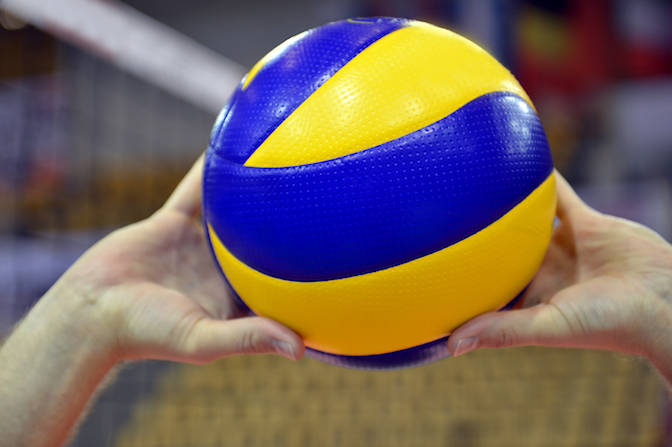 Ava Wright had 51 assists Monday as Boulder City's girls volleyball team rallied for a 22-25, 23-25, 25-23, 25-16, 15-7 home win over Moapa Valley.
Setia Cox added 17 kills, and Kamry Bailey had five aces and 13 digs for Boulder City. Kelsi Robinson and Raegan Herr each had four blocks for the Eagles.
Abbie Evans led Moapa Valley with 10 kills and nine digs. Sierra Bunker added nine kills and seven blocks for the Pirates.
Palo Verde 3, Centennial 1 — At Centennial, Arien Fafard had nine kills, 34 assists and 15 digs as the Panthers defeated the Bulldogs, 25-19, 22-25, 25-23, 25-18.
Kaila Yang had 14 kills and six digs for Palo Verde, Elizabeth Gutierrez had 13 kills, and Mia Sadler had 22 digs.
Kaya Anderson had 28 assists and six digs for Centennial. Chloe Geiman had 14 kills and three aces, Brooke Miller had nine kills and five aces, and Alexis Yeghiayan had five kills for the Bulldogs.
Cimarron-Memorial 3, Bonanza 1 — At Bonanza, Natasha Obradovic had 14 kills, eight digs and two aces to lead the Spartans over the Bengals, 23-25, 25-16, 25-21, 25-20.
Andrea Aldaco added 28 assists, five digs and two aces for Cimarron.
Sydney Evelyn Harner led Bonanza with 45 digs, and Samantha Alvarado had 29 digs.
Shadow Ridge 3, Legacy 0 — At Legacy, Alysha Smith had 11 kills and 11 assists, and Taliah Bell had seven kills and five aces as the Mustangs swept the Longhorns, 25-7, 25-16, 25-16.
Makayla Alia had 16 assists for Shadow Ridge, and teammate Jaden Jones had 10 kills.
Jazmyne Walker had 10 kills, Jessica Lui had 17 assists and seven digs, and Alyssa Fuller had 15 digs for Legacy.
Bishop Gorman 3, Desert Oasis 0 — At Gorman, Angelina Starck had six kills, 13 assists and six aces to lead the Gaels over the Diamondbacks, 25-15, 25-15, 25-17.
Caroline Edgeworth had 20 assists and three aces for Gorman.
Kierston-Joy Kuresa had 10 digs and five kills for Desert Oasis. Paige Parlanti had nine kills, three aces and five digs for the Diamondbacks.
Faith Lutheran 3, Rancho 0 — At Rancho, Kyrie Lorfing had 14 kills and 15 assists to lead the Crusaders over the Rams.
Hailey Carroll had 19 assists, and Lauren Tomita had 11 digs for Faith Lutheran.
Rancho's Angelina Robles had 11 kills and eight digs, and teammate Jan Duhaylungsod had 24 assists and nine digs.
Arbor View 3, Eldorado 0 — At Arbor View, Alina Oranchak had 16 kills and 14 aces as she led the Aggies to a 25-6, 25-12, 25-5 victory over the Sundevils.
Arbor View's Sadae Cintron had 22 assists and five aces. Kennedy Presser had nine kills, and Bailey Olbur had six kills for the Aggies.
Las Vegas 3, Canyon Springs 0 — At Canyon Springs, Brooklyn Stone had 28 assists, eight aces, and two kills as the Wildcats defeated the Pioneers, 25-9, 25-14, 25-8.
Skyla Faught added 10 kills and two aces for Las Vegas.
Ja'Nasia Spand had two aces and three digs for the Pioneers. Jeanette Fine had two kills and two digse, and Mariah Hernandez had three digs for the Pioneers.
Sunrise Mountain 3, Virgin Valley 1 — At Sunrise Mountain, Julia Miles had eight kills and three blocks to lead the Miners over the Bulldogs.
Maleena Felshaw had four kills and three aces for Virgin Valley, and Areli Ponce had four aces for the Bulldogs.
Cheyenne 3, Desert Pines 0 — At Desert Pines, Miya Burns had 17 digs and nine kills to lead the Desert Shields to a victory over the Jaguars, 25-22, 25-16, 25-20.
Cheyenne's Arabic McLaurin had 18 assists and three aces, and teammate Tia Echols had nine kills. Angel Buchanan added four aces for the Desert Shields.
Karyme McGhee had 12 assists for the Jaguars. Vira Tavita had five kills, four aces and two blocks, Nylah Scott had seven blocks, three kills and two aces, and BreZana Thomas had three blocks, two kills and two aces for Desert Pines.
Valley 3, Democracy Prep 0 — At Valley, Demari Sprinkle-Blakney had 11 kills as she led the Vikings to a victory over the Blue Knights, 30-28, 25-11, 25-19.
Frida Ochoa-Uribe had 11 digs, Isabel Lopez-Figueroa had seven aces, seven digs, and four kills, and Krystal Carter had five kills, five assists, four digs, and two aces for Valley.
Western 3, Del Sol 0 — At Western, Adrianna Jones had six kills and 12 digs to lead the Warriors over the Dragons, 25-16, 25-12, 25-21.
Camille Riggs had 10 kills and four aces for Western.
Julie Robles had two kills, two assists, three aces and eight digs for Del Sol.
Pahrump Valley 3, Somerset-Losee 0 — At Pahrump, Jacquellen Stobbe had 13 assists as the Trojans defeated the Lions, 25-21, 25-10, 25-7.
Caitlyn Chmiel had seven aces Pahrump.
Bella Pelupulu had five assists for Somerset-Losee.
Sky Pointe 3, Chaparral 0 — At Chaparral, Jocelyn Sandres had 11 kills to lead the Eagles to a 25-13, 25-19, 25-23 victory over the Cowboys.
Katie Piet had 26 assists for Sky Pointe.
Bree'jahn Banks had 11 kills to lead Chaparral, which got 21 assists from Maria Victoria Agao.
Liberty Baptist 3, GV Christian 0 — At GV Christian, Jade Halverson had 12 kills, six aces and 23 digs to lead the Knights over the Guardians.
Kelsey Guardiola added eight kills, five aces and 12 digs for Liberty Baptist.
Lily McCandless had two solo blocks to lead GV Christian.
Lincoln County 2-2, Adelson School 0-1 — At Adelson School, the Lynx swept the doubleheader from the Lions.
Lincoln County won 25-20, 25-19 and 25-9, 23-25, 15-9.
Dana Bluevise had a total of 12 kills and 20 digs to lead Adelson School. Elizabeth Gutierrez added five kills and 12 digs for the Lions.
Box scores:
Bishop Gorman 3, Desert Oasis 0
Boulder City 3, Moapa Valley 2
Cimarron-Memorial 3, Bonanza 1
Liberty Baptist 3, GV Christian 0
Lincoln County 2, Adelson School 1
Lincoln County 2, Adelson School 0
Pahrump Valley 3, Somerset-Losee 0
Sunrise Mountain 3, Virgin Valley 1