Roundup: Kylie Gibson, Gorman lock up Sunset League title
October 23, 2017 - 9:27 pm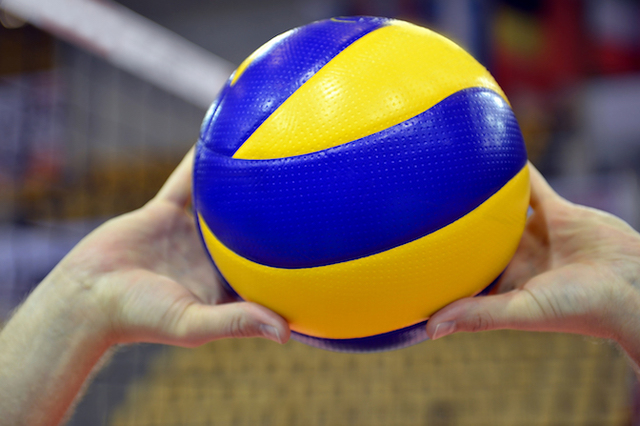 Kylie Gibson had 17 kills, four aces and two blocks to help Bishop Gorman's girls volleyball team win the Class 4A Sunset League with a 19-25, 25-15, 25-20, 25-15 home win over Durango on Friday night.
Tommi Stockham added 14 kills, two aces, and one block, Lilly Hoff had 26 assists and Sydney Lobato had 24 assists and three aces for the Gaels (25-10, 12-0), who also got four kills and four blocks from Ashley Brennan.
Naomi Harris led Durango with 15 kills and eight digs. Jaylin Ellis had 12 kills and 12 digs, and Sierra Leone Sanchez had 13 digs for the Trailblazers (23-10, 11-1).
Moapa Valley 3, Boulder City 2 — At Overton, Eden Whitmore had 19 kills and five aces, and Abbie Evans added eight kills in the Pirates' 25-18, 22-25, 25-20, 28-30, 15-8 league-clinching win over the Eagles.
Shelbi Walker had seven kills, and Aria Messer had 27 assists for Moapa Valley, which secured its second consecutive Class 3A Sunrise League title.
Maggie Roe led Boulder City with 19 kills, 17 assists, 12 digs and five blocks. Kamry Bailey had 15 digs and 12 kills, and Maddie Wood had five aces for the Eagles.
Sierra Vista 3, Faith Lutheran 2 — At Faith Lutheran, Shantalle Demirjian had 22 kills, two aces and five digs to lead the Mountain Lions to a 25-18, 25-15, 21-25, 23-25, 15-9 win over the Crusaders.
Leilani Vitale added seven kills and seven blocks, and Zoey Kriethe had seven kills and 24 assists for the Mountain Lions.
Hailey Carroll had 10 kills and nine digs to lead Faith Lutheran. Kyrie Lorfing had four aces and 13 assists, Mary Vancura dished out 17 assists, and Alexi Johnson had 29 digs for the Crusaders.
Tech 3, Somerset-Sky Pointe 2 — At Tech, Cadie Espe had 15 kills and seven digs, and Makenna Faught added seven kills, 31 assists and 20 digs to lead the Roadrunners to a 14-25, 25-8, 25-14, 20-25, 15-9 win over the Eagles.
Kayla Cook (seven kills, 13 digs), Fuatino Aima'asuo (seven kills), Seidi Trevizo (four aces and 17 digs) and Kaitlyn Harvey (11 digs) also contributed for Tech.
Emily Lemmon led Somerset-Sky Pointe with 12 kills and 26 digs. Katie Piet had 32 digs, and Jayden Sanders had six kills for the Eagles.
Palo Verde 3, Centennial 1 — At Centennial, Arien Fafard had 11 kills, 24 assists and 14 digs, and Jacquelyn Fields added eight kills and six blocks to lead the Panthers to a 22-25, 25-15, 25-15, 25-17 win over the Bulldogs.
Carli Tanner had 10 kills and eight digs, and Mia Sadler had 18 digs for Palo Verde.
Emily Anderson led Centennial with 18 kills, two aces and 14 digs. Siara Roberts (41 assists, 10 digs), Natalie Starlin (10 kills, nine digs), Anyese James-Kirkland (eight kills) also contributed for the Bulldogs.
Arbor View 3, Bonanza 1 — At Arbor View, Makayla Snyder had 11 kills as the Aggies rallied for a 27-29, 26-24, 25-15, 25-19 victory over the Bengals.
Shiloh Lively added eight kills and three blocks, and Bialey Olbur had eight kills and two blocks for Arbor View.
Alina Oranchak added seven kills for the Aggies, who got 18 assists from Kyndall Mitchell.
Zhanna Colin had 12 kills and four aces to lead Bonanza. Sydney Dunn added 22 assists, four kills and two aces for the Bengals, and teammate Aja Johnson had eight kills and 12 digs.
Shadow Ridge 3, Cimarron-Memorial 0 — At Shadow Ridge, Whittnee Nihipali had 16 kills and 15 digs to lead the Mustangs to a sweep of the Spartans, 25-18, 25-11, 25-18.
Kizzy Rodriguez added seven kills, five aces and 13 digs, while Autumn Spendlove dished out 28 assists for the Mustangs.
Natasha Obradovic had nine kills, three aces and four digs to lead the Spartans.
Michelle Mockbee had four kills and three aces, Andrea Aldaco had three kills, one assist, three aces and nine digs, and Destiny Garcia dished out 17 assists with one dig for Cimarron.
Legacy 3, Spring Valley 0 — At Spring Valley, Jessica Liu had 23 assists and seven aces in the Longhorns' 25-9, 25-18, 25-4 victory over the Grizzlies.
Alyssa Fuller had 15 digs, Myah Maxwell had nine kills for Legacy, which also got eight kills and five digs from Jazmyne Walker.
Cashmere Buford had 10 digs to lead Spring Valley. Emma Lily Marple had seven assists and two aces, and Simone Beane and Brooke Robinson each had five kills for the Grizzlies.
Liberty 3, Eldorado 0 — At Liberty, Tehani Tapuala had 23 assists and nine digs as the Patriots defeated the Sundevils, 25-8, 25-20, 25-7.
Alexandra Farnsworth had seven kills and two aces, and Brylei Brewer had four kills and four aces for Liberty.
Ashley Alonso led Eldorado with six digs and two kills. Jessica Olivero had six digs, and Deanna Contreras had five digs and two kills for the Sundevils.
Desert Oasis 3, Clark 0 — At Desert Oasis, Laityn Sarna had 12 assists, seven kills and five aces in the Diamondbacks' 25-7, 25-6, 25-6 rout of the Chargers.
Remy Seumalu had six kills for the Diamondbacks, and Bryce Leslie had four. Teammate Kaitlyn Willoughby added 11 assists.
Clark's Coraly Dupree had 10 digs, Autumn Flowers had four, and Natalyn Ngo had two digs and two assists.
Green Valley 3, Canyon Springs 0 — At Green Valley, Abby Olsen had 23 assists to lead the the Gators to a 25-9, 25-8, 25-10 win over the Pioneers.
Jennifer Soha had seven kills and four aces, and Erin Robinson added seven kills for the Gators.
Pahrump Valley 3, Cheyenne 0 — At Pahrump, Jacquellen Stobbe had 24 assists as the Trojans rolled past the Desert Shields, 25-21, 25-15, 25-20.
Kylie Stritenberger had eight kills and two blocks, Elaina Dattillio had six kills and Nicky Velazquez had five kills for Pahrump Valley.
Leerah Hunt had eight kills to lead Cheyenne. Eryuan McJoy had seven kills, and Lauryn Carlton had four aces for the Desert Shields.
Liberty Baptist 3, Desert Pines 0 — At Desert Pines, Jade Halverson had 18 kills, five aces and 27 digs in the Knights' 26-24, 25-21, 25-20 win over the Jaguars.
Kiley Guardiola added nine kills, three aces and 25 digs, and Samantha Dunford notched eight kills, two aces, six digs and two blocks for Liberty Baptist.
Lake Mead 2-2, Adelson School 0-0 — At Adelson School, the Eagles swept a doubleheader from the Lions, 25-23, 25-19 and 25-19, 25-13.
Elizabeth Gutierrez had 15 digs and three kills, and Dana Bluevise had three kills and 14 digs to lead Adelson School in the opener.
In the nightcap, Bluevise had 18 digs, and Gutierrez had 13 digs for the Lions.
Calvary Chapel 3, Democracy Prep 0 — At Democracy Prep, the Lions defeated the Blue Knights, 25-10, 25-13, 25-17.
Box scores:
Sierra Vista 3, Faith Lutheran 2
Moapa Valley 3, Boulder City 2
Shadow Ridge 3, Cimarron-Memorial 0
Green Valley 3, Canyon Springs 0
Liberty Baptist 3, Desert Pines 0