Roundup: Shadow Ridge outlasts Centennial
October 9, 2018 - 9:14 pm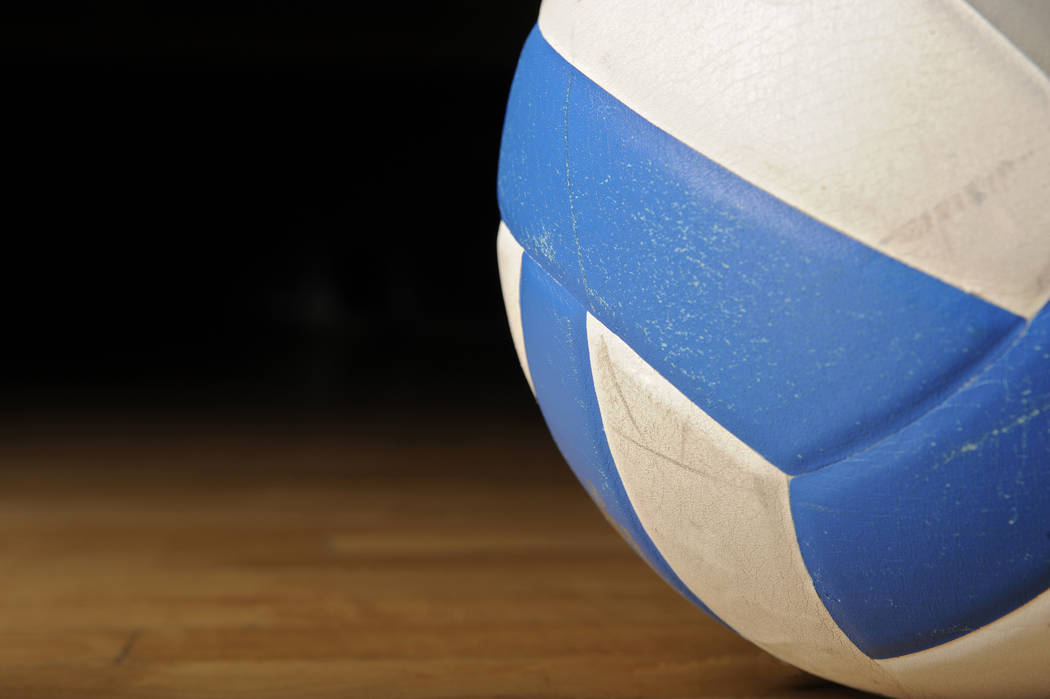 Alysha Smith had 12 kills, 14 assists, 13 digs and five aces to lead the Shadow Ridge girls volleyball team to a 28-26, 25-11, 22-25, 25-19 home victory over Centennial on Tuesday.
Braedyn Peters had 23 digs and five aces for the Mustangs, and teammate Jaden Jones had 10 kills.
Centennial's Kaya Anderson had 28 assists. Elaina Young had 15 digs, Taylor Lindell had five blocks and four kills, and McCall Durkin had three kills and three blocks for the Bulldogs.
Faith Lutheran 3, Cimarron-Memorial 1 — At Faith Lutheran, Kyrie Lorfing notched 20 assists, 15 kills, 12 digs, four blocks, and three aces in the Crusaders' 25-16, 25-20, 21-25, 25-15 win over the Spartans.
Isabelle Guerrero had 13 kills and 11 digs, and Hailey Carroll added 25 assists for Faith Lutheran, which got 11 kills and four blocks from Anna Massari.
Destiny Garcia had 39 assists and six digs, Natasha Obradovic supplied 24 kills and eight digs, and Andrea Aldaco contributed 21 digs to lead Cimarron.
Bonanza 3, Desert Pines 1 — At Bonanza, Nicole Degro had 30 assists and 11 aces to help the Bengals defeat the Jaguars, 25-10, 25-7, 16-25, 25-10.
Jaelynn Scott had nine kills, and Keirra Bell added seven kills for Bonanza.
Jenny Alcantara had five digs to pace Desert Pines.
Arbor View 3, Legacy 1 — At Arbor View, Sadae Cintron had seven kills, 47 assists, three aces and 21 digs to lead the Aggies to a 26-24, 25-22, 18-25, 25-19 victory over the Longhorns.
Aina Oranchak and Bailey Olbur each added 14 kills for Arbor View. Oranchak had 11 digs, and Olbur had six blocks.
Jazmyne Walker led Legacy with 26 kills and 19 digs. Jessica Liu added 37 assists, six aces and 15 digs, and teamamte Alyssa Fuller had 34 digs for the Longhorns.
Cheyenne 3, Canyon Springs 0 — At Canyon Springs, Tia Echols had nine kills and four aces to lead the Desert Shields over the Pioneers, 25-17, 25-23, 25-20.
Shaniya Mouton had five kills and two aces for the Desert Shields, and teammate Miya Burns had three aces.
Jeanette Fine had six kills, six digs and four blocks to lead Canyon Springs. Dominique McIntyre had four digs, four assists and two kills, and Ja'Nasia Spand had five digs and three kills for the Pioneers.
Rancho 3, Eldorado 0 — At Eldorado, Kaille Ferguson had six aces and five kills in the Rams' 25-5, 25-4, 25-3 sweep of the Sundevils.
Kekai States had nine assists, and Taylor DeGourville added eight kills for Rancho.
Amber Castro led Eldorado with six digs.
Palo Verde 3, Las Vegas 0 — At Palo Verde, Arien Fafard had 33 assists and eight assists to lead the Panthers in a 25-10, 25-19, 27-25 sweep of the Wildcats.
Alyssa Hewitt had nine kills and four blocks for the Palo Verde. Alex Anderson-Smith had nine kills and three blocks, and Kaila Young had eight kills and 10 digs for the Panthers.
Skyla Faught had 12 kills and five digs to lead Las Vegas. Brooklyn Stone had 21 assists and eight digs, Victoria Barney had eight kills and 13 digs, and Semiah Arrington had five kills for the Wildcats.
Adelson School 2-0, Needles 1-2 — At Adelson School, Elizabeth Gutierrez notched nine digs, six kills and three aces in the Lions' 29-27, 22-25, 15-13 win over the Mustangs in the first match of the doubleheader.
Dana Bluevise added nine digs, six kills, and five aces for Adelson School.
In the second match, the Mustangs downed the Lions, 25-13, 25-18.
Bluevise led Adelson School with eight digs and five kills.
Liberty Baptist 3, Laughlin 0 — At Laughlin, Jade Halverson had six kills, 11 assists, 12 digs, four aces and two blocks to lead the Knights to a 25-10, 25-15, 25-14 win over the Cougars.
Kiley Guardiola added five kills, five aces and 15 digs, and Ashlynne Teis had five kills, eight digs, four blocks and two aces for Liberty Baptist.
GV Christian 3, Innovations International 0 — At Innovations International, Scarlett Limon had 16 aces, six kills and two digs to lead the Guardians over the Ambassadors, 25-22, 25-13, 25-17.
Reagan Sosa had three kills, two aces, two digs and two assists for GV Christian.
Box scores:
Faith Lutheran 3, Cimarron-Memorial 1
GV Christian 3, Innovations International 0