Shadow Ridge reloads, back on cusp of title
November 12, 2015 - 11:11 pm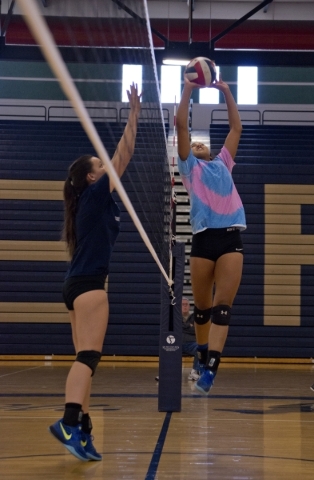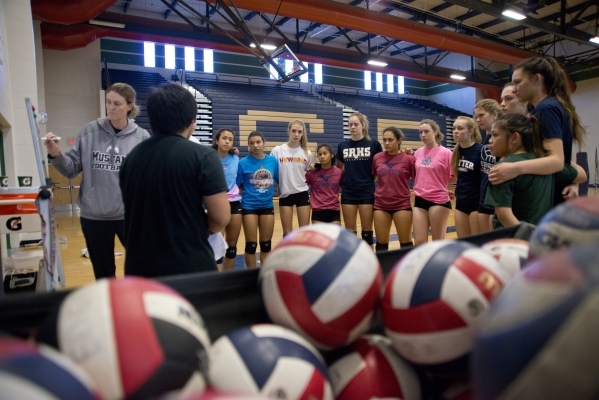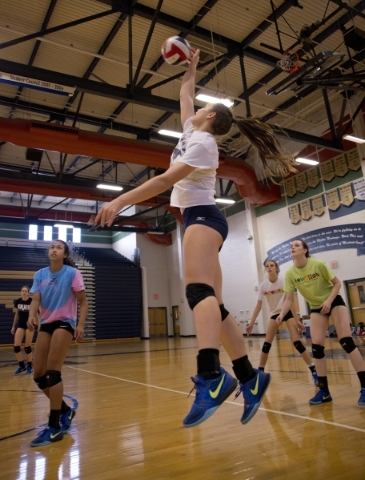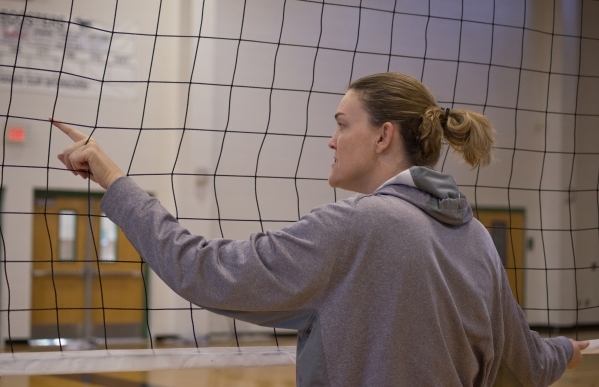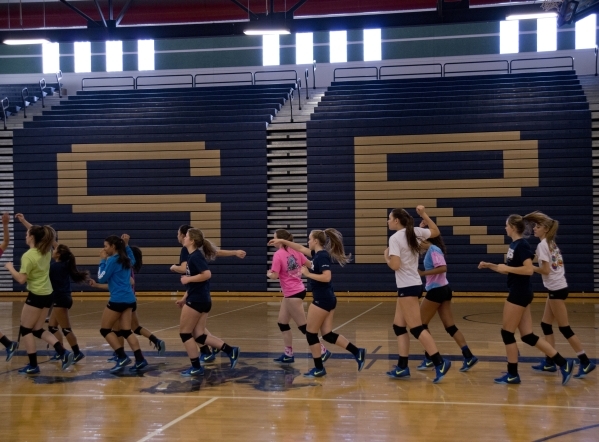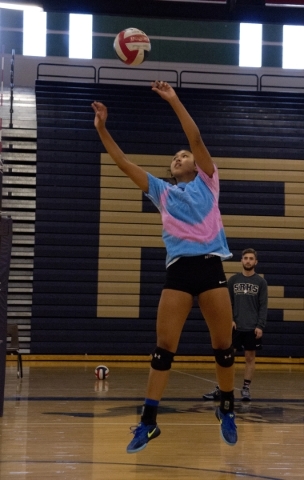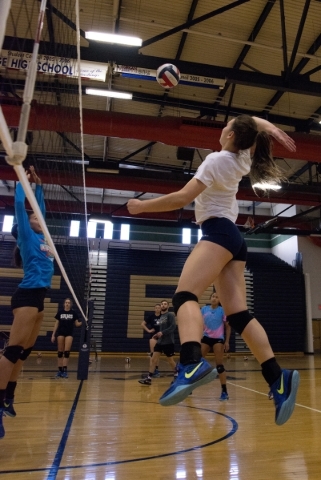 Shadow Ridge girls volleyball coach Karissa Guthrie doesn't believe in the term "rebuilding."
That would suggest her team was in a down year and in the midst of turmoil.
"We start every season not thinking about Oct. 30 or Nov. 5. We talk about Nov. 14," Guthrie said, referring to the state final match. "This season was no different. … These girls did exactly what I knew they could do. And I fully expect to be in that game on Saturday."
The Mustangs, who lost seven seniors to graduation from a year ago, have made a surprising return to the Division I state tournament this season after cruising through last week's Sunset Region tournament.
But they're not content with just making it.
Shadow Ridge (27-12) will meet Bishop Manogue (34-6), the Northern Region champion, at 6:10 p.m. today at Coronado High to open the state tournament. Bishop Gorman (27-14) squares off with two-time defending state champion Coronado (29-10) at 8 p.m. in the other semifinal.
"We've told our girls since this program started that we don't rebuild year after year. We reload," said Guthrie, in her 10th season. "That's really what it is. These girls bought into that, and we've reloaded to a team that's gotten pretty far."
With only two returning starters from last season's state runner-up team — setter Eadara Files and outside hitter Whittnee Nihipali — many felt the Mustangs would have a legitimate drop-off this season, especially since they were competing in the always-tough Sunset Region.
Shadow Ridge also had to find a replacement for Ashley Smith, one of the top players in the state and a current freshman at Kansas.
But Guthrie never felt worried, and that attitude rubbed off on her Mustangs.
Shadow Ridge finished the regular season 8-0 in Southwest League play and swept all three of its matches in the region tournament to make it back to state. The Mustangs are riding a 10-match winning streak.
"I always had hope and put faith in my team that we could do whatever," junior Stacey Hone said. "Throughout the season, I've just been hopeful and we've been successful together."
It took Nihipali a little more time to come around.
"I didn't know who would make the team," she said. "There were so many younger (junior varsity) girls and freshmen. With so many spots, I didn't know who could fill those shoes."
Nihipali, a 6-foot-2-inch sophomore, has actually been the key component in filling those shoes. By taking on a much larger role in her second varsity season, Nihipali has turned out to be one of Southern Nevada's top players.
"She's a really special girl," Guthrie said. "And she's awesome for this team, even as a sophomore. She's kind of the silent leader on the floor. She leads by example. She is always — even in the back row — going after every ball and laying her body on the ground. The front row (play) speaks for itself."
Files, one of just two seniors on this year's roster, was the only other returning starter for the Mustangs. Her ability to bring a youthful team together so quickly has been as important as her contributions on the court.
It's also helped being an underdog for most of the season.
"I kind of liked being underestimated (this season)," Files said. "That has worked to our advantage. … I thought we were going to make it back to state, but I knew it was going to be a lot of work."
Files, who recently was selected the Southwest League Most Valuable Player by coaches, admitted that everyone, including herself, had to work a little bit harder this time around.
But that's what made the season so special: proving to everyone that Shadow Ridge belongs among the state's best.
"We always knew it," Guthrie said. "But everyone else didn't think so."
Contact reporter Ashton Ferguson at aferguson@reviewjournal.com or 702-383-0430. Follow him on Twitter: @af_ferguson.