MGM, plaintiffs reach settlement in Oct. 1 shooting
Updated October 3, 2019 - 6:37 pm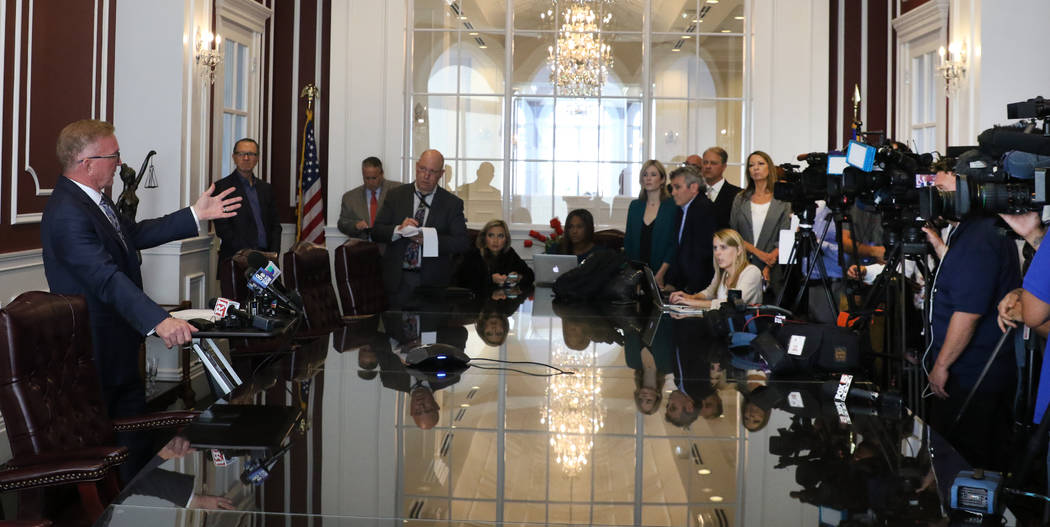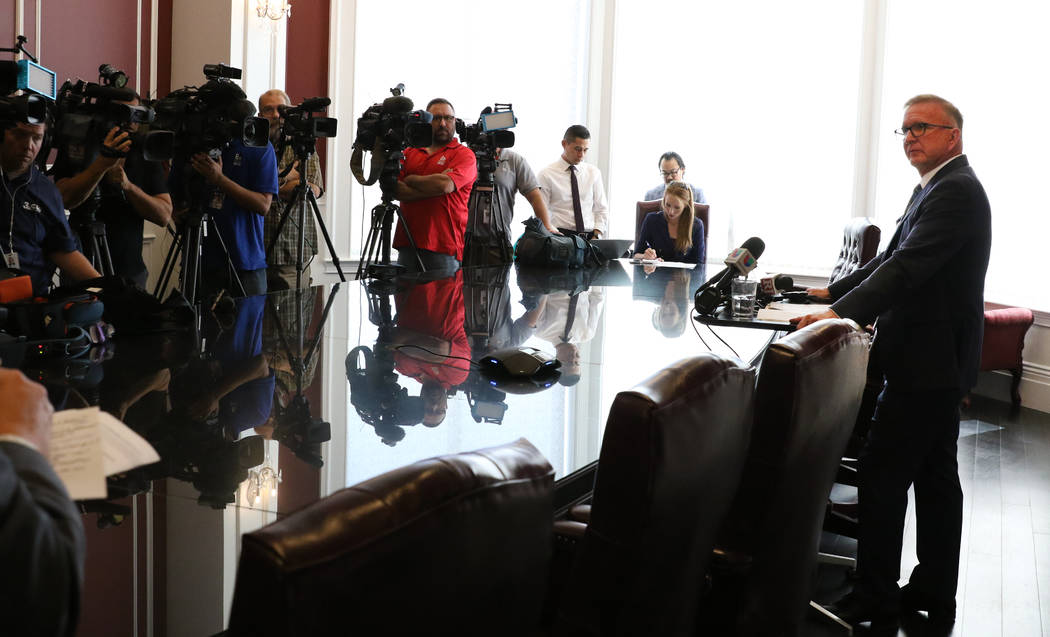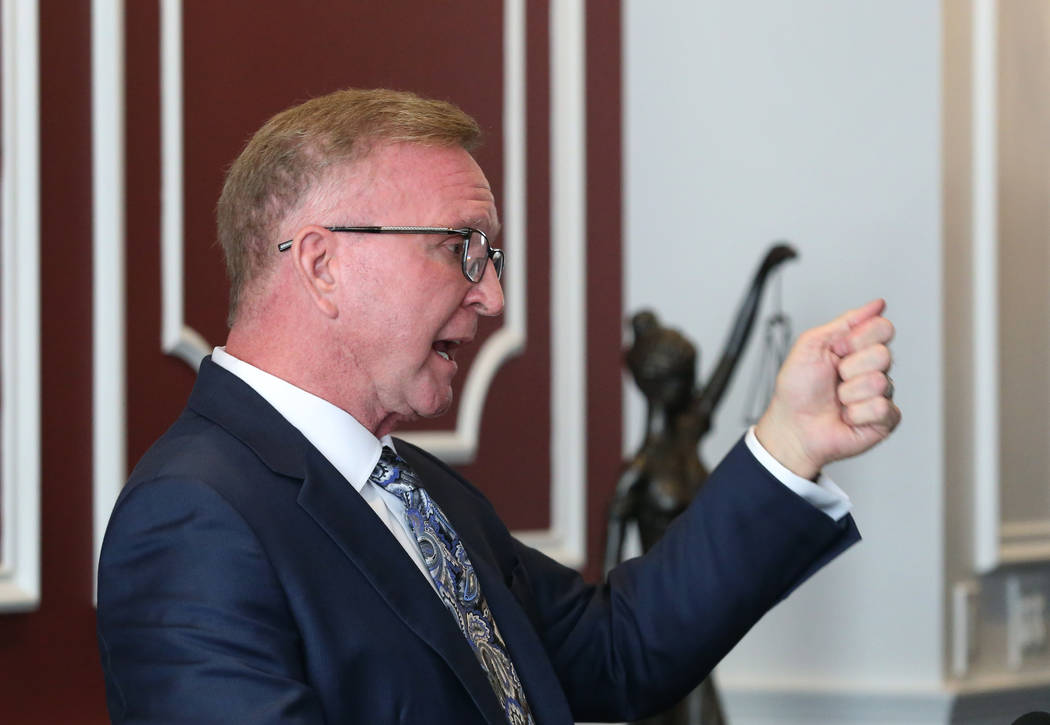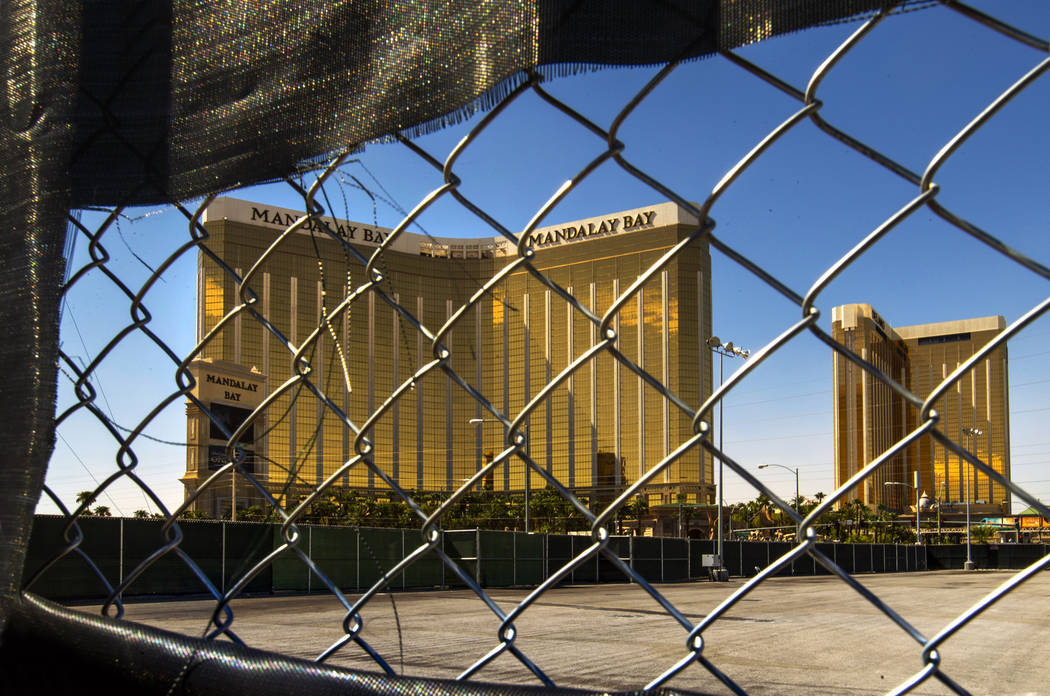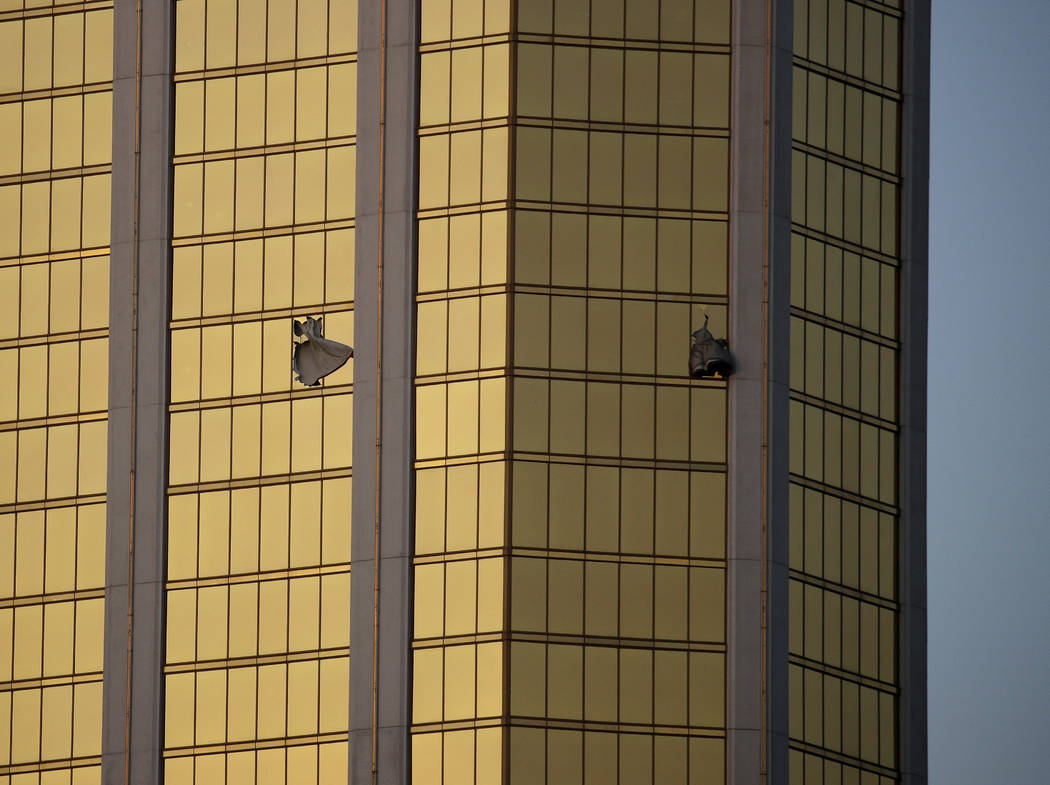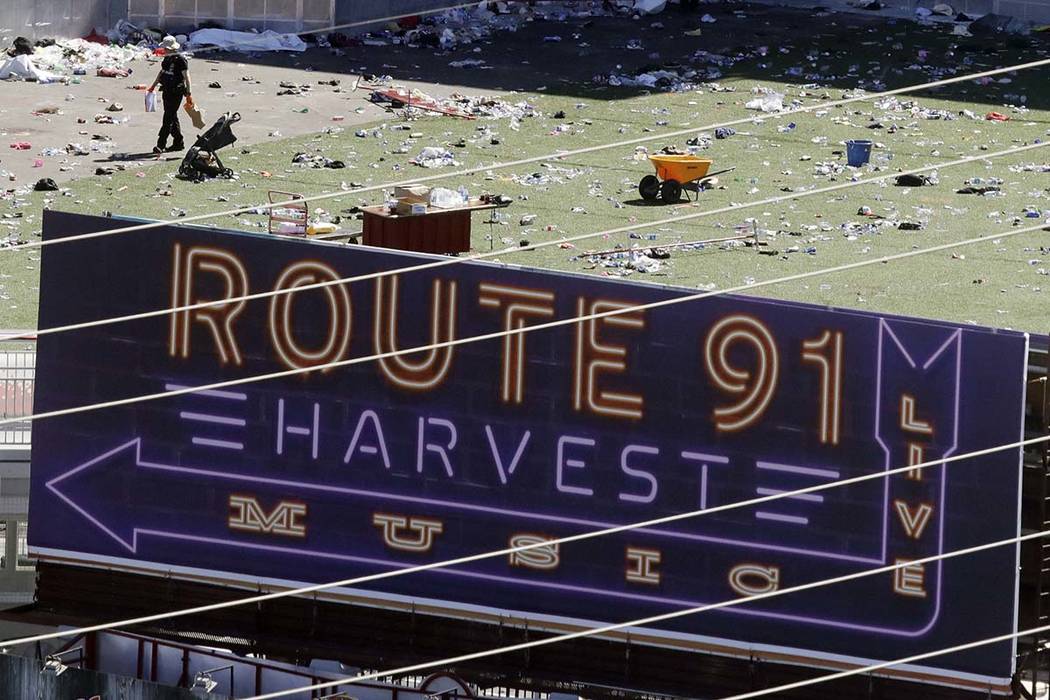 MGM Resorts International and lawyers representing thousands of victims of the Oct. 1, 2017, mass shooting on the Las Vegas Strip have reached a settlement of between $735 million and $800 million.
"We and MGM truly believe that this settlement will provide fair compensation for thousands of victims and their families," plaintiffs attorney Robert Eglet said at a news conference Thursday. "This has been a long process, but we and MGM believe that this conclusion is best for our community, the company and the victims."
According to a statement released earlier in the day by Eglet, the amount of the settlement, which follows eight months of mediation, is "subject to and depending on the number of claimants who choose to participate." Eglet is lead counsel for the law firm Eglet Adams of Las Vegas, which represents nearly 2,500 of the 4,400 plaintiffs involved in the litigation. None of his clients attended the news conference.
At the news conference, he said shooting victims likely won't receive any funds until the end of 2020. Most of the money for the settlement will come from MGM's $751 million in insurance coverage.
Jim Murren, chairman and CEO of MGM Resorts, issued a statement saying:
"Our goal has always been to resolve these matters so our community and the victims and their families can move forward in the healing process. This agreement with the plaintiffs' counsel is a major step, and one that we hoped for a long time would be possible. We have always believed that prolonged litigation around these matters is in no one's best interest. It is our sincere hope that this agreement means that scenario will be avoided."
The settlement comes two days after the second anniversary of the shooting, the deadliest in the nation's modern history.
The victims are seeking compensation for a range of physical and psychological injuries after a shooter rained gunfire from a Mandalay Bay suite into an open-air concert crowd, killing 58 people and injuring more than 800.
Plaintiffs in the case accused MGM Resorts, which owns Mandalay Bay and the former concert venue across Las Vegas Boulevard, of failing to adequately protect the 22,000 people attending the Route 91 Harvest festival country music concert.
MGM pointed to Las Vegas police findings that the gunman, Stephen Paddock, spent several days amassing an arsenal of assault-style weapons and ammunition in a two-room suite at the high-rise resort.
Police and the FBI say he acted alone, firing out of the windows with guns equipped with rapid-fire bump stocks, then killing himself before officers reached his room. A 64-year-old retired accountant and high-stakes video poker player, Paddock did not leave a note or a manifesto, and authorities closed investigations saying they could not identify a motive.
Details of payments unknown
It is unclear how the settlement will be split and how much will be paid to attorneys. Eglet said at the news conference he did not know what share each of the lawyers would get. An independent claims administrator will be appointed by the court to evaluate the claims and disburse the funds, both Eglet and MGM said.
More than 50 percent of the victims in the lawsuits are from California and Nevada, lawyers said. Victims from at least eight other states also were included in the suits.
In large legal actions like this, one of the steps toward reaching a settlement, generally, is to categorize claimants in groups ranging from the most severely affected victims to those less affected.
MGM first disclosed that the $751 million in insurance could go toward the settlement in a Securities and Exchange Commission filing in May. The filing was required because any settlement could affect the company's financial results.
MGM, the state's largest private employer, was criticized for a legal strategy it took in July 2018 to have cases in at least eight state courts consolidated into one federal case. In order to effect the consolidation, the company filed lawsuits against thousands of victims, not seeking money but aiming to "allow all cases to come together in one courtroom."
Murren ended up apologizing to MGM employees for not communicating the strategy well, resulting in them hearing about it from news media accounts that he said "were misleading and truly awful."
But Eglet repeatedly praised MGM at the news conference Thursday in the wake of the settlement, saying he was wrong to criticize the company at the time.
He said MGM has proven it had a sincere desire all along to help the victims and the community.
"In my view, they have set the bar for corporate citizenship around the country," he said. "I cannot say enough good things about them."
Eglet also said that "this settlement is not an admission of liability by MGM, by any stretch of the imagination." He noted that MGM had good defenses to the lawsuits' claims.
The case could have been dragged through the court system for upwards of a decade, Eglet told reporters. But it reached a resolution after mediation overseen by retired Clark County District Judge Jennifer Togliatti and retired California judge Louis Meisinger.
Las Vegas attorney Will Kemp, a key plaintiffs lawyer in the 1980 MGM Grand fire that killed 87 people on the Strip, said the agreement looked fair to him.
"The shooting did have a big impact on the community, so coming to a resolution is a lot better than tearing each other apart and reliving the tragedy in court for years," said Kemp, who was not involved in the case. "MGM gets to put this behind them, and the victims get fair compensation and a chance to continue the healing process."
Gun manufacturer immunity
Eglet said he was frustrated by a federal law passed in 2005 that prohibits gun and ammunition manufacturers, distributors and others from being held liable when firearms are used in crimes.
He called for repeal of the law and a ban on assault-style automatic weapons.
"Why do the gun manufacturers get a free ride?" Eglet asked.
After the news conference, Eglet said: "MGM to a certain extent is a victim because if the gun manufacturer didn't have immunity, that would have been the focus of these lawsuits."
Last week, a federal judge in Las Vegas ruled that a lawsuit filed by Eglet's firm on behalf of Route 91 victims against Slide Fire Solutions LP, a bump stock manufacturer, could go forward. Authorities have said Paddock used such an attachment on semi-automatic weapons to increase the firing capacity of his rifles.
Houston lawyer Mo Aziz, whose firm represents 1,300 victims, hailed the Las Vegas shooting settlement.
"While we cannot eliminate the physical and emotional scars suffered by the thousands of people impacted by this tragic event, we hope this resolution will provide some sense of closure to our clients," Aziz said in a statement. "In this era of mass shootings, this settlement sends a strong message to the hospitality industry that all steps necessary to prevent mass shootings must be taken."
Dallas lawyer Michelle Simpson Tuegel, who also represents plaintiffs, said in a statement that she hoped the agreement will bring "some level of closure and healing" to survivors.
One of her clients, Paige Gasper, added: "My hope is that our pain and the continuing daily struggle we face will not be forgotten and that we continue to honor the 58 people we lost that night, and that this settlement sends a message to large companies like MGM to do more to protect people and prevent horrific events like October 1st."
A previous version of this article incorrectly stated the number of days since the second anniversary of the Strip shooting.
Contact Jeff German at jgerman@reviewjournal.com or 702-380-4564. Follow @JGermanRJ on Twitter.Contact David Ferrara at dferrara@reviewjournal.com or 702-380-1039. Follow @randompoker on Twitter. Contact Richard N. Velotta at rvelotta@reviewjournal.com or 702-477-3893. Follow @RickVelotta on Twitter.