President courts votes from Latinos for Trump in bid to win Nevada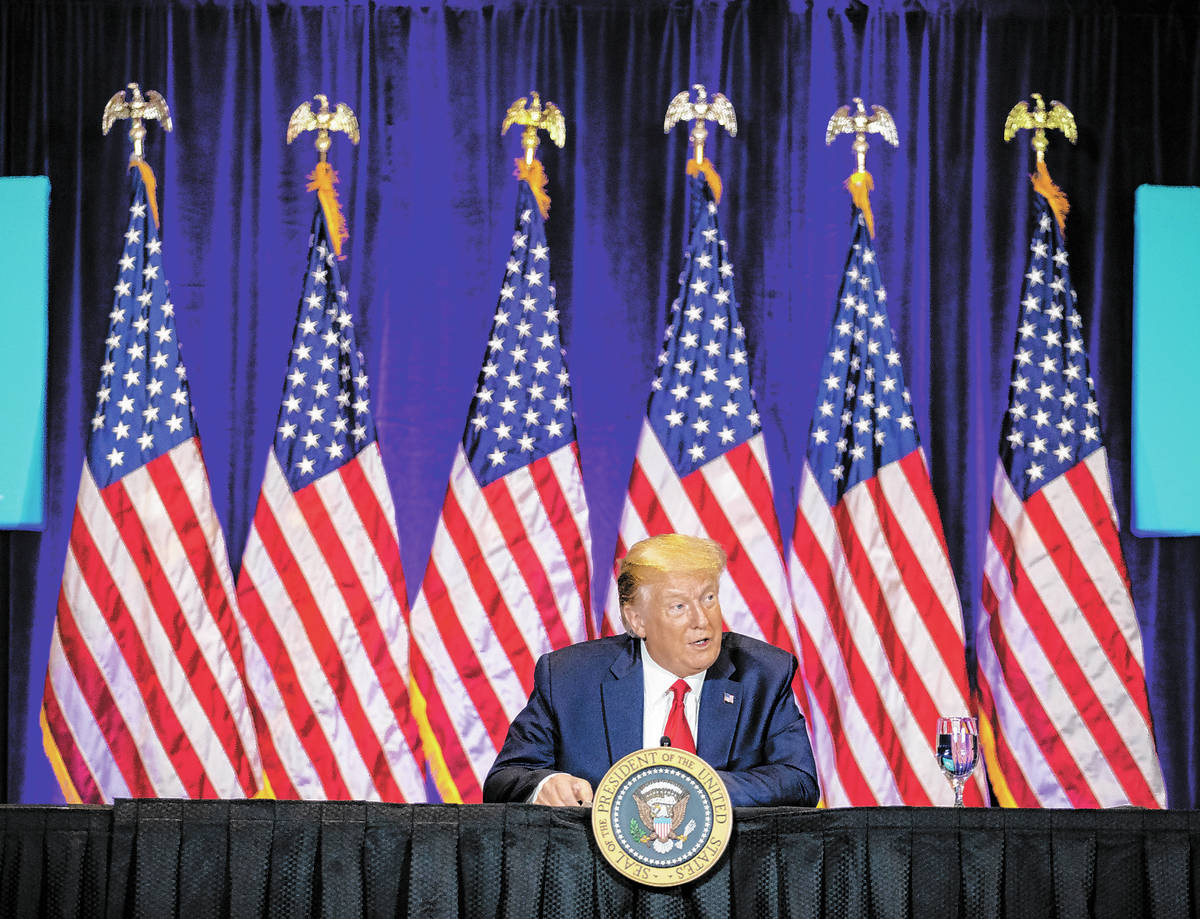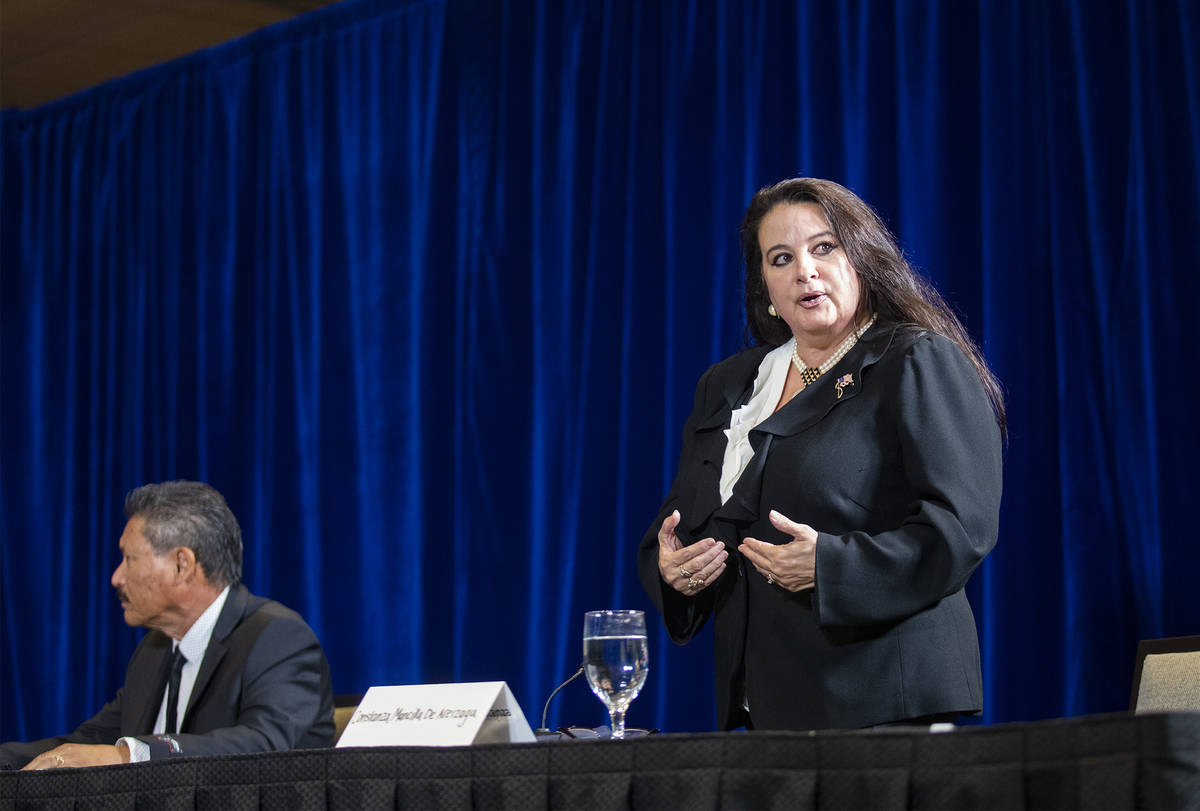 President Donald Trump woke up Sunday at his eponymous hotel near the Strip ahead of a day of tweeting, talking and stumping at a trademark event in his bid to take Nevada in November.
He narrowly lost the state to Hillary Clinton in 2016.
Trump's first public event Sunday was a roundtable at Treasure Island with Latinos for Trump, a constituency he hopes to expand. There was talk of love as the president met with the group.
"I know for a fact that he's not racist because I'm an American Mexican Jew," Constanza Mancilla de Areizaga told the group. She then spoke of how Democrats, specifically former President Barack Obama previously and Gov. Steve Sisolak now, have "sabotaged" her business, which puts on major corporate events.
Mancilla thanked Trump for his pro-business positions before she told the room, "I'll stand and take a bullet for you. I love you."
"I love you, too," Trump responded to a maskless crowd. Later he spoke of the love he had felt at a Saturday night event in Minden, where fans repeatedly chanted "we love Trump."
Trump started the event by boasting that Sunday news shows figures were disturbed "because we're very high and leading with Latinos." However, the Pew Research Center finds former Vice President Joe Biden, the Democratic nominee for president, with 63 percent of support among Hispanic voters, compared with 35 percent for Trump.
But a recent Bendixen and Amandi International and Miami Herald poll showed Trump splitting the vote among Florida's Hispanic voters, with 47 percent for Trump and 46 percent for Biden.
Speaking on ABC's "This Week," senior Biden adviser Symone Sanders commented on the importance of that voting bloc for him and his running mate, Sen. Kamala Harris.
"We know we have work to do, and we have said (that) from the beginning, and Vice President Biden has been very clear about this, as has Senator Harris," she said. "And we're really working to earn every single vote in this country, and we want to earn the votes of the Latino and Hispanic community, and so we're doing the work."
State Sen. Yvanna Cancela, a Biden senior adviser, told the Review-Journal that "Joe Biden respects Latinos. He shares our values of faith, family and community. He knows the Latino community and we know him."
Asked about the emotional outpouring at Sunday's roundtable, at which two Latinas cried as they praised Trump, Cancela responded, "Politics is personal for most people, except for Donald Trump. If it was personal for him, he would never have let close to 200,000 people die by mismanaging one of the toughest moments in our history."
Trump worked to turn the trip to his advantage as he noted that Biden had stayed off the campaign trail Saturday and Sunday — the Bidens did go to church Sunday morning — while he campaigned in Nevada.
Trump spoke Saturday night at a boisterous rally in Minden, then flew to McCarran International Airport ahead of Sunday's events, which also included an appearance in Henderson that was hastily put together after Sisolak's directive banning events with more than 50 people scuttled plans for a rally at Cirrus Aviation.
The city of Henderson warned that the Sunday night event at Xtreme Manufacturing also violated Sisolak's directive.
Biden, Trump charged, was hiding in his basement.
"In the meantime, I'm all over the place. I'm going to California from here," he said of the whirlwind trip.
On Monday, it will take him to Sacramento County, where he will be briefed on the wildfires, which turned skies orange last week, and to Arizona for a campaign event before Air Force One heads east.
Contact Debra J. Saunders at dsaunders@reviewjournal.com or 202-662-7391. Follow @DebraJSaunders on Twitter.