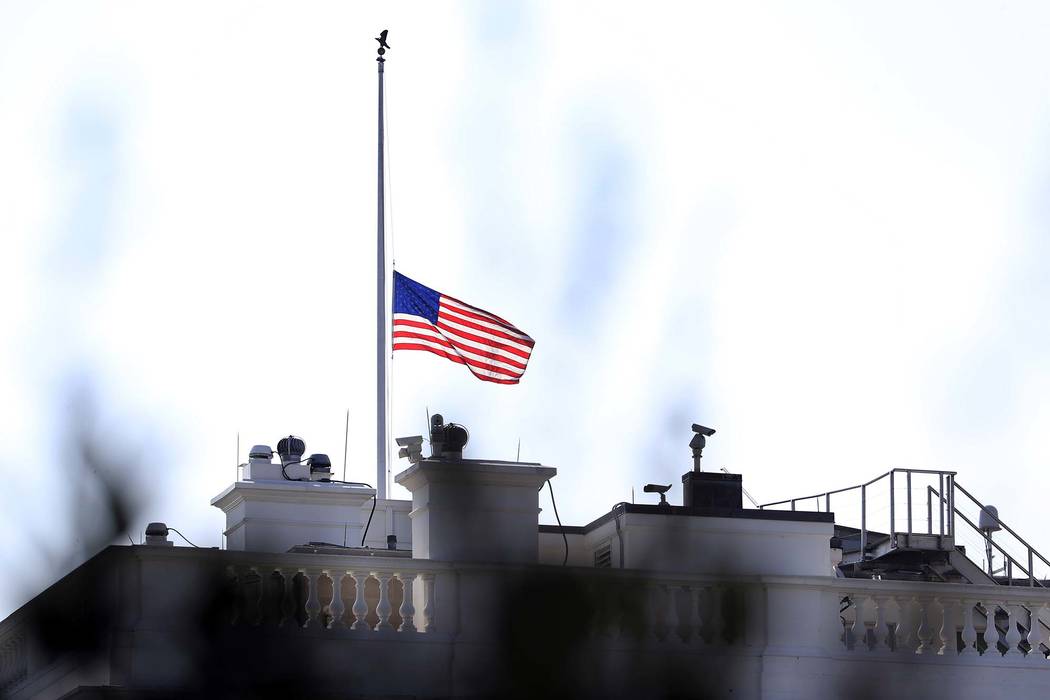 WASHINGTON — President Donald Trump reversed course Tuesday and ordered U.S. flags at the White House and federal buildings to be flown at half-staff to recognize the five victims of the Capital Gazette newspaper killed by a gunman last week.
Trump created a furor this week when the White House declined a request from Annapolis Mayor Gavin Buckley to fly U.S. flags at half-staff, similar to orders the president issued after other mass shootings, including the school massacre in Parkland, Florida.
The White House issued a presidential proclamation early Tuesday by Trump ordering the lowering of the flags over the Annapolis attack — four days after Maryland Gov. Larry Hogan, a Republican, issued an order for flags flown at state institutions.
"Our nation shares the sorrow of those affected by the shooting at the Capital Gazette newspaper in Annapolis, Maryland," Trump said in the proclamation issued Tuesday.
Nevada Gov. Brian Sandoval on Tuesday ordered flags lowered to half-staff to recognize the victims.
"The founders of our nation recognized the vital role of the press in democratic society and the deepest sympathies of all Nevadans are with the people of Maryland after last week's senseless attack," Sandoval said via his official Twitter account. "As such, I have ordered the flags to half-staff until sunset tonight."
Maryland lawmakers who had sought the action were livid Monday when their request was ignored.
And at a service for one of the slain journalists, a speaker, writer Kevin Cowherd, noted the toxic environment epitomized by the most powerful politicians in the country deriding the media as "fake news."
Gerald Fischman, Rob Hiassen, John McNamara, Rebecca Smith and Wendi Winters were killed Thursday when a gunman with a pump shotgun blasted his way into the newspaper office and shot five employees. Two other people were injured.
A suspect, Jarrod Ramos, 38, of Laurel, Maryland, was arrested and charged with five counts of first-degree murder. He is being held without bail in an Anne Arundel County detention facility in Annapolis.
Police say a motive for the killing could be a vendetta Ramos waged against the newspaper after it wrote about his guilty plea and probation for a criminal harassment case against a former high school classmate.
Ramos sued the newspaper for defamation after a column appeared about his online stalking. A state judge threw the case out and an appellate court judge upheld that ruling.
The newspaper and the writer of that report were subjected to years of threats and harassment until the shootings took place Thursday.
Contact Gary Martin at gmartin@reviewjournal.com or 202-662-7390. Follow @garymartindc on Twitter.
Staff writer Colton Lochhead contributed to this report.
RELATED
Maryland newspaper says it received threats after shooting
EDITORIAL: Newsroom shooting should be impetus to dial back the rhetoric
Candlelit march honors victims of Maryland newsroom shooting