Zinke caps review of Nevada monuments with Bunkerville visit
Updated July 31, 2017 - 12:09 am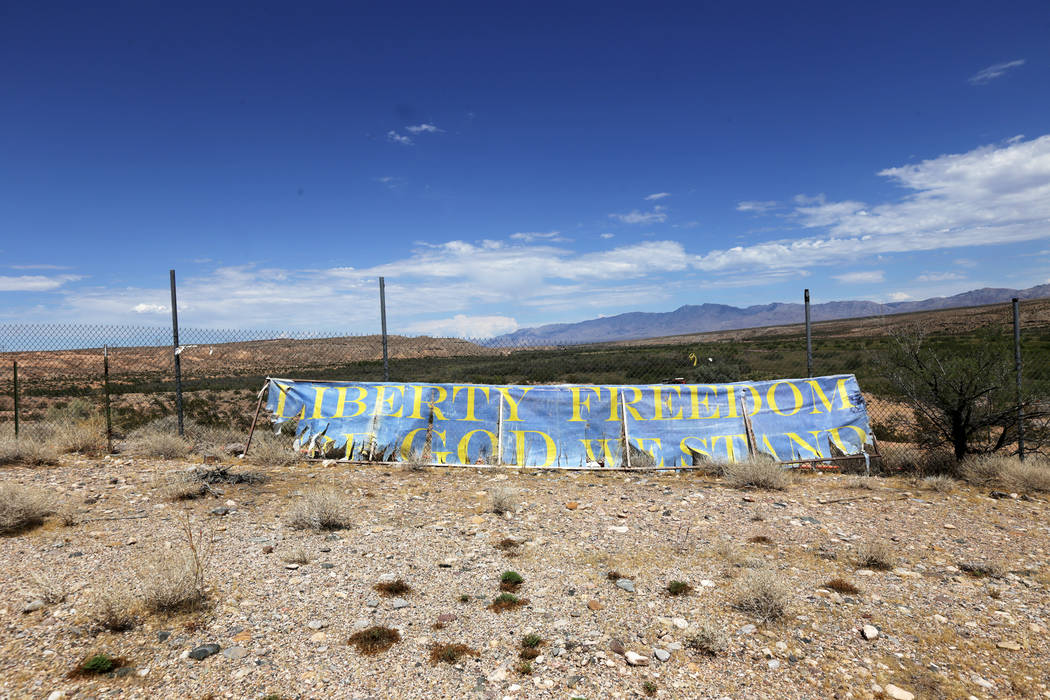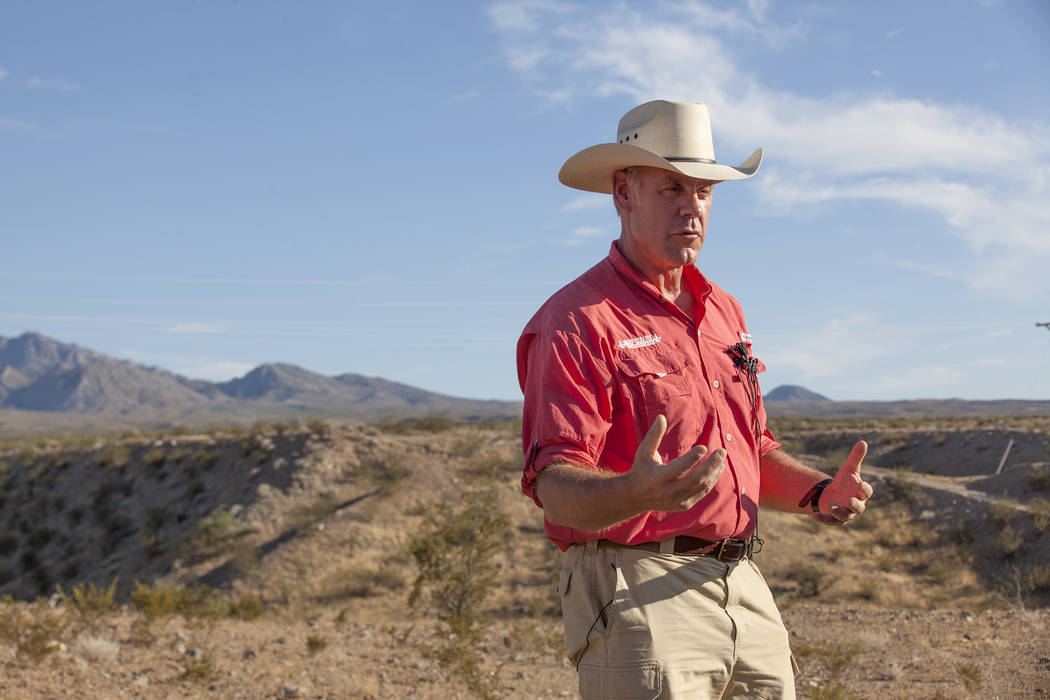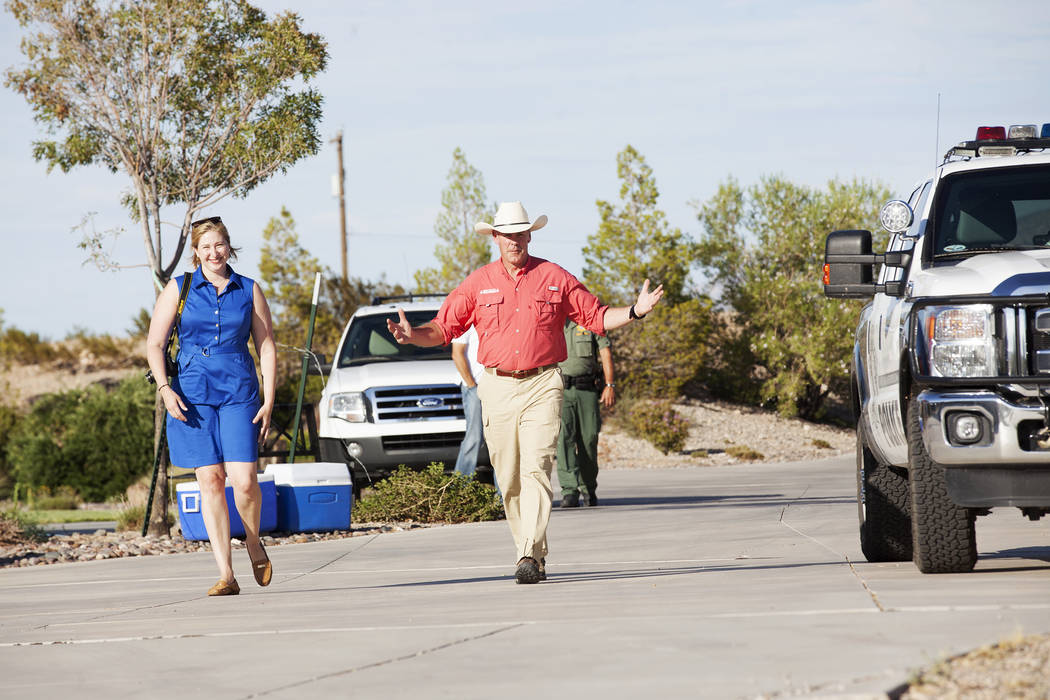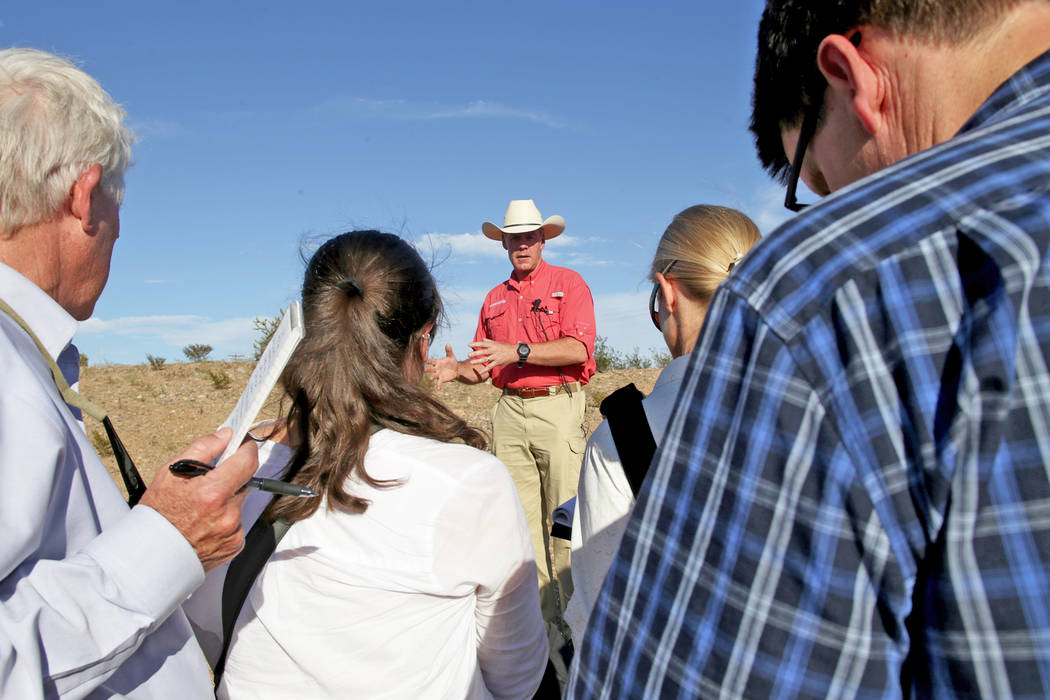 BUNKERVILLE — Interior Secretary Ryan Zinke spoke to reporters early Sunday evening in this rural Clark County community as he wrapped up a much-anticipated visit to Southern Nevada that included a hike at Gold Butte National Monument and stops in Basin and Range National Monument to see American Indian rock art.
"As a steward of our greatest treasures, it's good to get out," Zinke said as he stood in the sun against a backdrop of the Gold Butte range. "As a former Navy SEAL, I think it's important to go out on the front line and actually meet people because the view from the Potomac is a lot different than the Virgin River."
The interior secretary visited the monuments as part of President Donald Trump's executive order mandating a review of 22 national monuments and five marine national monuments created by presidential decree since Jan. 1, 1996, to determine whether the designations should be scaled back or eliminated.
"What I've learned in the monument review is every monument is unique," said Zinke, who wore a cowboy hat as he answered reporters' questions.
"In a lot of cases people are afraid public land is going to be sold so they feel like a monument is a tool to make sure that public land stays in public hands," he said, adding, "Out front, I am an advocate to never sell or transfer public land. So is the president."
Zinke is expected to present Trump with his final recommendations by the end of August.
Speaking outside Brian Haviland's residence near Gold Butte, Zinke offered insight into criteria for downsizing.
"Again, the definition (of a national monument) is fairly loose so we're going through and evaluating," he said. "What's the object? Is the protection in the smallest area compatible with protection of that object?"
And, he said, "If we're going to protect those objects that the monument is intended to do, then you have to have things like a bathroom there so people hiking up a trail can use the restroom before they look at the petroglyphs or dwellings."
Based on his tours Sunday, he said Nevada's monuments need better road maintenance so public access is not interrupted.
"The good thing is, I haven't met anybody on either side that doesn't love the land," and they agree it's worth protecting, he said. "So there's more in common on the monuments than there are opposites."
Before Zinke's arrival, Russ Graves voiced concern about the size of the Gold Butte monument.
"I'd just like to see the size reduced," said Graves. 73, who owns an orchard that is part of a 220-acre ranch.
Whitney Pocket, the Devil's Throat sinkhole and a few other locations on Gold Butte should be part of the monument, but other parts don't have antiquities value, he said.
Zinke had planned to stay in Mesquite through Monday to meet with U.S. Rep. Dina Titus, D-Nev., and stakeholders there and in Overton on the last leg of a swing through the West. But he canceled those plans to return to Washington, D.C., for the first Cabinet meeting with new White House Chief of Staff John Kelly.
Interior Secretary Ryan Zinke arrives to meet with media on Gold Butte pic.twitter.com/9Dl5ETwsR9

— Keith Rogers (@KeithRogers2) July 31, 2017
While the Monday meeting was scuttled, Zinke did meet with some stakeholders Sunday and has scheduled phone meetings with others, including the Moapa Band of Paiute Indians, according to his staff.
The Riverside Road location where Zinke spoke is within three miles of the April 2014 armed standoff on the Virgin River between federal agents from his department and militia supporters of defiant rancher Cliven Bundy — the subject of a high-visibility trial in federal court in Las Vegas.
Asked by the Las Vegas Review-Journal if the Interior Department plans to round up Bundy's stray cattle from the Gold Butte monument, Zinke said: "I'm not going to address that issue."
Regarding ranching on public land, he said, "As we look at the rancher, that's as much a part of the culture of a lot of these monuments as some of the objects."
Feeling forgotten
Bundy's wife, Carol, said she was disappointed Zinke didn't meet with her on his way to Gold Butte despite her efforts to reach him through emails, certified letters and phone calls to staff.
"We have not received one phone call back," she said, sitting in the living room of the Bundy ranch house Sunday. "We feel like we're forgotten. Yet my husband and four of our sons, a total of 19 men, sit in prison under the guise of charges of the Department of Interior, which Mr. Zinke is in control over, and they have committed no crime.
"Why would you come to my front yard and not reach out to my family and hear our pleas so that I could hear his as well?" she said.
Zinke said he's trying to change the image of Interior Department agencies with heavy-handed law enforcement officers.
"We should be the happy department," he said.
"When you see a BLM truck you should think land manager and not law enforcement, which we work with through our local sheriffs."
Zinke's visit to Nevada started early. After his flight landed in Las Vegas at about 7:30 a.m., Zinke flew by helicopter to Gold Butte's Whitney Pocket, where he hiked with several local officials.
Other stops included White River Narrows, a Basin and Range petroglyph site; artist Michael Heiser's "City" project where he met with Los Angeles County Museum of Art staff members; and the Mount Irish petroglyph site in Basin and Range, where he met with Friends of Gold Butte.
Earlier Sunday, U.S. Sen. Catherine Cortez Masto, D-Nev., released a video of her support for the national monuments.
"Our outdoor recreation in Nevada is a boon to our economy, 148,000 jobs, billions of dollars in revenue to the economy," she said in the video. "And that's worth fighting for."
Contact Keith Rogers at krogers@reviewjournal.com or 702-383-0308. Follow @KeithRogers2 on Twitter.
About the monuments
In his proclamation designating Gold Butte National Monument, President Barack Obama called the region "a landscape of contrast and transition, where dramatically chiseled red sandstone, twisting canyons, and tree-clad mountains punctuate flat stretches of the Mojave Desert."
Gold Butte encompasses nearly 300,000 and was created Dec. 28, 2016.
Basin and Range National Monument was designated in July 2015 and covers 704,000 acres in Lincoln and Nye counties.
Obama's proclamation said, "The vast, rugged landscape redefines our notions of distance and space and brings into sharp focus the will and resolve of the people who have lived here. The unbroken expanse is an invaluable treasure for our Nation and will continue to serve as an irreplaceable resource for archaeologists, historians, and ecologists for generations to come."
Related
Review of Nevada's national monuments chills legislator
Congressional Republicans want Nevada monuments cut back
Groups, Senate Democrats urge Trump to keep monuments intact
Comments pour in about review of national monuments in Nevada