Aces advance to WNBA Finals with Game 5 win
Updated September 29, 2020 - 9:08 pm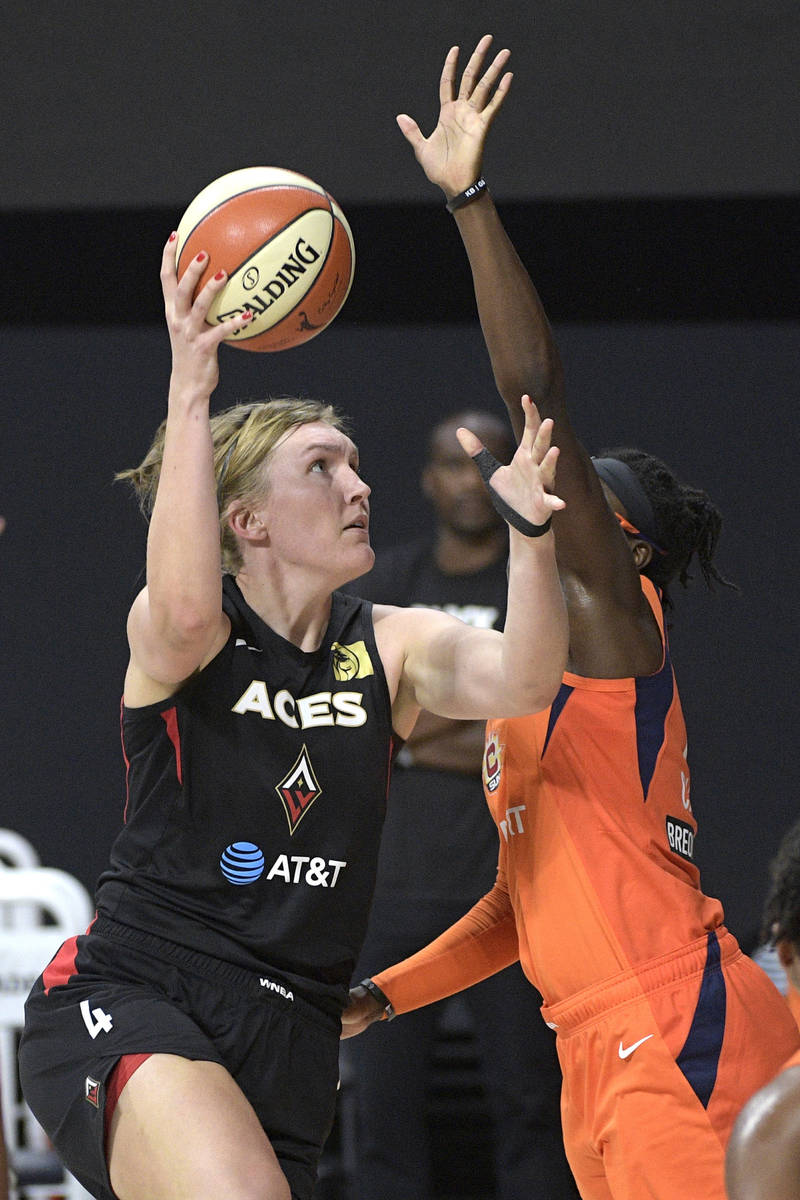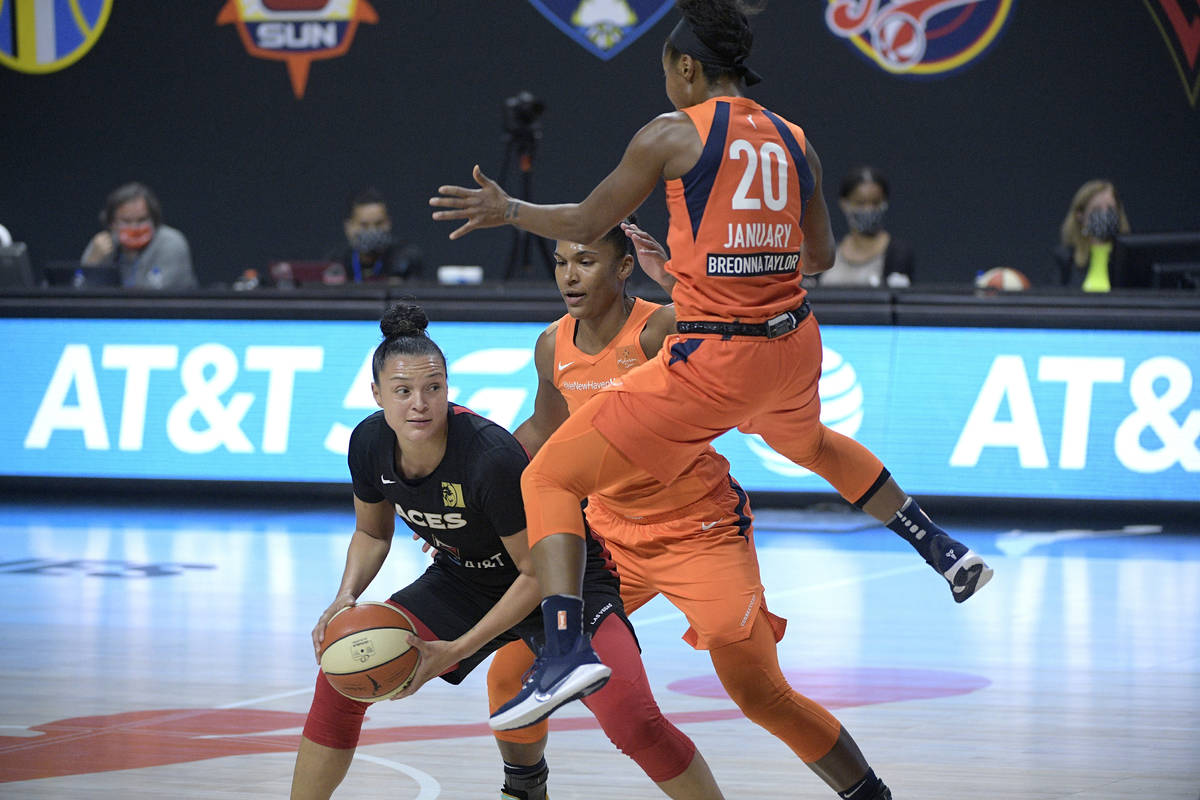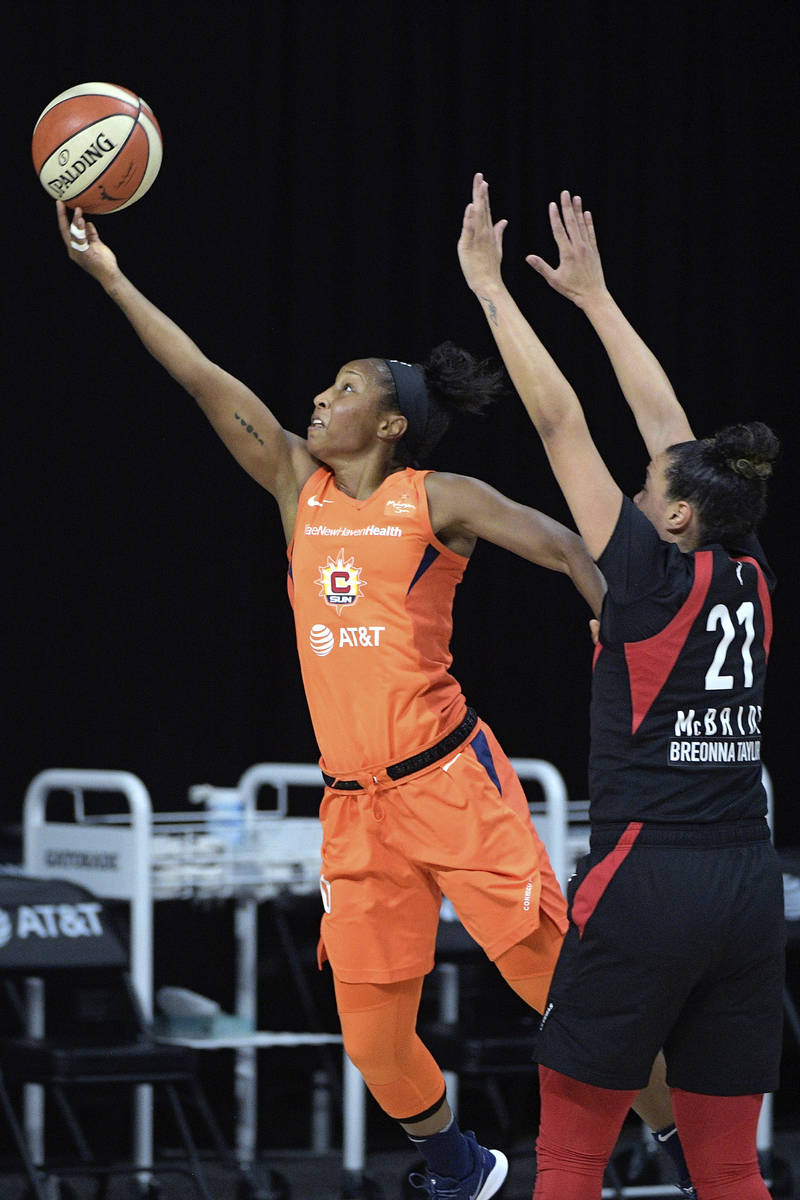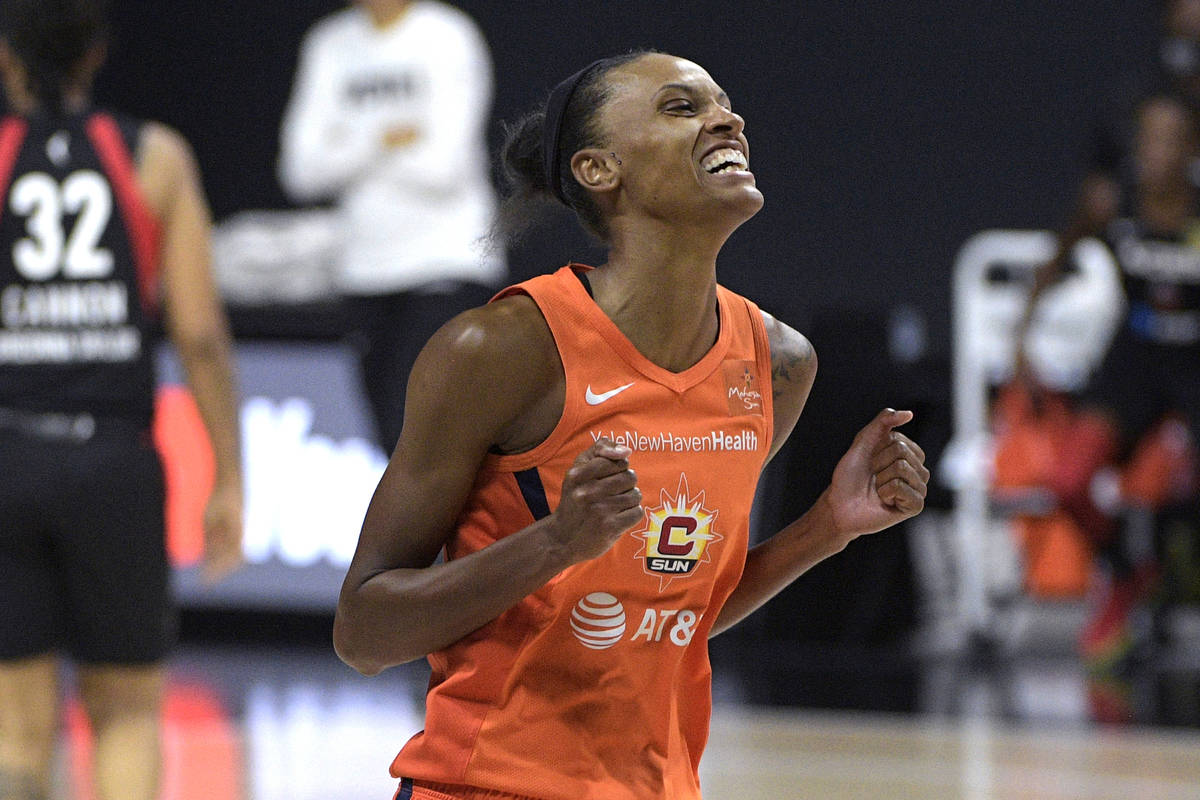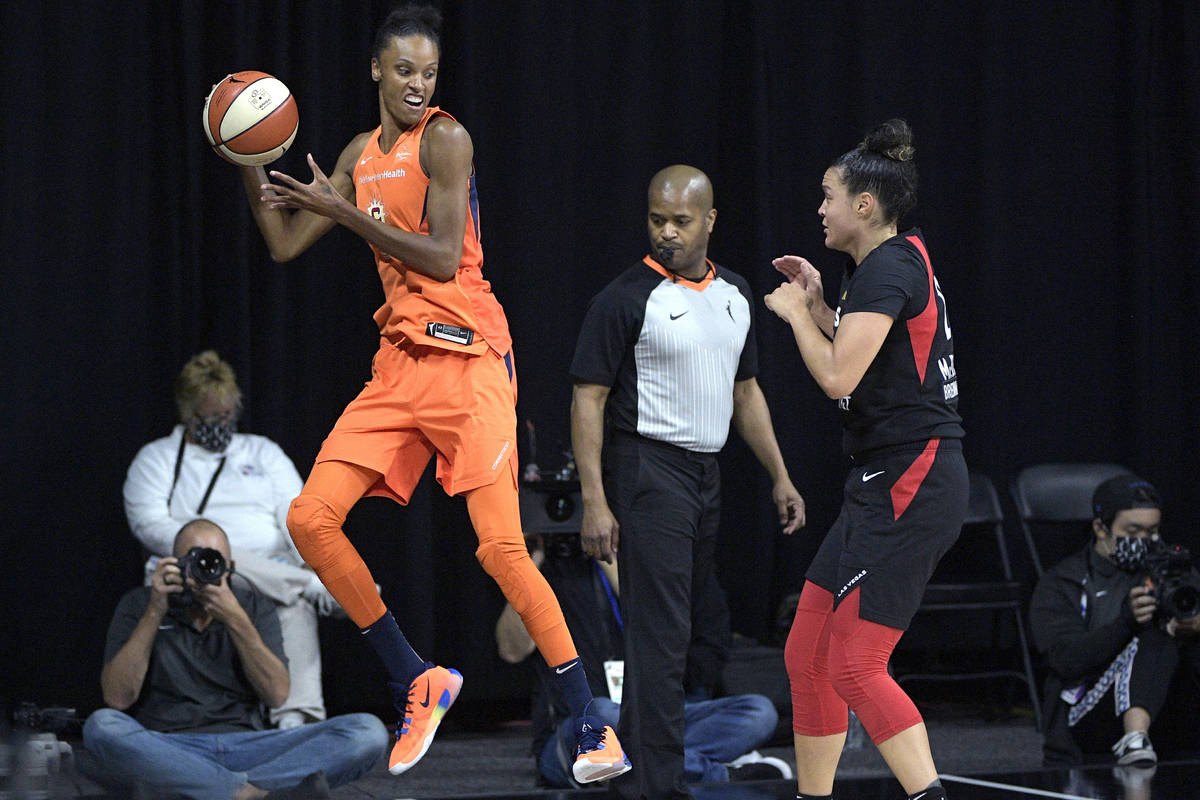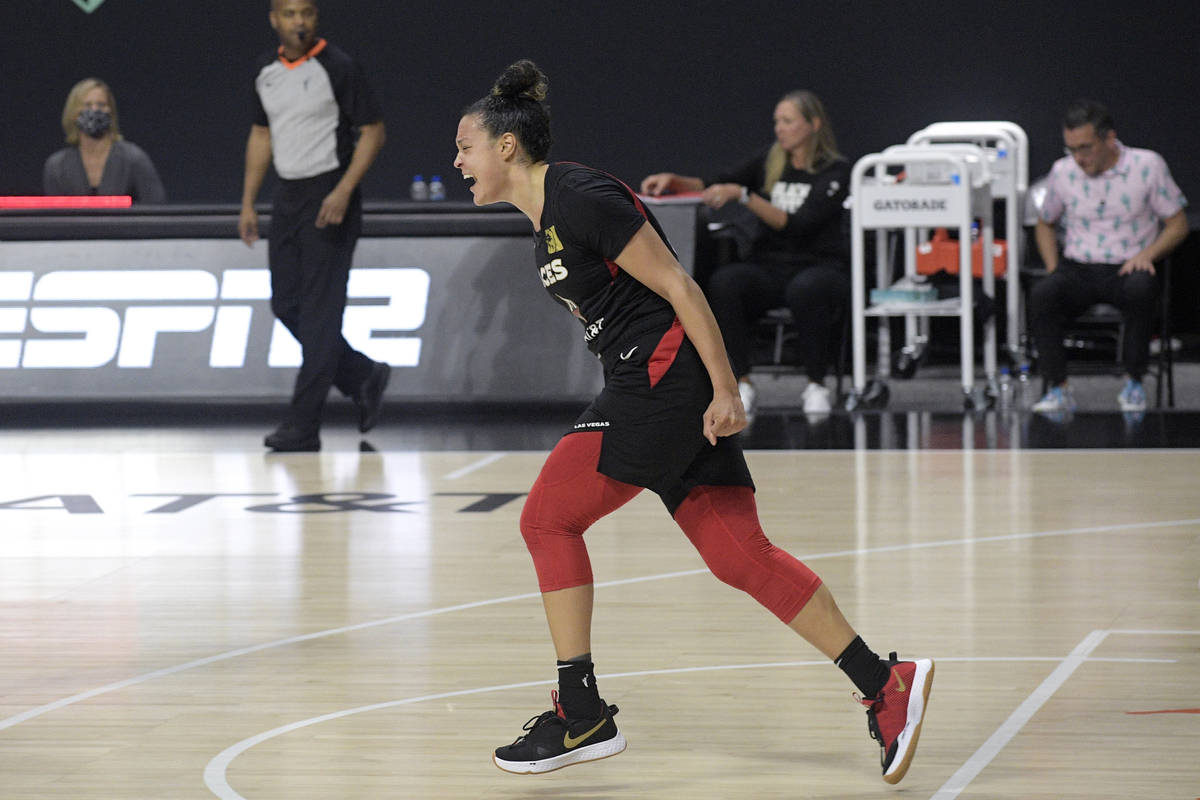 There wasn't anything picturesque about the Game 5 semifinal between the Aces and Connecticut Sun on Tuesday.
But it was everything a game should be with a trip to the WNBA Finals on the line – physical, competitive and finished by an MVP carrying her team.
A'ja Wilson scored 11 of her 23 points in the fourth quarter, and she added 11 rebounds to lead the top-seeded Aces to a 66-63 win over the No. 7 Sun at IMG Academy in Bradenton, Florida.
"As in any playoff series, especially when it comes to the deciding game with two teams that are just going at each other, it becomes a test of wills," Aces coach Bill Laimbeer said. "Tonight was no exception. It was an ugly basketball game, but it was a pretty basketball game because our team learned a tremendous amount about themselves."
The Aces will meet the second-seeded Seattle Storm in the best-of-five finals. Game 1 is at 4 p.m. Friday.
The Aces rallied from a 16-point first-half deficit, and neither team led by more than three points in the final 15 minutes. Connecticut got the ball for a final shot with 13.4 seconds left, but DeWanna Bonner couldn't get a clean look and missed what would have been a long 2-pointer with less than two seconds remaining.
"I'm still coming down from that. Still trying to catch my breath," Aces guard Kayla McBride said.
Angel McCoughtry had 23 points and 11 rebounds for the Aces. McBride scored 10, and Carolyn Swords and Danielle Robinson had 10 rebounds apiece.
Alyssa Thomas led Connecticut with 22 points and 10 rebounds, and Bonner had 15 points, eight rebounds and six assists.
Here's three takeaways from the win:
1. Wilson takes over
The Aces didn't make a field goal in the final 8:06, but it didn't matter with the way Wilson attacked the basket.
"When the fourth quarter came, I knew I had to flip the switch, leave it on the floor," she said. "I felt like I did that."
She got to the free-throw line five times during that span and went 9-for-10, including making four straight after Alyssa Thomas' floater gave the Sun their final lead with 2:39 left.
Wilson made a layup with 8:52 left, and Swords had a putback with 8:06 to go for the Aces, who were 2-for-15 from the field in the final quarter.
2. Aces lock down on defense
The Aces' defensive intensity slowly took its toll after they allowed 30 first-quarter points.
The Sun shot 4-for-17 in the third quarter and 4-for-16 in the fourth, scoring 18 second-half points.
Even when the Sun got open looks from their top shooters, they wouldn't go down. Jasmine Thomas, who scored a career-high 31 points in Game 1 and was a problem for the Aces all series, went 4-for-15 from the field and 0-for-7 from 3-point range.
3. Swords comes up big
With Liz Cambage having received a medical exemption to miss the season, the Aces needed somebody to fill the center role. That was Swords, who had season highs of 31 minutes and 10 rebounds.
"She does things you're not going to see on the stat sheet," McCoughtry said. "But her effort tonight was the thing that wins championships."
Contact Jason Orts at jorts@reviewjournal.com or 702-387-2936. Follow @SportsWithOrts on Twitter.
WNBA Finals
At Bradenton, Fla.
Aces vs. Storm
Game 1: 4 p.m. Friday
Game 2: Noon Sunday
Game 3: 4 p.m. Tuesday
Game 4: 4 p.m. Oct. 8*
Game 5: Noon Oct. 11*
* If necessary