Aces hold off Sparks, snap losing streak
Updated June 27, 2022 - 10:21 pm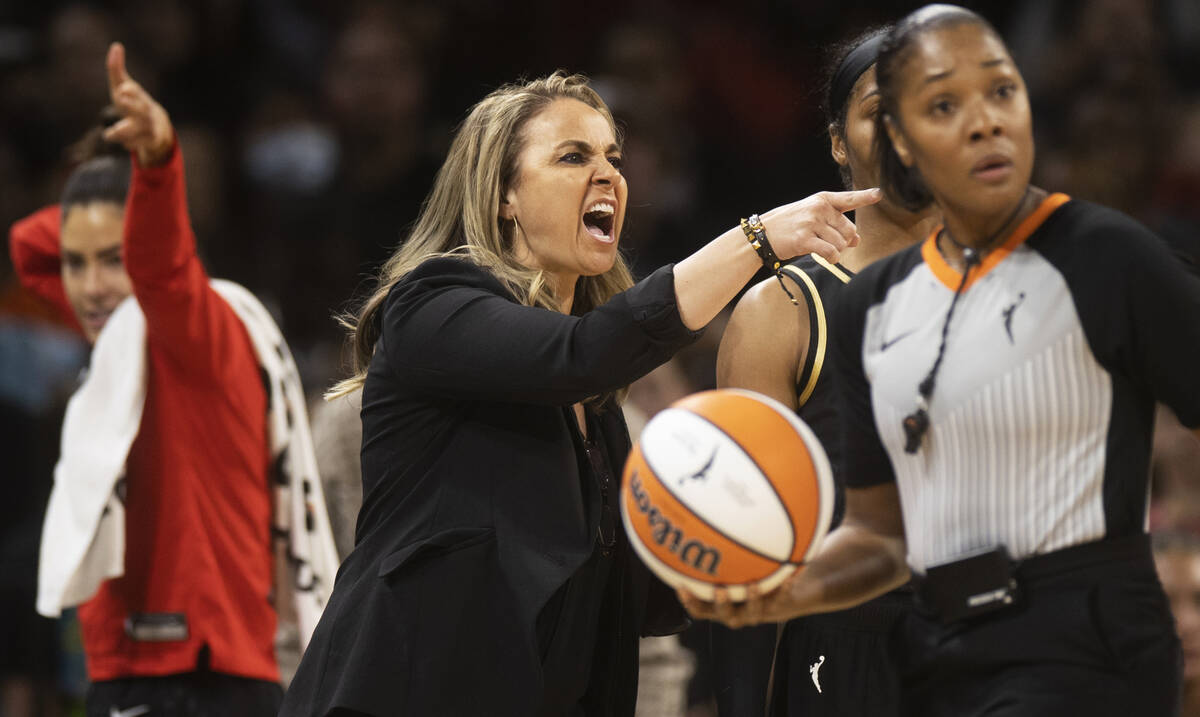 LOS ANGELES — Dearica Hamby's first field goal came with 1:16 left in the game. Fresh off an air-balled 3-pointer, she drove toward the rim, then scooped a layup that bounced gently off the backboard and into the hoop.
That basket put the Aces up by three points against the Los Angeles Sparks. It was just enough.
"It was her only bucket of the game, but it was a big one," coach Becky Hammon said.
The Aces squeezed past the Sparks, 79-73, Monday night at Crypto.com Arena thanks to strong performances from forward A'ja Wilson and guard Kelsey Plum. The win snapped the team's two-game losing streak and gave the Aces their ninth consecutive win against the Sparks, dating back to 2019.
The Aces continue their road trip at 7 p.m. Wednesday when they take on the Storm at Climate Pledge Arena in Seattle.
Here are three takeaways from Monday's game:
1. All-Stars step up
The Aces (14-4) wanted to avoid a third consecutive loss, and the team's All-Stars kept it from happening. Wilson scored 17 points and grabbed six rebounds in the first half. She finished with 25 points on 50 percent shooting and added four steals, tying her career-high. Plum had 29 points.
"For Kelsey and A'ja to take the reins there, when we were a little battered and bruised in some other spots, was big," Hammon said.
While Wilson started the Aces' offense, Plum added the finishing touches. After scoring eight points in the first half, the Washington alum scored 10 points in the third quarter, then added 11 points in the fourth. She also was the only Aces player to make more than one 3-pointer, hitting 4 of 7.
"She was composed, especially down the stretch," Hammon said.
2. Stokes rises up
The Aces received a boost from veteran sharpshooter Riquna Williams, who returned from a left foot sprain which had kept her out since May 17.
However, center Kiah Stokes was most valuable during the first half. Hammon paired her with Wilson, allowing the former South Carolina forward to get a more favorable matchup on offense.
Stokes also was important on defense, soaking up pressure from Los Angeles center Liz Cambage and allowing Wilson to play in a help role. Hammon also trusted Stokes with the closeout minutes of the fourth quarter. She finished with three points, six rebounds and a block.
"Her rebounding, her length, she's obviously a (veteran) so she knows how to play in these big moments," Hammon said. "I just rolled with her because I thought she was playing so solidly defensively."
3. Gray's streak ends
Chelsea Gray, the WNBA's active leader in consecutive games played with 178 entering Monday, was not with the team due to personal reasons. Her status for Wednesday's game remains uncertain. Rookie forward Kierstan Bell made the first start of her career in Gray's place.
"Life is bigger than basketball, and these players all have personal lives," Hammon said. "Sometimes, life is just more important."
Sparks interim coach Fred Williams, who worked with Gray during her five-year stint in Los Angeles, called the four-time All-Star one of the most elite guards in the league, something Hammon also believes.
"We'll miss her tonight," Hammon said. "And when she gets back, we'll be ready — definitely — to have her back."
Contact reporter Andy Yamashita at ayamashita@reviewjournal.com. Follow @ANYamashita on Twitter.