Befitting a champion, Aces take media day to another level
Updated May 15, 2023 - 8:07 pm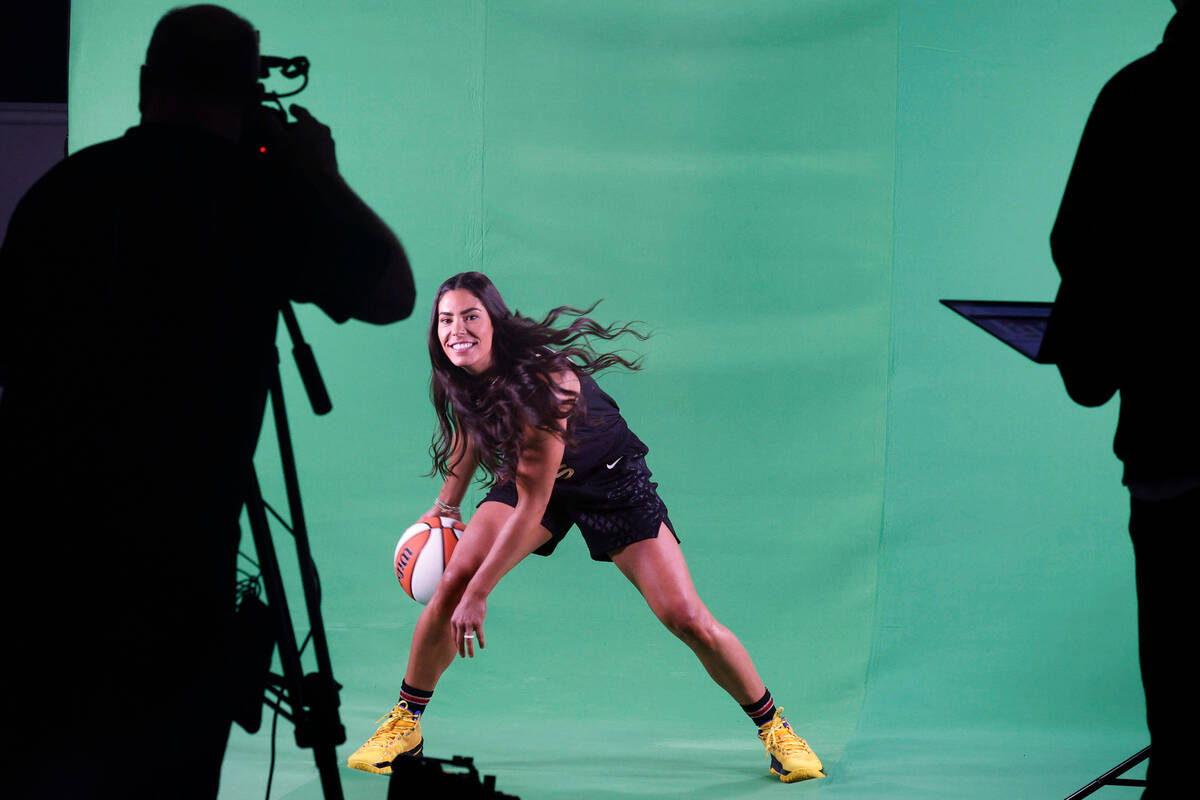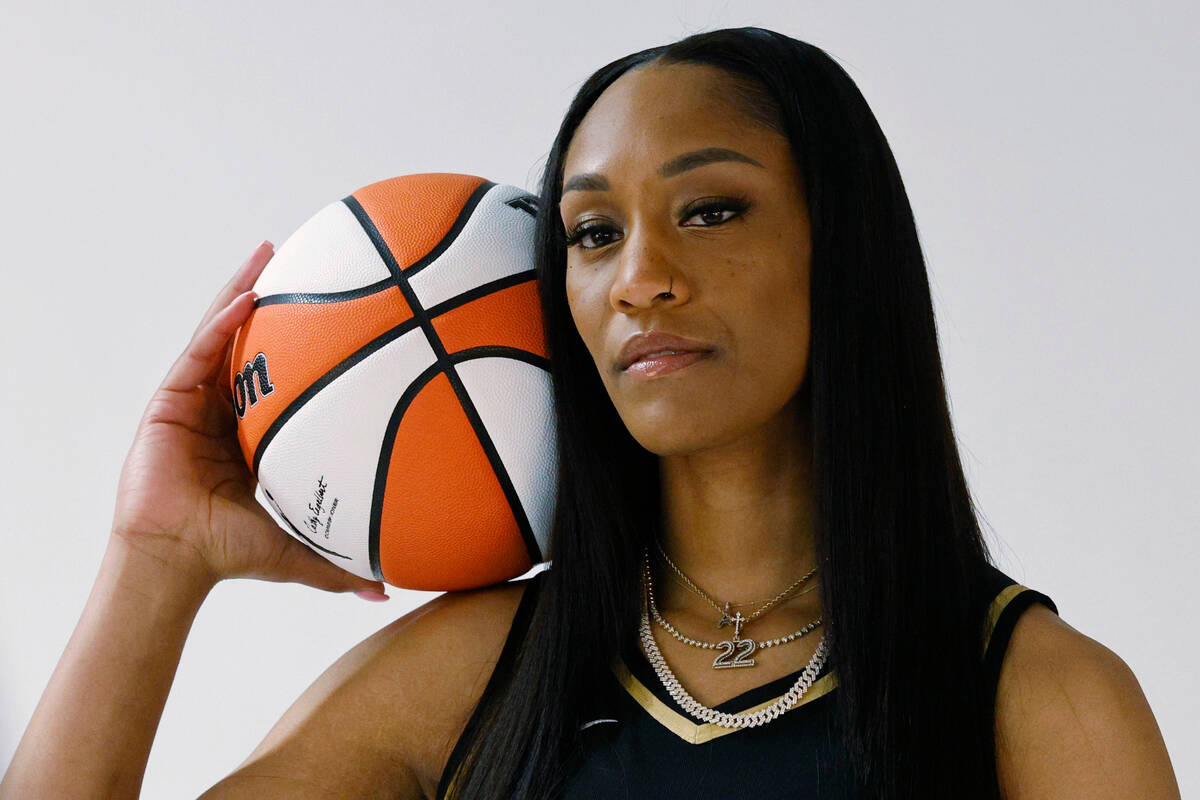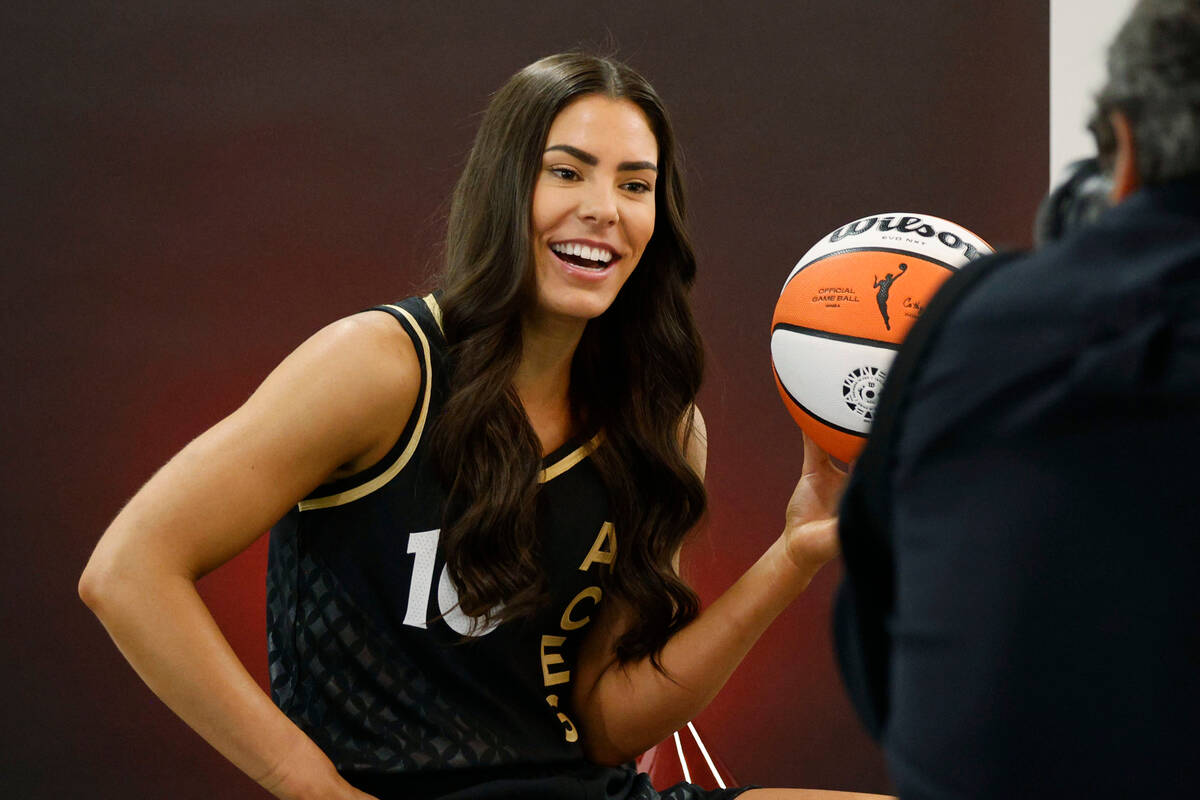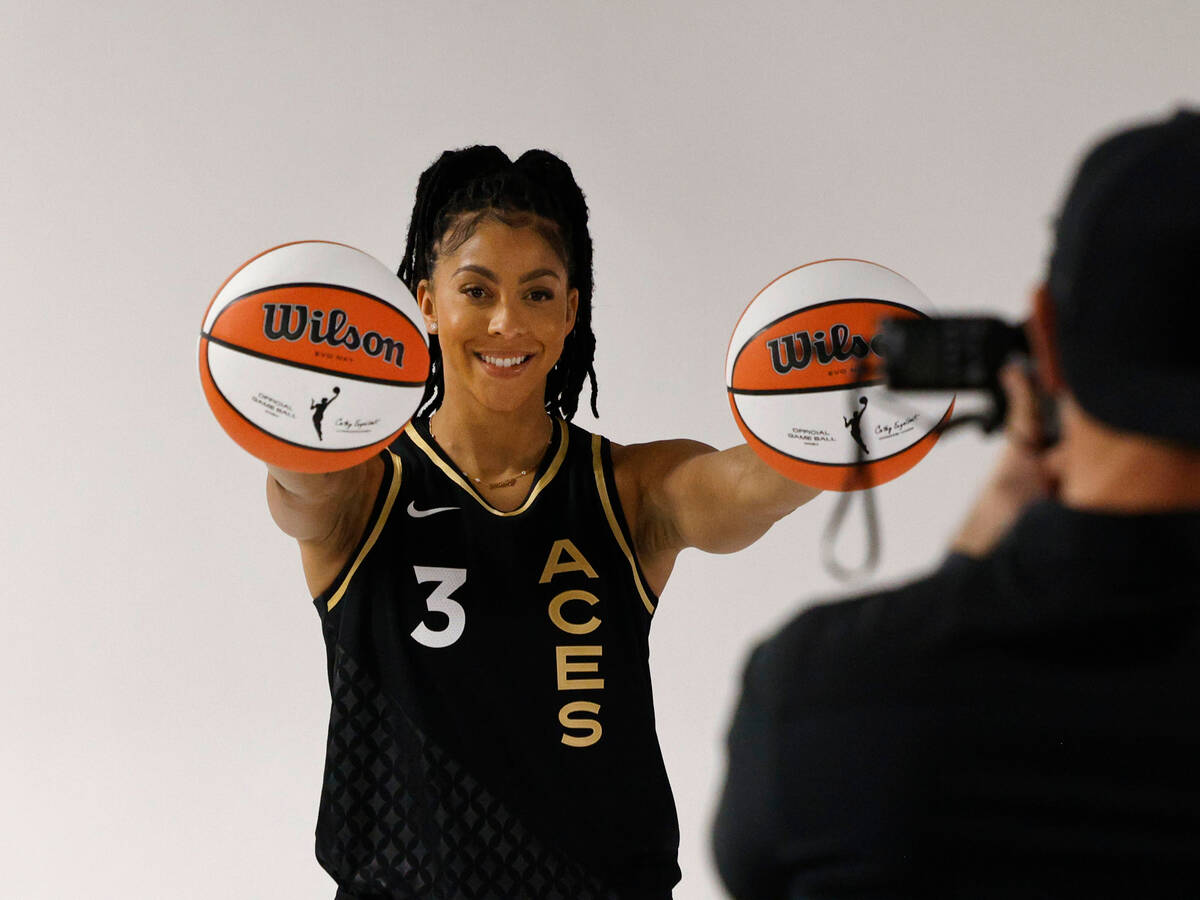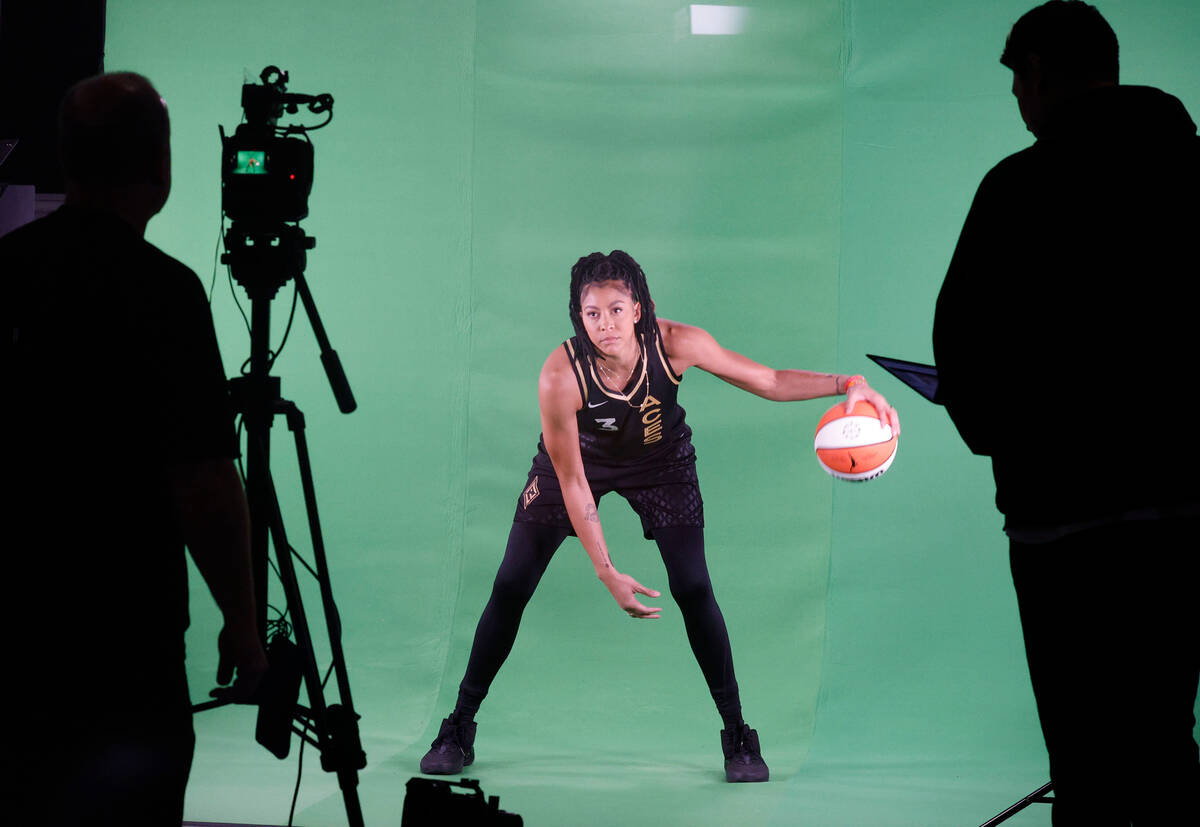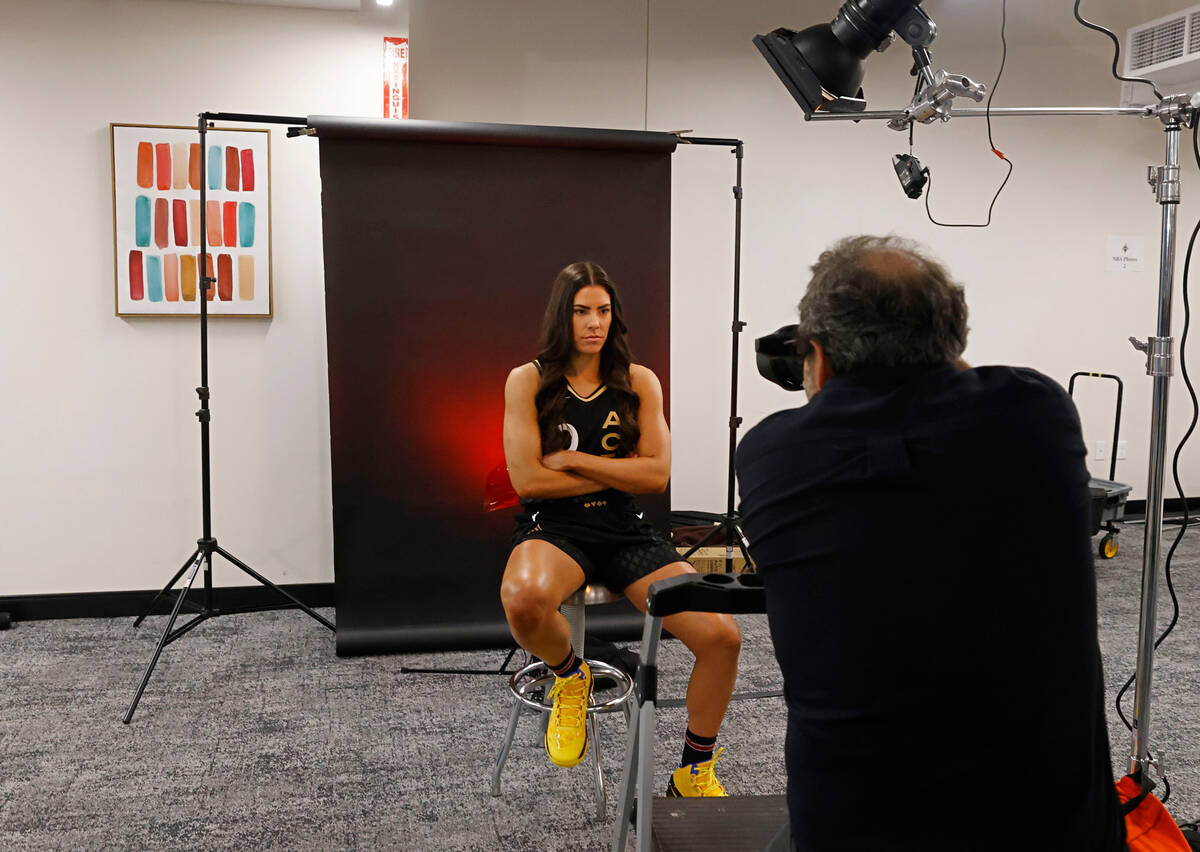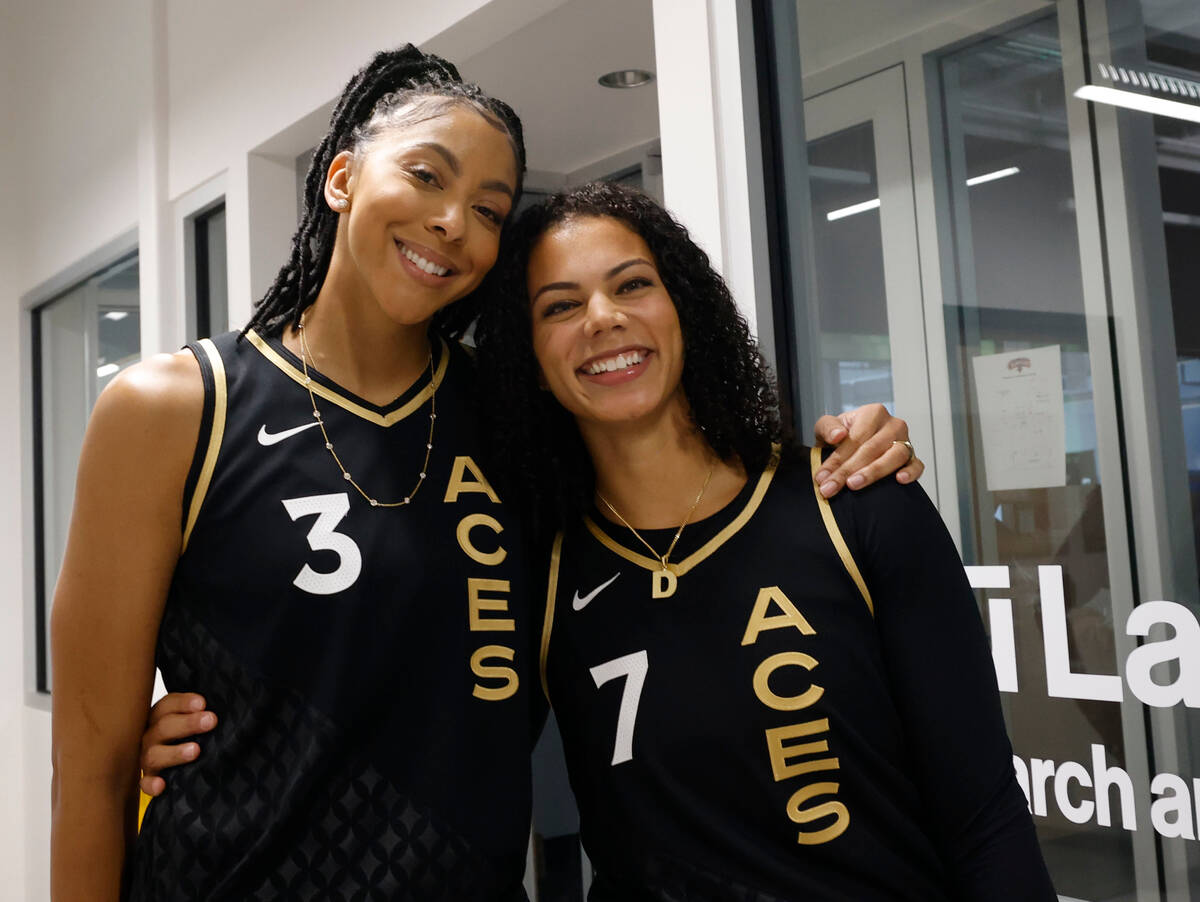 Technically, Monday was supposed to be an off day for Kelsey Plum.
But the Aces guard has been on the job since 10 a.m., when she got her hair and makeup done. Since then, it's been a non-stop parade of taking photos, filming promotional videos and doing interviews.
Seated at a plastic table two hours into media day — with a possible five more ahead of her — Plum jokes she'll be on her feet more Monday than during any normal gameday. However, she won't complain too much about something she considers "a Cadillac problem."
"Every year, it gets bigger and bigger," Plum said. "It's cool to see how it's grown."
The Aces held their media day Monday, putting the team one step closer to their season-opener Saturday against the Seattle Storm.
Past iterations of media day have been held at Michelob Ultra Arena, but this season, the Aces decided to use Vu Studios, a multi-story video production facility featuring massive LED screens and increased technological capabilities. General manager Natalie Williams said she expects the decision to enhance the in-game entertainment for Aces fans.
"It's going to be like a movie," Williams said. "That's all I can say. It's going to be impressive."
Williams and coach Becky Hammon enter media day preparing for their second seasons with the franchise. Both said they feel more settled than they did at this point last season. Hammon said she was still learning everybody's name during the team's 2022 media day.
Hammon also said the decision to move to Vu Studios is more evidence of the attention the reigning champions have garnered as they prepare to defend their championship. Aces Chief Operating Officer and Chief Financial Officer Matt Delsen said the additional space was a major factor in the team's decision to use Vu Studios.
"We're growing in positive ways," Hammon said.
The Aces have less than a week remaining to prepare for their season-opening game. The team's lone preseason game, an 84-77 win against the New York Liberty on Saturday in front of 4,460 season ticket-holders, was a success, and the roster was finalized after the Aces waived training camp invitee Alexis Peterson on Monday. The team will only carry 11 players because of the salary cap this season.
Hammon's squad faces a difficult task once the season starts. No team has repeated as WNBA champions since Lisa Leslie led the Los Angeles Sparks to consecutive titles in 2001 and 2002. The coach said her team must focus on staying motivated as the season begins, noting that entitlement is the quickest way for a champion to lose its crown.
For Hammon, media day signals the unofficial start of the season — though Plum argued the campaign actually began the moment the Aces coach lined the team up on the baseline and made them start conditioning. Either way, they agree it's time to lock in and focus on the fast-approaching season.
"The real work begins," Hammon said. "It's serious after this point."
Contact reporter Andy Yamashita at ayamashita@reviewjournal.com. Follow @ANYamashita on Twitter.
The Aces waived training camp invitee Alexis Peterson Monday, finalizing the team's 11-player roster ahead of the WNBA's May 18 mandatory cutdown date.
Peterson, a second-round draft pick in 2017 with an extensive overseas career, scored two points but went 0 of 5 from the floor during Saturday's preseason exhibition against the New York Liberty in 16 minutes, though she also added three rebounds and three assists. A 5-foot-7-inch guard who played at Syracuse, Peterson has played in France, Israel and Poland.
The move clears the path for second-year wing Kierstan Bell to make the roster. She scored 10 points in 14 minutes against the Liberty and went 2 of 3 from 3. The former Florida Gulf Coast wing, who was selected No. 11 overall, is the only member of the Aces' five-player 2022 draft class still remaining on the team's roster.
Contact reporter Andy Yamashita at ayamashita@reviewjournal.com. Follow @ANYamashita on Twitter.