A's want $500M in public money for Las Vegas ballpark
Updated April 21, 2023 - 6:13 pm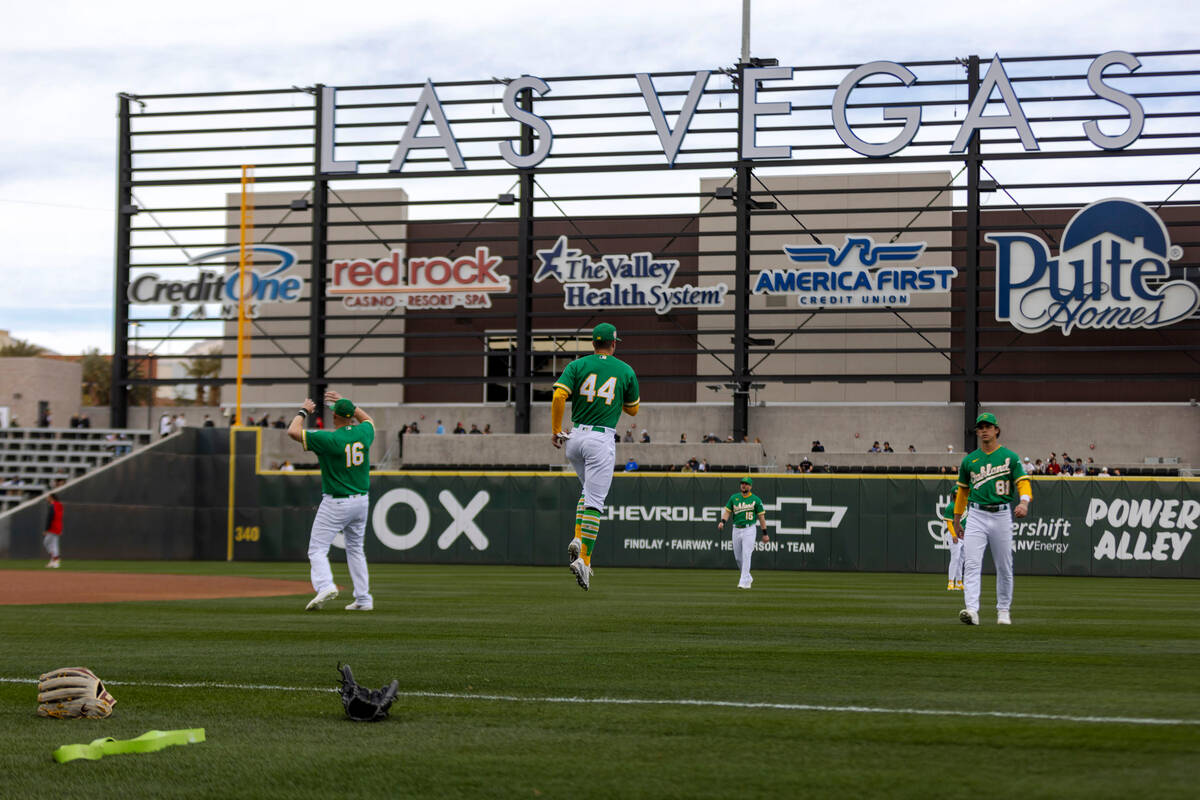 The Oakland Athletics are seeking up to $500 million in public money to build a new stadium in Las Vegas.
The money would be generated by a special tax district around the planned ballpark site, located at Tropicana Avenue and Dean Martin Drive, according to economist Jeremy Aguero of Applied Analysis, who is working with the team on its funding plan.
The Major League Baseball club announced Wednesday that it has a purchase agreement to buy the 49-acre site from Red Rock Resorts, should the stadium financing win the support of lawmakers. If that happens and the A's relocation to Las Vegas is approved, they would become the valley's fourth major professional sports franchise and the first MLB team to move since the Montreal Expos became the Washington Nationals starting with the 2005 season.
"The A's have essentially said that they're willing to put $1 billion in … and in order to make the project work, they're looking for that amount of public support," Aguero said. "This deal has to work for the county. It has to work for the state — inclusive of the governor and legislative leadership — and it has to work for the A's. And right now what I'm seeing is a bunch of people trying to find a way to make it work for everyone. So, we're close."
The tax district, which would be created only if the A's end up constructing the $1.5 billion, 30,000- to 35,000-seat stadium, would generate taxes including sales, property, live entertainment and modified business levies.
"Any taxes that are generated by the district could be reinvested back into the project," Aguero said. "The idea is that the construction of a $1.5 billion stadium is going to create value. That value is what we are going to reinvest back into the project. The stadium is not the only thing that's in the district."
That money would be paid back in a variety of ways, including the issuance of bonds that would be paid back over a period of 30 years. Tied to that, the A's would be required to sign a 30-year nonrelocation agreement as part of any public financing deal.
"It actually uses a couple of mechanisms, one is bonds, which is very similar to what we did at Allegiant Stadium," Aguero said. "It also uses things like transferable tax credits, which is what we used for the Tesla deal and for the film taxes that we do in the state of Nevada. These are things that the state of Nevada has used as a tool historically and they would also be used here."
Follow Raiders' blueprint
The Raiders received $750 million in public bonding for Allegiant Stadium, being paid over 30 years by way of a 0.88 percent tax on hotel rooms in Clark County. The NFL team also was required to sign a nonrelocation agreement that covers the term of the bonds.
Of the 49 acres the A's could acquire when the land deal with Red Rock Resorts is finalized, the ballpark would take up 9 to 13 acres, before parking is added to the equation, Aguero said. The remaining acreage would be used to add other features of the A's planned stadium district.
"Think about the Battery in Atlanta, or how uses changed in terms of the Gaslamp District (in San Diego) around Petco Park," Aguero said. "Or some of the development that recently happened in Sacramento around the Golden 1 Center. They want to utilize that surrounding property for additional investment."
The examples Aguero listed are ballparks or arenas that have entertainment districts built around the facilities.
Tax districts are common in Nevada, Aguero said.
"We have redevelopment tax districts. We have tourism improvement districts that we've done in Northern Nevada and Southern Nevada," Aguero said. "Tax districts are nothing new. We are using them a little bit differently since this is a massive development in a stadium."
2.6 million fans projected
An A's stadium in Las Vegas is projected to draw 2.6 million fans annually for major league games and other events. Of those, 1.8 million are expected to be locals and 762,000 are expected to be visitors, Aguero said. That works out to about a 70/30 split between locals and visitors.
Of the projected annual out-of-town visitors to the stadium, about 405,000 of those would be incremental visitors, or people who would travel to Las Vegas primarily for a game or event at the ballpark.
"I think I'm probably conservative in terms of that number," Aguero said.
When Aguero was working with the Raiders to make Allegiant Stadium become a reality, projections had about 27 percent of fans coming from outside the market. The stadium has far surpassed that, with up to 50 percent of crowds coming from out of town, Aguero said.
"That means that Allegiant Stadium has been a tremendous economic and fiscal benefit to our community by driving tourism," Aguero said.
With the projections Aguero laid out and the large investment it would take to construct a ballpark, A's President Dave Kaval is hoping those numbers are enough to help sway lawmakers to approve their ask of up to $500 million.
"To hopefully achieve a public-private partnership that's a win for everyone and create economic value to the community, jobs and fiscal benefits," Kaval said. "And also bring an MLB team and a big infusion of private capital, because we're going to be investing well over a $1 billion, plus the land costs making this happen."
Contact Mick Akers at makers@reviewjournal.com or 702-387-2920. Follow @mickakers on Twitter.