The Aces were on the wrong side of WNBA history Sunday.
They'll have a chance to get on the right side of it — if they beat the Washington Mystics on Tuesday.
Las Vegas stumbled to a 101-65 loss to the Connecticut Sun, and the 36-point loss is a record for WNBA opening weekend. They had one day to regroup as they search for the first victory in franchise history at Capital One Arena in Washington.
The following are three things to pay attention to Tuesday night: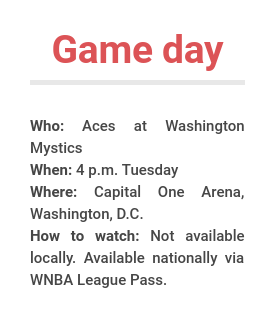 1 Transition offense — Aces coach Bill Laimbeer said at the beginning of training camp that he wanted to play fast and maximize the team's youth and athleticism.
Las Vegas showcased its potential for pace in the first quarter against Connecticut, and scored multiple baskets in transition en route to a 14-4 lead. The Aces didn't defend efficiently, though, and were forced to play most of the game in the half court, where they struggled to score.
Their transition offense is dangerous, but they need to defend at a high level in order to trigger it.
2 3-point shooting — The Aces attempted 11 3-pointers in their two preseason games, and were 1-for-7 from deep Sunday against the Sun, which made 11 of 21 3-point attempts.
That, in turn, is a 30-point differential in 3-point shooting in a game that was decided by 36 points. Laimbeer has acknowledged the Aces lack consistent shooting — especially without guards Kelsey Plum and Kayla McBride, whose seasons concluded in Europe.
But a couple 3-pointers could loosen up the paint, and provide driving lanes and space for the team's post players to operate.
3 A'ja Wilson — The No. 1 overall pick shot 3-of-13 from the field in her WNBA debut, and finished with 14 points, 10 rebounds and two blocks.
She attacked the rim with aggression, though, and attempted 10 free throws in 31 minutes, 49 seconds of playing time against Connecticut.
Wilson could spend some time matched up against one of the league's best forwards Tuesday in Elena Della Donne, who averaged 19.7 points, 6.8 rebounds and 1.4 blocks per game last season.
More Aces: Follow all of our Aces coverage online at reviewjournal.com/aces and @RJ_Sports on Twitter.
Contact reporter Sam Gordon at sgordon@reviewjournal.com. Follow @BySamGordon on Twitter.