Aces canceled game at Washington for health, safety reasons
Updated August 4, 2018 - 6:30 pm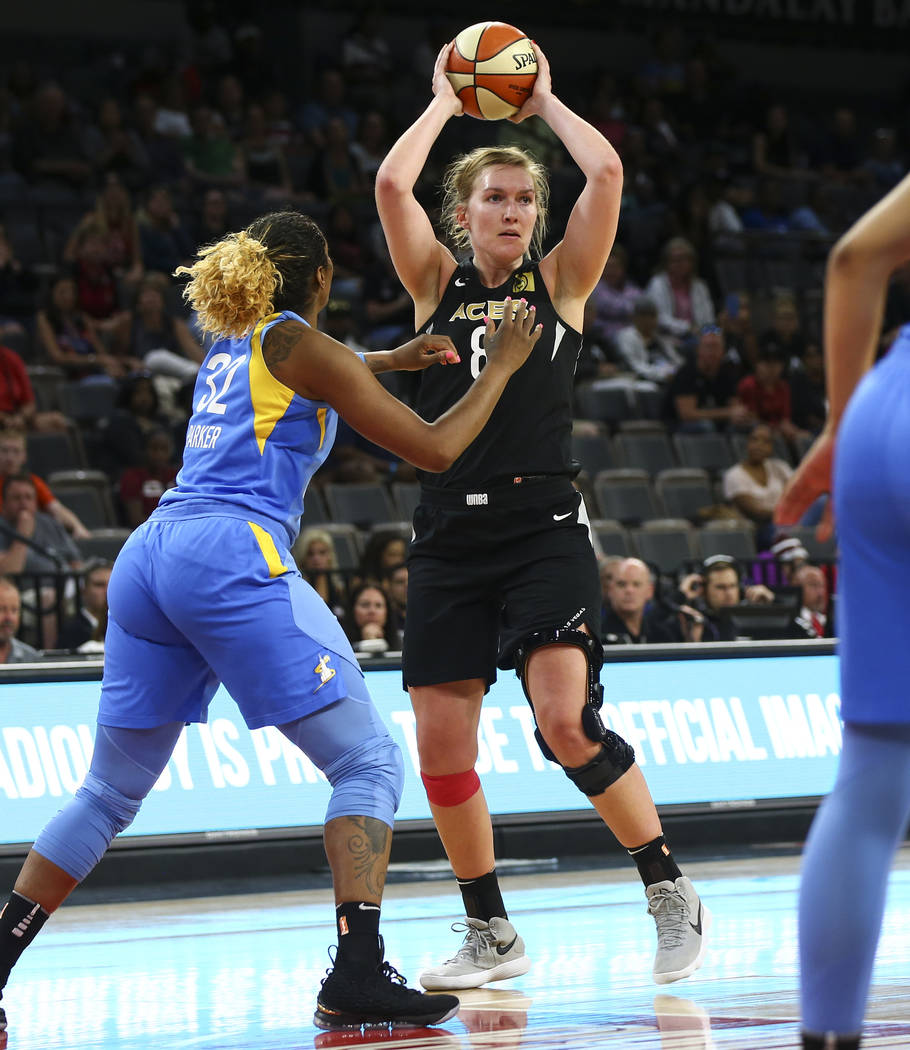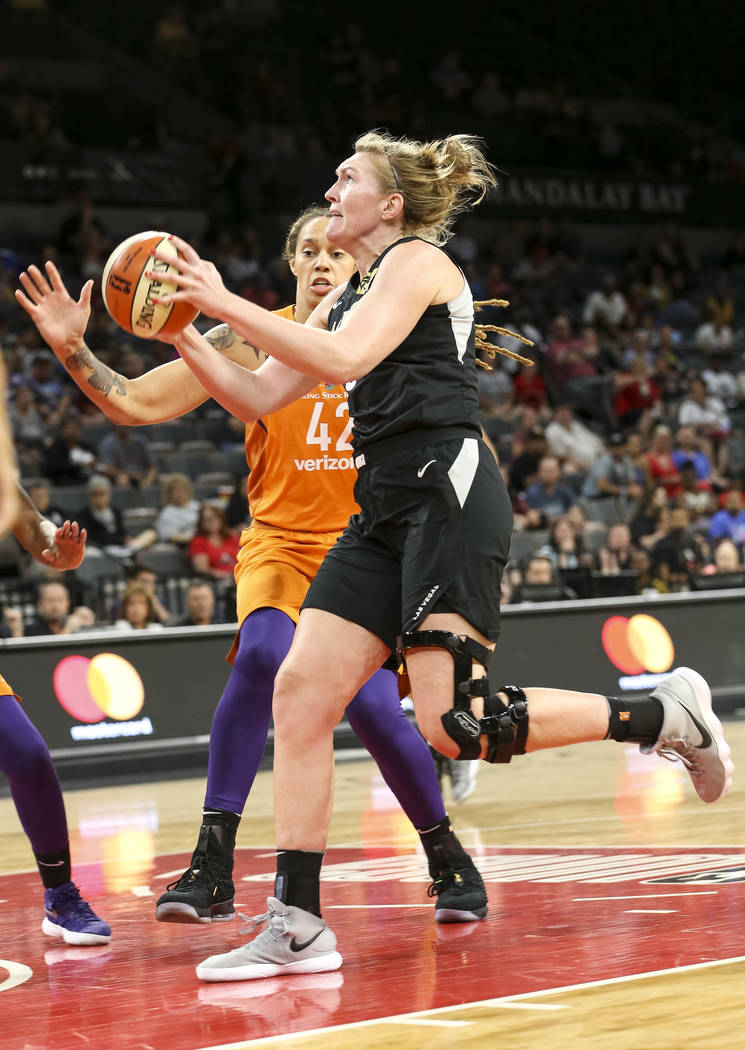 Carolyn Swords, the Aces' center and team players association representative, knew the club's decision to cancel Friday's game against the Washington Mystics could cause consequences from the WNBA.
But she reaffirmed over and over that health and safety are more important than wins and losses.
The Aces are back on track after a 25-hour travel debacle that cost them a full night's sleep, several quality meals and a game of their inaugural season. The team stayed in Washington on Friday night and flew Saturday to Connecticut, where they'll resume their playoff run Sunday.
The WNBA has not announced a forfeiture, and the team is still 1½ games behind the Dallas Wings for the eighth and final playoff spot. The Aces will fall two games behind if the league assigns a loss for Friday.
A league source said Friday night that the WNBA was hoping to complete a review of the matter within 24 hours.
In a phone interview Saturday, Swords explained the intricacies of the travel that ultimately culminated in the team's decision, saying that a conversation with the Women's National Basketball Players Association began Thursday night and lasted almost 24 hours before the parties settled on sitting out.
"We reached out, the players association reached out to the league office to start a conversation about possible options," Swords said. "That includes potential rescheduling of the game, searching for other venues if necessary, seeing if there was a way we could postpone or reschedule the game. It looked like we weren't going to, we weren't sure at that point what was really going to happen."
The Aces arrived at the team hotel in Washington, D.C., about 3:30 EDT, 4½ hours before the game, and consulted with the players association and their medical staff.
"They were concerned that we hadn't had proper rest or nutrition for over 24 hours at that point," Swords said. "It really came down to player health and player safety, and just making sure that we weren't putting our careers at serious risk."
The team, in conjunction with the WNBPA, contacted the WNBA and informed the league of its decision, citing health concerns. They were met with resistance, Swords said, but reiterated that "this was about health and safety more than anything else."
"In making this decision, we understand that there may be consequences, but we don't know what that will look like," she added.
Swords referenced a provision in the NBA's collective bargaining agreement that prevents teams from playing games on the same day they travel across two time zones. Departing from Las Vegas, the Aces traveled across four time zones. There is no such provision in the WNBA's CBA, and Swords said she hopes the team's decision sparks a dialogue about travel conditions.
"We understand that there were a lot of issues that were out of our control, but I do think that there's an opportunity here to discuss the introduction of a protocol and some provisions in the way these types of situations are handled," she said. "Just so that there's protections for the players, but also so there's a course of action any time this happens."
More Aces: Follow online at reviewjournal.com/aces and @RJ_Sports on Twitter.
Contact reporter Sam Gordon at sgordon@reviewjournal.com. Follow @BySamGordon on Twitter.
Related
Sleepless Aces take heat for not playing WNBA game
Game day
Who: Aces at Connecticut Sun
When: Noon Sunday
Where: Mohegan Sun Arena, Uncasville, Conn.
How to watch: WNBA League Pass
About the Aces: A three-game trip became a two-game trip with the cancellation of Friday's game against the Washington Mystics, putting additional emphasis on the importance of Sunday's game. The Aces (12-14) are 2½ games behind the Sun for the No. 6 seed and 1½ games out of the No. 8 seed. The teams have split two meetings, with the home team each winning.
About the Sun: Connecticut (15-12) has won three games in a row to strengthen its playoff positioning. Six players score in double figures for the Sun, who are led by Chiney Ogwumike and her 14.4 points and 7.0 rebounds per game. Courtney Williams averages 12.9 points and Jasmine Thomas 11.9 points and a team-high 4.5 assists.