Patience rewarded as Aces hit stride ahead of WNBA break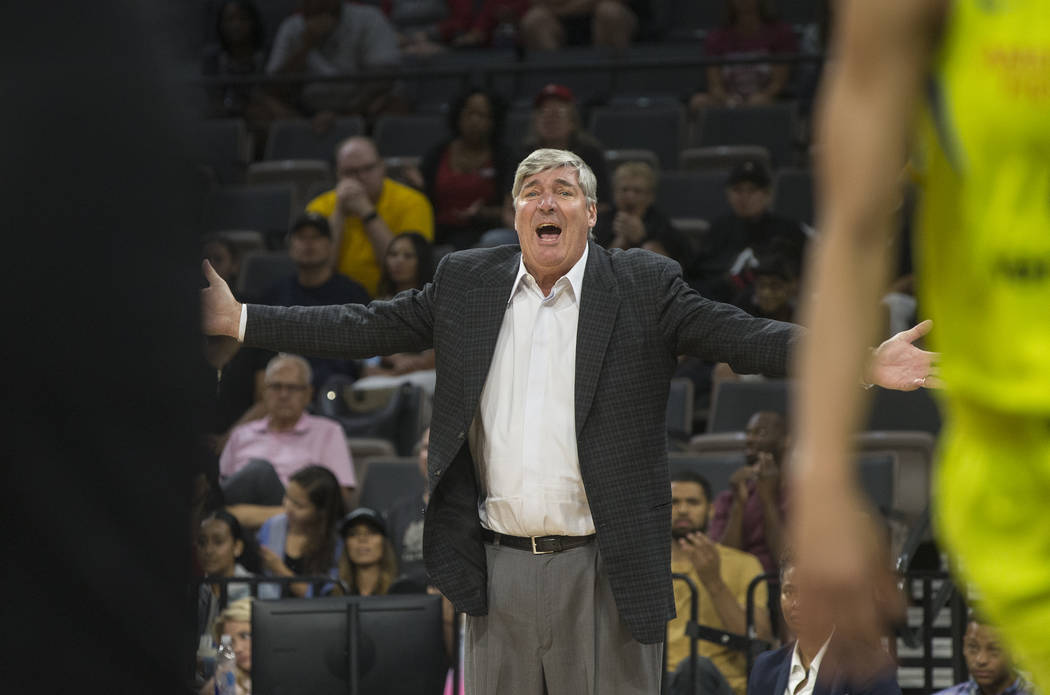 Aces coach Bill Laimbeer never panicked.
He preached patience.
During the blowouts. During the losing streaks.
Patience, patience, patience.
"I told you all at the start that I wouldn't know who we are until July," he said after an 88-74 drubbing of the Indiana Fever for a sixth win in seven games. "We're finding out who we are now. And it's in July."
The Aces are a legitimate playoff contender, constructed around All-Stars A'ja Wilson and Kayla McBride, and a brigade of youthful contributors like Kelsey Plum, Moriah Jefferson and Dearica Hamby — all 26 or younger.
They've erased their 1-7 start with victories in 11 of their last 17 games, and are jostling with the Connecticut Sun for the eighth and final playoff spot.
And a handful of other teams for even better positioning.
In fact, the Aces, currently ninth in the 12-team standings, are three games out of the No. 3 seed with nine games left in the regular season. They've won six of their last seven games, and have collected victories over annual title contenders like the Phoenix Mercury, Minnesota Lynx and Los Angeles Sparks.
They also beat the first-place Seattle Storm on Jun. 19.
Four victories over four really good teams.
Sure, Laimbeer would have liked a better beginning.
The early woes were a byproduct of youth, injury and absence. McBride and Plum missed all of training camp while playing in Turkey. Jefferson was recovering from knee surgery.
A hodgepodge of players — new and old — didn't then know how to play together, and the losses served as a simple reminder that the San Antonio Stars were the worst team in the league last year at 8-26.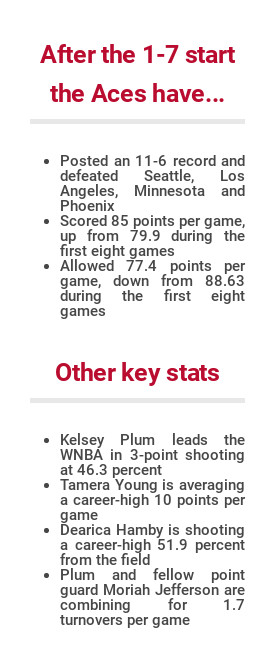 But the Aces broke through in mid-June with consecutive victories over the Fever and the Liberty and have been one of the best teams in the WNBA since.
Wilson is the clear frontrunner for rookie of the year, averaging 20 points, 8.6 rebounds and 1.7 blocks per game. McBride is having the best year of her career, logging 19.3 points on 46.3 percent shooting.
Veterans Tamera Young and Carolyn Swords are key contributors, everybody is healthy and the Aces are finally having fun.
"When we won those two games (against New York and Indiana), ever since then we've kind of taken that confidence," McBride said. "'Okay, we can play in this league and take advantage of it.' Now here we are, 12-13, going into the all-star break."
Wilson and McBride depart Thursday for Minneapolis, where they'll play alongside the league's best players in the All-Star game Saturday. The rest of the team can finally relax a little and recoup for the final nine games of the season beginning Aug. 1.
The Aces play at Connecticut on Aug. 5, and can make up additional ground with games against Phoenix, Dallas and Minnesota.
Patience is starting to pay off.
"I wish the All-Star break wasn't here," Laimbeer said. "I wish we could just keep playing, but I do think we need it. I think we're getting a little mentally tired at the moment because we've been pushing so hard, and we've been focused so hard."
More Aces: Follow all of our Aces coverage online at reviewjournal.com/aces and @RJ_Sports on Twitter.
Contact reporter Sam Gordon at sgordon@reviewjournal.com. Follow @BySamGordon on Twitter.