Lady Rebels' NCAA Tournament seeding, 1st-round foe set
Updated March 12, 2023 - 10:23 pm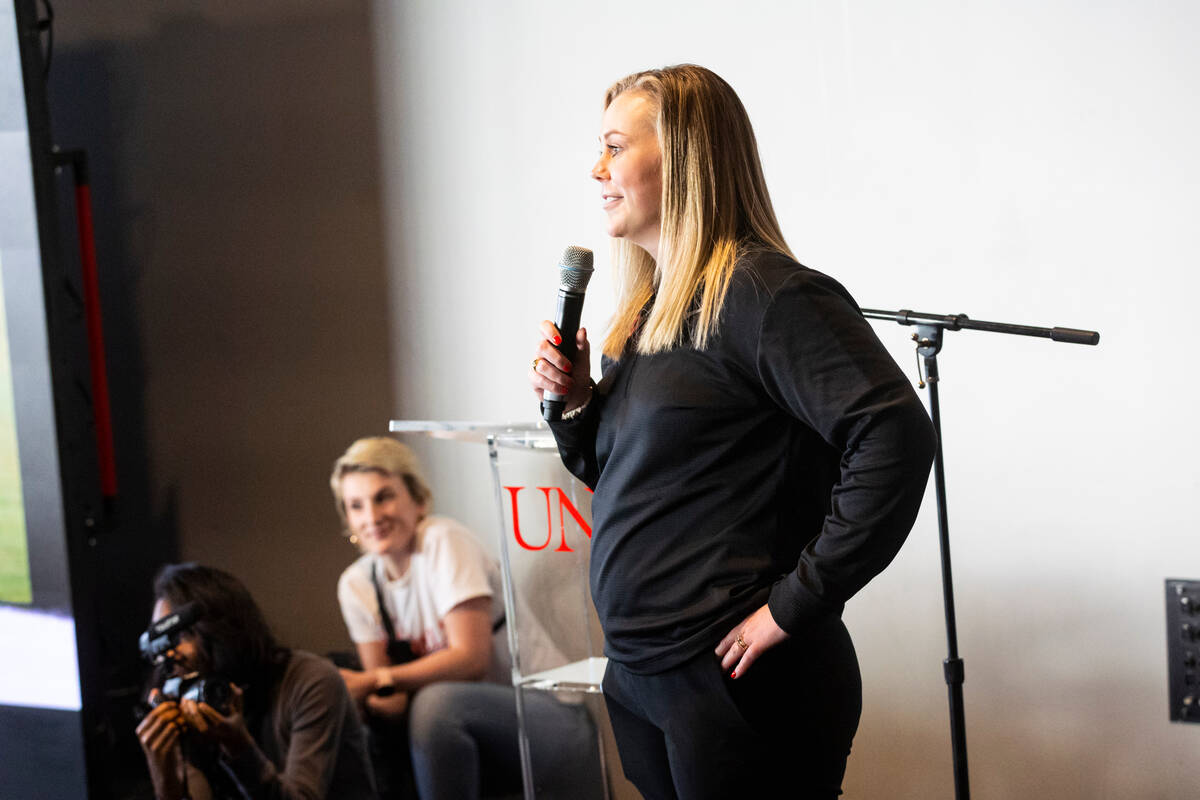 Lindy La Rocque never has been to Louisiana. The UNLV women's basketball coach hopes her upcoming trip is longer than a two-night stay.
UNLV (31-2) received a No. 11 seed Sunday for the NCAA Tournament and will face No. 6 Michigan (19-12) in the first round Friday at Pete Maravich Assembly Center in Baton Rouge, Louisiana. Game time was not announced.
"It's extremely exciting," La Rocque said. "The anticipation of today is kind of what it's all about. You sit around waiting to see your matchup, and you think you know through the bracketology stuff, but there's always curveballs.
"So, if anything, I'm excited to have this curveball, play a team out of region and travel across the country."
The Lady Rebels learned their postseason fate at the Strip View Pavilion along with about 250 fans who joined them to watch the selection show.
If UNLV beats Michigan, it will face the winner of No. 3 Louisiana State, the regional host, and No. 14 Hawaii. The Lady Rebels are in the Greenville 2 Region, where Indiana is the No. 1 seed.
UNLV reached its second consecutive NCAA Tournament after winning the Mountain West tournament for the second straight season. The Lady Rebels finished 18-0 in the conference regular season and have won a program-tying 22 consecutive games. This is the first time UNLV has made the tournament in consecutive seasons since appearing in three straight from 1989 to 1991.
"The fans have been really supportive all year," senior guard Justice Ethridge said. "We knew we'd have a big (turnout Sunday). Hopefully some of them are able to make it out to the game to keep watching us."
UNLV's seeding was a bit of a surprise to the coaching staff and players. Sophomore guard Alyssa Durazo-Frescas said she was expecting a matchup with Oklahoma in Los Angeles as a No. 12 seed. Sophomore Alyssa Brown said the No. 11 seed is proof that the Lady Rebels were right to believe they were better than most of the projections.
La Rocque also appreciated the higher seed. She said it felt like vindication from the selection committee, recognizing the team's accomplishments this season and their 2022 tournament performance, when UNLV lost to Arizona 72-67 in Tucson.
La Rocque also said she thinks the berth in Baton Rouge shows the committee's belief in the Lady Rebels.
"I know there's been a big geographical tie in the last couple years with the brackets," she said. "To send us across the country, I think there's some respect there. We want to prove them right."
The UNLV coaches already are preparing for Michigan. La Rocque said her assistants were downloading film of the Wolverines minutes after Sunday's announcement.
The Lady Rebels think their tournament experience will help them. They're not the wide-eyed, first-time tournament team anymore.
"We want to win this year and get past the first round," Durazo-Frescas said. "We're all excited. The chemistry is tighter than ever. It will be a lot of fun."
Contact reporter Andy Yamashita at ayamashita@reviewjournal.com. Follow @ANYamashita on Twitter.
Up next
Who: UNLV women vs. Michigan
What: NCAA Tournament, first round
When: TBD Friday
Where: Pete Maravich Assembly Center, Baton Rouge, La.