NCAA awards basketball regional, Frozen Four to Las Vegas
Updated October 14, 2020 - 5:45 pm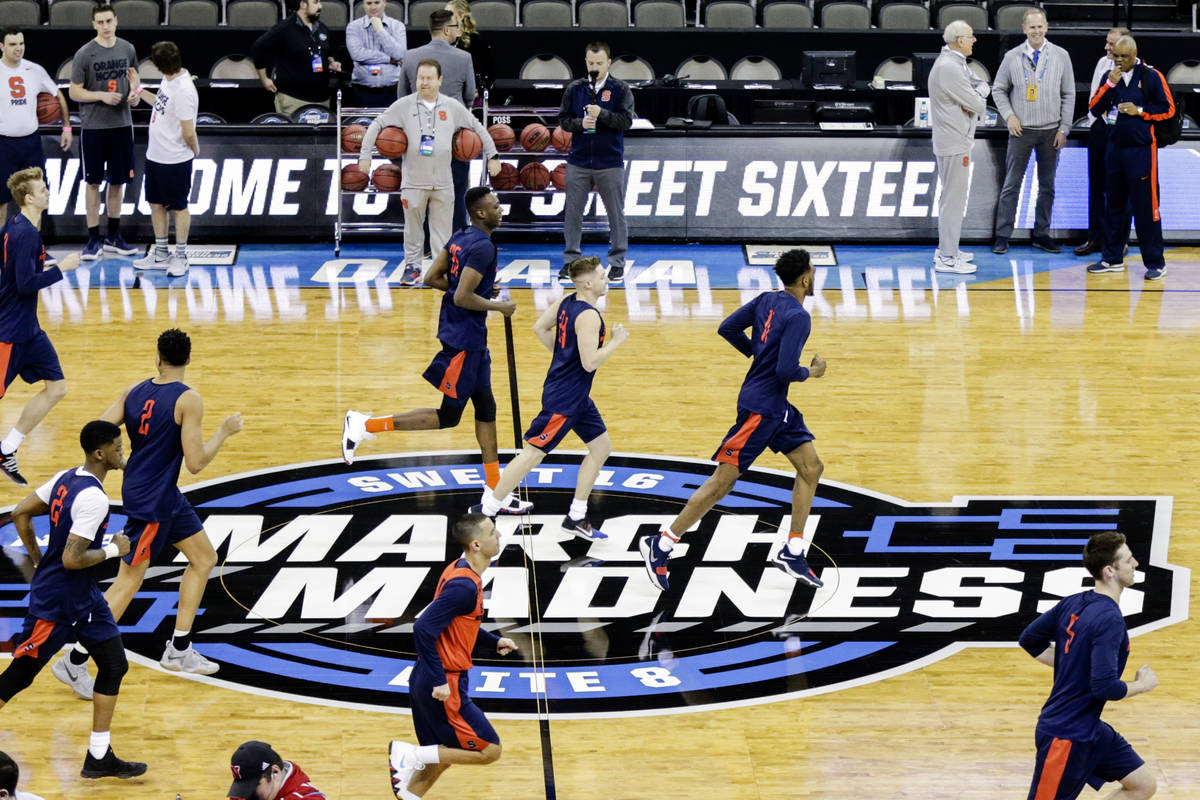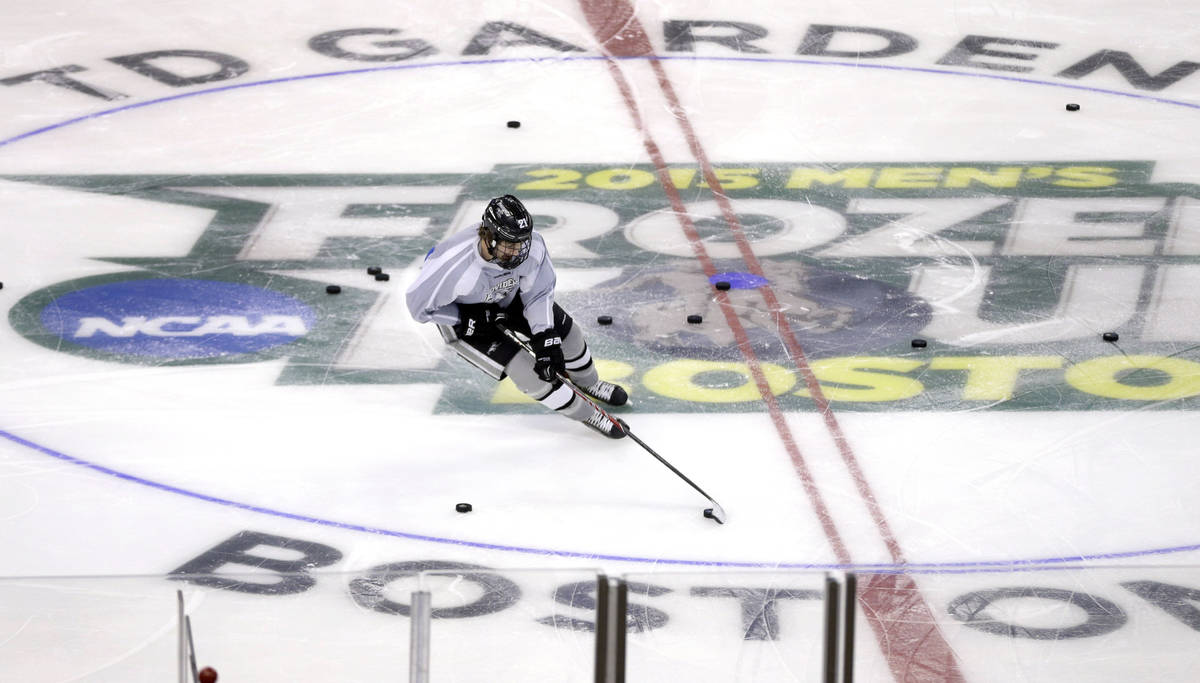 UNLV has long considered itself one of the nation's basketball capitals, from the glory days at UNLV under Jerry Tarkanian to the successful NBA Summer League to the four conference tournaments that call the city home.
And the Golden Knights' arrival three years ago and their startling first-year run to the Stanley Cup Final turned the city into an unexpected hockey hotbed.
Las Vegas received major prizes in both sports Wednesday when the NCAA awarded T-Mobile Arena with a 2023 Division I men's basketball regional and the 2026 Division I men's hockey Frozen Four.
"I think Las Vegas has long been the established entertainment capital of the world, and we're trying to establish ourselves as the sports capital of the world," said George Kliavkoff, MGM Resorts president of entertainment & sports. "I think that's a step in that direction."
The NCAA awarded the Las Vegas area seven other championship events as well, including a 2023 Division I men's golf regional at Bear's Best Las Vegas and a 2024 Division I women's golf regional at Spanish Trail Country Club. That means the Rebels could play on local courses for the the right to advance to the national championship because, unlike in basketball, golf rules allow the university host to play in the same regional.
"We are excited about the opportunity to host," UNLV men's golf coach Dwaine Knight said. "Hopefully, in the near future we will also be able to host the national finals, but a regional is a great start. I know that Las Vegas will do a fabulous job hosting NCAA championship events."
Said women's golf coach Amy Bush-Herzer: "Spanish Trail will be a great test for collegiate women golfers. We look forward to showcasing our school, golf courses and the great city of Las Vegas."
This is the first time the NCAA allowed events in states where sports gaming was allowed since changing its policy last year. The Reno area also received two events.
Las Vegas has hosted NCAA championships five times — 1991 women's basketball regional, 1996-98 men's tennis regionals and 1998 women's tennis regional.
UNLV will serve as host to eight of the nine events awarded to Las Vegas. The University of North Dakota will host the Frozen Four because the Rebels don't have an NCAA hockey team.
UNLV is proud to announce that we will host 8⃣ NCAA Championship events from 2022-26, including the 2023 NCAA Men's Division I Regional‼️
Read more about this exciting news here – https://t.co/NjPhLBimkq#NCAAHost #BEaREBEL pic.twitter.com/i5xH1XucJ8

— UNLV Athletics (@UNLVathletics) October 14, 2020
Rebels athletic director Desiree Reed-Francois touted Las Vegas' ability "to host world-class events."
"We also look forward to our own UNLV student-athletes competing for national titles in our hometown," Reed-Francois said in a statement. "Thank you to our staff who worked extremely hard during the bid process, and it is great to see that effort result in being awarded eight bids. Today is a great day for UNLV and for the city of Las Vegas."
The men's basketball regional and Frozen Four were the headline events, and Las Vegas officials hope those will be gateways to bringing in the Final Four and College Football Playoff National Championship.
Russ Yurk, whose company 129 Sports serves as a liaison between the NCAA and potential host cities, said sites that land Final Fours typically were recent homes to regionals. He also said it was important for interested cities to stage lesser-known events, including those in Divisions II and III.
The Las Vegas Convention and Visitors Authority was behind the effort to secure such events, including the 2024 Division III men's and women's soccer championship and men's and women's golf championships in Divisions II and III between 2024 and 2026.
"Especially for a brand new city, even a world-class city, (one importance) is demonstrating the ability to host a championship," Yurk said. "The other thing we asks hosts to do in those bigger cities is don't just come in and cherry pick big championships. Help the NCAA membership in trying to help provide that world-class student-athlete experience for those kids in Division II and Division III."
One event that Las Vegas officials didn't bid on was a portion of the Division I women's basketball tournament.
"We ended up not being able to make the dates work given how busy the calendar is at T-Mobile Arena," Kliavkoff said.
Like Kliavkoff, LVCVA CEO and president Steve Hill said the NCAA announcement underscores where Las Vegas sits on the sports landscape.
"Las Vegas will provide both the student-athletes and their fans an unparalleled experience," Hill said in a statement. "Welcoming events of this caliber is important to the destination as we continue to evolve into the sports capital of the world."
Contact reporter Mark Anderson at manderson@reviewjournal.com. Follow @markanderson65 on Twitter.
NCAA championship events in Las Vegas
2023
Men's basketball Division I regional, T-Mobile Arena
Women's bowling championship, South Point Bowling Center
Men's golf Division I regional, Bear's Best Las Vegas
2024
Men's golf Division III championship, Boulder Creek Golf Club and The Legacy Golf Club
Women's golf Division I regional, Spanish Trail Country Club
Men's and women's soccer Division III semifinals and championship, Peter Johann Memorial Field
2025
Women's golf Division II championship, Boulder Creek Golf Club
2026
Men's golf Division II championship, Boulder Creek Golf Club
Men's hockey Division I championship, T-Mobile Arena