UCLA's Mick Cronin says NCAA Tourney in Las Vegas 'long overdue'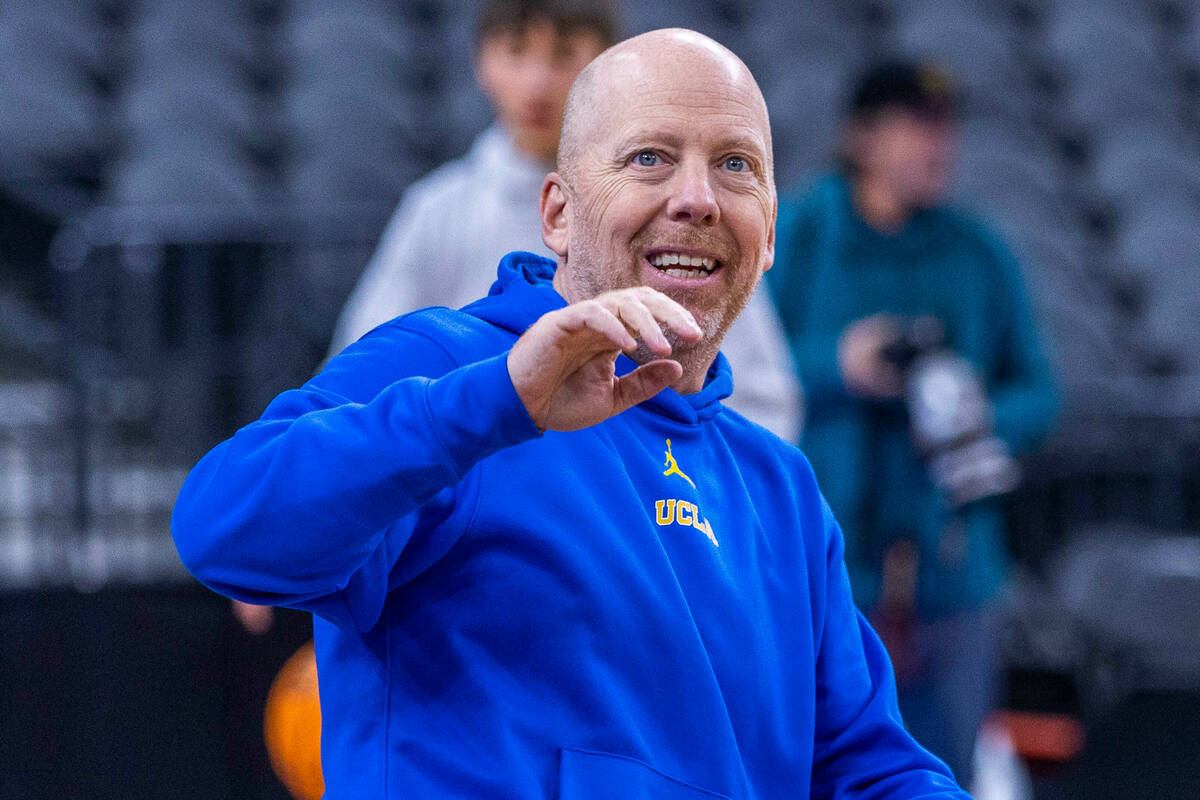 UCLA coach Mick Cronin believes the only question about Las Vegas finally hosting NCAA Tournament games is why it didn't happen much sooner.
"Long overdue," he said before his team practiced at T-Mobile Arena on Wednesday. "Great city. Probably the best city in our country to host an event."
Cronin will lead the Bruins into a Sweet 16 matchup against Gonzaga at approximately 6:45 p.m. Thursday, the second game of a doubleheader at T-Mobile Arena. While the city has played host to some major college basketball games over the years, including several featuring Cronin's UCLA team, these will be the first two NCAA Tournament games contested in the state.
For many years, legalized sports gambling was held up as a reason for the NCAA to steer clear of Nevada for championship events. But now that betting is widespread across the country, those barriers are gone.
"Once state legislators started passing and allowing FanDuel and DraftKings and all that stuff, then it was okay," Cronin said. "Once the NFL came here, it was going to open it up for everything else. I mean that's just the facts."
The NCAA Tournament is only the beginning. The Frozen Four will be contested at T-Mobile Arena in 2026 and then the Final Four will be at Allegiant Stadium in 2028.
Slow starts
Connecticut has followed a similar blueprint to each of its two tournament victories thus far in advancing to the Sweet 16.
The Huskies trailed Saint Mary's 17-9 with 12:56 remaining in the first half of the second round game before rallying to grab a 31-30 lead just before the break and pulling away after halftime. Against Iona in the first round, Connecticut trailed by two at intermission only to start the second half on an 11-2 run and roll to an 87-63 win.
"It's just about getting through the first part where it's a little bit anxious, you know what I mean?" said junior guard Andre Jackson Jr. "Once we get past that, we all get lost into the game, that's where we're all able to break out and really be special with what we can do."
The Huskies have been outscored 69-68 in the first half, while dominating 89-49 in the second half.
Coach Dan Hurley said his team's depth allows it to get stronger as the game wears on, but he also thinks his team may have been feeling the weight of the UConn name on the front of its jerseys, which made his players a bit tight in the first two games.
"When you're UConn and you're playing in the first round of the tournament, maybe even the second round, there's a lot of pressure on you, the pressure of the brand that you carry," he said ahead of Thursday's meeting with Arkansas. "So I think we're maybe a little bit uptight going into those first and second round games, and hopefully some of that pressure has been alleviated and we can go out tomorrow and let it rip. I don't think we can afford to have a slow start versus these guys with the way that they play."
No recruiting breaks
Arkansas may still be very much alive to win a title this season, but that doesn't mean coach Eric Musselman can take a break from trying to build next year's roster.
Especially when he has traditionally been so successful in the transfer portal. While his is one of only 16 teams still playing, the vast majority of teams around the country have completed their season and player movement is already happening. While Musselman hinted there should be a pause until the season is over, he understands the reality of the cycle.
"Obviously the most important thing right now is to get ready for UConn, but I would be lying to say we're not also recruiting today and didn't recruit last night and didn't recruit this morning and won't recruit tonight," he said Wednesday on the eve of a Sweet 16 game against Connecticut. "Because the portal is open while teams are still playing. So you've got to worry about two things. Obviously the most important thing is UConn. But there is still recruiting going on right now as well."
Contact Adam Hill at ahill@reviewjournal.com. Follow @AdamHillLVRJ on Twitter.