UCLA eating well in Las Vegas despite defensive star's absence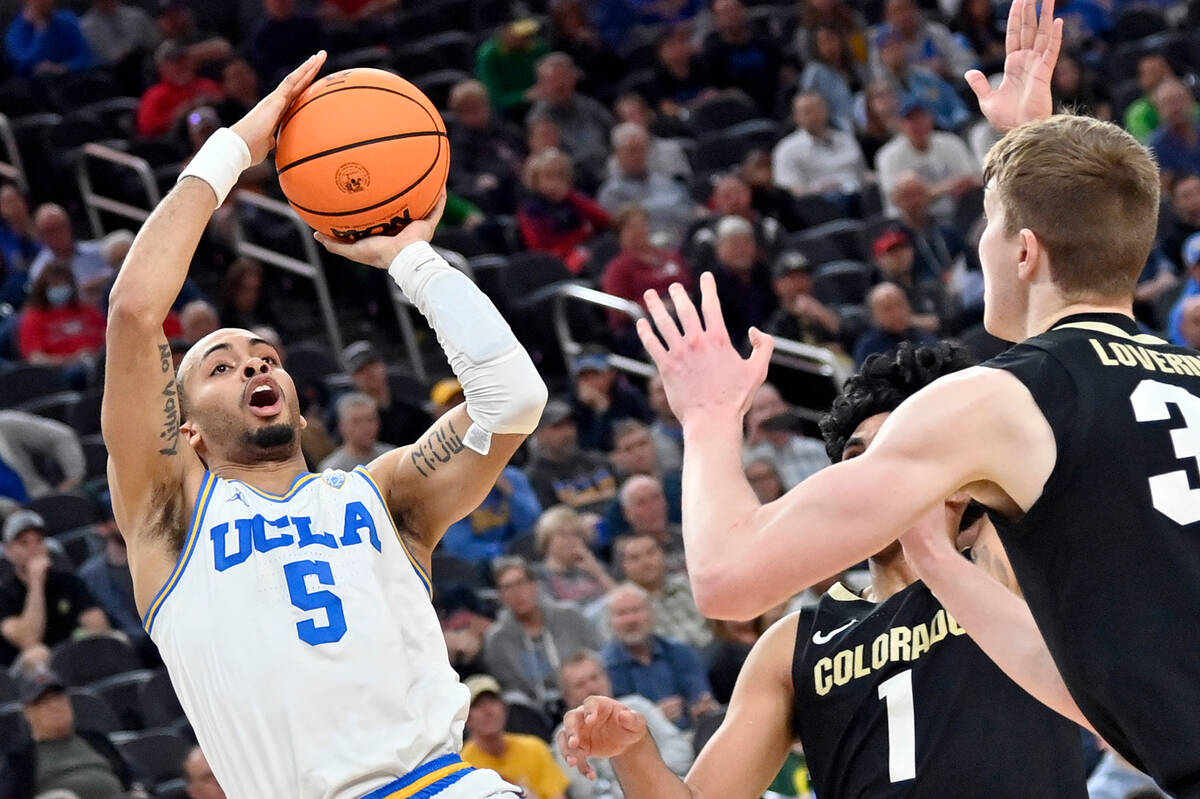 A trip back to Las Vegas later this month for the UCLA basketball team likely means the Bruins have advanced to the Sweet 16 as the No. 1 seed in the West Region of the NCAA Tournament.
It also means coach Mick Cronin will be eating very well.
"(I can) get much better dinners here than some of those other places" that host regional finals, Cronin joked after the top-seeded and No. 2-ranked Bruins defeated ninth-seeded Colorado 80-69 in the quarterfinals of the Pac-12 tournament Thursday at T-Mobile Arena.
The Bruins (28-4) will play No. 4 seed Oregon (19-13) in the semifinals at 6 p.m. Friday semifinal after the Ducks defeated No. 5 Washington State 75-70 on Thursday.
UCLA is already well-positioned to be named the top seed in the West, which will have its final contested right back inside T-Mobile Arena, but that spot could all be locked up by winning the Pac-12 tournament this week.
In addition to the fine eateries, Cronin said the benefits of playing in Las Vegas again include easy travel for the team and fans as well as more exposure in the city's fertile recruiting territory.
Cronin doesn't see this week as a dress rehearsal to get his team comfortable in the surroundings, however. He thinks that's already the case.
"If we're not familiar with this building by now, I don't know what to tell you," he said. "We played four here last year. This was our third this year and tomorrow will be four. So it will be eight in two years if we play again Saturday.
"I'm being funny, but I am looking forward to dinner. A lot of options here."
A more pressing concern for Cronin than picking the right restaurant is figuring out a way to navigate his team through the bracket without defensive star Jaylen Clark, a junior guard.
The league defensive player of the year and candidate for the national award was injured Saturday and has been ruled out for this weekend, though reports suggest his season is over. Cronin declined to confirm whether Clark would miss the NCAA Tournament, citing the federal law restricting the release of medical information, but said he would answer questions about his availability to the selection committee if asked.
"Kids have rights. They have careers," Cronin said. "If they don't want us to disclose their injury, then that's their right. And I'm more concerned with doing what's right for my players than making people in the media happy. So the least of my worries is that."
UCLA got its first taste of life without Clark on Thursday, and the results were mixed.
Freshman Amari Bailey scored a career-high 26 points on 8-of-12 shooting, though he said he was more focused on picking up the slack on the other end of the floor.
"I feel like we can lose a lot just with Jaylen's presence defensively," Bailey said. "So I just wanted to come in and just try to make at least some of it up and just play as hard as I can on defense and just flow throughout the game, really."
Despite his production, a normally stingy UCLA team that entered the game tied for fifth nationally allowing 60.1 points per game allowed Colorado to shoot 58 percent from the field in the first half and make 10 3-pointers in the game.
The Buffaloes led 39-38 at the half and held the advantage on several occasions in the second half before the Bruins pulled away late with a 20-8 run over the final 5:18.
Cronin credited Colorado with making shots, but star UCLA forward Jaime Jaquez Jr., who had 16 points and nine rebounds, said it's just part of the process of adjusting to life without Clark.
"I think we're still trying to figure that out," he said. "This is our first game without him. He brings so much to our team. He brings intensity, energy. He's our X-factor when it comes to defensive end as well. On offense he can do so many things. But with that being said, we got a lot of guys that can step up."
Colorado coach Tad Boyle, whose ejection in the final minute appeared to stem from UCLA's 31-11 advantage in free-throw attempts, said the Buffaloes (16-16) deserve an NIT bid.
Contact Adam Hill at ahill@reviewjournal.com. Follow @AdamHillLVRJ on Twitter.