Nevada's horse racing handle in sharp decline before doping scheme
Updated March 10, 2020 - 6:34 pm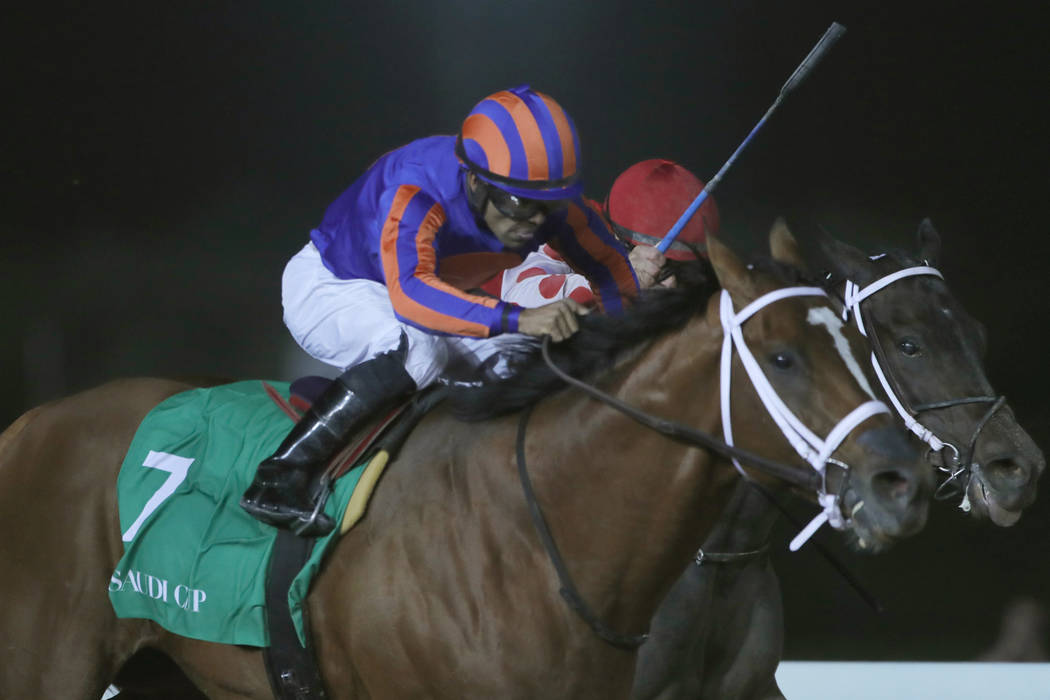 As Nevada's sports betting handle, or amount wagered, has exploded in the past decade — from $2.7 billion in 2010 to a record $5.3 billion in 2019 — the state's horse racing handle has suffered a sharp decline, falling from $596.5 million in 2007 to $245 million in 2019.
Last year's horse racing handle was the lowest since the state's Gaming Control Board started tracking numbers in 1988 and coincided with a disastrous season at Santa Anita Park in which 37 horses died.
An industry in dire need of good news got more bad news Monday, when Jason Servis, the trainer of champion Maximum Security, was among 27 trainers, veterinarians and others charged in what authorities described as a widespread international scheme to drug horses to make them race faster.
"It's terrible for the business," longtime ESPN horse racing analyst Hank Goldberg said Tuesday. "The business is down anyway, and you get a big-time trainer like Servis who's guilty of cheating.
"Anytime you have something like this, it hurts the integrity of the sport. The sad part about it is the purists who have been trying to eliminate horse racing, you'll hear from them again. The whole sport is going to suffer from the sins of a couple."
DraftKings sportsbook director Johnny Avello, a longtime horse racing fan and bookmaker, also was dismayed by the news.
"The game's already been struggling a little bit," he said. "The handle has been down, the fields in California are shorter and the animal activists are out there every day.
"The sport needs a new story. It needs a positive story. It doesn't need any negative stories."
Servis was charged with administering performance-enhancing drugs to several horses, including Maximum Security, who crossed the finish line first at the 2019 Kentucky Derby before being disqualified for interference.
The 3-year-old has since won four of his five high-profile races, including the $20 million Saudi Cup, the richest race in the world, on Feb. 29.
"How ironic that the only horse ever taken down at the Kentucky Derby was trained by Servis, who was cheating anyway," Goldberg said. "What's also ironic about this is it did not come about because the horse racing business was being careful. It came about because of a federal investigation. Where was racing when this was going on?
"Maximum Security just won a race at Dubai and before the Kentucky Derby passed a drug test. What does that tell you about the racing association? Their methods of testing were flawed."
Prosecutors said Jorge Navarro, another high-profile trainer, "orchestrated" the scheme by "using PEDs designed to evade drug tests."
One of Navarro's prized thoroughbreds, X Y Jet, won the 2019 Dubai Golden Shaheen, which paid $1.5 million to the winner. The horse died of a heart attack in January.
"What actually happened to the horses amounted to nothing less than abuse," William F. Sweeney Jr., assistant director in charge of the FBI New York Office, said at a news conference. "Conversely, the human beings involved in the scheme continued to line their purses as they manipulated this multibillion-dollar horse racing industry across the globe."
Contact reporter Todd Dewey at tdewey@reviewjournal.com. Follow @tdewey33 on Twitter.
Horse racing handles
Courtesy of Nevada Gaming Control Board
Year total amount wagered
2007: $596.5 million
2008: $484.4 million
2009: $399.7 million
2010: $404.8 million
2011: $380.9 million
2012: $371.1 million
2013: $339.6 million
2014: $344.2 million
2015: $335.1 million
2016: $310.3 million
2017: $280.3 million
2018: $270.3 million
2019: $245.0 million