Sportsbooks weigh in on Aaron Rodgers' future, Raiders next starting QB
Updated February 21, 2023 - 9:34 am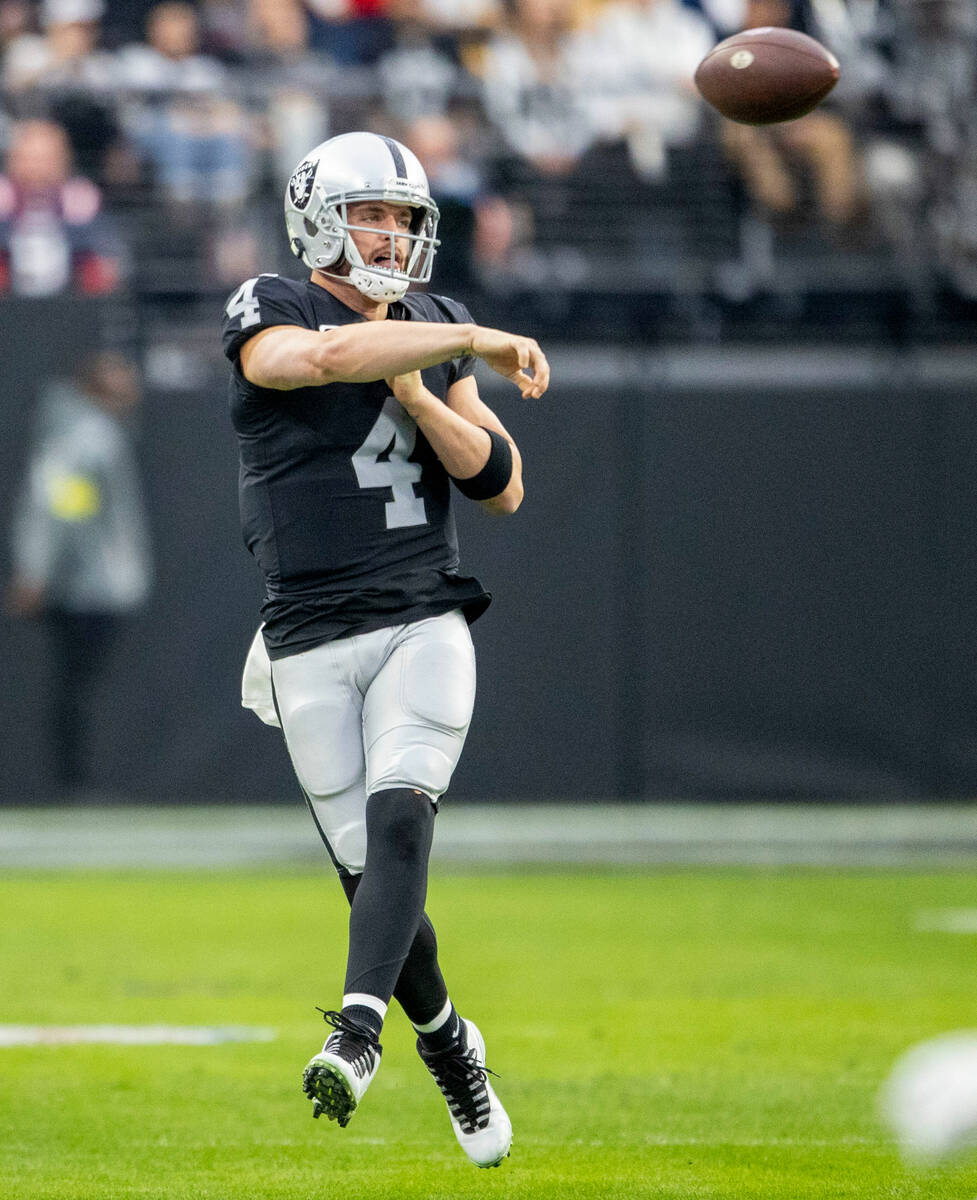 The Raiders and other NFL teams are still in the dark about Aaron Rodgers' football future. But sportsbooks have shed light on the subject.
The four-time NFL MVP quarterback said he planned to spend four nights in total darkness in an "isolation retreat" to contemplate whether he will retire, return to the Packers or play for another team.
DraftKings sportsbook, which doesn't operate in Nevada, has made odds on Rodgers' next team. The Raiders are the -200 favorites after being as high as -450 on Feb. 7, when Rodgers discussed his plans to go dark on "The Pat McAfee Show." The odds had dipped to -250 on Thursday.
The Jets are the +150 second choice after being 6-1 underdogs Feb. 7 and +250 on Thursday.
Green Bay, which slumped to 8-9 last season after three straight 13-win seasons, is the +250 third pick after being 3-1 on Thursday.
"Aaron Rodgers is probably not going to be with the Packers next year," DraftKings sportsbook director Johnny Avello said. "The Jets are a team that has been getting a little bit of steam lately. There's been a lot of chatter and signs pointing to him going there instead of the Raiders.
"The Jets have a pretty good team that maybe can contend next year. They were decent this year, and quarterback was one of the missing pieces."
Rodgers, 39, had high praise for Jets offensive coordinator Nathaniel Hackett, who was Rodgers' offensive coordinator in Green Bay for three seasons before leaving last year to become the Broncos' coach.
A new Carr
Former Raiders quarterback Derek Carr met with the Jets over the weekend, and the visit reportedly went well.
New York is a -300 favorite at sportsbetting.ag (an offshore book that operates illegally in the U.S.) to be Carr's next team. The Panthers are the +225 second choice, the Saints are the +250 third pick, followed by the Buccaneers at 9-1, and the Packers and Falcons at 18-1.
Raiders QB odds
Sportsbetting.ag also has odds on the Raiders' starting quarterback in Week 1.
Rodgers is the -200 favorite, Jarrett Stidham is the 4-1 second choice, Lamar Jackson is the +450 third pick and Jimmy Garoppolo is the 6-1 fourth favorite.
"The Raiders are going to have to make a move, but there's not a whole lot of guys out there for them to get," Avello said. "Stidham isn't the answer. It's probably Aaron Rodgers or Jimmy Garoppolo at this point."
After Garoppolo, the odds shoot up to 20-1 for rookie quarterback Anthony Richardson and 25-1 for rookies Will Levis and Bryce Young, and veteran journeyman Baker Mayfield.
Rookie C.J. Stroud is 33-1, and veteran Matt Ryan is 66-1. Tom Brady has retired, but the seven-time Super Bowl champion is listed at 100-1.
Contact reporter Todd Dewey at tdewey@reviewjournal.com. Follow @tdewey33 on Twitter.
Quarterback odds
Raiders' next starting QB odds
At Sportsbetting.ag
Aaron Rodgers -200
Jarrett Stidham 4-1
Lamar Jackson +450
Jimmy Garoppolo 6-1
Anthony Richardson 20-1
Baker Mayfield 25-1
Bryce Young 25-1
Will Levis 25-1
C.J. Stroud 33-1
Matt Ryan 66-1
Tom Brady 100-1
Aaron Rodgers' next team odds
At DraftKings sportsbook
Up to 50-1
Raiders -200
Jets +150
Packers +250
Colts 15-1
Commanders 18-1
Buccaneers 20-1
Titans 22-1
49ers 22-1
Patriots 25-1
Panthers 30-1
Steelers 50-1
Giants 50-1
Seahawks 50-1
Saints 50-1
Texans 50-1
Dolphins 50-1
Falcons 50-1
Ravens 50-1