North Las Vegan Romero puts loss in past, seeks first world title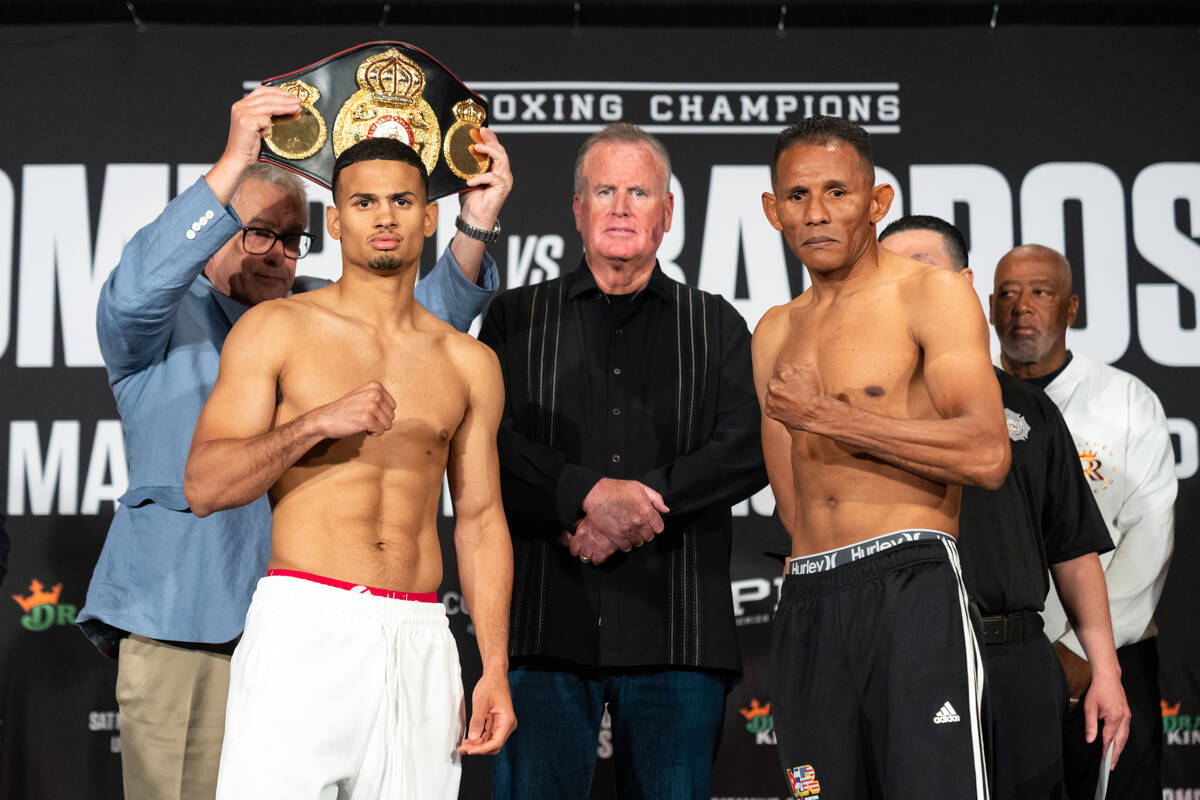 If North Las Vegas native Rolando Romero wasn't extended the opportunity to fight lightweight superstar Gervonta Davis, then he probably would have debuted a year or two ago as a 140-pound junior welterweight.
But the fight against Davis was far too lucrative to decline — and far too important for his burgeoning boxing career.
"I would not trade that high for anything else in the world," said Romero, 27 and a natural power puncher. "This feels so much slower than a massive event … and I'm excited to do more in the future."
Romero (14-1, 12 knockouts) returns to the squared circle Saturday for the first since May 28, 2022, when a pay-per-view promotion he carried with his uninhibited braggadocio culminated with a loss to Davis via sixth-round technical knockout at the Barclays Center in New York.
But Romero gained from it a bigger following and the cachet to promptly challenge for a title in his first fight in a new weight class. He'll seek his first world title when he meets 40-year-old Venezuelan Ismael Barroso (24-3-2, 22 KOs) for the vacant WBA belt at the Chelsea inside The Cosmopolitan of Las Vegas.
"I'm going to make 140 pounds the most popping division in boxing," Romero said Thursday. "I see many pay-per-view events, and I'm involved in all of them."
Romero's first pay-per-view promotion allowed him to showcase his personality and punching power opposite Davis, undoubtedly one of boxing's top talents and stars.
Romero pressured Davis for five-plus rounds before reaching too far and catching the vicious counter left that ended the fight.
Said Romero: "The only thing I learned from the Gervonta Davis fight is that I need to be patient. Patience is everything in life."
Indeed, Romero practiced patience amid the longest layoff in the career — transitioning naturally to junior welterweight while waiting to fight champion Alberto Puello. But Puello's positive test for the banned substance clomiphene caused the title to be temporarily vacated while he awaits an official hearing.
Romero decried the 28-year-old Dominican's apparent use of performance-enhancing drugs.
"I think it's disgusting. You're a professional athlete. Don't do PEDs. That's sad," Romero said. "It's not like other sports where you have to dribble a ball and kick a ball. This is (where) you're getting punched in the face, and you're damaging your damn health."
Romero remains resolute in the pursuit of his first world title and the possibilities it can provide. The 140-pound weight class includes WBO champion Josh Taylor, WBC champion Regis Prograis, IBF champion Subriel Matias, former lightweight superstar Ryan Garcia and former unified lightweight champion Teofimo Lopez, whom Taylor fights June 10 in New York.
A majority of those prospective matchups would require cross-promotional cooperation.
All of them first require Romero to win Saturday in his first fight in Las Vegas since Feb. 22, 2020.
"Everybody's been waiting for me to fight in Vegas again," Romero said. "It feels good. I just like having my own events. I like doing my own thing."
Contact Sam Gordon at sgordon@reviewjournal.com. Follow @BySamGordon on Twitter.
Up next
Who: Rolando Romero (14-1, 12 KOs) vs. Ismael Barroso (24-3-2, 22 KOs)
What: WBA junior welterweight championship
When: 6 p.m. Saturday
Where: The Cosmopolitan of Las Vegas
TV: Showtime
Odds: Romero -1,000; total 6½ rounds
Tickets: Beginning at $50 on ticketmaster.com