Phoenix to Las Vegas: Airport officials getting Super Bowl warmup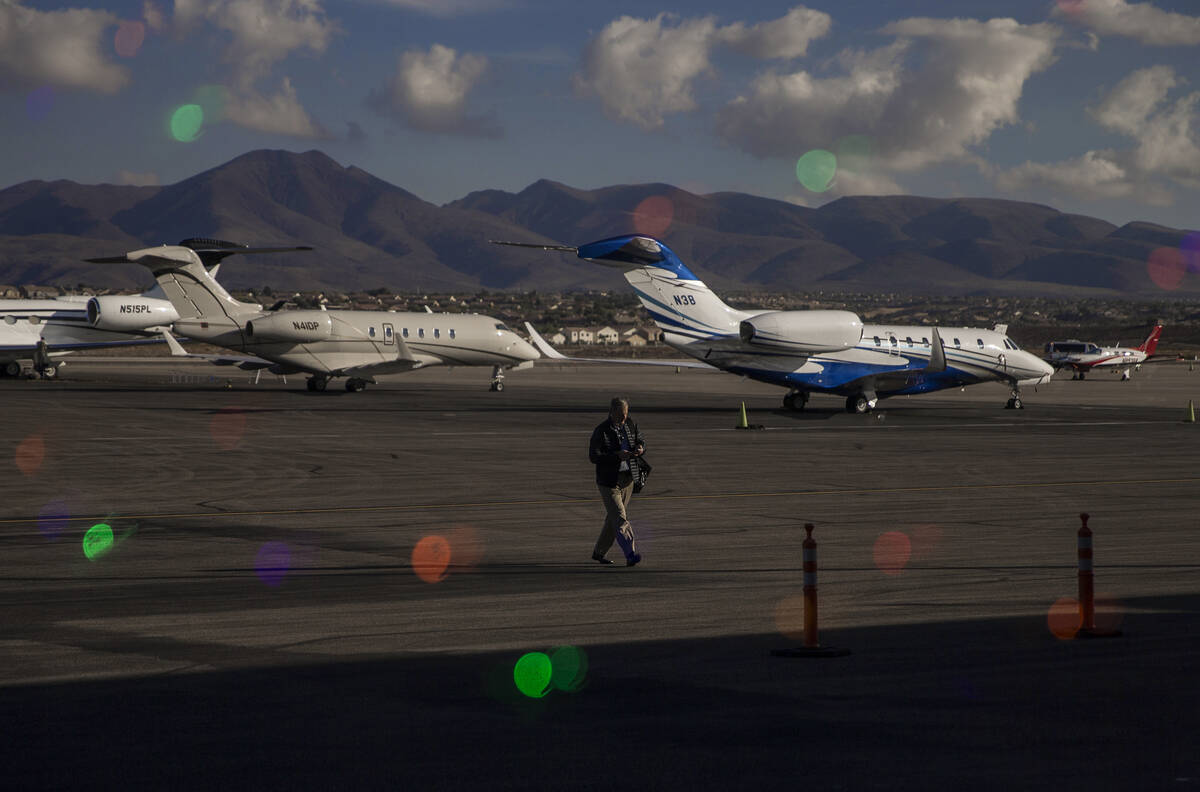 PHOENIX — The Clark County Department of Aviation is getting a sample of what to expect when Super Bowl LVIII takes place in Las Vegas next year.
Members of the department's executive team are in Arizona to get a firsthand look at what a Super Bowl means to the aviation industry.
"We have a staff in Phoenix observing to see how it all flows out down there," said Jim Chrisley, senior director for the Clark County Department of Aviation. "We've been working very closely with the NFL and the FAA on those projections. What we can say is that we fully expect it to be bigger and better than any other Super Bowl."
For this year's Super Bowl in Arizona, the Federal Aviation Administration expects 1,000 private jets, 4,000 more takeoffs and landings than normal, and 1,100 additional parked planes.
That impressive volume is expected to be topped next year in Las Vegas, according to Clark County Commissioner Michael Naft, who also serves as co-chair of the Las Vegas Super Bowl Committee's transportation committee.
"I think you'll see even more than that," Naft said. "I expect that to be maximized. I had discussions with DOA about this topic. They've given me assurances that everything that can be done to prepare for it is being done. That includes things like we just opened the expanded surface lot in Henderson (Executive Airport). That's going to be really well utilized. As will the expanded surface lot at Reid international, will be operational this year."
Because of the amount of expected private plane activity in Arizona, and the close proximity of the facilities, Clark County airports will be used as part of the FAA's ramp reservation program. The program requires reservations to use private plane terminals. It's expected that chartered flights will exceed limits at Phoenix-area airports, so Clark County facilities will serve as relief sites if needed.
"We're participating this year because, one, when the Super Bowl was in Phoenix last time (2015), we had a lot of overflow traffic," Chrisley said. "Some of it was weather, but some of it was just volume in Phoenix. We're participating this year so we have a better handle on what to expect."
A secondary benefit to Clark County airports participating in the reservation program is that it will be the same system the Department of Aviation will use for next year's Super Bowl.
"So we'll get experience this year and get to see how it plays out with (our flight schedule)," Chrisley said. "We're going to have a very busy weekend in Vegas (this year). We have it every year, regardless of where the Super Bowl is. It's always busy. … This is just going to help us manage that and that flow and the parking of all that general aviation traffic."
That experience will be vital, with area officials learning the ins and outs of a Super Bowl from those who already have experienced it multiple times.
"This is Phoenix's fourth Super Bowl, and I know they've learned a lot," Chrisley said. "It's critical to learn how these other cities handle these events. Every city is different, every airport system is different, but there's so much to learn on how they staff and the expectation of when things happen."
Contact Mick Akers at makers@reviewjournal.com or 702-387-2920. Follow @mickakers on Twitter.