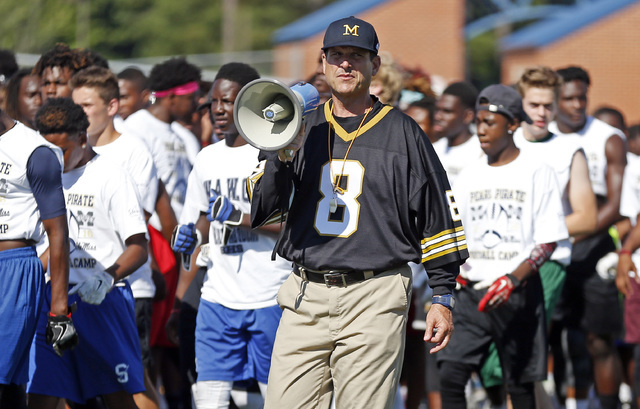 As Michigan football coach Jim Harbaugh and his staff prepared to embark on an unprecedented June tour of 39 satellite camps in 22 states, American Samoa and Australia, Alabama coach Nick Saban slammed the largely unregulated camps for turning college football into the "wild, wild West."
If that's the case, members of the Michigan coaching staff should feel right at home Wednesday in Las Vegas, where they'll make a tour stop at Chaparral High School for the NV Showdown Football Camp.
Harbaugh is questionable to attend the camp, which is scheduled for 5 to 8 p.m. and is open to the public. Cowboys coach Paul Nihipali — whose son-in-law, Tony Tuiti, is Michigan's director of player personnel — expects the Wolverines to bring offensive coordinator Tim Drevno, defensive coordinator Don Brown, quarterbacks coach Jedd Fisch and special teams coach Jay Harbaugh, Jim's son.
The camp, open to all students entering grades nine to 12, also is expected to feature coaches from Brigham Young, Kansas State and Southern Utah, among others.
Players can register for the camp, which costs $45, at chaparralathletics.com or in person from 2:30 p.m. to 4:30 p.m. at the school, located at 3850 Annie Oakley Drive in southeast Las Vegas. Nihipali said 120 players have registered for the camp, which will feature teaching and drills but no helmets or pads.
For those unfamiliar with satellite camps, here's a primer:
Q: What are satellite camps?
Satellite camps have nothing to do with actual satellites, though we wouldn't put it past Jim Harbaugh to rocket into orbit if there were a five-star recruit on Mars. Satellite camps simply allow college coaches to serve as guest instructors at off-campus clinics hosted by high schools or small colleges.
Q: Why are they controversial?
NCAA rules restrict schools to hosting football camps in June within 50 miles of their campus. But there is no rule prohibiting coaches from serving as guests at camps hosted by other schools outside of the 50-mile radius. Harbaugh wasn't the first coach to exploit the loophole, but he was the first to test its limits, going on a seven-state satellite camp tour last June in the heart of Southeastern Conference country that he dubbed the "Summer Swarm."
This infuriated many SEC and Atlantic Coast Conference teams, which criticized the camps for being used only as a recruiting tool and not to teach kids football, as Harbaugh contended. The NCAA banned satellite camps April 8 but reversed the ruling April 28, paving the way for Michigan's world tour and prompting the SEC and ACC to lift their league's respective bans on satellite camps.
The NCAA plans to revisit the issue Sept. 1, when it will listen to recommendations for improving the football recruiting process. According to a story in Friday's Virginian-Pilot, the NCAA is considering banning satellite camps and replacing them with camps it would sponsor at NFL training centers and high schools. The NCAA also is considering a rule that would limit the camp schedule to 10 days instead of 30 days in June, which is outside the traditional recruiting calendar and the time when coaches typically start taking vacation time in advance of the upcoming season.
Q: How do they benefit colleges?
Big schools can expand their brand and coaches can see prospective players in person in recruiting hotbeds that would otherwise be off limits in June. The smaller schools can attract more players to their camps by having well-known coaches on hand and might attract some players to their programs as well.
Q: How do they benefit high school players?
Players are able to meet and be seen by college coaches without having to spend a lot of money to take unofficial visits or to travel far from their homes to attend camps at their dream schools. Under-recruited players also get the chance to prove themselves to coaches who might have otherwise never heard of them.
We'll give Harbaugh the last word on satellite camps.
"I suppose it helps us, but that's not why we do it," Harbaugh insisted to CBS Sports following his June 7 camp in Baltimore. "We've been recruiting about 200-250 youngsters right now for the 2017 class. We know who those guys are. We could just as easily recruit them from Ann Arbor. That's not why we're out here. We're out here for the good of the game, and I would tell the other coaches, instead of complaining, come out and do this."
Contact reporter Todd Dewey at tdewey@reviewjournal.com or 702-383-0354. Follow him on Twitter: @tdewey33