Average price for Stanley Cup Final tickets over $1K on StubHub
As anyone hunting for tickets can tell you, it can cost a small fortune to get a seat in T-Mobile Arena for the Stanley Cup Final. No surprise there, given the rabid demand for Golden Knights seats and merchandise throughout the playoffs.
But on the other side of the country, it's no bargain to watch games at the opposing Washington Capitals' rink, either.
The average sales prices on StubHub, a dominant resale site, for tickets to Games 1 and 2 at T-Mobile against the Capitals were $1,429 and $1,247, respectively, as of Friday.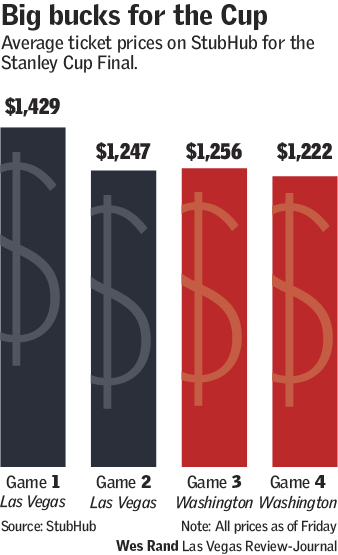 The average sales prices on StubHub for Games 3 and 4 at Capital One Arena were $1,256 and $1,222.
By comparison, tickets in earlier playoff rounds generally cost twice as much, if not more, on the resale market for Knights home games than their opponents', industry pros have said.
Fueling demand in Las Vegas and D.C.: The Knights could finish their record-shattering expansion season by hoisting Lord Stanley's Cup, an all but unthinkable achievement for a first-year team, and the Caps want to win it for the first time in their 44-year history.
StubHub communications manager Cameron Papp said Capitals fans "flooded the market" Wednesday night, when the team defeated the Tampa Bay Lightning to advance to the Cup Final. As of Friday on StubHub, the Knights' first game against the Capitals at T-Mobile Arena was the top-selling matchup of their best-of-seven series, followed by Game 2, also at T-Mobile Arena.
Prices and demand would "definitely" be even higher in Las Vegas if the Knights' first home game wasn't on the Memorial Day holiday, said ticket broker Ken Solky, owner of LasVegasTickets.com.
Would-be buyers might already have plans for the three-day weekend, and even though Las Vegas is expecting a crush of tourists, visitors typically come here Memorial Day weekend to kick off the pool season, Solky said.
Still, tickets to Games 1 and 2 at T-Mobile are selling for maybe 20 to 25 percent higher than the same games in recent Stanley Cup finals, he said.
So far, the most expensive tickets to the first Cup Final games in Las Vegas to sell on his site went for $6,500 apiece, for seats right near the glass.
"You are witnessing a piece of history that has never happened before and may never happen again," he said.
More Golden Knights: Follow all of our Golden Knights coverage online at reviewjournal.com/GoldenKnights and @HockeyinVegas on Twitter.
Contact Eli Segall at esegall@reviewjournal.com or 702-383-0342. Follow @eli_segall on Twitter.