Canadians aren't happy about Carrie Underwood's Knights fandom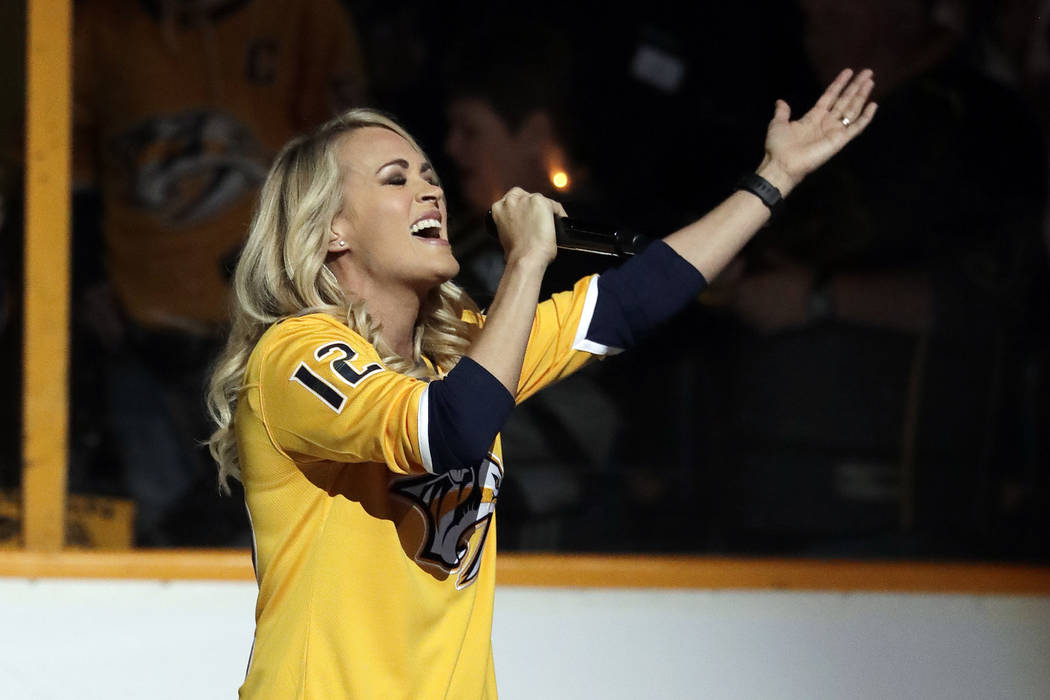 Carrie Underwood may be the Golden Knights' newest fan, but supporters of the Winnipeg Jets have proven they sure aren't a fan of hers.
After the singer posted on Twitter that she would be supporting the Knights during the Western Conference Final, even offering to sing the national anthem at a game, Canadian hockey fans fought back.
Underwood's husband Mike Fisher is from Canada and plays for the Nashville Predators, who were eliminated from the Stanley Cup playoffs by the Jets, the Knights' conference final opponent. Many of the jeering tweets asked if Underwood, an Oklahoma native, even cared about hockey prior to her marriage.
You're aware you married a Canadian, right? #NHLJets #Preds

— (((CANADA'S TEAM))) (@rivercitybum) May 11, 2018
Very poor sportsmanship…you would think her husband being Canadian..she would be POLITE…but this just proves her image is just fake

— gin (@trollstrubble) May 11, 2018
Before Mike did you even know what hockey was??? 23 of 39 players on @GoldenKnights are Canadian -3 from Winnipeg!
Go @NHLJets 🇨🇦 has your back!! #WPGWhitehout #GoJetsGo

— Janette Scott 🇨🇦 (@winemgr) May 11, 2018
Classless poor loser!! Have some respect to your husband and his team, win or lose. I can't imagine he's jumping on any other bandwagons like you have so easily done. Hope you don't break your ankles jumping from wagon to wagon. #GOJETSGO !!!

— 99medic99 (@medicshane) May 11, 2018
One of the reasons Underwood said she'd root for the Knights was that she'd "enjoy seeing them make a little history." Seemingly, no one told Underwood that the Jets will be making history as well, also appearing in its first ever conference final.
@carrieunderwood are you really that stupid? If the Winnipeg Jets win it will make history as well. Guess I USED to be a Carrie Underwood fan! Know your facts before you tweet lady. #WpgJets #WPGWhiteout  #WeWantTheCup

— Ashley Nash (@ashley__nash) May 11, 2018
And I guess I used to be an @carrieunderwood fan. If #Winnipeg wins it will also make history. #GoJetsGo

— Lisa Bjerring (@LBjerring) May 11, 2018
Some fans asked Underwood to "stick to singing," even making jabs at her stint on American Idol.
Stick to singing sweetie, you obviously don't know a thing about hockey…only 1 team in the conference finals has won a cup.

— Laura James (@laurabelle821) May 11, 2018
Sorry we hurt your feelings @carrieunderwood. I'm sure you'll be able to write a bunch of crappy country songs about it tho. #GoJetsGo

— Bryan Benjaminson (@mrbroom14) May 11, 2018
And I'm sticking with Kelly Clarkson, much more class and a better singer too

— Barry Chartrand (@barry1223) May 11, 2018
One fan even unilaterally decided that Underwood was no longer welcome in Winnipeg.
Guess your @PredsNHL jinxed themselves selling tickets to next series…smh what a classless act. Go ahead and cheer for Vegas and don't ever come to Winnipeg for a concert as you are NOT welcome! Besides your husband is a has been and should retire lol Mrs Underwood 🇨🇦💙🏒

— andrea t (@AndreaJohnt10) May 11, 2018
Knights' fans were more accepting of Underwood's move to the bandwagon.
Welcome! #GoKnightsGo pic.twitter.com/OhXIIRnmAb

— Adam Thomas (@RunninRebe1) May 11, 2018
— Sumner (@sumnerr94) May 11, 2018
However, there were many fans that were hoping Underwood wouldn't sing the anthem this series, like she had offered after announcing she'd be a Knights fan. Fans feel confident that the current playoff anthem singer, Carnell Johnson, will do the job just fine.
Thanks for the support and the kind offer. But the Golden Pipes of Carnell Johnson are 4-1 in the playoffs. #dancewittheonewhatbrungya

— Trevor Hayes (@iamthayes) May 11, 2018
No thanks, we have @goldenpipeslv #VegasBorn

— Chef Steve English (@VGKChef) May 11, 2018
I'd love to see you at intermission but @goldenpipeslv Carnell Johnson is our Anthem guy in the playoffs!

— Cayce Newton (@Cayce333) May 11, 2018
Johnson offered to let Underwood take the anthem so he could sing "O Canada," but who knows at this point if the Knights will take Underwood up on her offer.
Hey @carrieunderwood I'll take O Canada if you take The Star Spangled Banner. We have to be ready for some audience participation though… 😉😉😉 #GoKnightsGo #VegasBorn #NationalAnthem

— Carnell Johnson (@goldenpipeslv) May 11, 2018
More Golden Knights: Follow all of our Golden Knights coverage online at reviewjournal.com/GoldenKnights and @HockeyinVegas on Twitter.
Contact Elaine Wilson at ewilson@reviewjournal.com. Follow @WilsonElaineM on Twitter.