Golden Knights festival fires up fans in downtown Las Vegas
Updated January 14, 2018 - 11:10 pm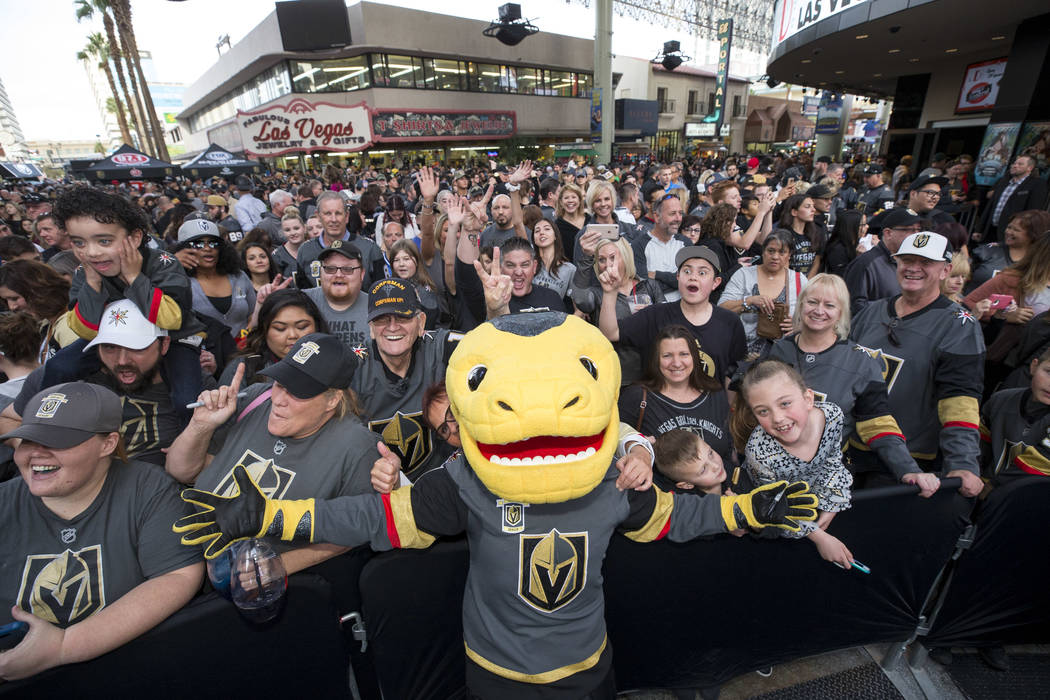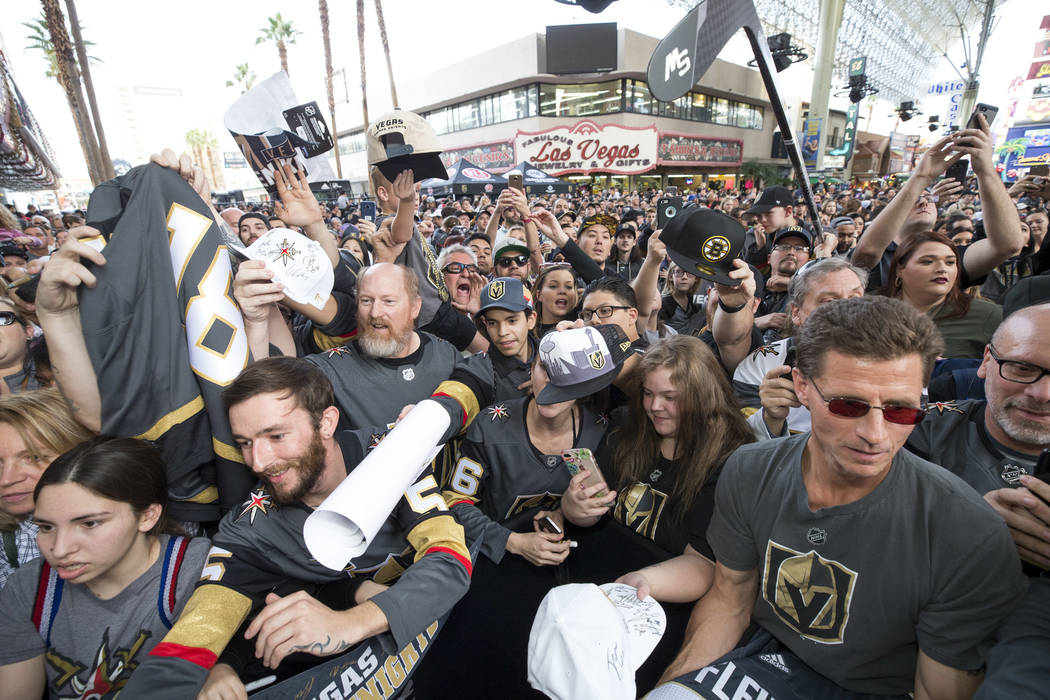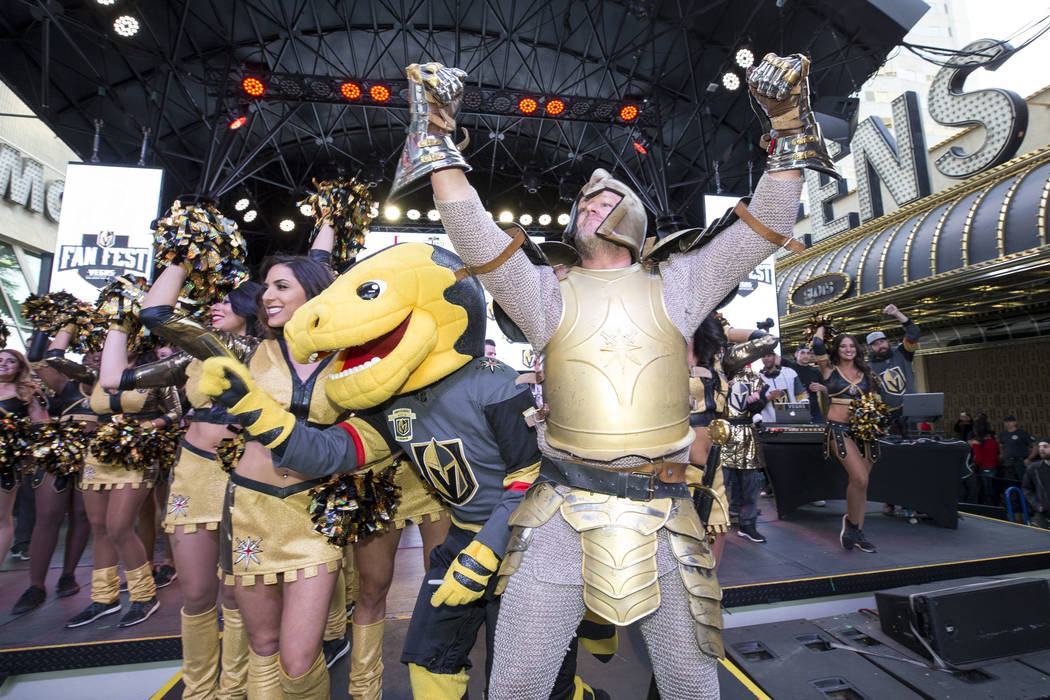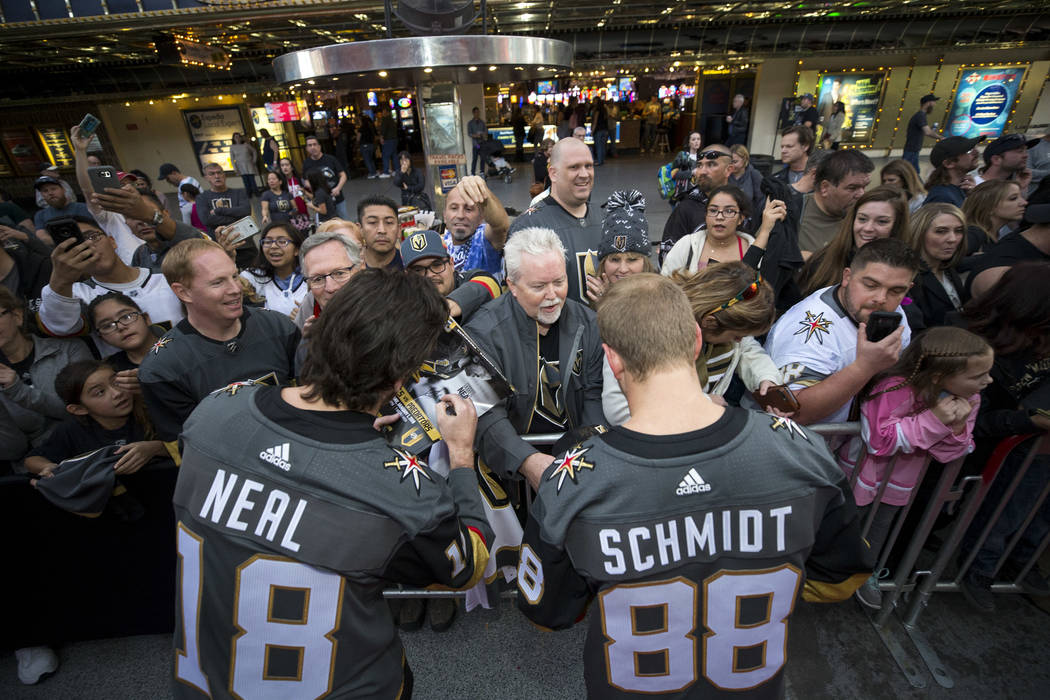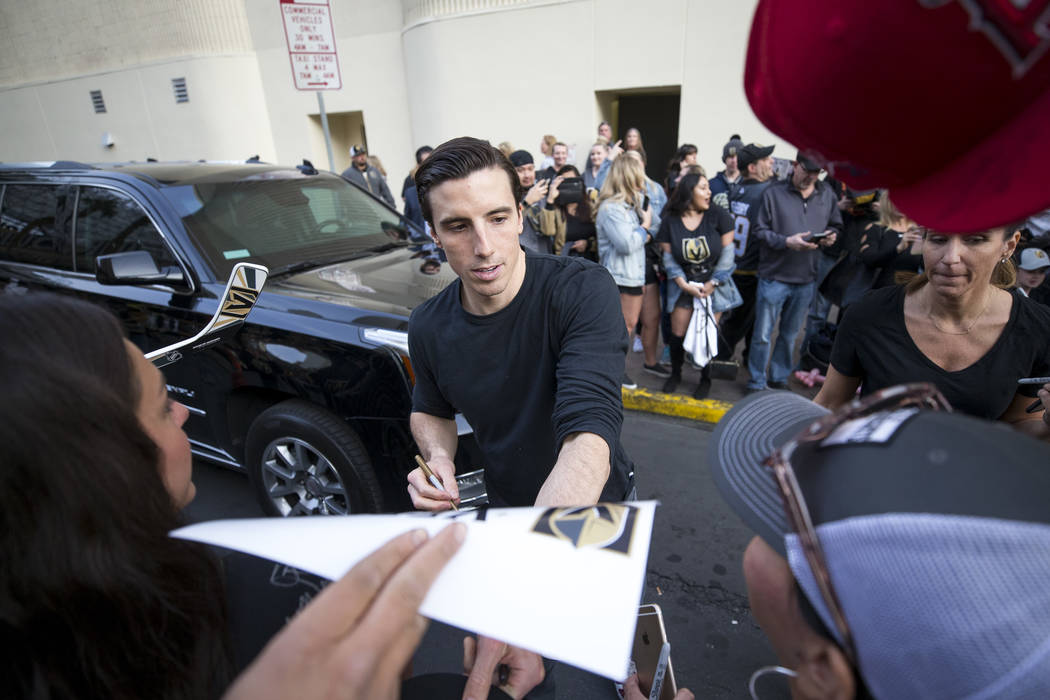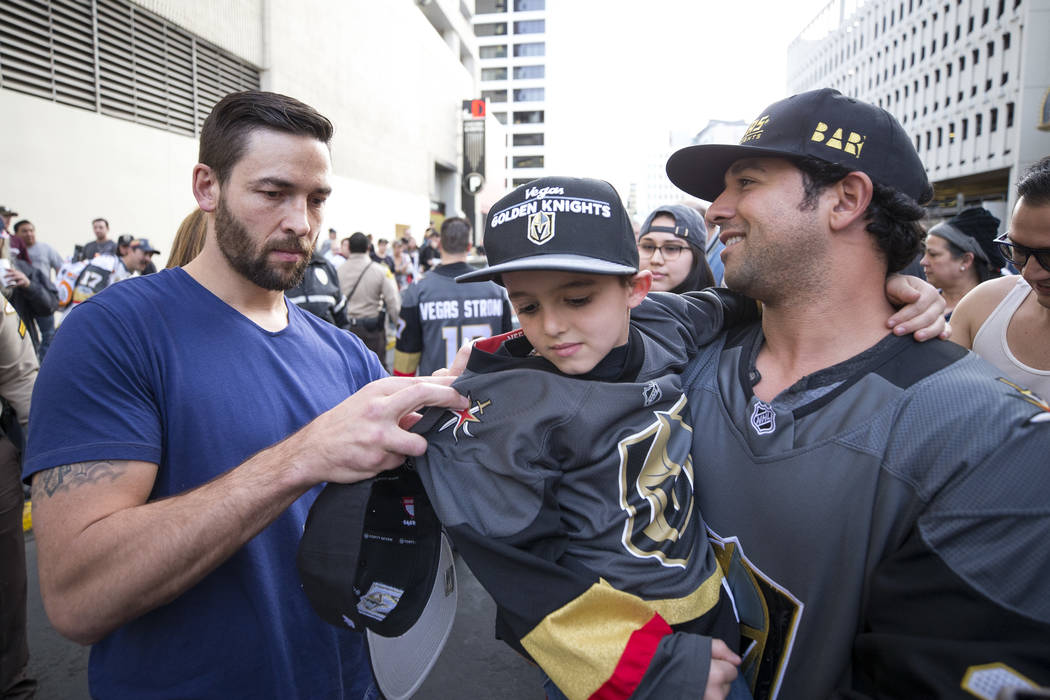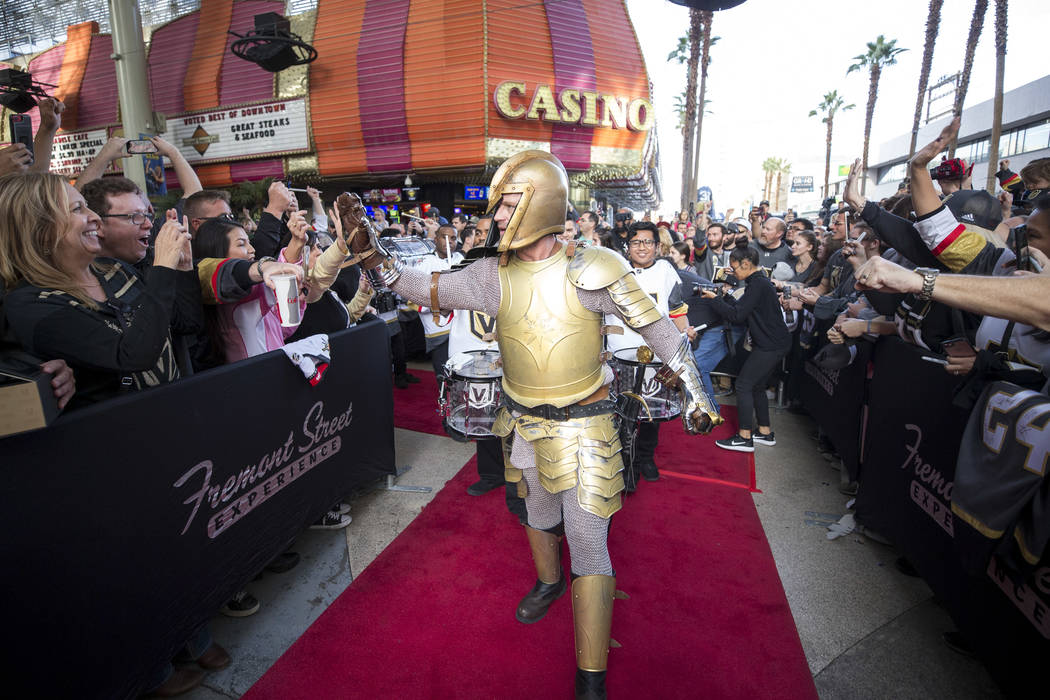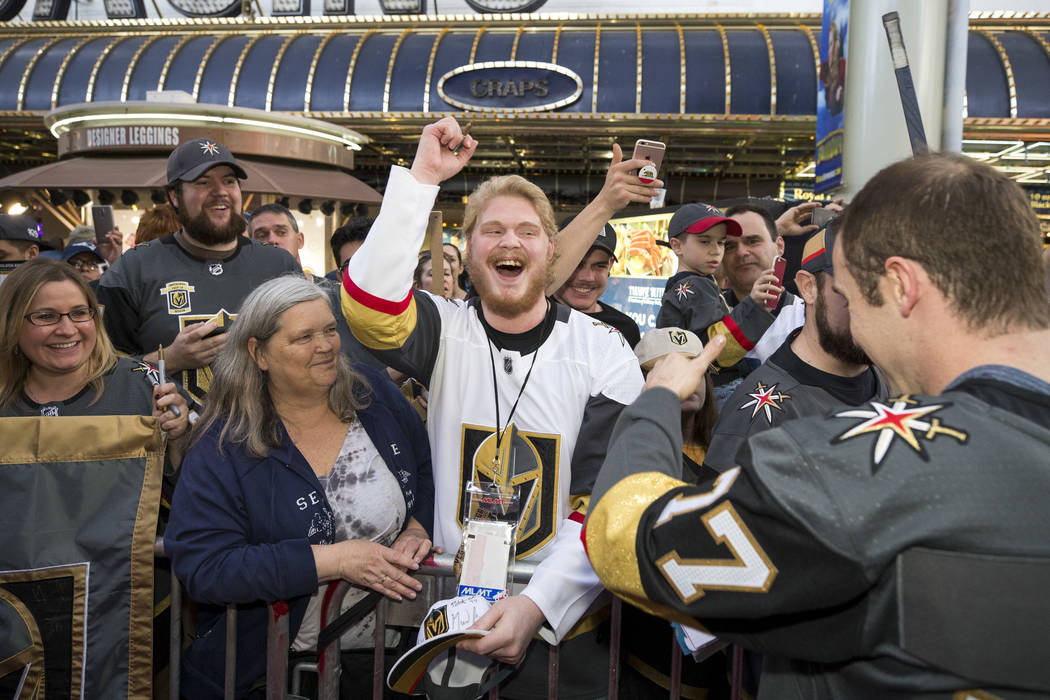 A sea of steel gray and gold flooded the Fremont Street Experience as thousands of fans turned out for the Golden Knights' fan fest Sunday afternoon.
"It's an awesome experience, it really is," said Chad Bajurin, who attended the downtown Las Vegas event with his wife, Monica.
The event, in partnership with the D Las Vegas, was the NHL team's first fan fest. The Golden Knights originally planned to hold it on Oct. 3, just before the start of their season-opening game. But they canceled the fan-themed celebration in the wake of the shooting on the Strip two days earlier.
The boom of drums echoed throughout the canopy as fans let out a roaring "Go, Knights, go!" The team's mascot, a Gila monster named Chance, cruised above the Fremont Street crowd on a zip line.
A large, inflatable Golden Knights jersey stood near a truck where fans lined up to buy team gear. Nearby, kids tried out their slap shots on an inflatable shootout game.
Chad Bajurin said the Henderson couple has been waiting a long time to see a professional team in Las Vegas.
"They did a great job putting it all together," Monica Bajurin said of the festivities.
Fans crammed against metal barricades Sunday afternoon as Golden Knights players walked a red carpet underneath the Fremont Street Experience canopy. Players made frequent stops to sign autographs and take photos with fans.
At the end of the red carpet, near the stage, stood 7-year-old Colton in a Knights hoodie and shiny-gold, high-top shoes. He attended the event with his dad.
"You're my favorite!" he told William Karlsson, the team's leading goal scorer. Eyes wide and mouth open, the Las Vegas boy watched in awe as the Swedish center signed his hat.
Jennifer McMillan of Las Vegas brought her two sons, Slayden, 10, and Brennan, 2, to meet some of their favorite players.
"We're big fans," McMillan said. "We actually went to their very first practice and we fell in love ever since."
The Golden Knights sit atop the Western Conference with a 29-10-3 record, second-best in the NHL.
Golden Knights star goalie Marc-Andre Fleury said he is no longer surprised by the strong support the team receives from the local community.
"From the first game, every game, it's been packed," he said. "The support we've gotten, you know, it's been tremendous."
Derek Stevens, co-owner of the D Las Vegas, said he plans to make the fan fest an annual event.
"You know, I grew up in Detroit and I got to see what hockey does in a community, and I think this town was ready for a major league franchise and the fact that they're this good just makes it even better," Stevens said. "This is just spectacular."
Steve Sisolak, chairman of the Clark County Commission, said no one anticipated the level of support on display Sunday.
"It's incredible. This just shows you how much the town, the city, is behind the Golden Knights," he said of Sunday's turnout. "It's euphoria. I mean, it's contagious. It's just the best thing you've seen in Vegas for a long, long time."
More Golden Knights: Follow all of our Golden Knights coverage online at reviewjournal.com/GoldenKnights and @HockeyinVegas on Twitter.
Contact Blake Apgar at bapgar@reviewjournal.com or 702-387-5298. Follow @blakeapgar on Twitter.