Golden Knights search for answers as offense again sputters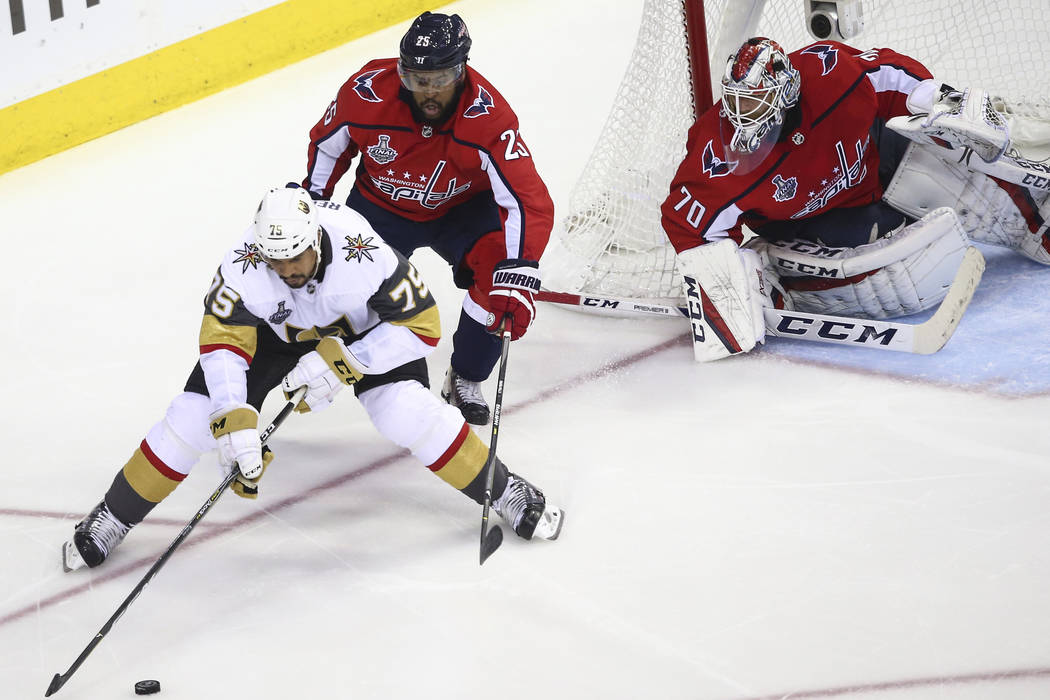 WASHINGTON — The Golden Knights have suddenly lost their way offensively.
The failure to effectively forecheck, create quality scoring chances and sustain control in the Washington Capitals' zone has the Knights trailing the Stanley Cup Final 2-1 after the Capitals dominated Game 3 on Saturday in a 3-1 victory at Capital One Arena.
"I think they're winning a lot of 50-50 battles, the little ones that go a long way at the end of a game," center Cody Eakin said. After scoring six goals in Game 1, the Knights have just three goals in two games. "They're keeping us to the outside, surrounding us, outnumbering us and we're not getting enough pucks to the net," Eakin said.
Once again, the Capitals were effective blocking shots and generating odd-man rushes. Washington blocked 26 shots Saturday; 13 players had at least one block. It was a contributing factor to the Knights' inability to sustain any offensive continuity as they finished with only 22 shots on goal.
"We're just too cute on the blue lines," forward Ryan Reaves said. "We get it out at our blue line and we try to make a cross-ice pass and they're picking it off and going the other way. Their transition game is really good and instead of getting it deep into their end and going hard, we're allowing them to control things.
"It's frustrating getting a lot of shots blocked. The D's got to get it through and the forwards have to create some chaos. It's defense. It's forwards. It's everybody."
The Capitals are also dominating at the faceoff circle. Saturday, they won 63 percent of the draws (39 of 62) which denied the Knights possession and control the puck. Of the four regular centers, William Karlsson had the best night taking faceoffs and he went just 50 percent (6 of 12).
"It's tough. It's tight out there," forward James Neal said. "But once we get it, we need to have some poise with the puck. We've got to make the right plays. We've got to make it easier on each other. Once we made a play, we're rushing the next one. We've got to have some poise and settle down a little bit."
The Knights' lone goal was the result of a hard forecheck by Pierre-Edward Bellemare, which pressured Washington goaltender Braden Holtby into a turnover behind his net. That set up Tomas Nosek, who was supporting the play and had an empty net to shoot at to bring the Knights within 2-1 early in the third period.
"We play simple hockey," Nosek said of his line. "We put pucks in and we go forecheck and create some chaos and go hard to the net. But as a team we're turning too many pucks over and it's feeding their offense. Our backcheck wasn't good either."
The Knights don't have a lot of time to figure things out. But Eakin believes they will come Monday for Game 4.
"We have what it takes," Eakin said. "It has to come from within the locker room, from within each other. We're still a confident group. It's still just one game. We've come back before."
More Golden Knights: Follow all of our Golden Knights coverage online at reviewjournal.com/GoldenKnights and @HockeyinVegas on Twitter.
Contact Steve Carp at scarp@reviewjournal.com or 702-387-2913. Follow @stevecarprj on Twitter.