1 of the Misfits keeps delivering in the clutch for Knights
Updated May 22, 2023 - 2:03 pm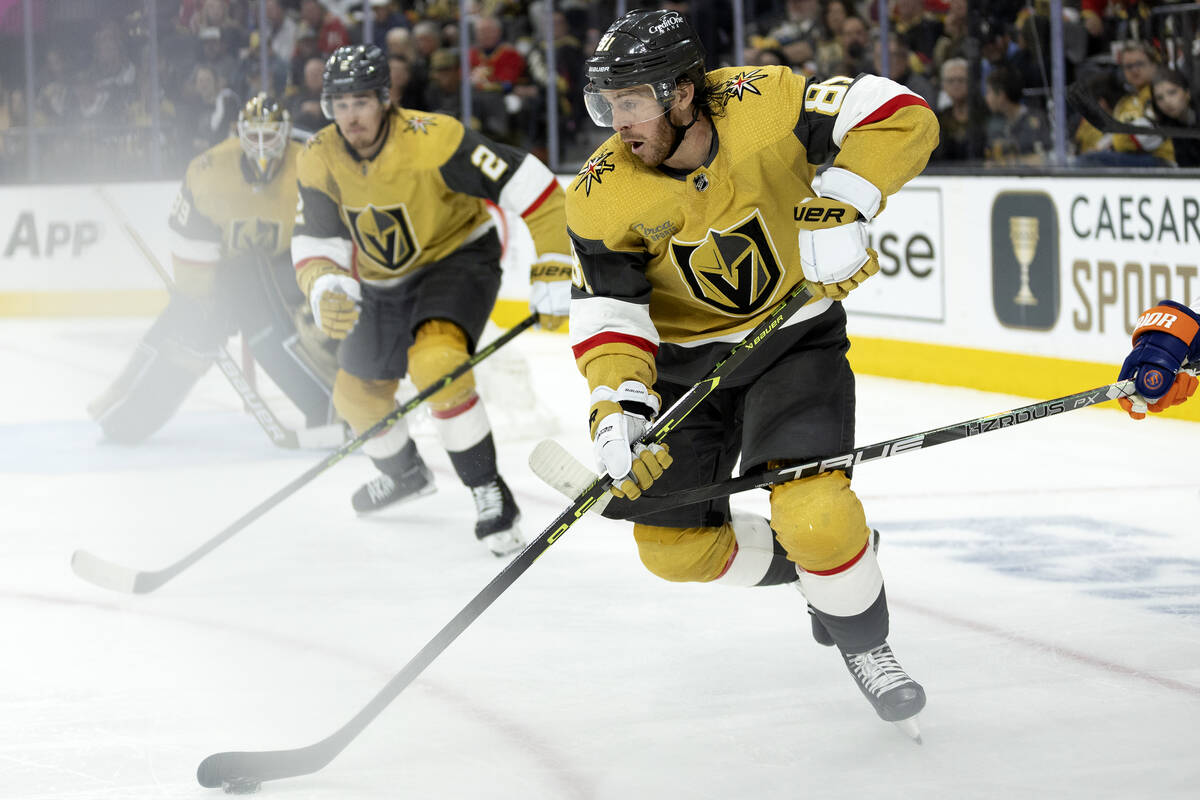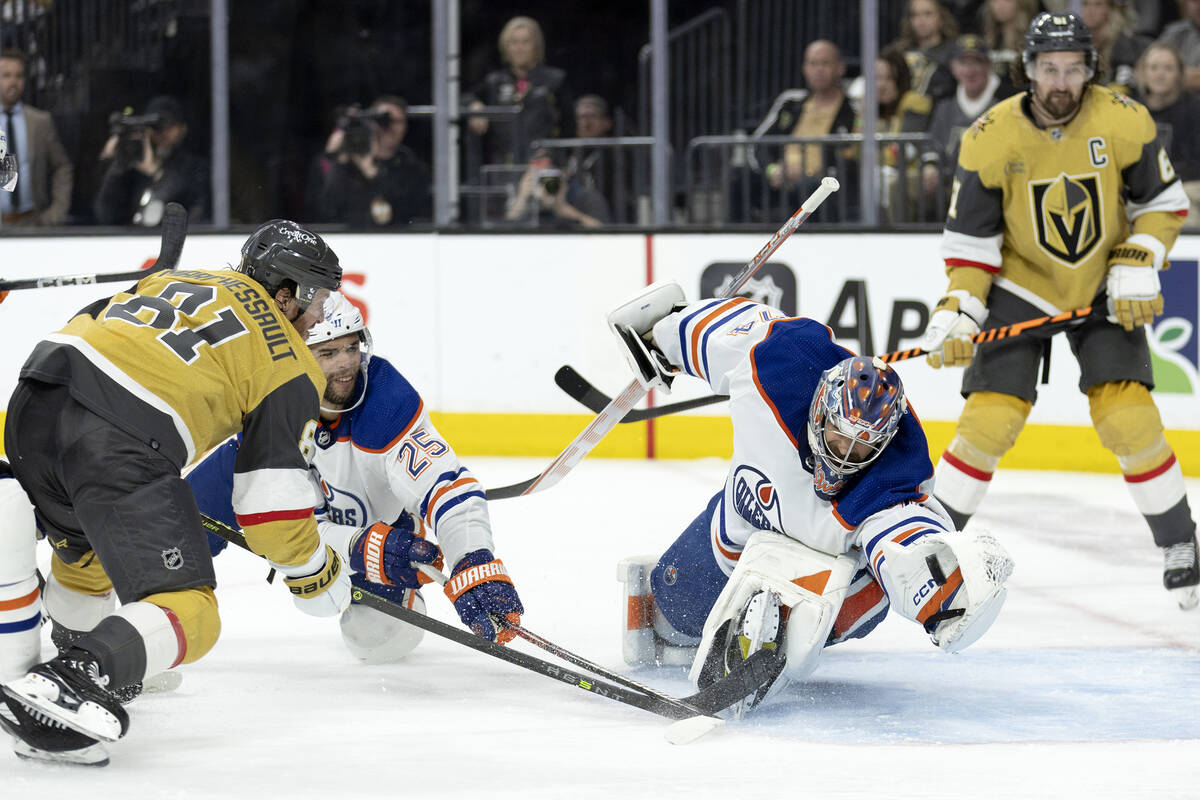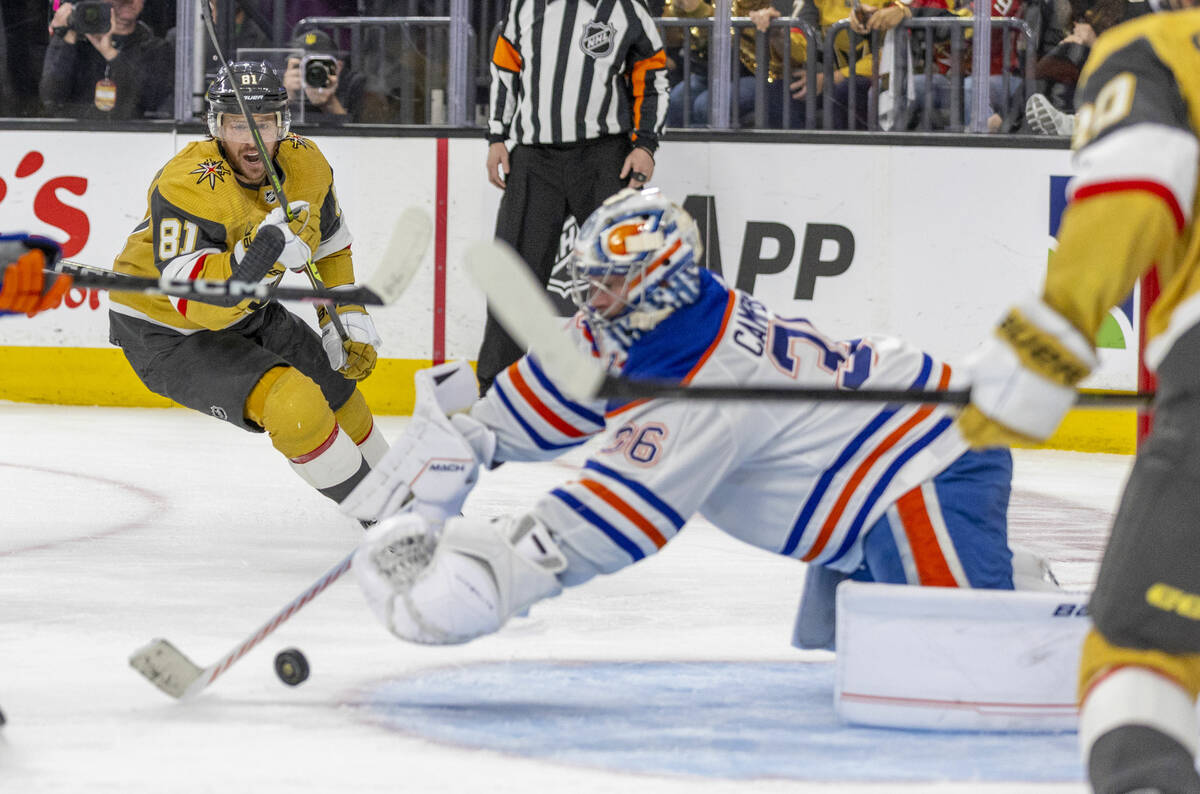 Golden Knights coach Bruce Cassidy said after a Game 6 win over Edmonton that he was learning about Jonathan Marchessault's knack for scoring huge goals in the playoffs.
Cassidy had heard about it. He delved into it a little. But seeing it with his own eyes was different.
He's had plenty of experience in the Knights' past six games. Marchessault has scored six goals in that span, including two game winners and one game-tying goal in the third period of a 3-2 overtime win in Game 2 of the Western Conference Final on Sunday at T-Mobile Arena.
It's impressive and old hat at the same time. Marchessault has scored 27 goals in 79 playoff games for the Knights. Five have been game winners, three tied the score in the third and one more gave his team a late lead.
"He does find a nose for the net," Cassidy said. "He's a good guy to have on your team, those guys that score under pressure."
Marchessault wasn't up to his usual tricks to start the playoffs.
He scored 28 goals in the regular season — extending his franchise-leading tally to 150 in six years — but wasn't finding the same level of success early on against Winnipeg and Edmonton in the first two rounds. Marchessault had two assists through seven games.
But the Knights knew he couldn't be held back forever. He was generating chances, firing 23 shots on net during his goal drought. The team was confident some of those would start to go in with how well Marchessault, center Jack Eichel and left wing Ivan Barbashev were clicking as a line.
"A player like that, it's only so many chances before he starts scoring, right?" defenseman Alex Pietrangelo said. "(Marchessault's) an elite shooter. You put him on the ice with a guy who sees the ice like Jack, you just got to give him the puck and he'll find a way to score."
The Knights' faith was well-placed.
Marchessault broke out of his slump in a 5-1 win in Game 3 over Edmonton, then finished off the Oilers with his second playoff hat trick in Game 6. His neighbors even threw a few caps on his lawn in celebration.
He's carried his play into the Western Conference Final. When the Knights needed a goal late in Game 2, it was Marchessault who placed an incredible backhand pass from Eichel into the top of the Stars' net.
The play tied the game 2-2 with 2:22 left in the third period before the Knights notched their third overtime win of the playoffs.
"Once (Marchessault) scored, it brought a lot of life to us," center Chandler Stephenson said. "After that one, it was, 'All right, we're back in this.'"
That latest clutch goal has Marchessault, one of the six original members of the Knights still with the franchise, two wins from returning to the Stanley Cup Final.
It's something he's worked so hard to do for the past five years. He's helped the team come close in semifinal losses to Dallas in 2020 and Montreal in 2021.
Marchessault and the Knights want this season to be different. He's showing that on the ice by doing the same thing he always does in the playoffs.
"This year we have the best team we've ever had, I think," Marchessault said. "We're not only on paper. The way we play, I think that's the biggest thing. We're playing good hockey right now."
Contact Ben Gotz at bgotz@reviewjournal.com. Follow @BenSGotz on Twitter.
Up next
Who: Golden Knights at Stars
What: Western Conference Final
When: 5 p.m. Tuesday
Where: American Airlines Center, Dallas
TV: ESPN
Radio: KKGK (98.9 FM, 1340 AM)
Line: Stars -135; total 5½
Series schedule
Knights lead 2-0
Game 1 — Golden Knights 4, Stars 3 (OT)
Game 2 — Golden Knights 3, Stars 2 (OT)
Game 3 — 5 p.m. Tuesday, American Airlines Center (ESPN)
Game 4 — 5 p.m. Thursday, American Airlines Center (ESPN)
Game 5* — 5 p.m. Saturday, T-Mobile Arena (KTNV-13)
Game 6* — 5 p.m. Monday, American Airlines Center (ESPN)
Game 7* — 6 p.m. May 31, T-Mobile Arena (ESPN)
* If necessary
All games will be broadcast on KKGK (98.9 FM, 1340 AM)