Golden Knights buy AHL franchise to relocate to Las Vegas Valley
Updated February 6, 2020 - 8:33 pm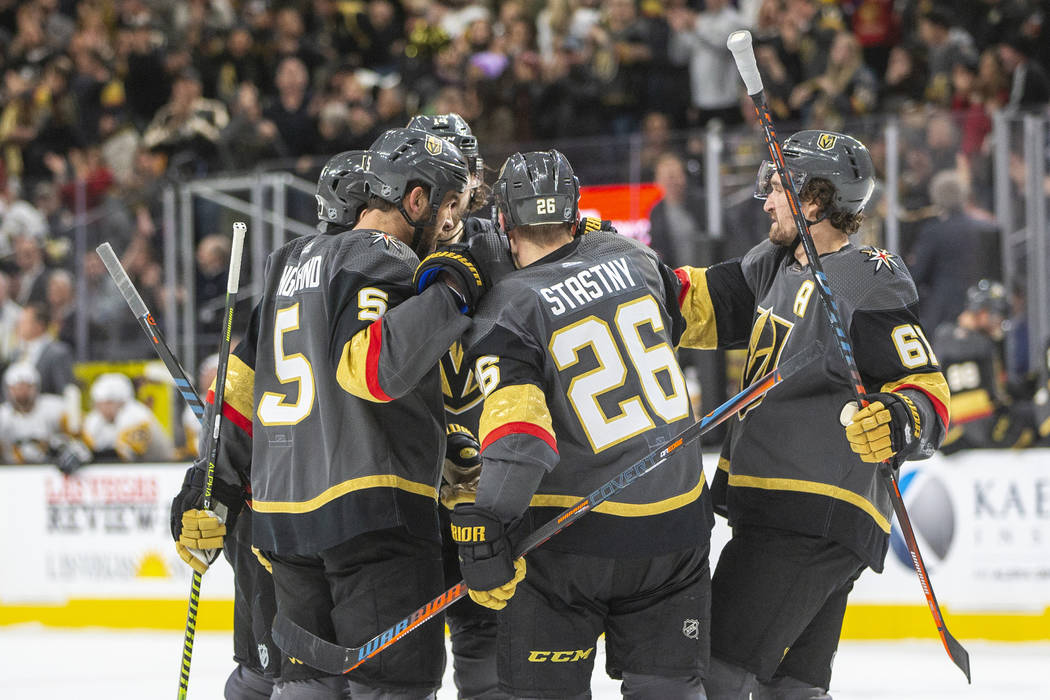 The Golden Knights went shopping for an American Hockey League franchise and wasted little time driving it off the lot.
The team announced Thursday that it purchased San Antonio's AHL franchise and intends to relocate the minor league club to the Las Vegas Valley in time for the 2020-21 season.
The sale and relocation is pending approval from the American Hockey League Board of Governors. Terms of the deal for the franchise were not disclosed.
Went shopping for socks and a few groceries today….

Ended up splurging on an @TheAHL franchise ¯_(ツ)_/¯

(pending approval 😜)https://t.co/QGNRCwP2kz

— Vegas Golden Knights (@GoldenKnights) February 6, 2020
"Since our initial season-ticket drive began five years ago in February 2015, we have witnessed firsthand the incredible passion and enthusiasm our community has for hockey," Knights majority owner Bill Foley said in a statement. "By every relevant metric, the growth of the game here the last few years at all levels has been remarkable. We could not be more proud to bring a second professional hockey club to the valley to accelerate this growth even further."
The San Antonio franchise will continue to play in Texas through the end of 2019-20 regular season and playoffs before it is relocated to Henderson/Las Vegas.
The Rampage have played in San Antonio since 2002 and were purchased in 2005 by Spurs Sports & Entertainment, which also owns the NBA franchise.
Spurs Sports & Entertainment has announced the sale of the San Antonio Rampage to the Vegas Golden Knights.

More: https://t.co/Zs1u8TsjLG pic.twitter.com/lnqze2CDhJ

— San Antonio Rampage (@sarampage) February 6, 2020
The team, which is affiliated with the St. Louis Blues, ranks in the middle of the AHL in attendance, averaging just under 6,000 fans at 16,151-seat AT&T Center.
"We are extremely grateful to our staff, our fans and our partners who have supported the Rampage for the last 18 years," R.C. Buford, CEO of Spurs Sports & Entertainment, said in a statement. "While this was a difficult decision to make, we believe this move is best for the long-term success of Spurs Sports & Entertainment."
AHL president David Andrews said during his State of the League news conference Jan. 27 that the Knights were interested in buying an AHL team and moving it to the valley.
The local AHL club, which has yet to be named, will feature players who are under contract with the Knights. That includes the majority of the current Chicago Wolves roster.
The Knights signed a five-year affiliation agreement with Chicago in 2017, but Wolves chairman Don Levin told the Chicago Sun-Times on Saturday that the partnership was set to dissolve.
The Wolves will find a new NHL player affiliation and could hook up with the Blues or another team. The Blues and Wolves had an affiliation agreement from 2013 to 2017.
"We are aware of the news regarding Vegas purchasing the San Antonio organization," Blues president and general manager Doug Armstrong said in a statement. "The Blues will finish the remainder of the 2019-20 season with San Antonio as our AHL affiliate. In the meantime, our pursuit of a new minor league affiliate will begin immediately. We will have no further comment on this topic at this time."
The sale continues a trend of NHL teams buying and relocating their top minor league affiliate closer to home. The Knights would be the 20th NHL club, including Seattle, to own an AHL team.
Five Pacific Division clubs moved minor league teams to California in 2015, and Seattle's AHL affiliate will start play in Palm Springs, California, in 2021.
The move also helps cut down on travel when the Knights need to recall or reassign a player.
The approximately 1,750-mile trip from Chicago to Las Vegas is one of the longest in the AHL between a parent club and its affiliate. Only Utica, New York, almost 3,000 miles from Vancouver, British Columbia, is farther.
"It's been a goal of the Vegas Golden Knights to have our AHL team located in our market since our team's inception," Knights president of hockey operations George McPhee said in a statement. "We are now closer to realizing this goal than we have ever been before. Last season, more than 87 percent of all NHL players were graduates of the AHL.
"Local fans will be able to track Golden Knights prospects as they progress through our system, advance to the AHL and look to reach their potential as NHL players. This move will effectively centralize our hockey operations and streamline our processes in terms of player development, scouting, transfers and staffing."
The Knights' new farm team will be based at the under-construction Lifeguard Arena in Henderson and is expected to play its home games at Orleans Arena.
A spokesperson for Boyd Gaming, which operates the arena, said it was an "exciting announcement for the entire community" but declined further comment.
Henderson city officials also declined to comment on the impending arrival of minor league hockey.
Season tickets to the minor league team can be reserved for a $50 refundable deposit at vgk.io/ahl-vegas. Current Knights season ticket holders who place a deposit will receive priority access for seat selection.
The average ticket price to an AHL game is $22 to $24, according to a league spokesperson. Tickets to the Rampage range from $14 to $65. Wolves tickets cost $12 to $53.
"By bringing an AHL franchise to the desert, our fans will have more opportunities to experience the sport they love in the place we call home," Knights president Kerry Bubolz said. "With our new community ice center under construction at Lifeguard Arena in Henderson, the club will have a world-class practice facility as their team headquarters."
Contact David Schoen at dschoen@reviewjournal.com or 702-387-5203. Follow @DavidSchoenLVRJ on Twitter.
Closest AHL affiliates to NHL parent clubs
Manitoba/Winnipeg (0 miles)*
San Jose/San Jose (0 miles)*
Toronto/Toronto (0 miles)
Laval/Montreal (20 miles)
Ontario/Los Angeles (40 miles)
Providence/Boston (55 miles)
Colorado/Colorado (60 miles)
Lehigh Valley/Philadelphia (60 miles)
Bridgeport/New York Islanders (70 miles)
Rochester/Buffalo (75 miles)
Rockford/Chicago (90 miles)
San Diego/Anaheim (100 miles)
Hartford/New York Rangers (120 miles)
Tucson/Arizona (125 miles)
Hershey/Washington (130 miles)
Belleville/Ottawa (145 miles)
Cleveland/Columbus (145 miles)
Charlotte/Carolina (150 miles)
Grand Rapids/Detroit (160 miles)
Binghampton/New Jersey (170 miles)
Texas/Dallas (200 miles)
Iowa/Minnesota (250 miles)
Wilkes-Barre/Scranton/Pittsburgh (300 miles)
Milwaukee/Nashville (575 miles)
San Antonio/St. Louis (900 miles)
Syracuse/Tampa Bay (1,275 miles)
Stockton/Calgary (1,300 miles)
Springfield/Florida (1,400 miles)
Bakersfield/Edmonton (1,745 miles)
Chicago/Golden Knights (1,750 miles)
Utica/Vancouver (2,950 miles)
* — Play in same arena.
AHL franchises owned by parent club
Bakersfield (Edmonton)
Belleville (Ottawa)
Binghamton (New Jersey)
Bridgeport (New York Islanders)
Hartford (New York Rangers)
Iowa (Minnesota)
Laval (Montreal)
Manitoba (Winnipeg)
Ontario (Los Angeles)
Rochester (Buffalo)
San Diego (Anaheim)
San Jose (San Jose)
Stockton (Calgary)
Texas (Dallas)
Toronto (Toronto)
Tucson (Arizona)
Utica (Vancouver)
Wilkes-Barre/Scranton (Pittsburgh)