Golden Knights close homestand with loss to Blue Jackets
Updated January 11, 2020 - 11:16 pm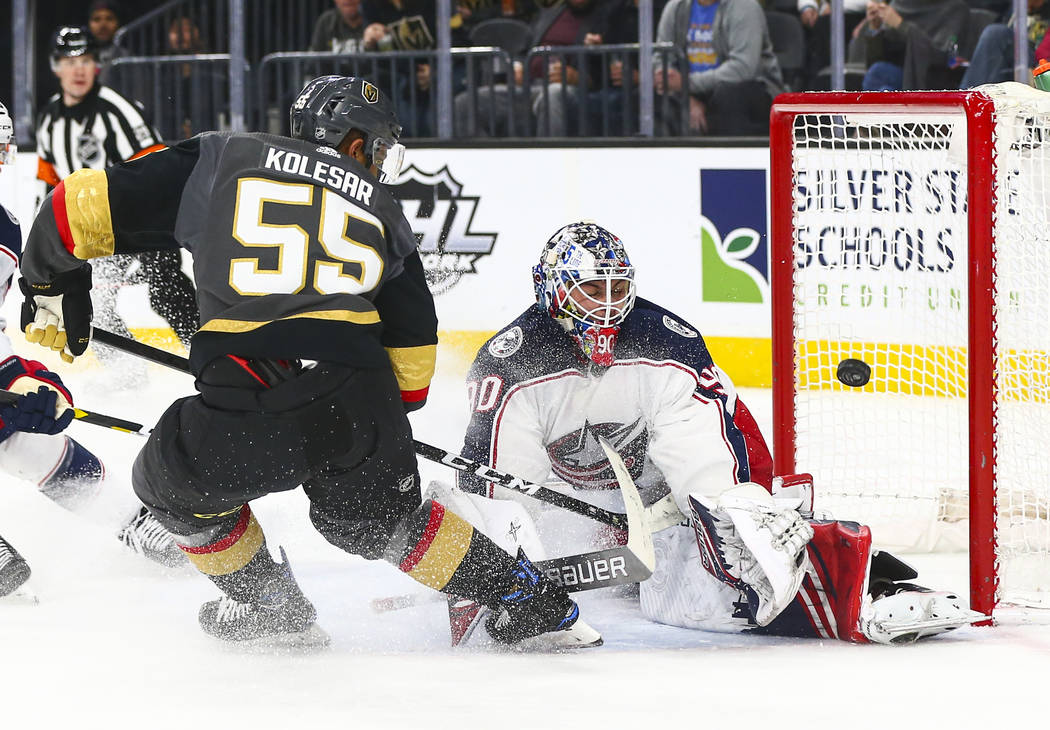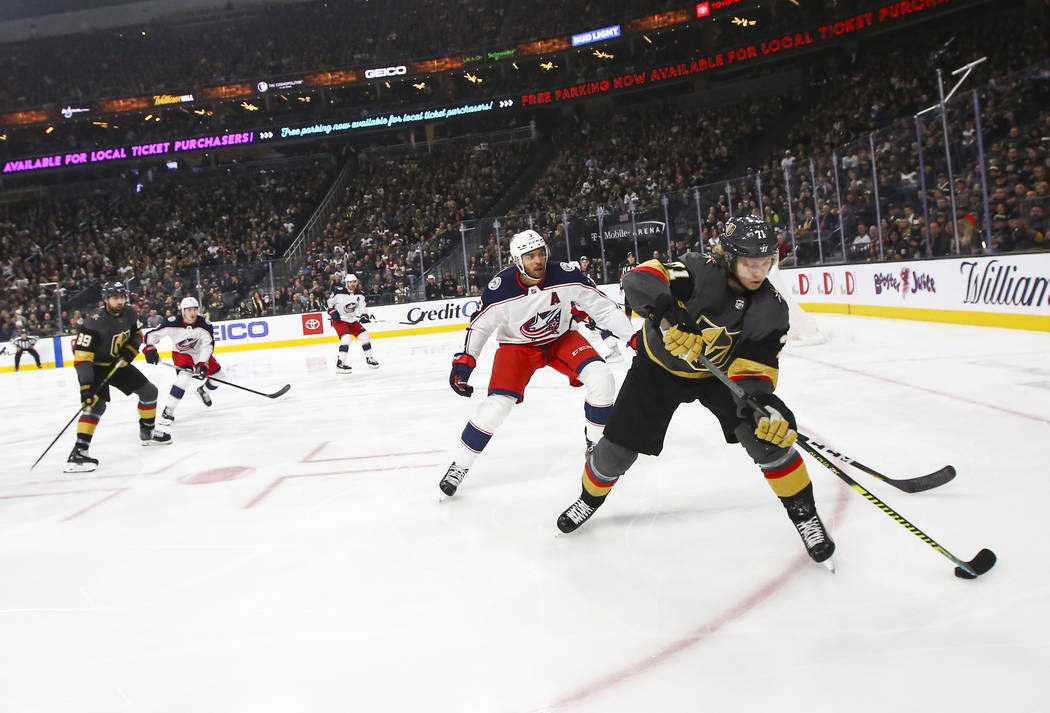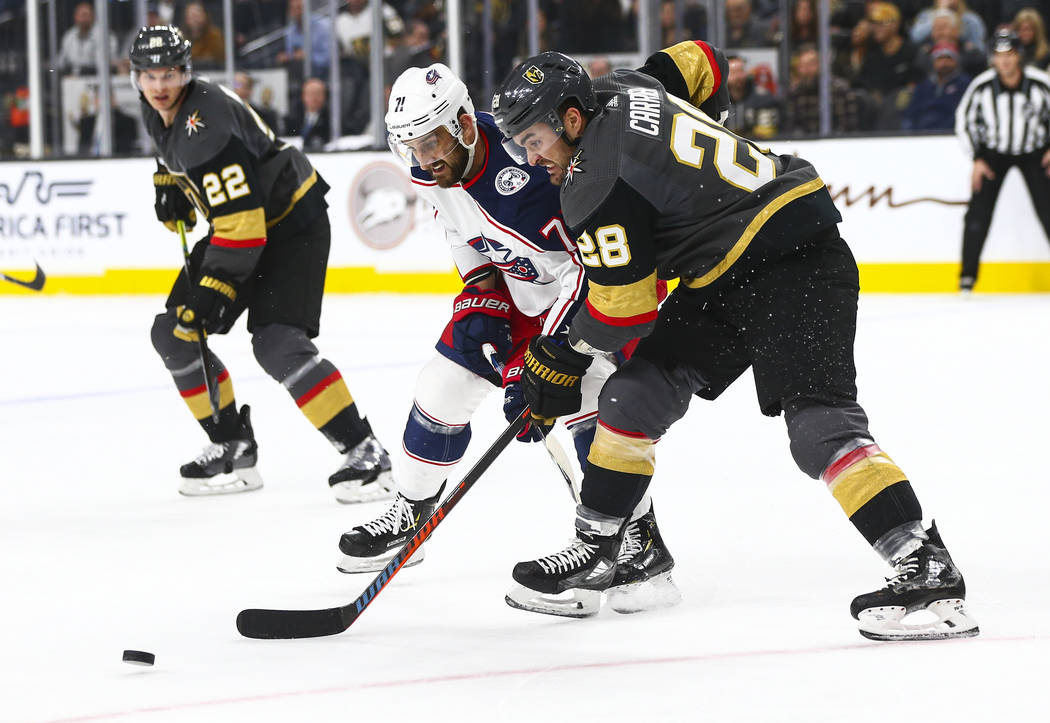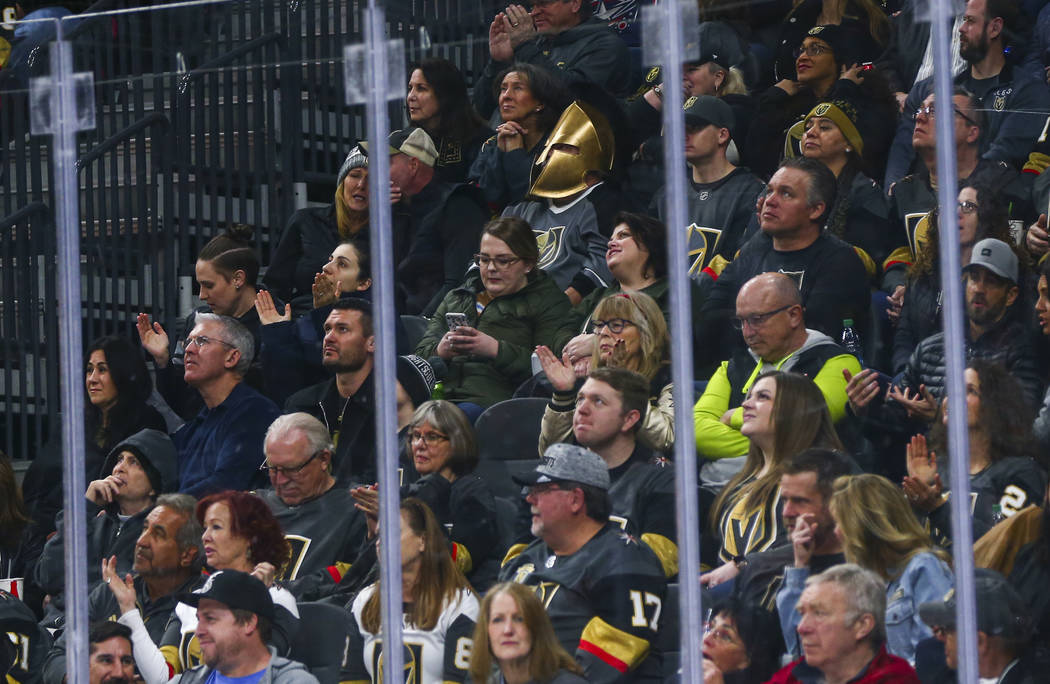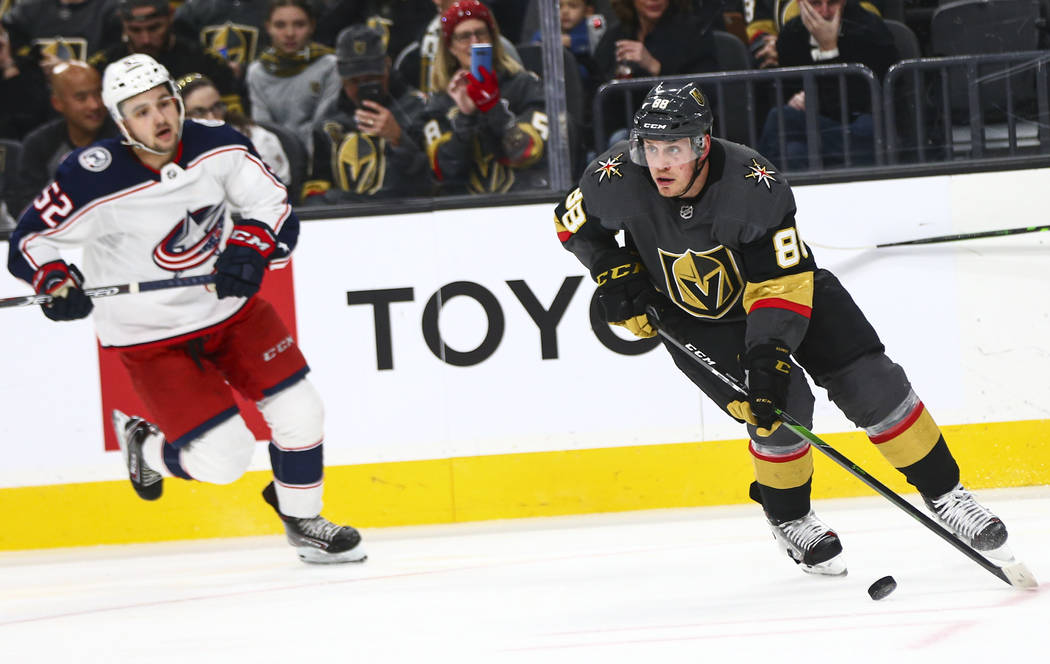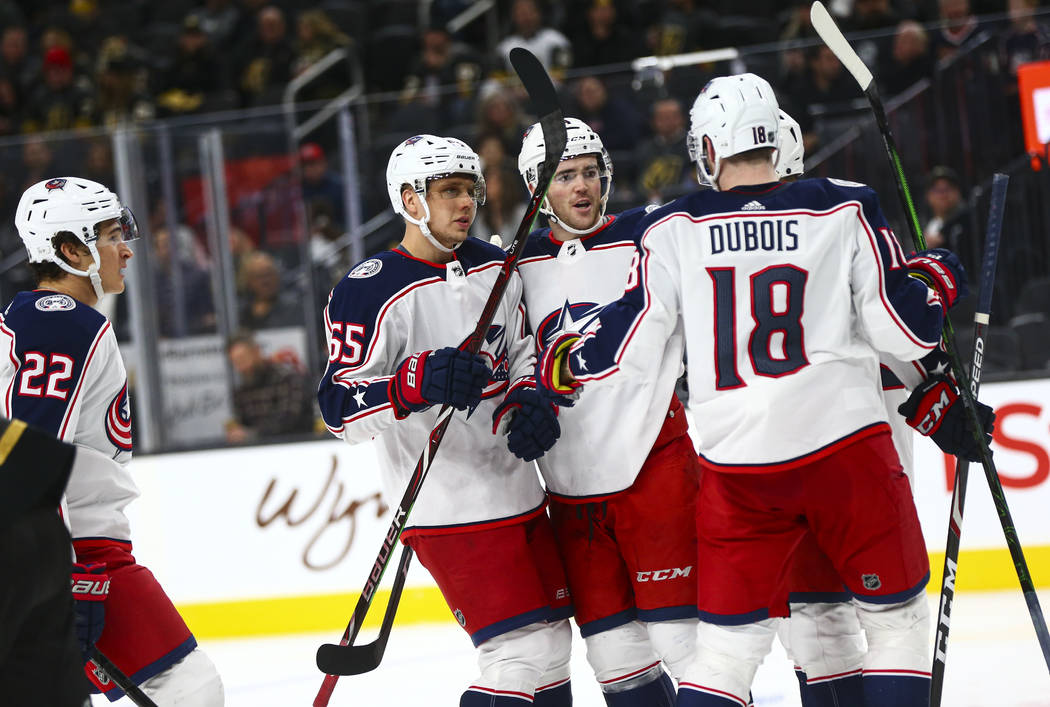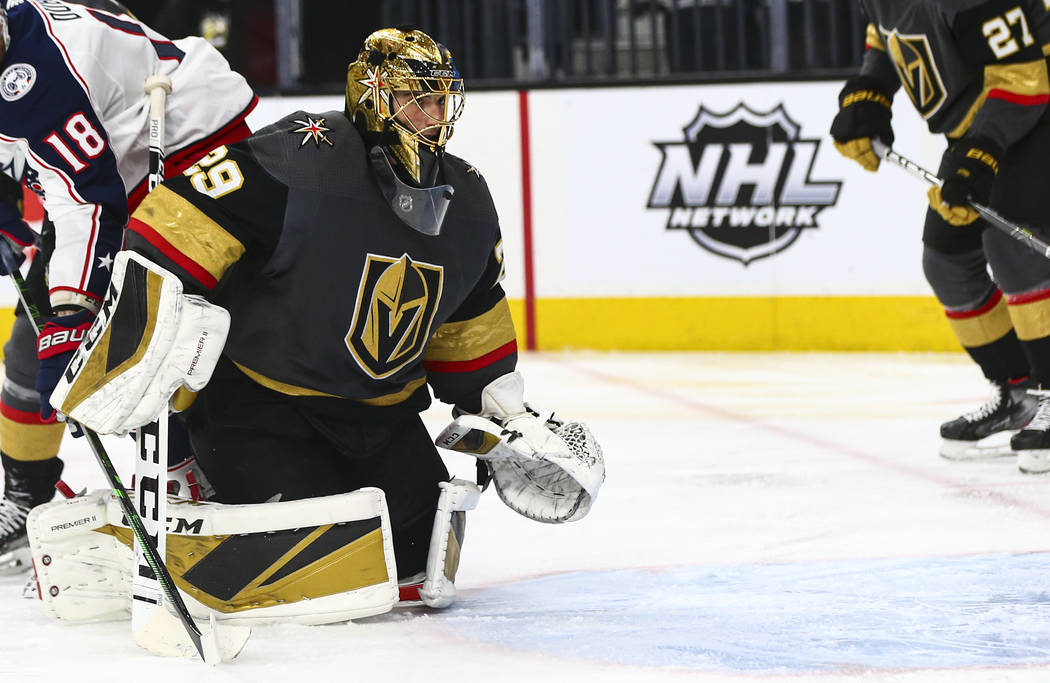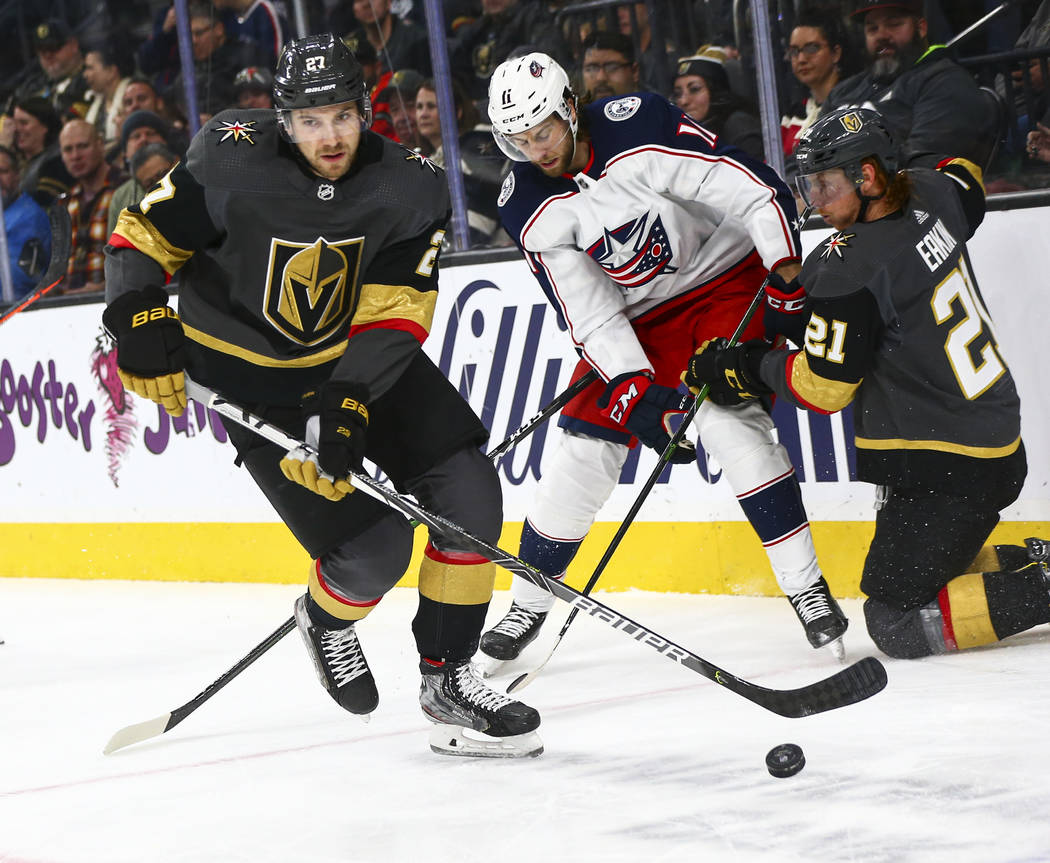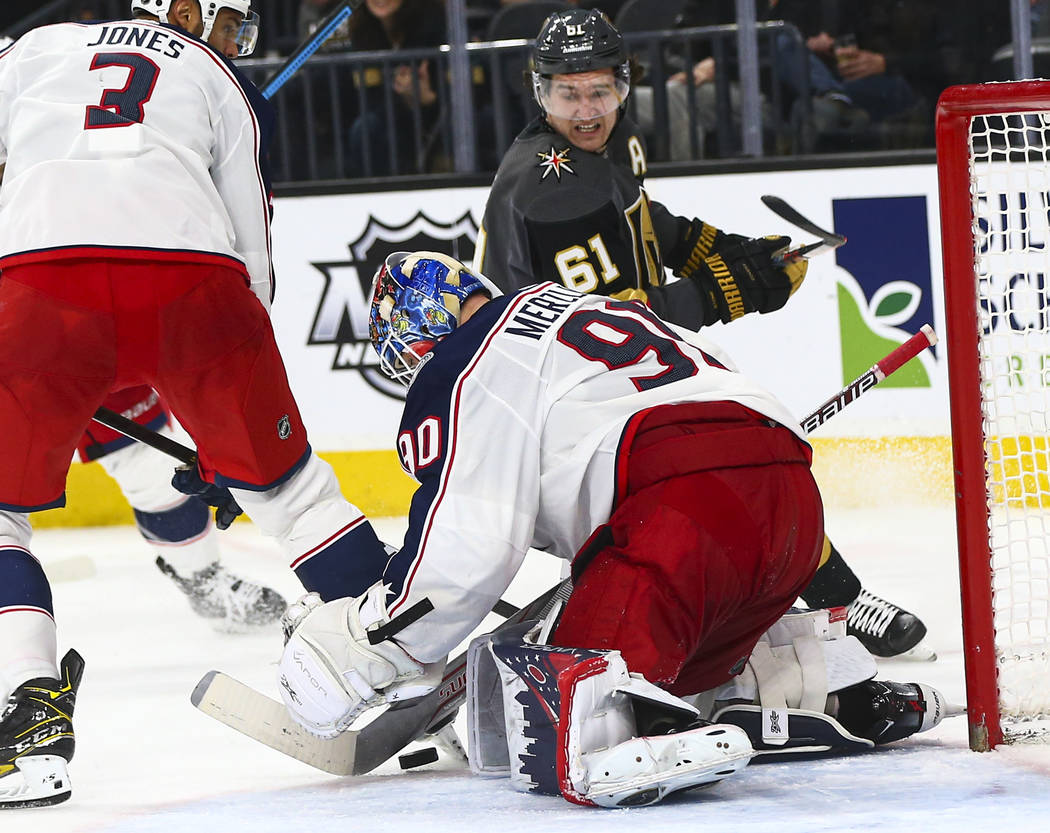 The Golden Knights bid farewell Saturday to T-Mobile Arena for the next 28 days. And the timing of their departure couldn't be better.
Columbus' Elvis Merzlikins made 27 saves for his first career shutout, and the Golden Knights were booed at the end of their 3-0 loss by the remainder of the announced crowd of 18,400.
"We looked like we were skating in sand tonight," coach Gerard Gallant said. "I think the crowd sarcastically cheered when there was six minutes left when Shea Theodore threw a hit, and I don't blame them. It was a soft game, and we've got to play harder than that."
The Knights, who lost their third straight, fell into third place in the Pacific Division. They play nine of their next 10 on the road starting Tuesday in Buffalo and don't return home again until Feb. 8.
The Knights were unable to convert on an early power play and finished 0-for-3 with the man advantage.
Reilly Smith had a chance to bring the Knights within a goal early in the third period when he streaked in from the right wing, but his shot went off the crossbar.
Marc-Andre Fleury finished with 19 stops.
Emil Bemstrom, Pierre-Luc Dubois and Alexander Wennberg had the Blue Jackets' goals.
"It's Elvis, he has a shutout in Vegas," Blue Jackets coach John Tortorella said. "That should be your headline."
Here's what stood out from the Knights' loss:
1. Limping across the finish line
The season-long, seven-game homestand started out promising with four straight wins, including a historic comeback against Western Conference-leading St. Louis.
But it finished with a thud.
The Knights fell to 14-10-3 at home and lost three in a row after winning seven of their previous eight at T-Mobile Arena.
They were outscored 10-0 in the first period of their past four home games.
"Basically a great start and not a great finish," right wing Mark Stone said. "Seven games at home is tough. I think if you look around the league, seven-game homestands I don't think teams do. We're in a position where we like where we're at, we just need to find our game again."
2. Rinse, repeat
Keegan Kolesar's NHL debut and Chandler Stephenson's return to the pivot between Max Pacioretty and Stone wasn't enough to prevent another slow start by the Knights.
After holding Columbus without a shot on goal for almost nine minutes to open the game, the Knights took a pair of penalties and lost the momentum as they allowed the first goal for the sixth straight game.
Columbus' Emil Bemstrom scored a power play goal with 3:22 left, and the Knights mustered four shot attempts in the final 12 minutes.
"Tonight we played better to start the game, but they scored that first one and when you play a team like that that doesn't give up much, that plays good defensively, sometimes that's all they need," Paul Stastny said.
3. Don't be cruel
The last performance in Las Vegas by Elvis was Dec. 12, 1976, but Blue Jackets goalie Elvis Merzlikins had the Knights all shook up.
He made two key stops in the second period on Stastny and Nate Schmidt, respectively, and celebrated his victory by strumming an air guitar before leaping into Nick Foligno's arms.
"I had to do it because we are in Vegas and really I had to," Merzlikins said. "It was my toughest three minutes of my life, I think, because I was already seeing the movie in my eyes that I'm doing the celebration."
Fleury made a fantastic diving glove save on Seth Jones in the third period, but also misplayed the puck behind his net, leading to the Blue Jackets' second goal.
Contact David Schoen at dschoen@reviewjournal.com or 702-387-5203. Follow @DavidSchoenLVRJ on Twitter.