Golden Knights star tries to 'refind' game after returning
Updated January 18, 2023 - 6:42 pm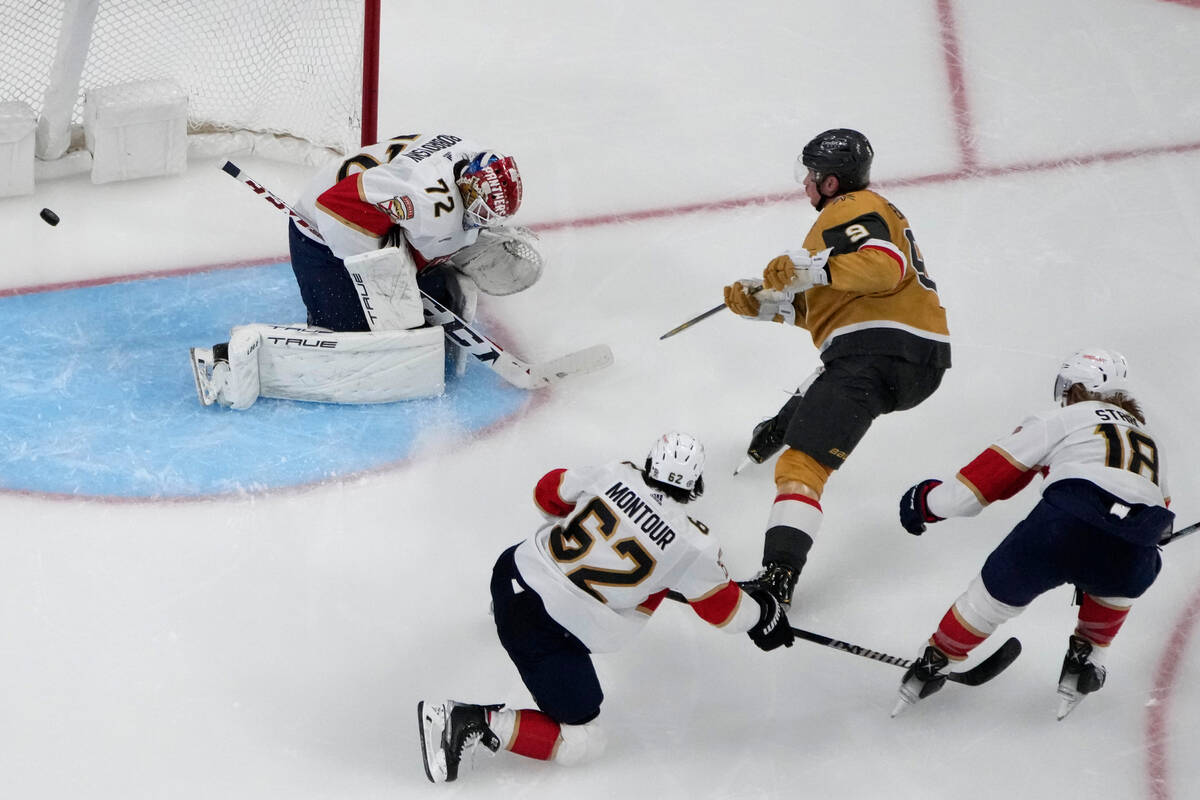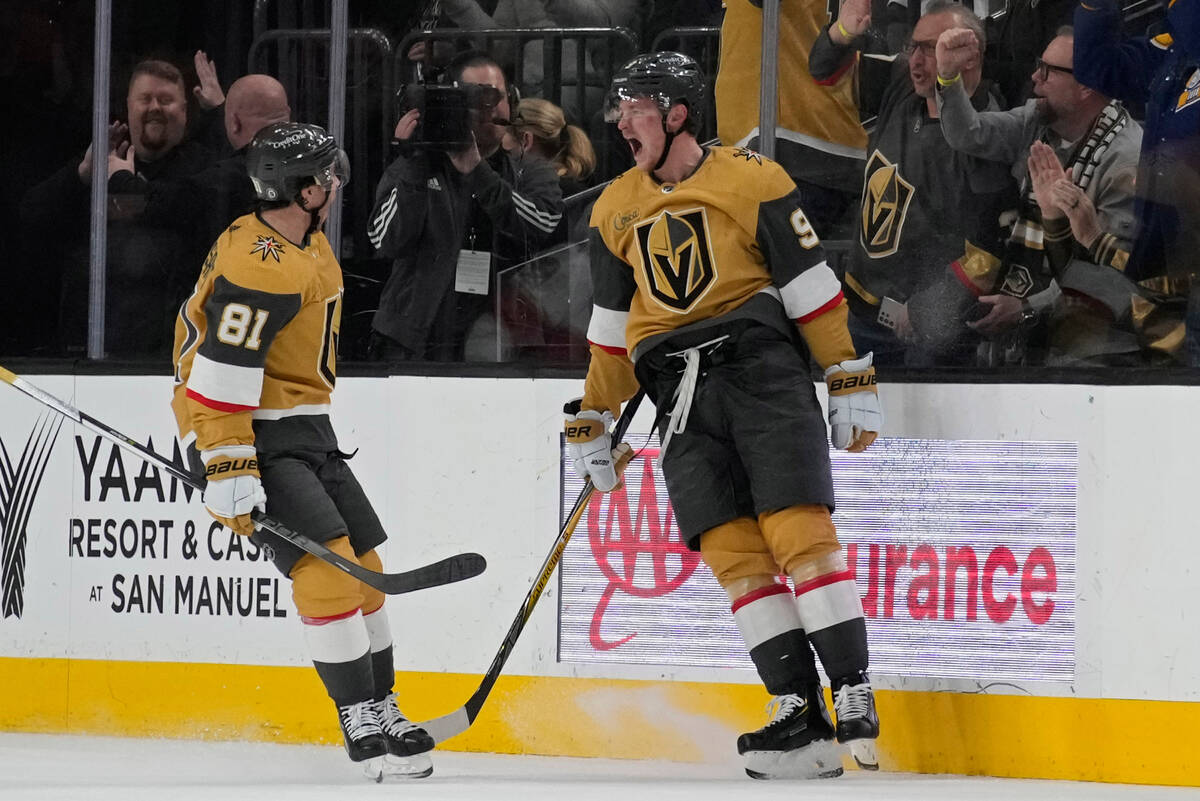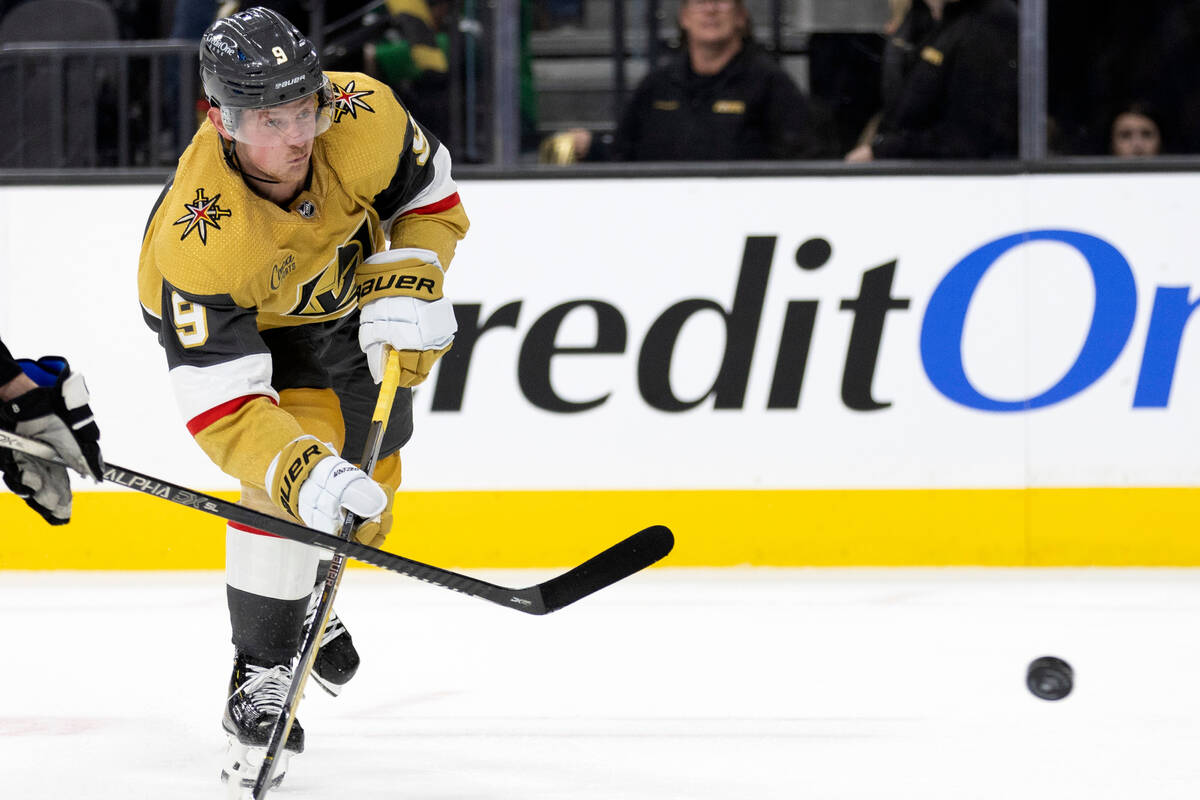 Jack Eichel's game-tying goal against Florida on Jan. 12 was one of his most impressive plays of the season.
Defenseman Kaedan Korczak sprung the Golden Knights center for a breakaway against goaltender Sergei Bobrovsky, with defensemen Marc Staal and Brandon Montour in hot pursuit. Eichel, with two opposing sticks lunging at him, briefly lost the puck in the offensive zone, gathered it again and chipped it past Bobrovsky to make the score 2-2 with 11:23 remaining. The Knights went on to win 4-2.
The team needed a game-changing play from its star to get those two points. The Knights got those often from Eichel early in the season, but it has been more hit-or-miss in his five games back since missing nearly a month with a lower-body injury.
The 26-year-old said he's trying to "refind" his game after missing all that time. The Knights need him to, with injuries to key players leading to only their second 1-3 stretch of the season.
"I feel like I've played pretty well two of the five games," Eichel said. "The other three, definitely not my best."
Eichel easily could have been the team's All-Star if he didn't get hurt Dec. 3 against Detroit, which meets the Knights on Thursday at T-Mobile Arena.
He had 29 points in his first 21 games. He was plus-13 at five-on-five, according to the website Natural Stat Trick. Both numbers led the Knights.
Eichel also stepped up in key moments. He scored an overtime winner Oct. 30 against Winnipeg. One game later, at three-on-three, he set up defenseman Shea Theodore's deciding goal.
But he hasn't had the same level of consistency since he came back.
Eichel became the fourth player in Knights history to have 10 shots in a game against the Panthers. He scored three points in his return to the lineup Jan. 5 against Pittsburgh.
In the other three games — against Los Angeles, Edmonton and Dallas — Eichel had four shots and was minus-6 at five-on-five. Coach Bruce Cassidy pulled Eichel and left wing Chandler Stephenson apart after they were minus-3 against the Oilers. They were back together at Wednesday's practice with right wing Phil Kessel, in the hopes they can return to form against the Red Wings.
"They'll get better," Cassidy said. "They've been too good of players in this league to not."
The Knights could use a boost from that line because their forward depth has taken a hit during the homestand. Captain Mark Stone (upper-body), second on the team in scoring, was injured against Florida. Left wing William Carrier (upper-body), tied for fifth in goals with 11, was hurt against Edmonton. Both will miss Thursday's game.
Still, Eichel doesn't think taking it upon himself to make up for their absence is wise. The hyper competitor said he probably already puts "enough pressure on myself as is."
The Knights do need more from everyone in their lineup with Stone and Carrier — along with center Brett Howden, right wing Pavel Dorofeyev, and defensemen Shea Theodore, Zach Whitecloud and Daniil Miromanov — injured. Right wing Jonathan Marchessault said "you need 20 guys" to win in the NHL and the team needs a better collective effort.
That doesn't mean Eichel can't lead that charge. He's been one of the Knights' best players most of this season. He's had great performances lately. If he can string together some good games, it will go a long way toward helping his team survive this stretch while holding onto first place in the Pacific Division.
"I'm definitely not happy with the way the last two games have went, and I'm sure every guy in this room would say the same thing," Eichel said. "You can't really change what's already happened. For me, I'm just trying to figure it out for the next game and be better."
Contact Ben Gotz at bgotz@reviewjournal.com. Follow @BenSGotz on Twitter.
Up next
Who: Red Wings at Golden Knights
When: 7 p.m. Thursday
Where: T-Mobile Arena
TV: AT&T SportsNet
Radio: KKGK (98.9 FM, 1340 AM)
Line: Knights -165; total 6½
Martinez expected to return
Defenseman Alec Martinez practiced with the Golden Knights on Wednesday and should play Thursday against the Detroit Red Wings, coach Bruce Cassidy said.
Martinez (illness) left Monday's loss to Dallas in the second period and didn't return. Captain Mark Stone (upper-body) and left wing William Carrier (upper-body), who were injured during this homestand, did not practice Wednesday and will miss Thursday's game.
Cassidy said center Brett Howden (lower-body) and defenseman Shea Theodore (lower-body) are skating again away from the team. Howden last played Nov. 23, and Theodore last appeared Dec. 9.
"They're progressing," Cassidy said. "That's a good sign."
Ben Gotz Las Vegas Review-Journal