Knights get boost from special teams in Stanley Cup Final
Updated June 9, 2023 - 1:33 pm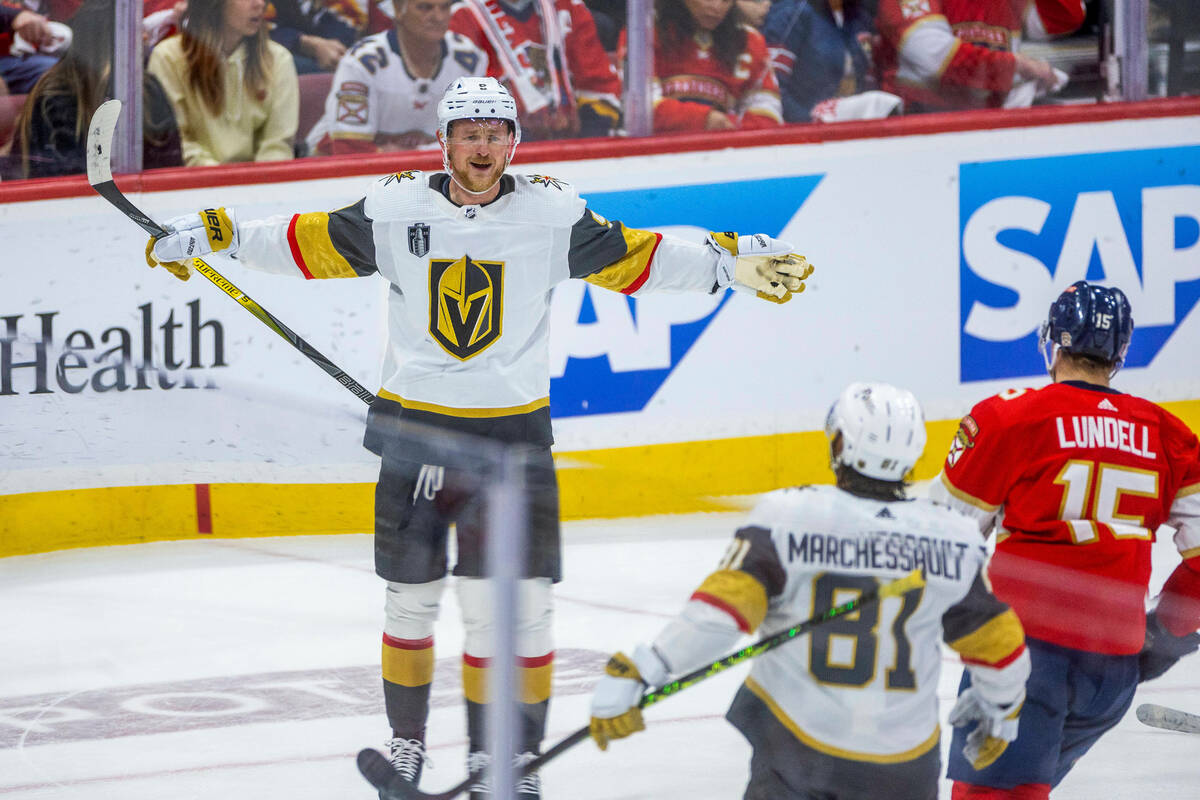 SUNRISE, Fla. — Jack Eichel stumbled before receiving the puck at the right point in the second period Thursday, his right foot kicking up and almost causing him to lose his balance.
Of course, after that he gathered himself, cruised down the right circle and set up teammate Jonathan Marchessault in the left dot for a power-play goal in the Golden Knights' 3-2 overtime loss to the Florida Panthers in Game 3 of the Stanley Cup Final at FLA Live Arena.
That's how it's going for the Knights on the man advantage this series. They're scoring even when things don't look pristine and perfect.
It's a sea change from how things have looked most of this season. The Knights' inconsistent special teams were once the one area they seemed unable to straighten out. Both units are rolling now, which gives the team confidence despite its series lead being cut to 2-1 ahead of Saturday's Game 4.
"You're always trying to be good on special teams," coach Bruce Cassidy said. "We knew we would have some (opportunities), and it was important for us to get it going because it's been kind of a little inconsistent throughout the playoffs."
The Knights aren't in the final because of special teams.
They've won three rounds because of a five-on-five game that has been almost impossible for opponents to handle. The Knights are plus-28 there in the playoffs. The next closest teams — the Carolina Hurricanes and New York Rangers — are plus-4.
The Knights' special-teams play has just been along for the ride.
They were one of two playoff teams along with Seattle to finish the regular season ranked below average on both units. The Knights' power play was 18th (20.3 percent), and their penalty kill was 19th (77.4 percent).
Not much changed through three rounds. The Knights were outscored by a combined eight goals on special teams against Winnipeg, Edmonton and Dallas, setting up a seemingly obvious area for Florida to try to exploit.
Instead, the script has been flipped. The Knights are 6-for-17 on the power play against the Panthers, scoring two more goals on the man advantage this series than they have in any other. They're also 12-for-12 against a Florida power play that clicked at a 27.9 percent rate in its first 16 playoff games.
"So far it's been pretty good, I'd say," center William Karlsson said. "PK has been very good. Now we've gotten some power-play goals, as well. I'd say it's clicking right now."
The reasons for each unit's success are different.
Karlsson said he thinks the penalty kill has learned from the matchups against the Oilers' and Stars' high-powered units. Edmonton's power play set an NHL record by scoring on 32.4 percent of its opportunities in the regular season. Dallas was ranked fifth at 25 percent.
The Knights made adjustments against both, finding more times to be aggressive in the defensive and neutral zone. It's helped them cut off plays before they even get started and force opponents to chase pucks all the way down the ice.
On the power play, the Knights have been able to get to the crease by finding ways to stress Florida's coverage. Their six goals on the man advantage are tied for the 10th-most in NHL history in a final.
It was a focus for the Knights because they knew the Panthers would give them chances. Florida was tied for first in penalties taken in the regular season and has been called for 13 more minors than anyone else in the playoffs.
The Knights have done well to make the Panthers pay. Both their special-teams units are humming in the most important series of the season.
One of the only disappointments is that the Knights couldn't convert on the power play toward the end of Thursday's game. The Knights, who were 2-for-6 in Game 3, drew a tripping penalty from Panthers defenseman Gustav Forsling with 12 seconds remaining in regulation. They got only one shot on the subsequent power play, opening the door for Florida to fire back with an overtime winner from left wing Carter Verhaeghe.
"Special teams are a big part of things, and our power play got us a few," Eichel said. "You'd obviously like to have one to start (overtime) there, but it doesn't happen, and here we are. We're moving onto Game 4."
Contact Ben Gotz at bgotz@reviewjournal.com. Follow @BenSGotz on Twitter.
Up next
Who: Golden Knights at Panthers
What: Game 4, Stanley Cup Final
When: 5 p.m. Saturday
Where: FLA Live Arena, Sunrise, Fla.
TV: TNT, TBS, truTV
Radio: KKGK (98.9 FM, 1340 AM)
Line: Panthers -115; total 5½
Stanley Cup Final
Knights lead 2-1
Game 1 — Knights 5, Panthers 2
Game 2 — Knights 7, Panthers 2
Game 3 — Panthers 3, Knights 2 (OT)
Game 4 — 5 p.m. Saturday, FLA Live Arena (TNT, TBS, truTV)
Game 5 — 5 p.m. Tuesday, T-Mobile Arena (TNT, truTV)
Game 6* — 5 p.m. Friday, FLA Live Arena (TNT, TBS, truTV)
Game 7* — 5 p.m. June 19, T-Mobile Arena (TNT, TBS, truTV)
Radio: KKGK (98.9 FM, 1340 AM)
* If necessary