Golden Knights lose late lead, fall in overtime to Panthers
Updated June 9, 2023 - 11:34 am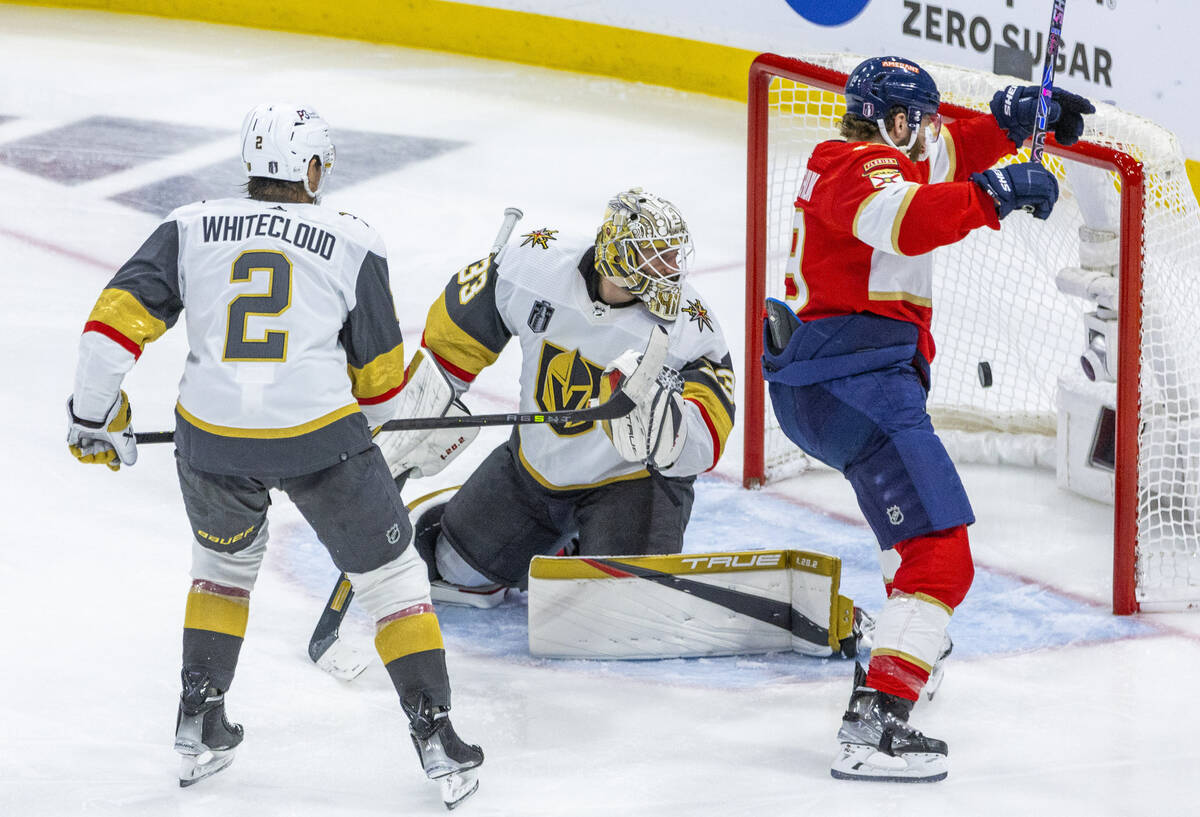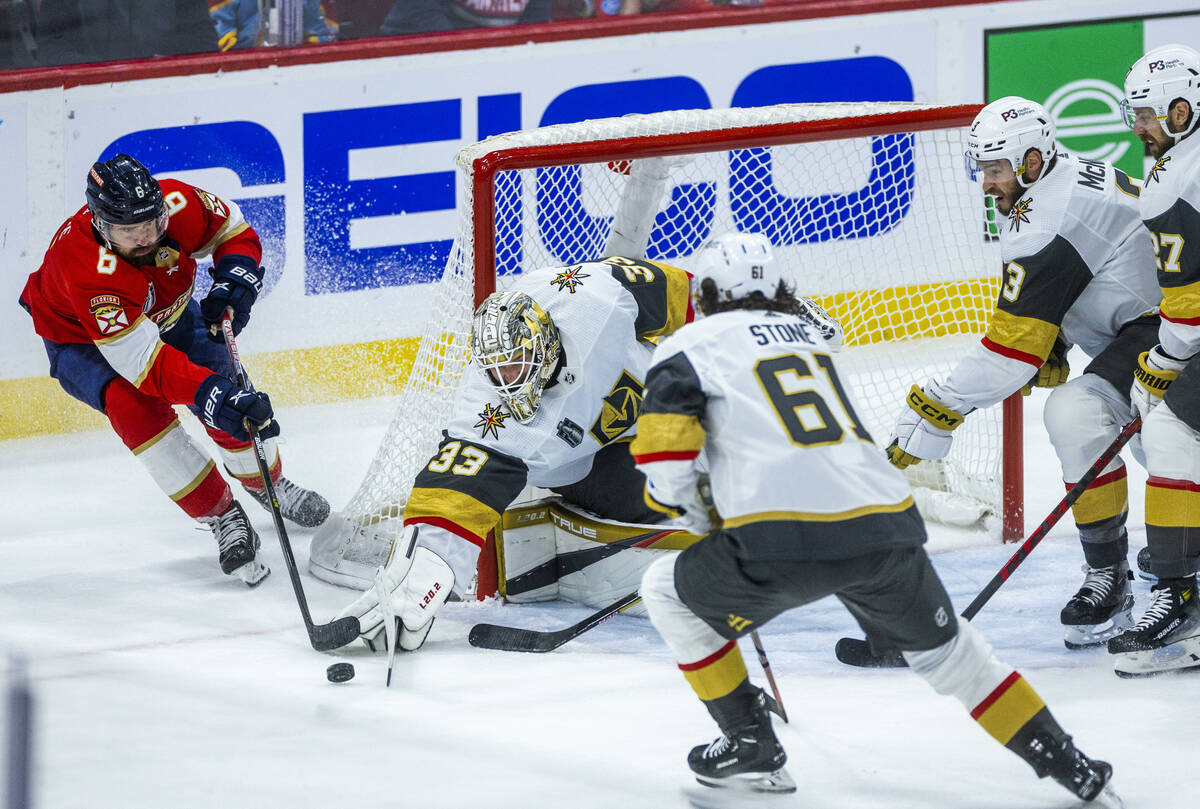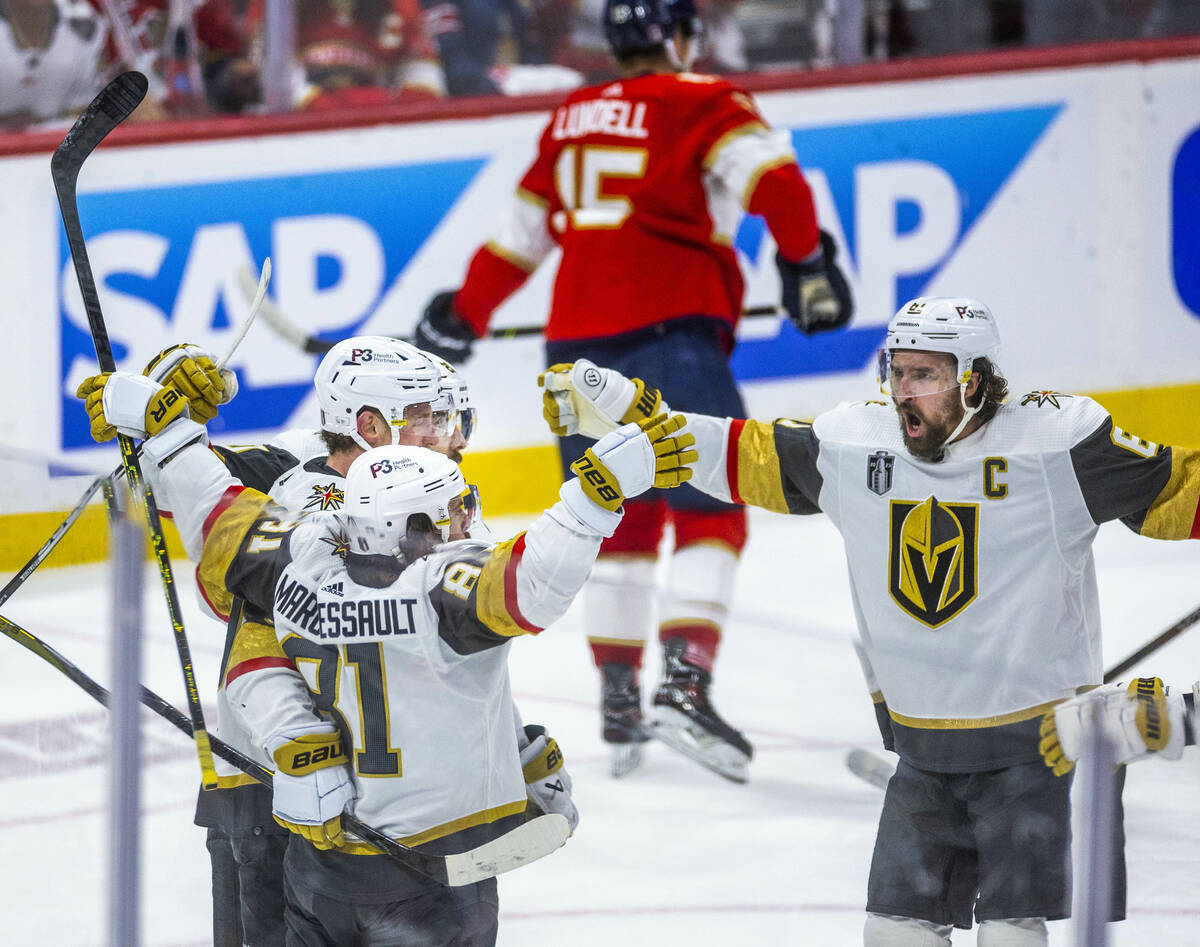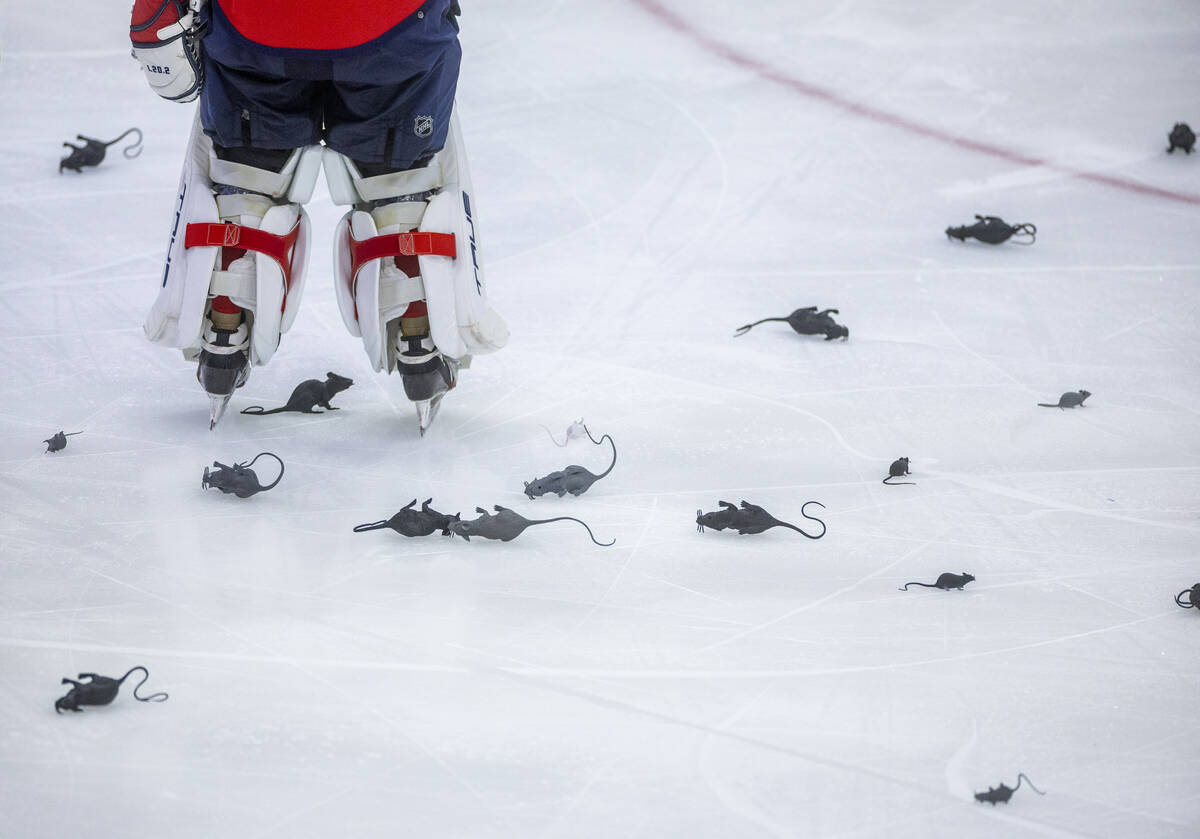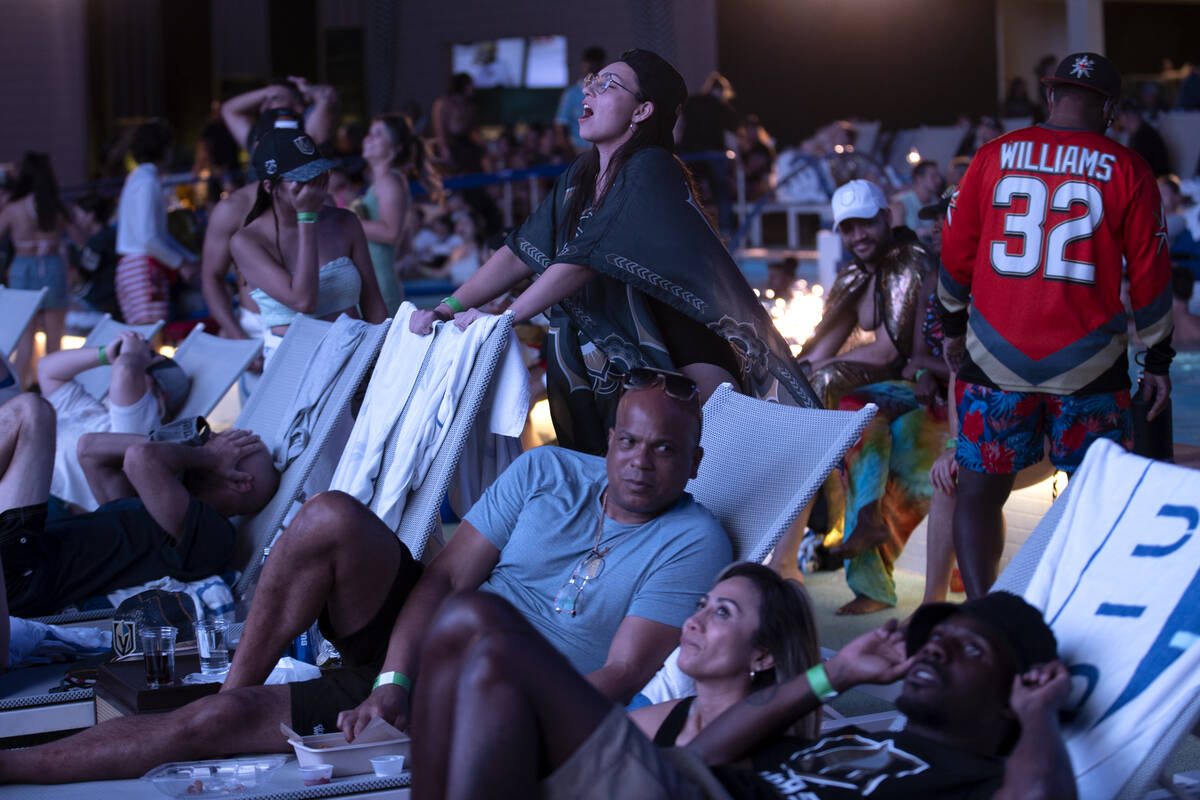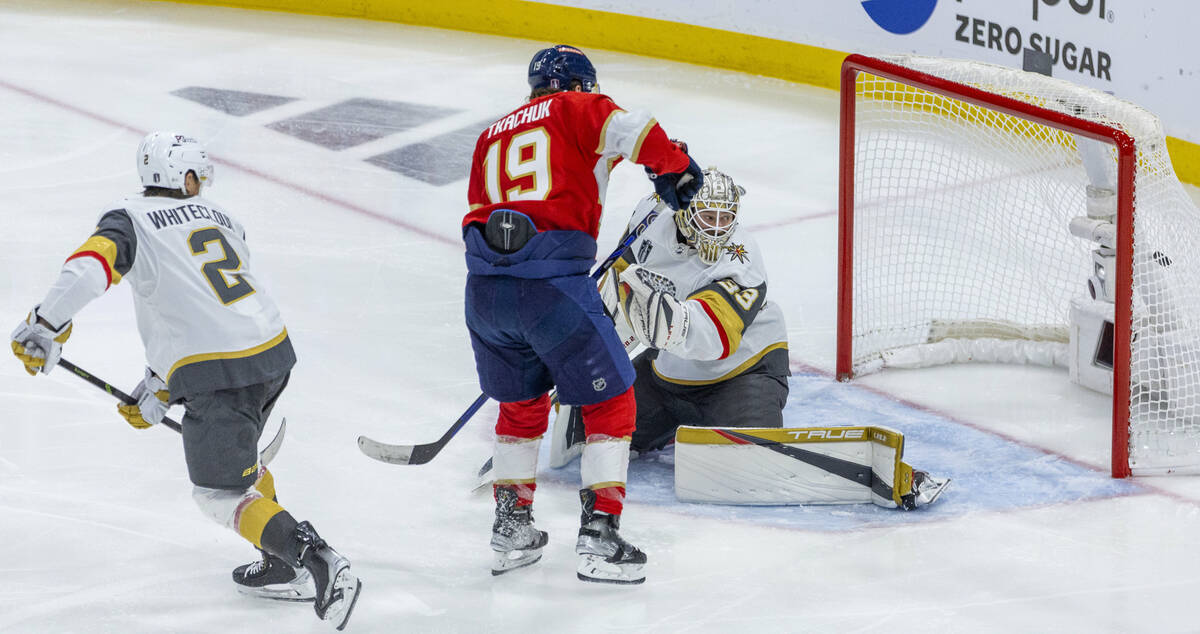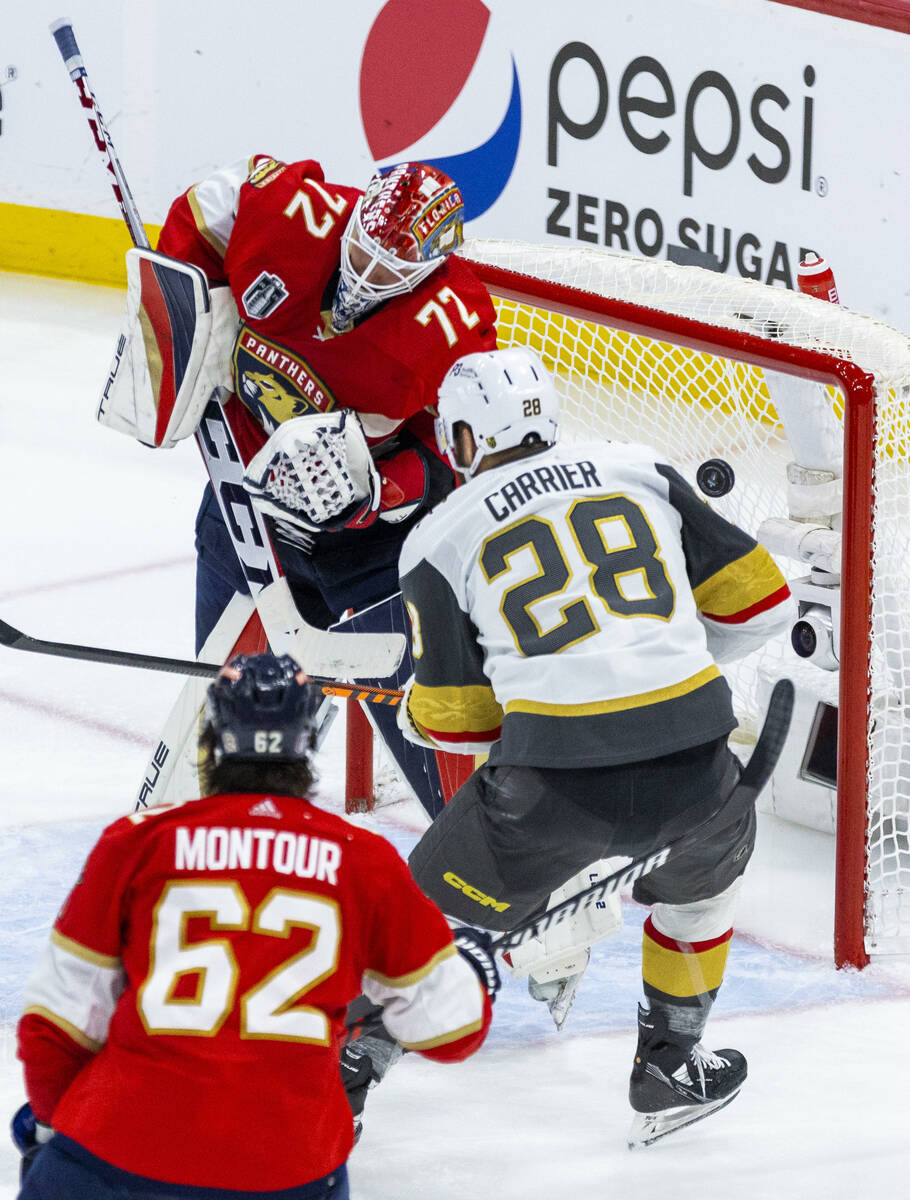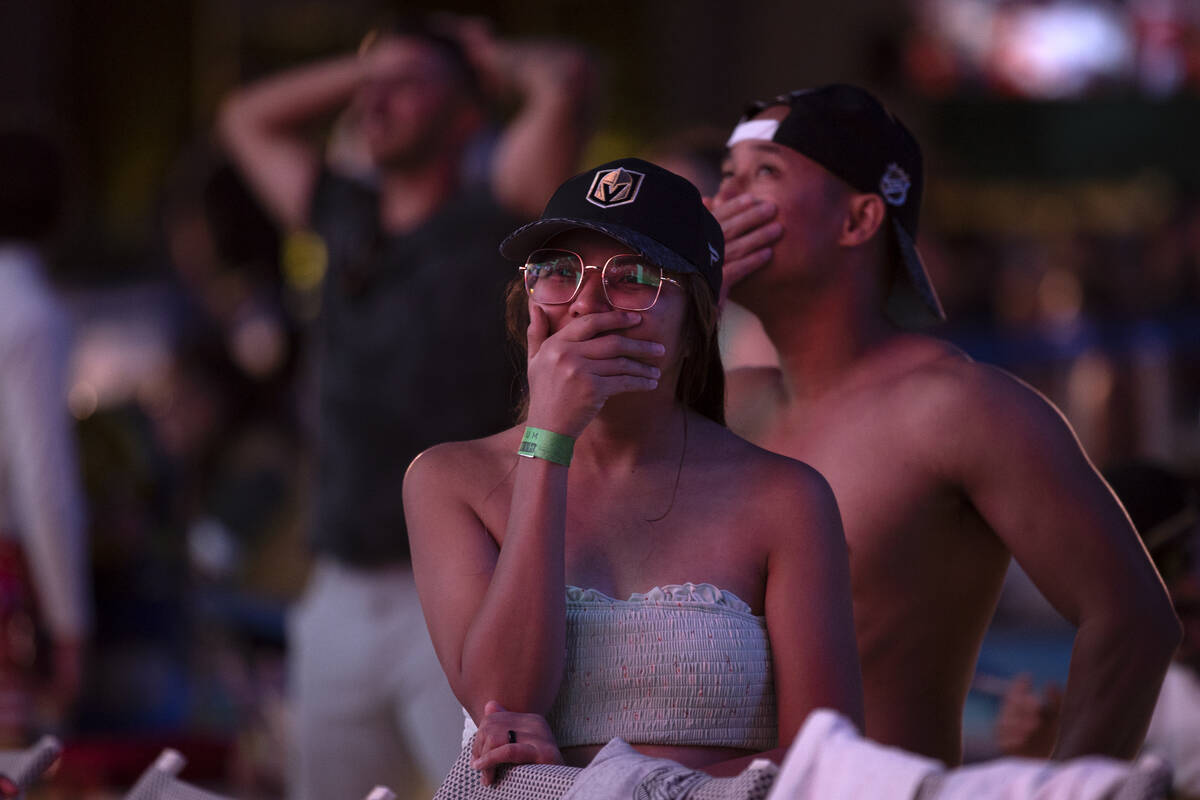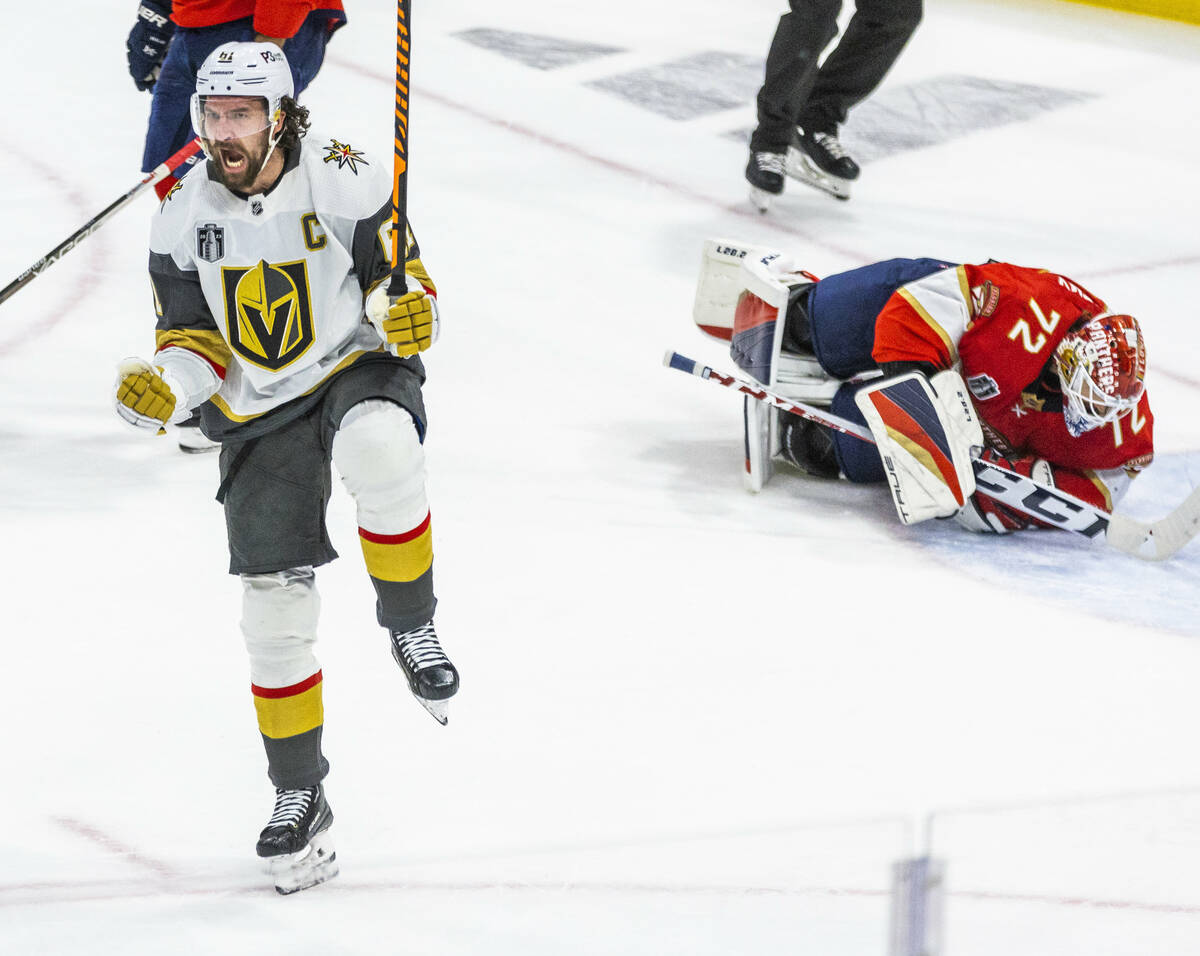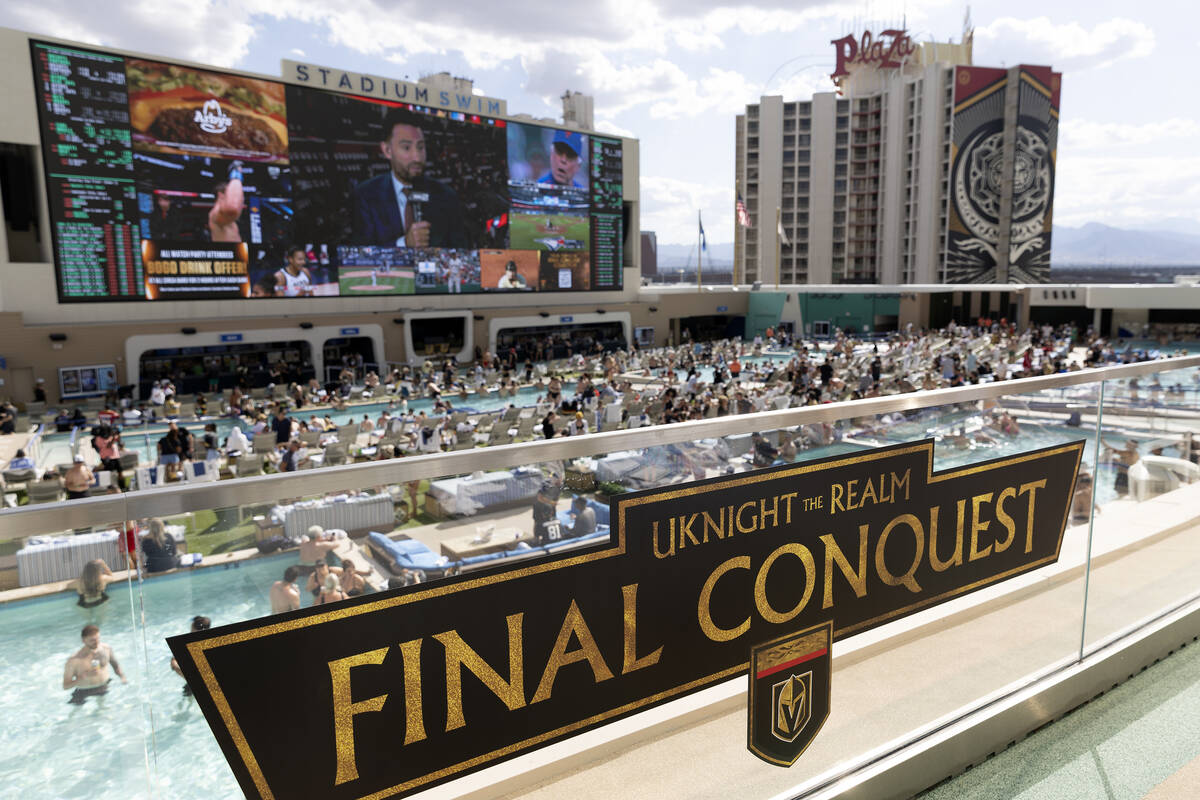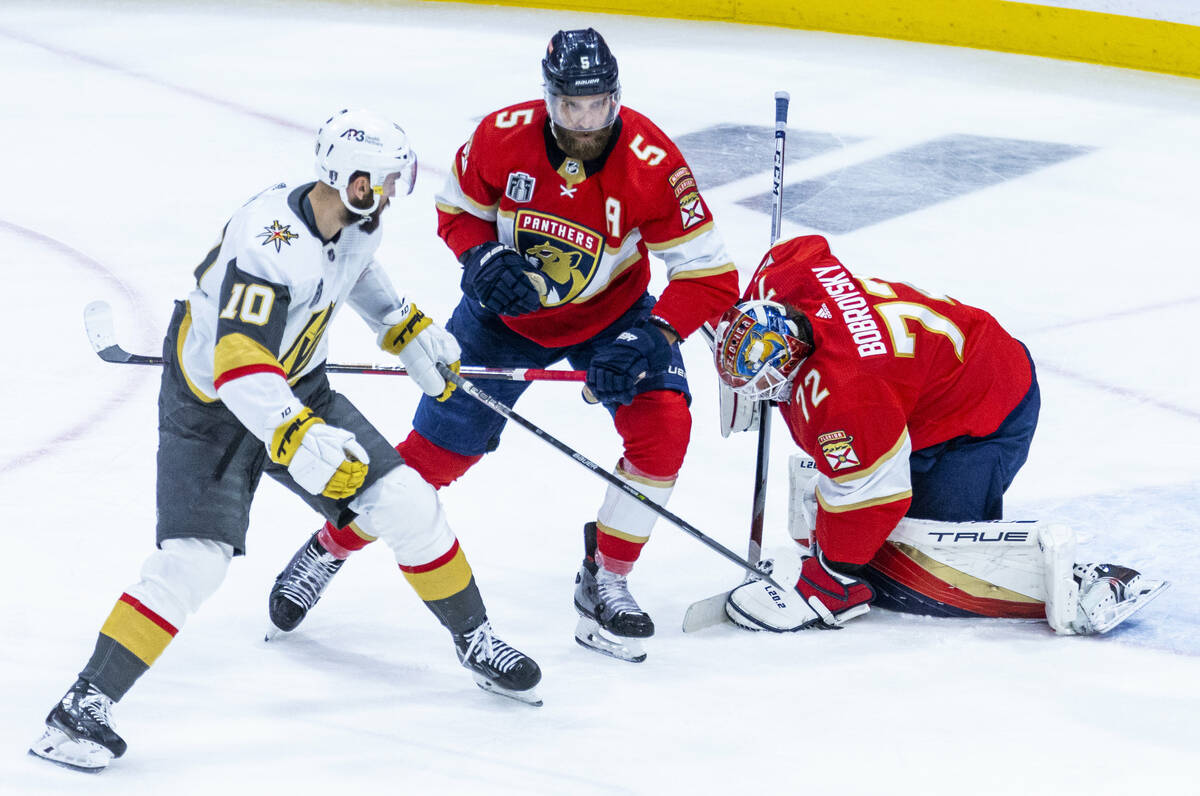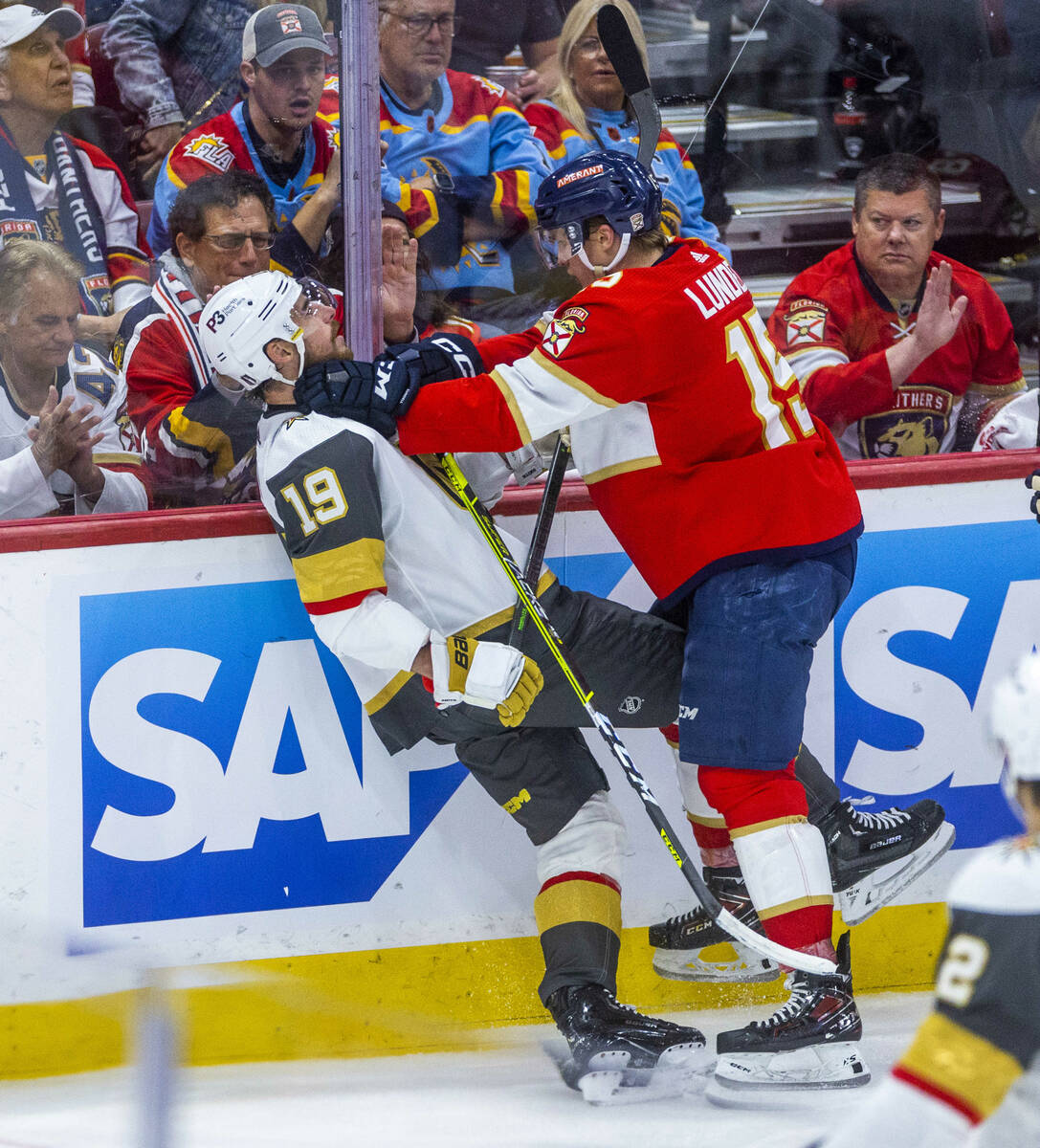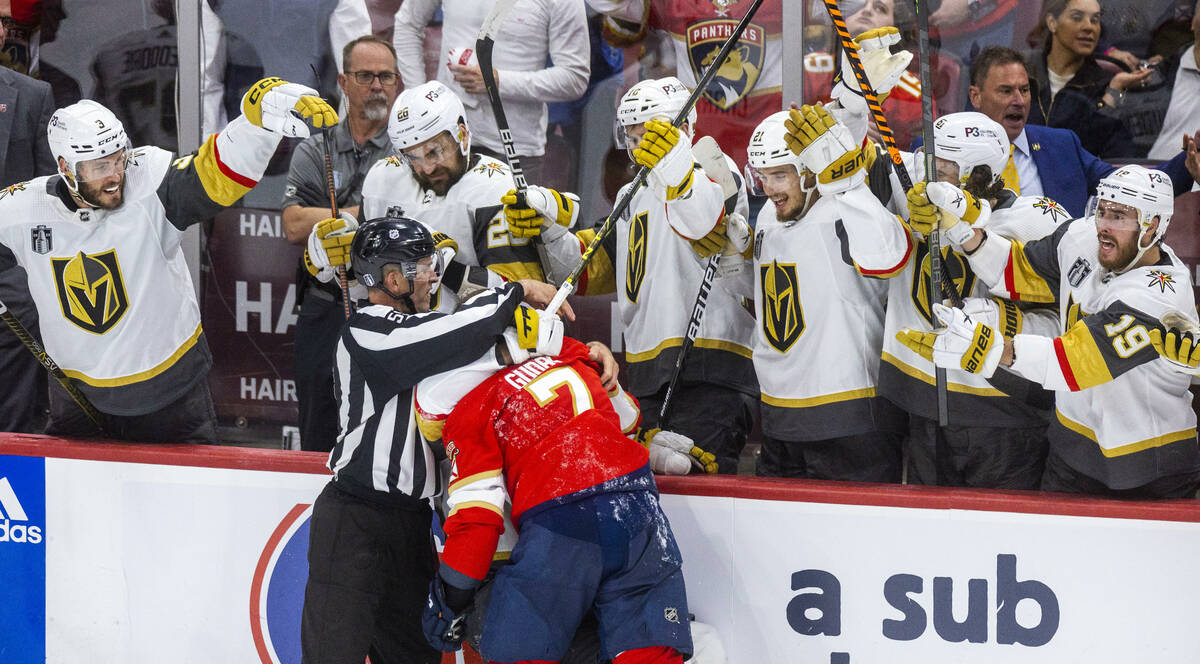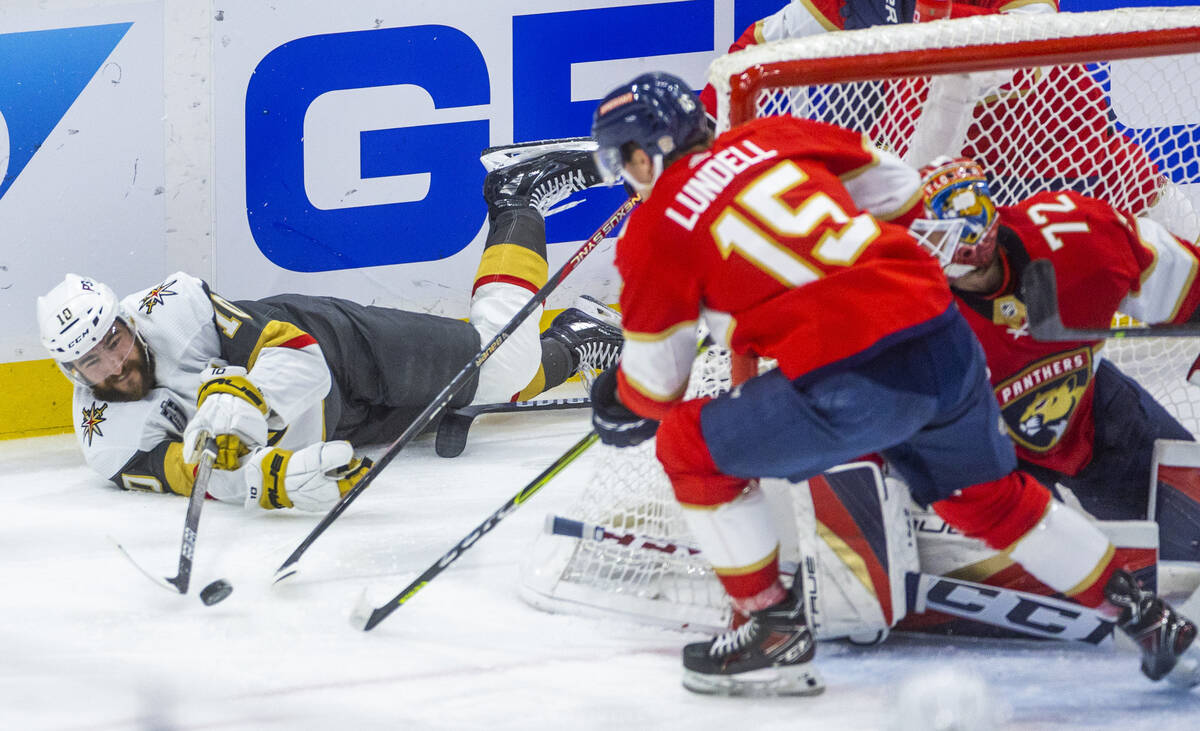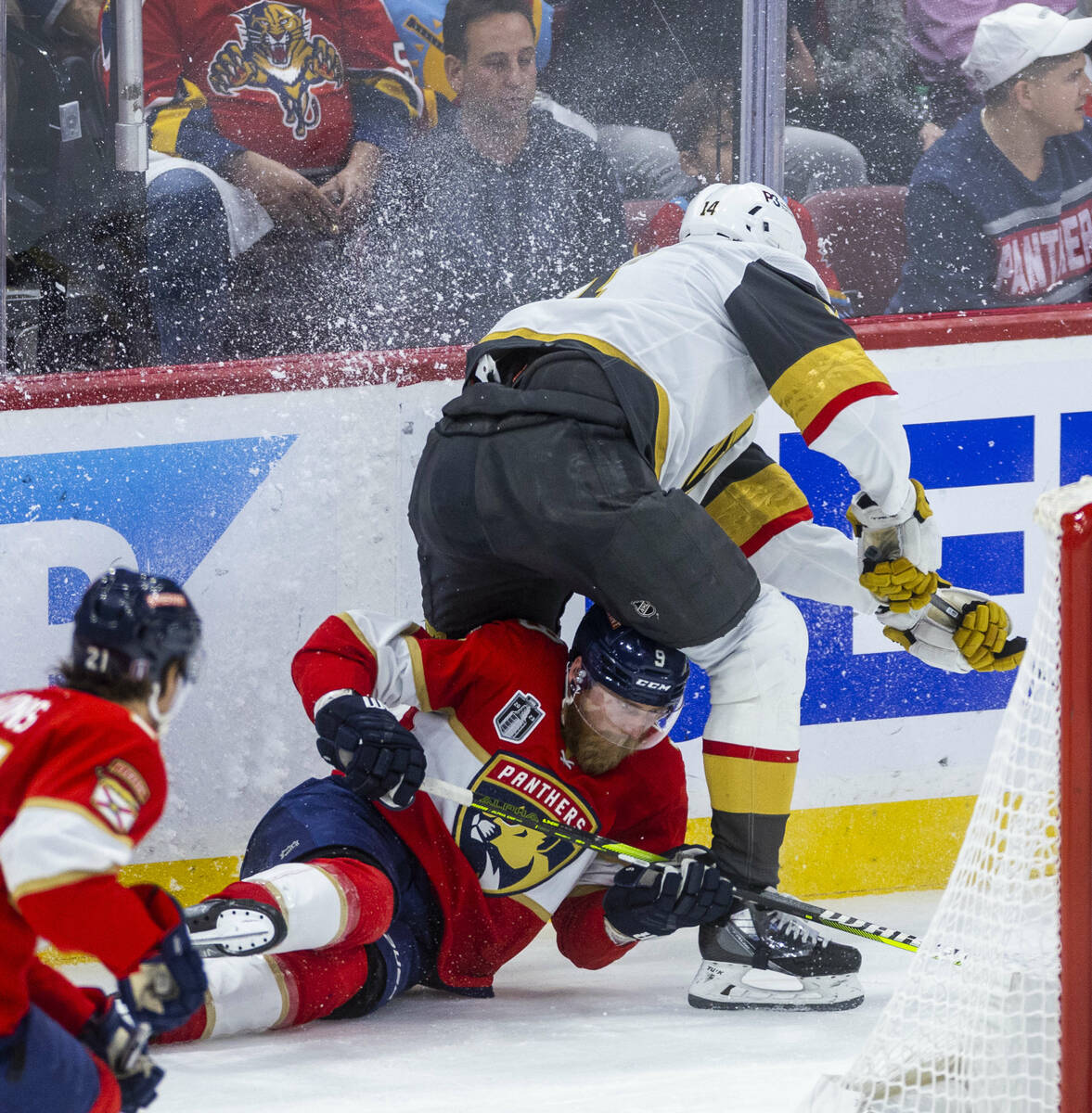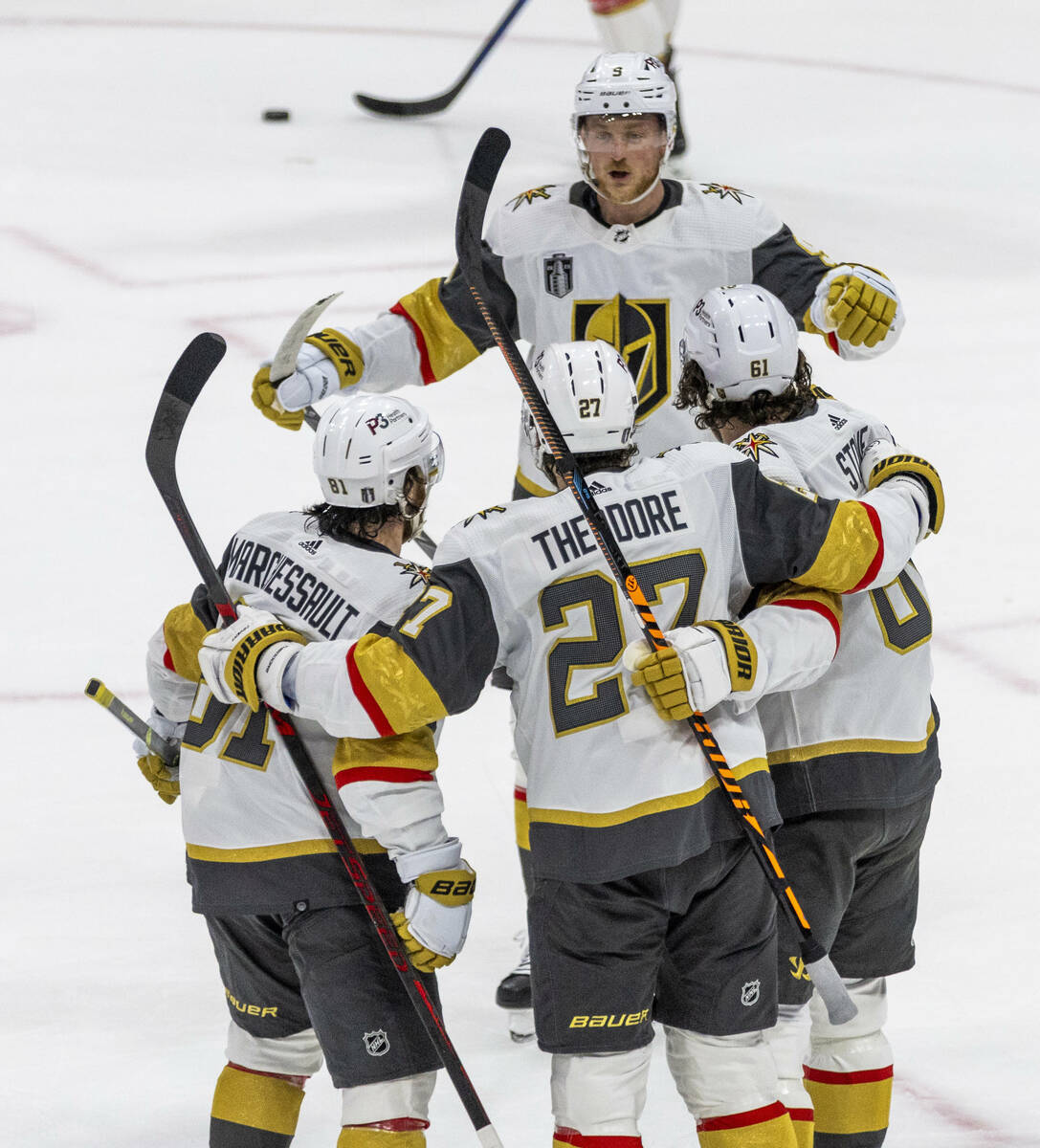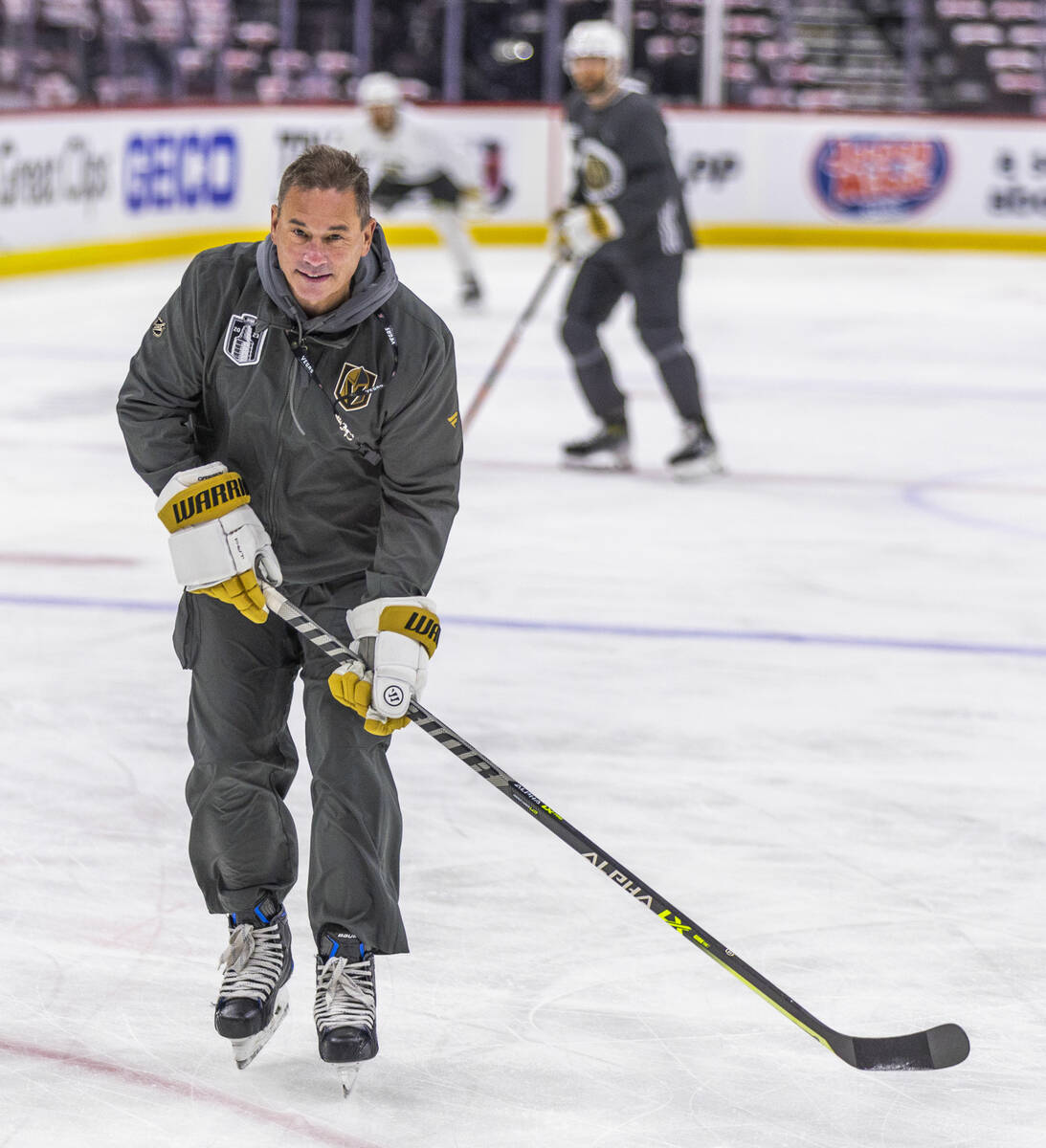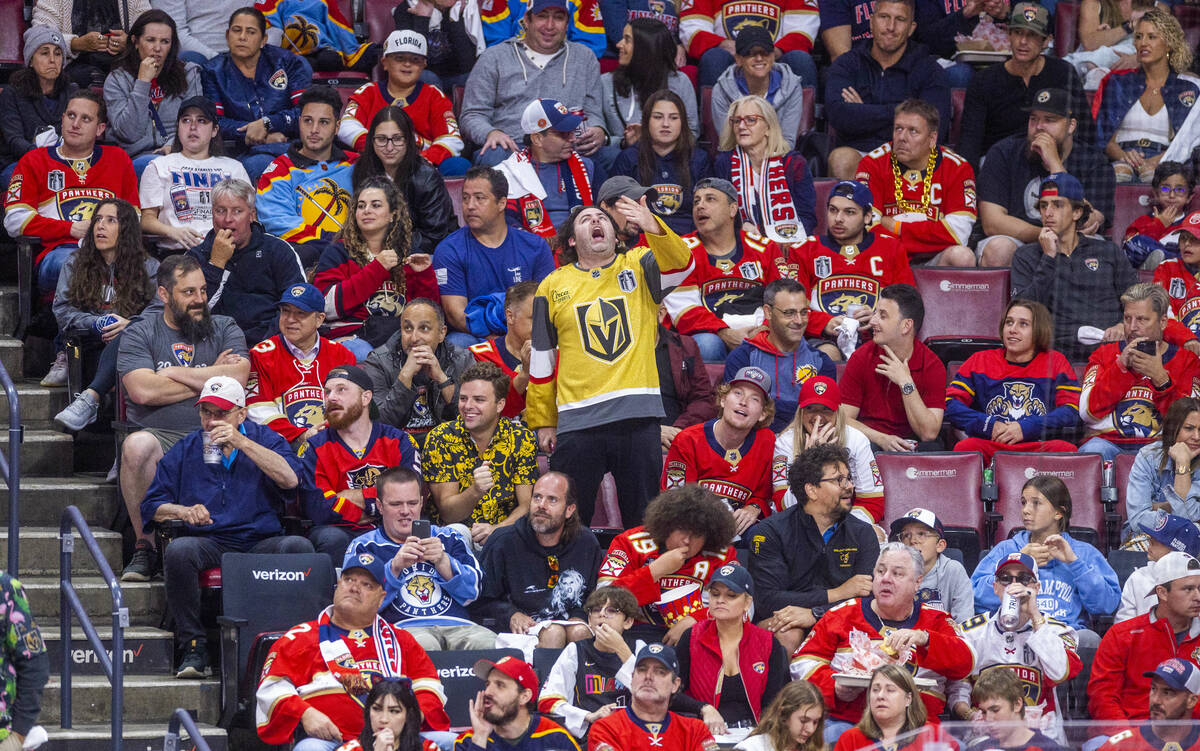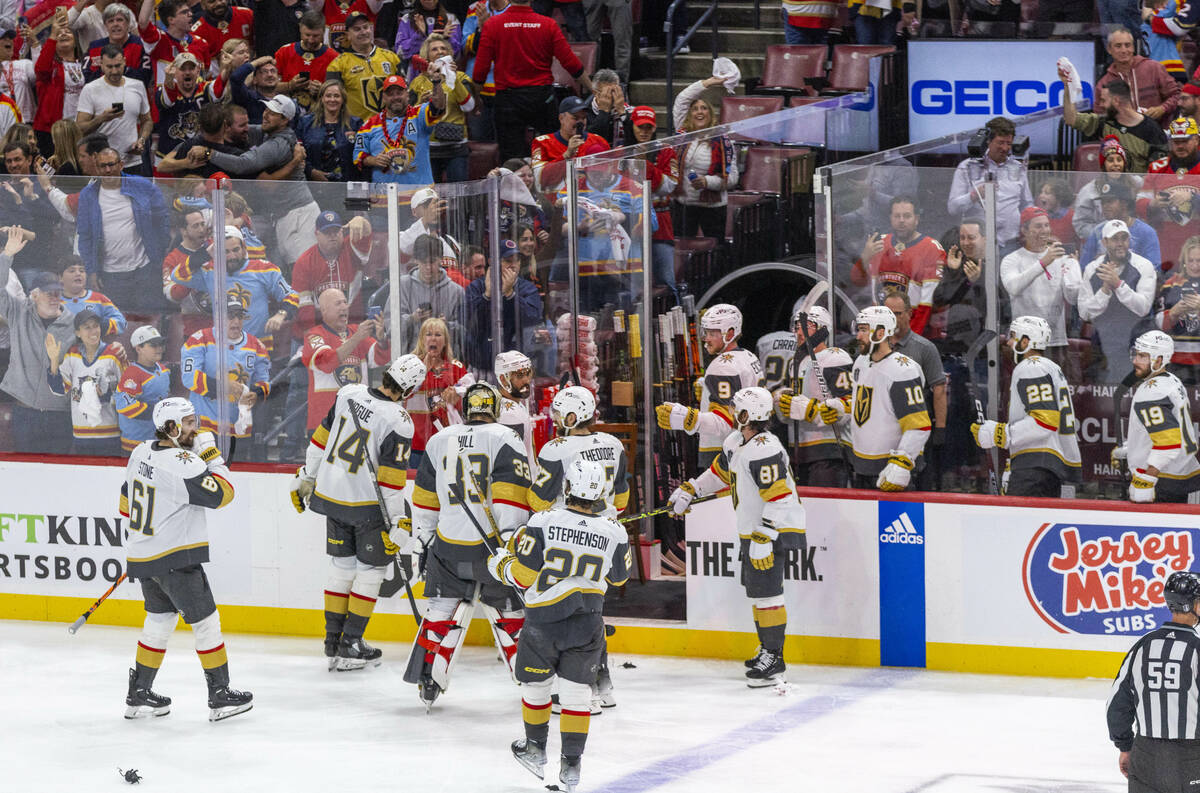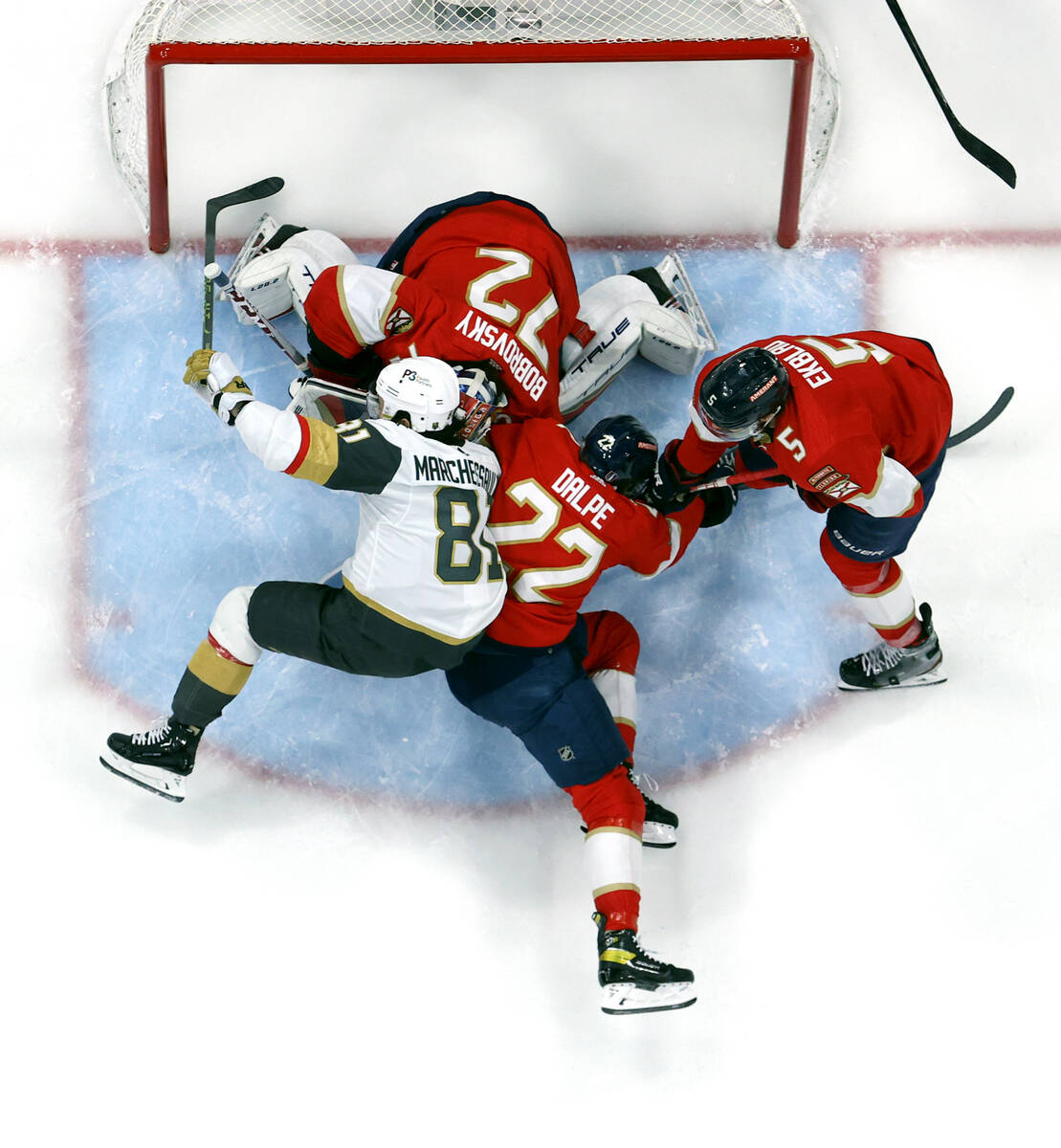 SUNRISE, Fla. — Matthew Tkachuk, mouthguard dangling from the left side of his mouth, had nothing but an open net to look at when the puck fell to him in the crease.
There was only one possible outcome. The Florida Panthers' star right wing was going to do what he's been doing to opponents all postseason: Rip their hearts out at the worst possible time.
Tkachuk scored a game-tying goal with 2:13 remaining in the third period Thursday, sending the energy of the white-towel-waving announced crowd of 19,735 at FLA Live Arena through the roof. The Knights, oh-so-close to a 3-0 lead in the Stanley Cup Final, were sent back to the locker room to regroup with regulation ending without a winner.
They couldn't do it fast enough this time. Left wing Carter Verhaeghe scored 4:27 into overtime to give the Panthers a 3-2 victory, their first-ever win in the final, and cut Florida's series deficit to 2-1.
Florida improved to 7-0 beyond regulation this postseason, while the Knights fell to 3-2.
"Give them credit," center Jack Eichel said. "They stuck around, they found a goal at the end, and then they win in overtime. Obviously you don't want to blow a lead when you're up a goal with a few minutes left, but it's all part of it. Nobody said it was going to be easy."
The Knights were of two minds after seeing their three-game winning streak snapped in a building that featured celebrity guests Dan Marino, Tua Tagovailoa and Charles Barkley.
They were happy with plenty of aspects of their play. They also rued some missed opportunities that gave the Panthers a chance to come back.
The Knights entered the third period with a 2-1 lead and did well to defend it for a long stretch. Florida had only four shots before taking goaltender Sergei Bobrovsky off for an extra attacker with less than three minutes left. That's when Tkachuk — who has four game-winning goals in the playoffs — went to work.
Verhaeghe fired a one-timer from the top of the right circle. Tkachuk got inside position on defenseman Zach Whitecloud for the rebound and finished.
The 25-year-old, who missed a chunk of the first and second periods after taking a hard hit from right wing Keegan Kolesar and entering the NHL's concussion protocol, scored the fourth six-on-five goal the Knights have allowed in the playoffs. Two of them also sent games into overtime.
"It's an area that we're still working to correct, that we don't get outnumbered at the net," coach Bruce Cassidy said. "That's the bottom line. It's happened to us a few times now. We just don't have the numbers there."
The Knights still got a great chance to win the game when center Chandler Stephenson drew a tripping penalty from defenseman Gustav Forsling with 12 seconds remaining.
The team — which built a 2-1 lead on power-play goals from captain Mark Stone and right wing Jonathan Marchessault — couldn't score a third on six tries on the man advantage. Instead, the Knights opened the door for Florida to finish things.
The Panthers obliged. Verhaeghe scored his seventh goal of the playoffs from 45 feet away in the middle of the offensive zone to end the game and send toy rats to the ice in celebration.
That made Bobrovsky a winner for the first time this series after an impressive bounce-back performance. The 34-year-old, who was pulled in the second period of Game 2, finished with 25 saves. Several of them — including key stops on Stephenson, defenseman Brayden McNabb and left wing Brett Howden — gave Florida a fighting chance.
"Those were going in last game," defenseman Alex Pietrangelo said.
The Knights will need to regroup fast before Saturday's Game 4 that Eichel said has "got to be our most important game of the season."
They don't think they need to make many adjustments. The Knights had a 12-11 edge in high-danger scoring chances at five-on-five, according to the website Natural Stat Trick. The highest-scoring team in the playoffs was shut out at even strength but got good looks.
The Knights also can continue to feel encouraged by their special teams this series. Their six power-play goals in three games are their most against any opponent this postseason. They're also 12-for-12 on the penalty kill.
The ingredients were there for a better result. Tkachuk made it all a moot point.
The Knights, minutes from all but closing the door on the Panthers, left the ice knowing they have a series on their hands.
"Overall, I thought we played a pretty solid game," Stone said. "Could've put them away. That's the playoffs. We got to bounce back and be ready for the next one."
Contact Ben Gotz at bgotz@reviewjournal.com. Follow @BenSGotz on Twitter.