Knights know slowing Oilers' lethal power play vital in Game 2
Updated May 6, 2023 - 8:28 am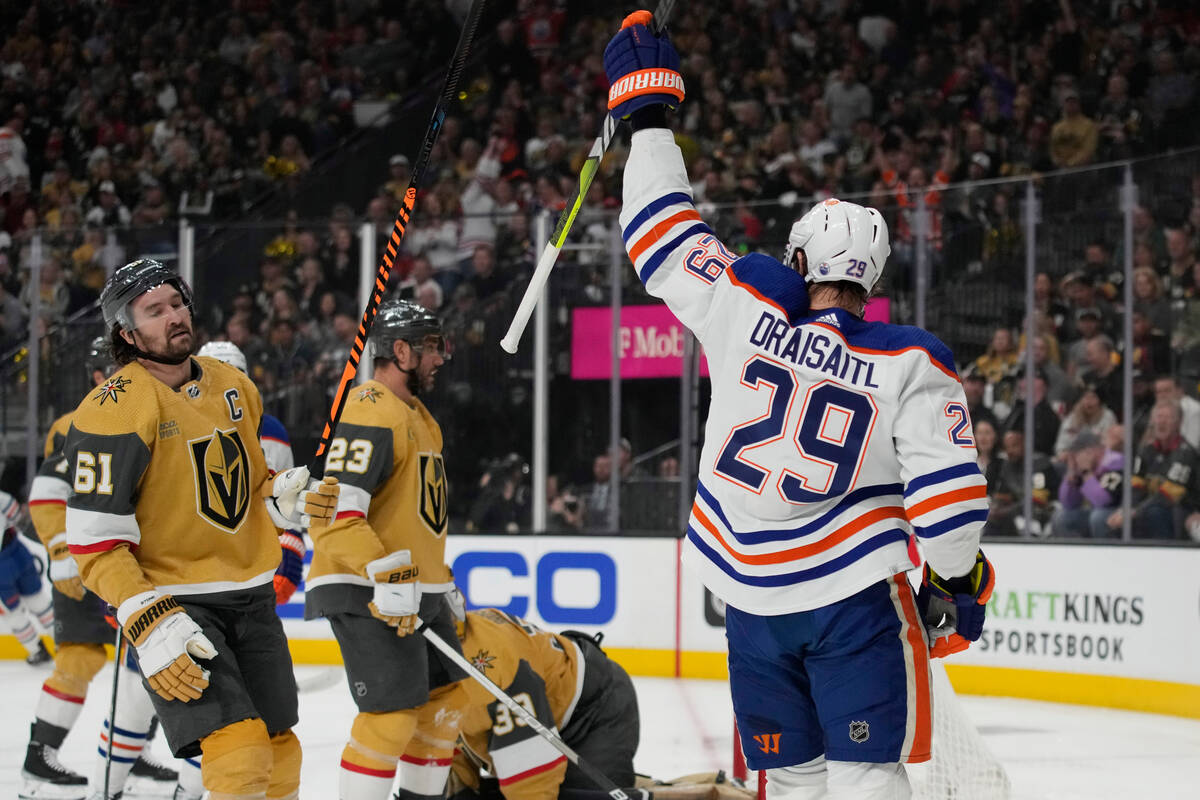 The Golden Knights know the best way to stop the Edmonton Oilers' top-ranked power play: Avoid penalties and not let it step on the ice in the first place.
After that, things get difficult. The Oilers are a ruthless, efficient man-advantage machine thanks to their top unit featuring superstars Connor McDavid and Leon Draisaitl. They set an NHL record by scoring on 32.4 percent on their opportunities in the regular season. They're 11-of-19 (57.9 percent) in the playoffs.
The Knights survived two Edmonton power-play goals to win Game 1 of their second-round series 6-4 on Wednesday, but they know at some point slowing the Oilers down will require stronger special-teams play.
They hope to start showing that improvement in Game 2 at 4 p.m. Saturday.
"Obviously, they're very good, especially when they have the puck in-zone and they're able to get to their structure," left wing Reilly Smith said. "You've got to do your best to make them uncomfortable and try to switch up different looks. We didn't do a good enough job in Game 1, so we'll look to keep on getting better as the series goes on."
Coach Bruce Cassidy said one key to combating Edmonton's power play is limiting its offensive-zone time.
The Oilers have too many weapons once they establish possession. That's why they were 5-for-9 against the Knights in the regular season and 2-for-3 in Game 1.
McDavid, who led the NHL in goals and points this season, can create holes with his speed or find space to shoot the puck. Draisaitl is a scoring threat with his lethal one-timer, and he's the league's best passer. Right wing Zach Hyman creates havoc in front of the net. Defenseman Evan Bouchard can blast pucks from up top if teams take away other options.
Bouchard has a seven-game point streak to start the postseason, an Edmonton franchise record for a defenseman.
Taking the puck away from the Oilers is still easier said than done. Draisaitl won 59.2 percent of his power-play faceoffs this season, giving Edmonton a good chance of starting out on the attack.
Even winning the puck back and clearing it down the ice can only be a temporary reprieve. The Oilers have the fastest player in the world in McDavid to help them regain the offensive zone.
"We've got to design something to make it harder for them to get in," Cassidy said. "I think that's the best chance you have against their power play."
That puts pressure on the Knights' penalty killers to execute at a high level to have success.
They didn't in Game 1. Captain Mark Stone took the blame for Edmonton's first power-play goal, as he allowed a pass from McDavid to get across the zone to set up a Draisaitl one-timer. The second was the result of some lost net-front battles, as Hyman slipped the rebound of a Bouchard slap shot to Draisaitl for the latter's third goal.
That doesn't mean the Knights looked hopeless. They allowed only one shot on the Oilers' second power play. They showed they're capable of getting the job done.
The Knights also showed the same level of restraint they've exhibited all year, which could be critical in this series. They were the least penalized team in the NHL in the regular season. They had three penalties in Game 1, a number they can live with.
It's just a matter of limiting the damage when they do go to the box. The Knights were the clear better team at five-on-five in Game 1. If they do a better job on special teams, they'll give themselves a great chance to win this series.
"Got to keep up our discipline," Stone said. "We've done a really good job of checking with our feet, keeping them to the outside. We've got to do a lot of the same things tomorrow night."
Contact Ben Gotz at bgotz@reviewjournal.com. Follow @BenSGotz on Twitter.
Up next
Who: Oilers at Golden Knights
When: 4 p.m. Saturday
Where: T-Mobile Arena
TV: TNT
Radio: KKGK (98.9 FM, 1340 AM)
Line: Oilers -120; total 6½
Series schedule
Game 1 — Golden Knights 6, Oilers 4
Game 2 — 4 p.m. Saturday, T-Mobile Arena (TNT)
Game 3 — 5:30 p.m. Monday, Rogers Place (ESPN)
Game 4 — 7 p.m. Wednesday, Rogers Place (ESPN)
Game 5* — TBD Friday, T-Mobile Arena (TNT)
Game 6* — TBD May 14, Rogers Place (TBA)
Game 7* — TBD May 16, T-Mobile Arena (TNT)
*If necessary; All games on radio at KKGK (98.9 FM, 1340 AM)